Summary:
Flank steak is thinly sliced and tossed with a few seasonings, then baked at low heat until transformed into deliciously tender beef jerky. With this homemade version, you can control the ingredients (no sugar) and spiciness to your taste, resulting in low carb, great tasting beef jerky.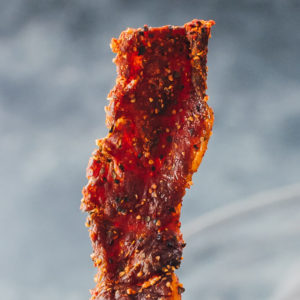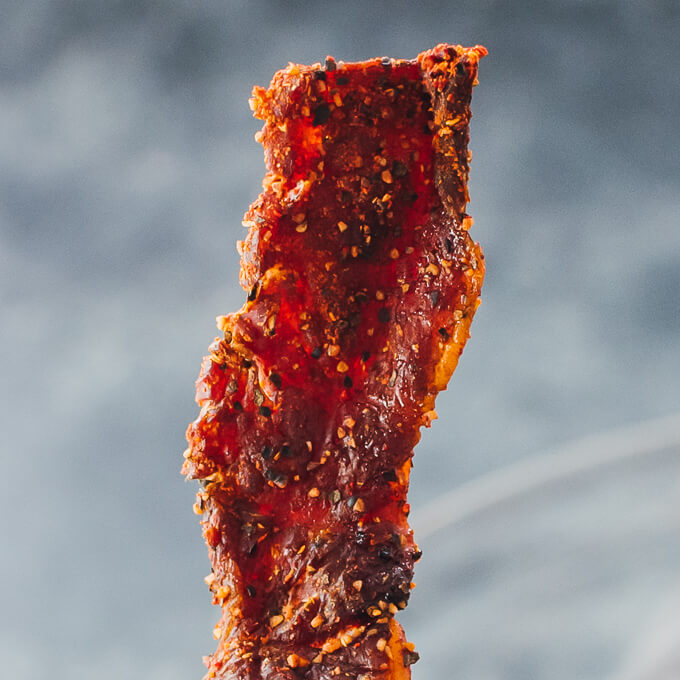 INSTRUCTIONS
Prepare: Freeze flank steak for 15 minutes (for easier slicing). While waiting for flank steak to firm up, stir together sweetener, black pepper, paprika, coriander, and salt in large bowl until well-mixed. Prepare 2 baking half sheets set with wire racks (Note 4). Set them aside.

Cut Beef: Remove flank steak from freezer. Pat dry with paper towels, and trim off excess fat. Slicing against grain, cut into strips as thin as possible, about 1/8 inch thick (Note 5). Add beef strips to bowl with spice mixture, tossing until evenly coated.

Refrigerate: Arrange strips on prepared racks in single layer, barely touching each other. Refrigerate uncovered overnight, or for at least 12 hours and up to 24 hours.

Bake: Remove baking sheets from refrigerator 30 minutes in advance of baking. Position oven racks to lower-middle and upper-middle positions, and preheat oven to 225 F. Bake uncovered for 1 hour. Flip beef strips, and return baking sheets to oven, switching upper and lower positions. Bake uncovered until beef is dark and firm to touch but still pliable, about 1 hour.

Cool & Serve: Cool completely at room temperature, about 30 minutes. Serve beef jerky and store any leftovers (Note 6).
NUTRITION
Makes 13 Servings
Amount Per Serving (1 oz):
| | |
| --- | --- |
| Calories 90 (25% from fat) |   |
| Total Fat 3g | 4% |
|    Saturated Fat 1g | 5% |
| Cholesterol 40mg | 13% |
| Sodium 390mg | 16% |
| Net Carb 0.5g |   |
| Total Carb 1g (Note 7) | 0% |
|    Dietary Fiber 0.5g | 3% |
|    Sugars 0g |   |
| Protein 16g |   |
PHOTOS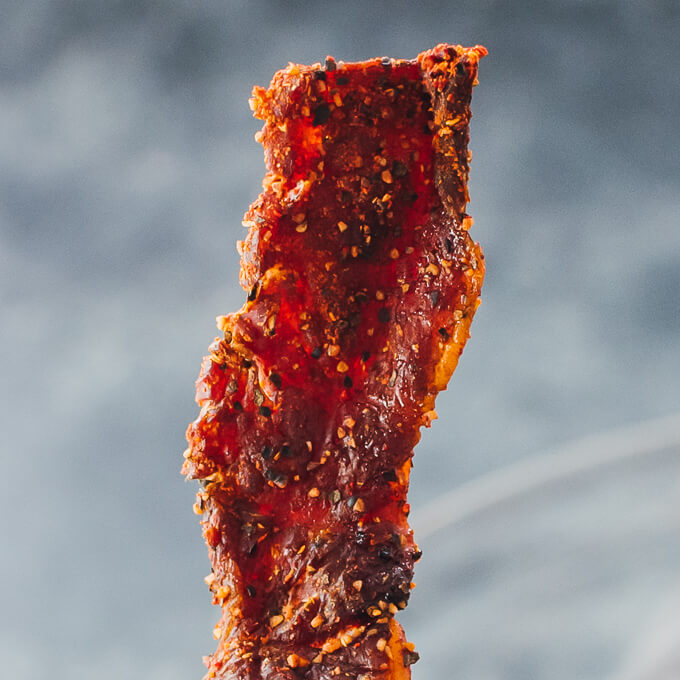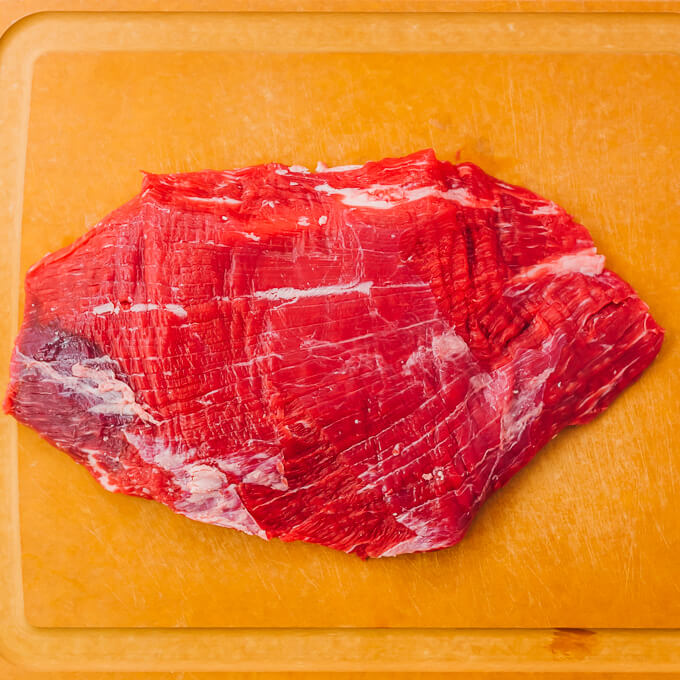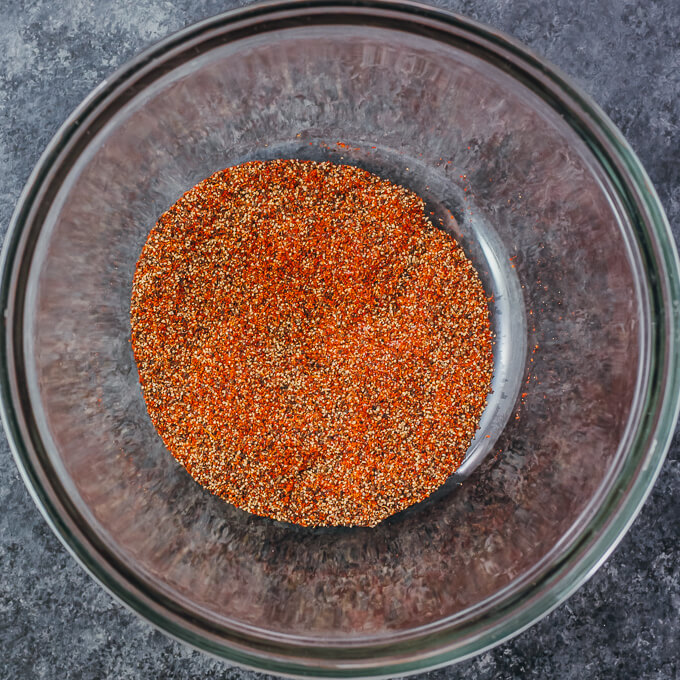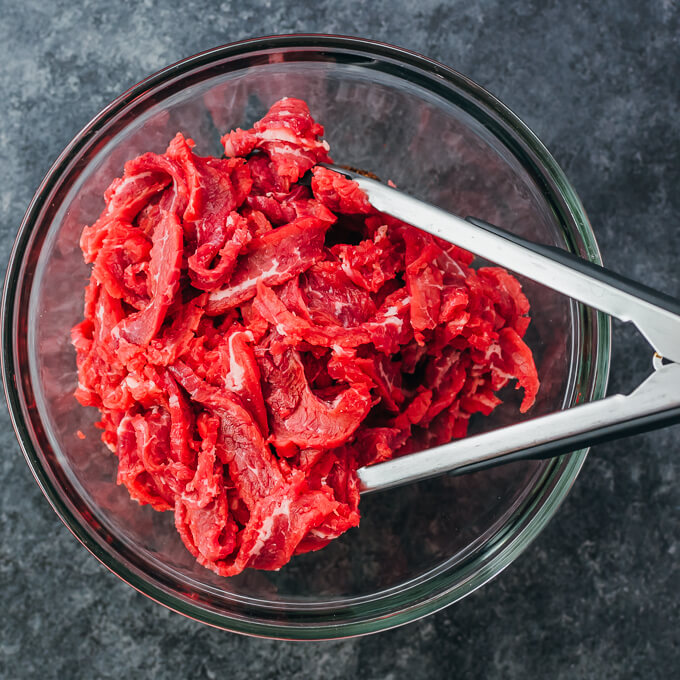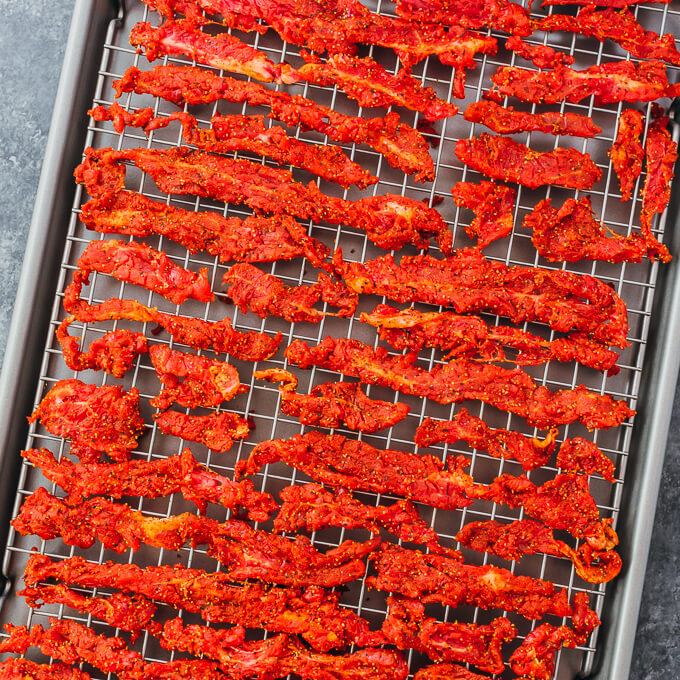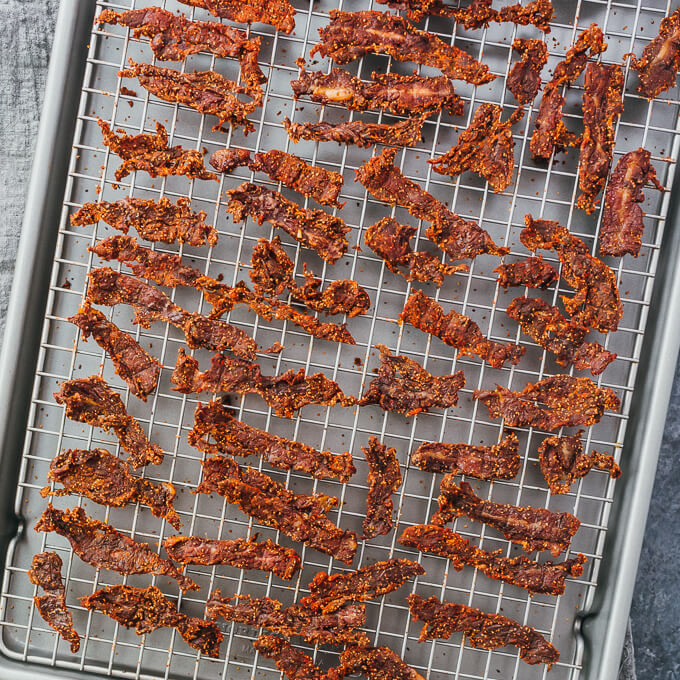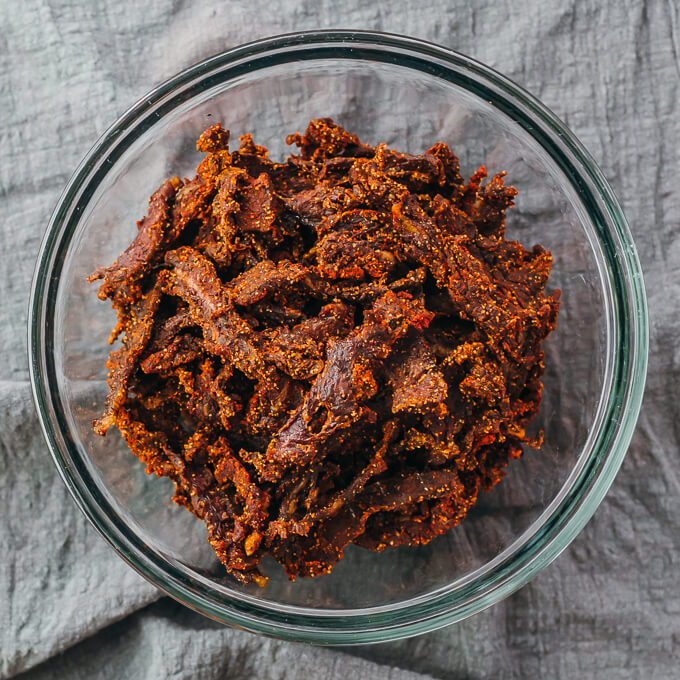 NOTES & TIPS
(1) Sweetener. Confectioners Swerve is a dry sweetener with zero net carbs, and measures the same as regular powdered sugar. The modest amount used in this recipe (3 tablespoons) enhances the other flavors but does not impart a sweet taste to the jerky.
(2) Black Pepper. Use more or less black pepper to adjust the overall spiciness of the beef jerky.
(3) Salt. I use iodized table salt. If you're using kosher salt, use 4 teaspoons Diamond Crystal kosher salt or 3 teaspoons Morton kosher salt.
(4) Baking Equipment. I use NordicWare's aluminum baking half sheet with nesting oven-safe nonstick rack.
(5) Slicing Steak. Slicing "against the grain" means to slice perpendicular to muscle fibers, which will result in more tender beef jerky. Parallel slices will yield chewier jerky. To slice efficiently, I use a serrated knife with a sawing motion.
(6) Serving / Leftovers. Enjoy the beef jerky anytime as a protein-packed snack. Leftovers can be stored in a resealable bag in the refrigerator for up to 2 weeks.
(7) Carbs. The carbs in this recipe are due to the spices — black pepper, paprika, and coriander. The nutrition calculation assumes you are using Swerve or a similar erythritol-based sweetener that uses sugar alcohols, whose carbs are non-impact and therefore not included in the nutrition estimate. Apps that count sugar alcohols will show a higher number of carbs.
(8) Recipe Inspiration. This recipe is adapted from America's Test Kitchen. I adjusted the spices and made it keto friendly, and followed their dry rub and oven drying techniques.