Summary:
These spiced almonds have a smoky and garlic flavor, and are easily cooked in just 5 minutes on a pan. It's an easy low carb, keto, and vegan recipe that makes for a healthy and flavorful snack.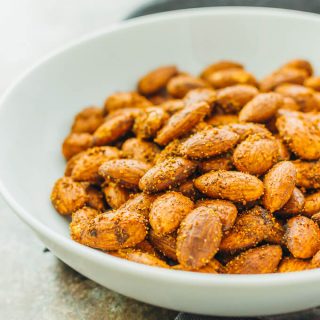 INSTRUCTIONS
In a small mixing bowl, combine all dry seasonings (paprika, cumin, garlic, cayenne, salt) and stir together until well-mixed.

Heat olive oil in a small pan over medium heat for a few minutes until hot.

Add the dry seasoning mix to the pan and stir with the oil. It should be hot and bubbling.

Add almonds and stir until coated with seasonings, about a minute.

Add sriracha sauce and stir until mixed well, about a minute.

Transfer almonds to a plate. Cool before serving.
NUTRITION
Makes 2 Servings
Amount Per Serving:
| | |
| --- | --- |
| Calories 390 (81% from fat) | |
| Total Fat 35g | 53% |
|    Saturated Fat 3g | 13% |
| Cholesterol 0mg | 0% |
| Sodium 310mg | 13% |
| Net Carb 2.5g | |
| Total Carb 11g | 4% |
|    Dietary Fiber 8.5g | 33% |
|    Sugars 2.5g | |
| Protein 14g | |
PHOTOS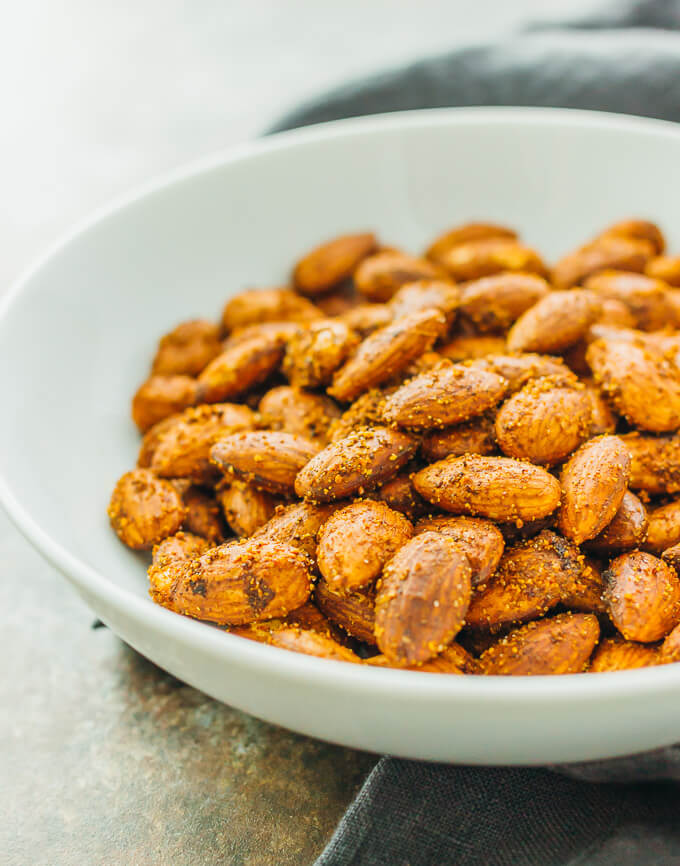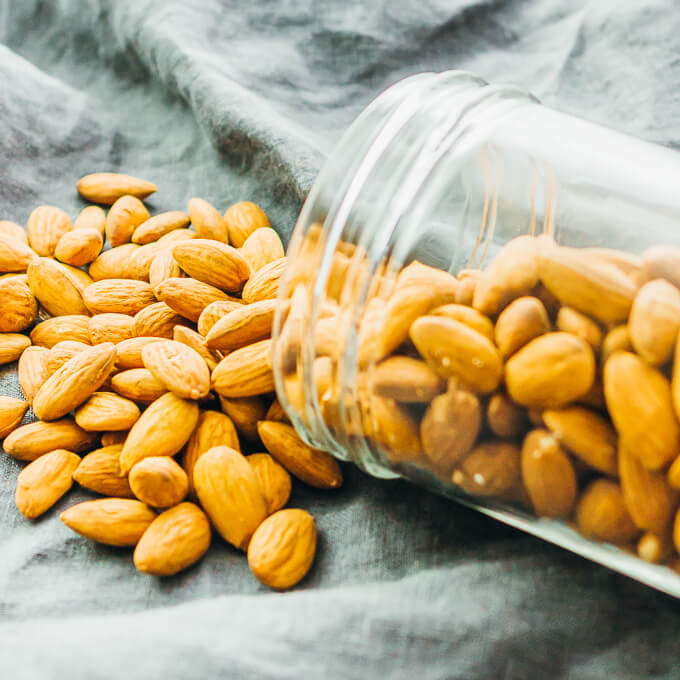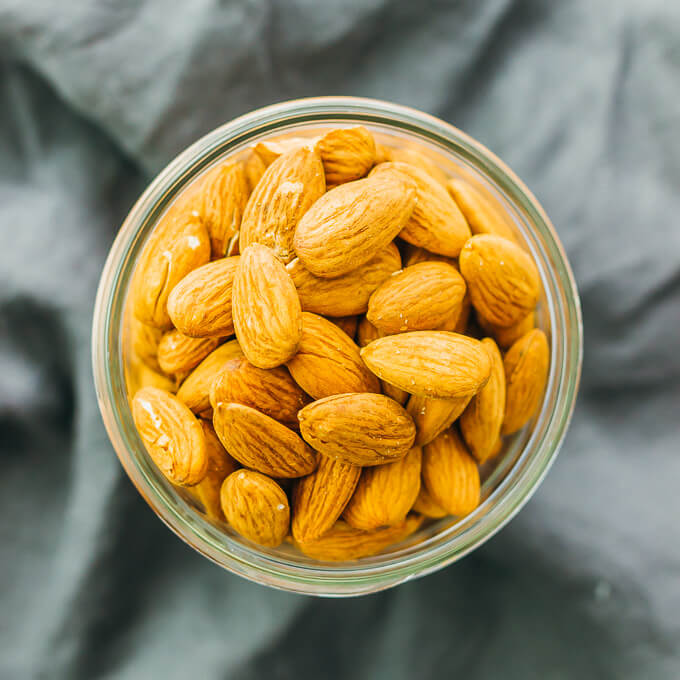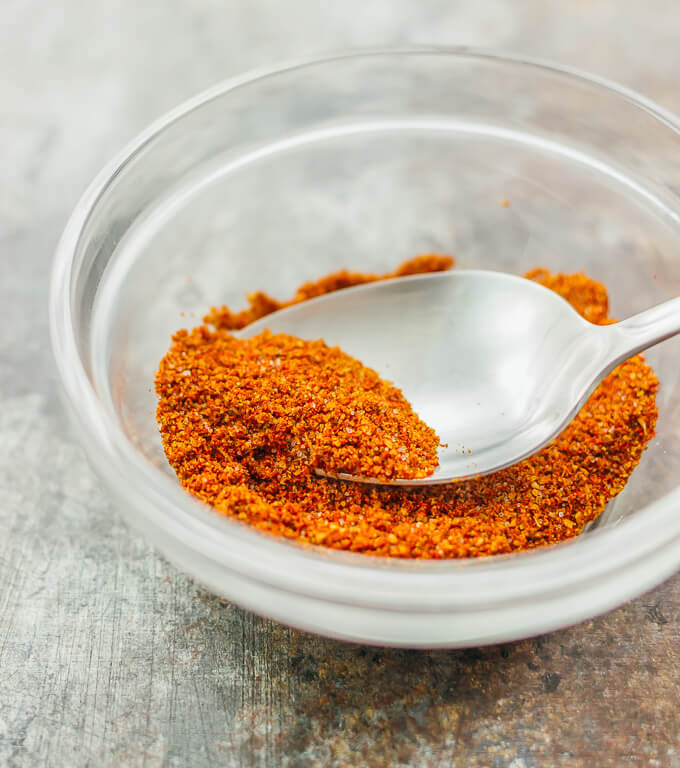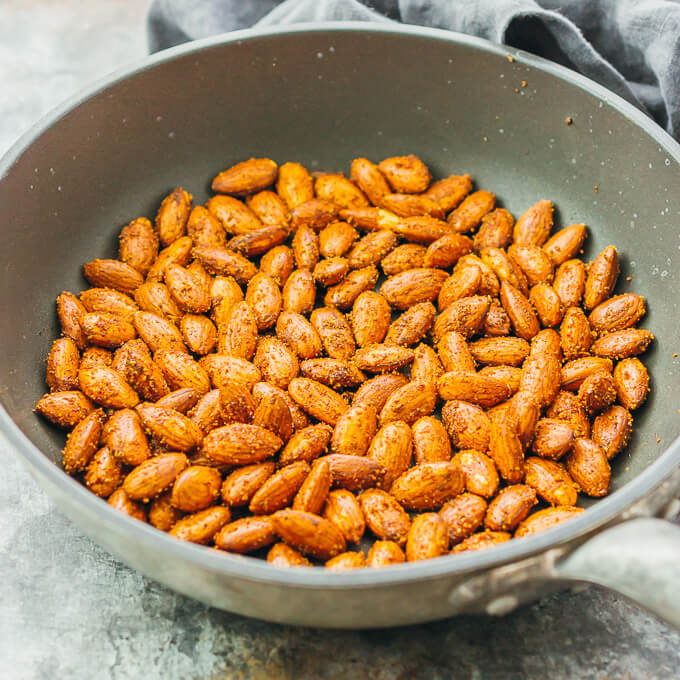 NOTES & TIPS

This recipe yields 1 cup of spiced almonds. It's enough as a snack for a few people, and you can easily multiply the recipe to make a bigger batch to feed a larger crowd.
You can easily make adjustments to the spice mix, adding more or less of each to match your preferences. If you're looking to customize the spiciness level of these almonds, I recommend keeping the 1/4 teaspoon of cayenne powder, and adjusting the quantity of sriracha sauce. Start with the recommended 1/2 teaspoon, and add more to taste.
The almonds are quite hot after cooking, so make sure to let them cool down to room temperature before storing.