Summary:
Pan searing shrimp is one of my favorite ways to cook shrimp, and this tasty seafood dinner includes a rich sauce with diced tomatoes, crumbled feta cheese, and minced garlic.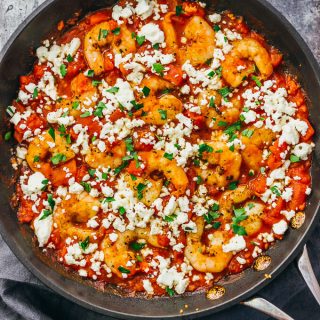 Pan Seared Shrimp with Tomatoes, Feta, and Garlic
INGREDIENTS
8

ounces

raw shrimp

peeled, deveined, thawed if frozen

1

(15-ounce)

can diced tomatoes

10

cloves

garlic

minced

1/2

cup

feta cheese

crumbled

2

tablespoons

butter

melted

1/4

teaspoon

salt

1/4

teaspoon

pepper

1/8

teaspoon

cayenne

chopped fresh parsley leaves

for garnish
INSTRUCTIONS
Thoroughly pat the shrimp dry using a paper towel or kitchen towel. Combine shrimp, melted butter, salt, and pepper in a bowl, stirring until the shrimp are well-coated with butter.

Heat a pan over medium-high heat for a few minutes until hot.

Use tongs to add shrimp to the hot pan in a single layer, working in batches if your pan cannot fit them all at once. Cook for a minute or until it starts to become pink around the edges, then flip and cook until shrimp are cooked through, less than a minute. Transfer the shrimp to a plate as they finish cooking.

Reduce heat to medium-low. Add minced garlic to the pan, cooking and stirring until fragrant and browning, less than a minute.

Add diced tomatoes (including liquid in the can) and cayenne to the pan. Stir to mix well. Let simmer for about 5 minutes to thicken the sauce a bit, stirring occasionally.

Remove the pan from heat. Add the shrimp back to the pan and stir with the sauce. Top with feta cheese and chopped parsley. Serve while hot.
NUTRITION
Makes 2 Servings
Amount Per Serving:
| | |
| --- | --- |
| Calories 320 (45% from fat) | |
| Total Fat 16g | 25% |
| Saturated Fat 11g | 55% |
| Cholesterol 150mg | 50% |
| Sodium 1320mg | 55% |
| Net Carb 13g | |
| Total Carb 14.5g | 5% |
| Dietary Fiber 1.5g | 7% |
| Sugars 7.5g | |
| Protein 26g | |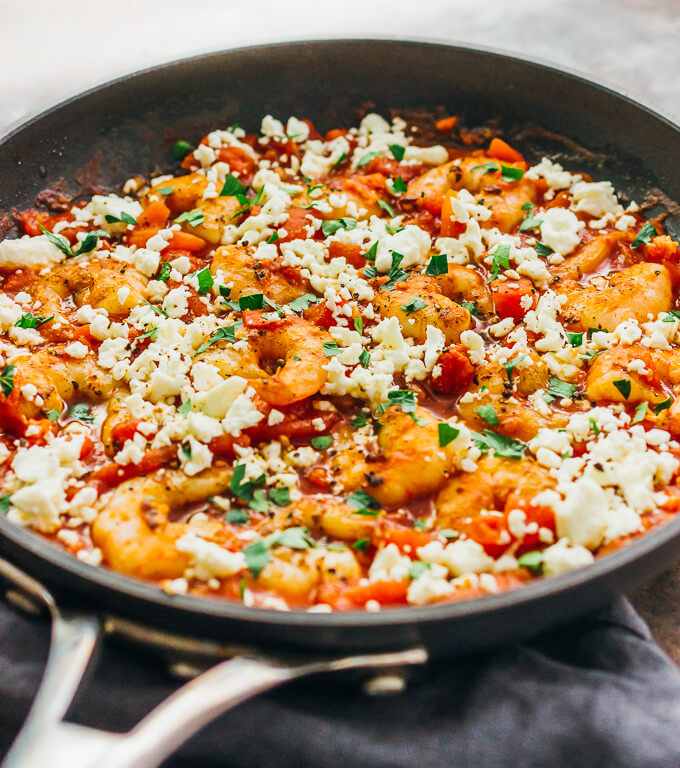 Who says seafood and cheese don't mix? This pan seared shrimp skillet has a generous helping of crumbly feta cheese, and is mixed with a bold garlic tomato sauce with just a slight hint of spiciness. It's a terrific medley of flavors that I could easily eat several servings of, and it's great as a standalone dinner, a side dish, or an appetizer.
It's also incredibly easy to make: just one pan and 30 minutes total including prep and cooking times. I first made these pan seared shrimp several weeks ago as a fallback dinner on a crazy day where I had little time, and I was pleasantly surprised at the ease of this recipe and the excellent balance of flavors. I can see it working well with other kinds of seafood, if shrimp isn't exactly your thing.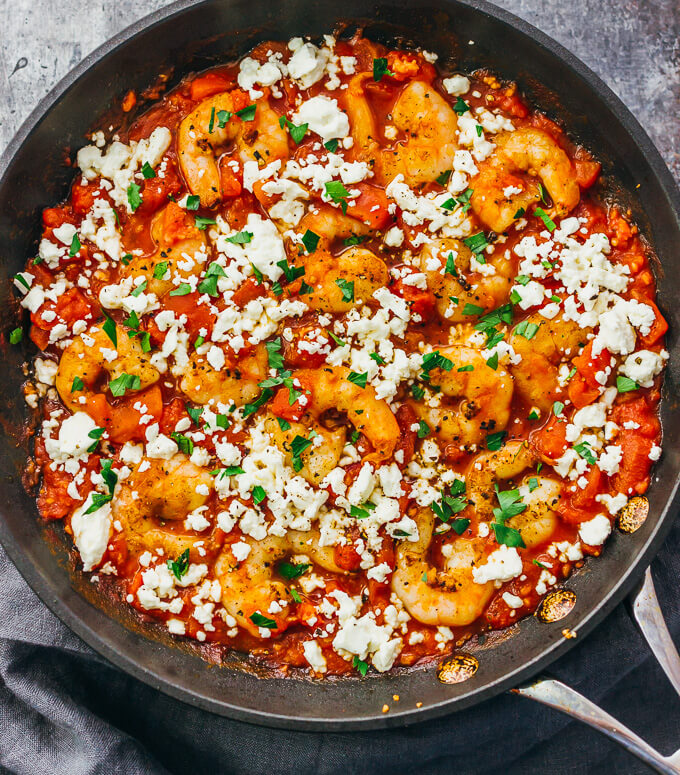 I recommend cooking the shrimp at medium-high heat to get a nice sear on them. If you're hesitant about pan frying anything hotter than medium heat due to the inevitable oil splatters all over your cooktop, read on for my tips on how to avoid them.
First of all, oil doesn't splatter. Water does. You get oil splatters because there's water in your pan, which instantly turns into steam because it's beyond its boiling point. When water turns into steam, it takes oil droplets along with it. That means in order to reduce oil splatter, you need to make sure your pan and your food (in this case, the shrimp) are dry. I usually use a kitchen towel to pat my shrimp dry. If your shrimp are frozen, it's even more important that you pat them dry after they thaw.
Another way to reduce greasy splatter is to coat the food with oil and not the pan. That's what I do in this recipe, using butter instead of oil: the shrimp are tossed with melted butter before being added to a dry heated pan. To melt the butter, zap it in a small prep bowl in the microwave until it's just starting to melt. Stir with a spoon until completely melted. Then toss the melted butter with the patted-dry shrimp until well-coated.
I also recommend getting a splatter guard. They're made of fine metal mesh and can catch some, but not all, oil droplets. They fit your pan like a lid, which means you'll still have to lift it up (and risk splatters) to reach anything in the pan. I use my splatter guard whenever I'm frying bacon.
Recently I heard of Frywall, which helps prevent oil splatters but doesn't cover access to the pan. Sounds like a great concept but I haven't tried it. Lastly, you could try using a griddle pan, which helps reduce splatter because water and juice can get trapped in its grooves.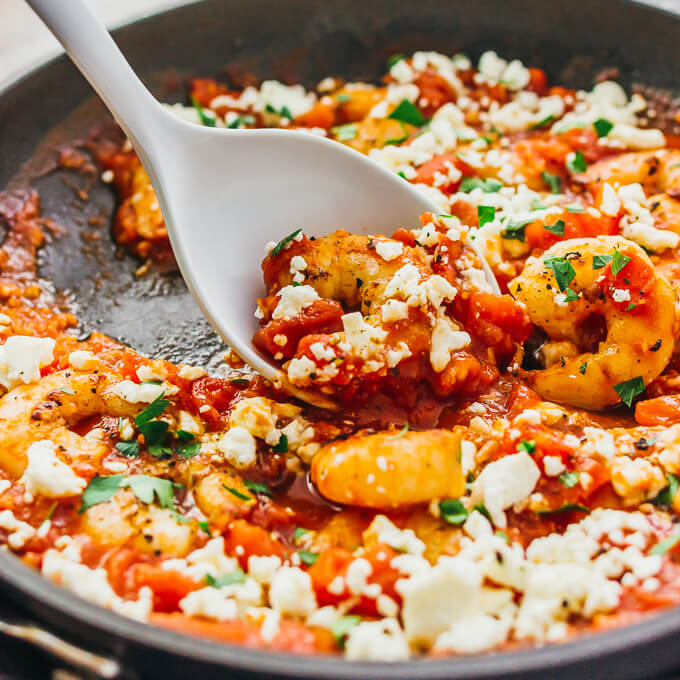 This recipe moves fast so be sure to have all ingredients prepped and ready before heating the pan. Here's the timeline: the shrimp cooks in less than 2 minutes, the garlic browns almost instantly, and the tomato mixture only takes 5 minutes.
I love super fast recipes like this — it reminds me of these 5-minute homemade spiced almonds — but it means that you have to be organized and have everything in the ingredient list ready to go.
I'm hesitant to talk about substitutions because I love every single thing in the ingredients list. As I mentioned earlier, if you don't eat shrimp you can substitute other types of seafood, like fish. If you don't like spicy foods, you can omit the 1/8 teaspoon cayenne, but it's not much to begin with. You've probably noticed that there's a lot of garlic in this recipe — yes, 10 cloves or a whole bulb — that's not a typo. You can use less if it's too much for you, but it definitely doesn't overpower the dish.