Summary:
This everyday paella is an easy one pot meal with shrimp, smoked sausage, tomatoes, onions, peas, garlic, and saffron.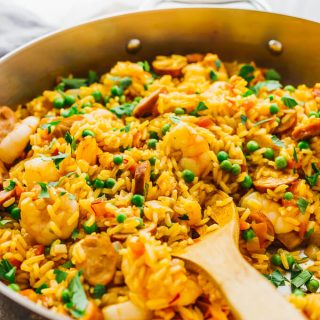 Shrimp Paella with Smoked Chicken Sausage
INGREDIENTS
12

ounces

smoked chicken sausage

sliced into rounds

8

ounces

shrimp

peeled, deveined, patted dry

1

pound

tomatoes

about 2, chopped

1

medium onion

finely chopped

1

cup

green peas

1 1/2

cups

uncooked basmati rice or jasmine rice (Spanish paella rice if you can)

5

cloves

garlic

chopped

2 tablespoons and 1/4 cup olive oil

divided

2

teaspoons

salt

2

teaspoons

smoked paprika

1

teaspoon

saffron threads

1/4

cup

chopped parsley
INSTRUCTIONS
Heat 2 tablespoons of olive oil in a 4 quart or larger pan over medium heat for a few minutes until hot.

Add shrimp to the pan, sauteing until cooked through, about 5 minutes, turning them occasionally. Transfer the shrimp to a plate.

Add sausage rounds to the pan, sauteing until slightly brown, about 5 minutes, stirring occasionally. Transfer to the same plate holding the shrimp.

Add chopped tomatoes, onions, and garlic to the pan. Pour 1/4 cup olive oil on top. Cook until the vegetables are soft, about 10 minutes, stirring occasionally.

Sprinkle paprika and salt over the pan, and then add in 1/2 cup water. Increase heat to medium-high and cook for 5 minutes to thicken the mixture, stirring frequently.

Add rice, saffron, and 4 cups of water to the pan. Cook for 5 minutes, stirring frequently. If your pan can't hold that much liquid, add the water in increments as the liquid evaporates.

Reduce to low heat. Let simmer until the rice is fully cooked and the liquid has been absorbed, about 20 minutes, stirring occasionally.

Stir in peas, sausage, and shrimp, and heat for a few minutes until warmed through. Add additional salt to taste if needed.

Serve and garnish with chopped parsley.
NUTRITION
657 kcal/serving

PHOTOS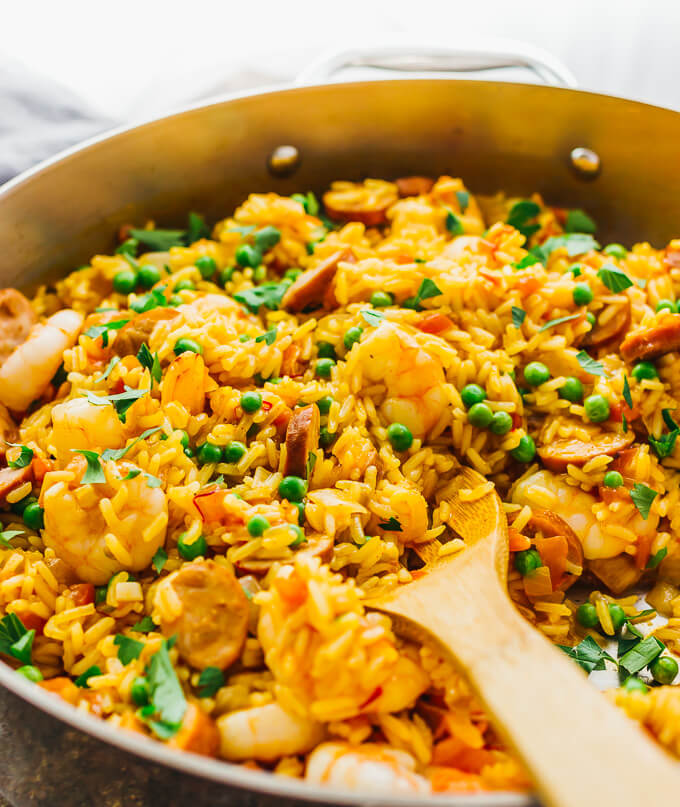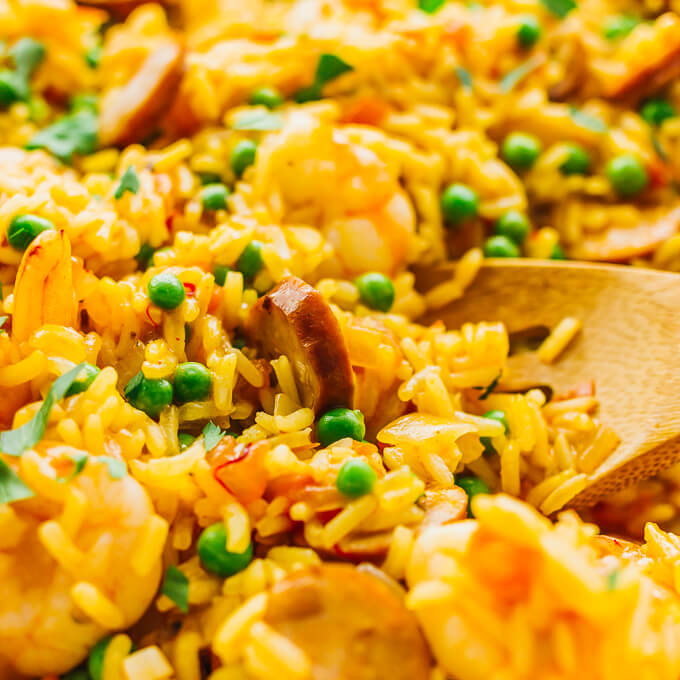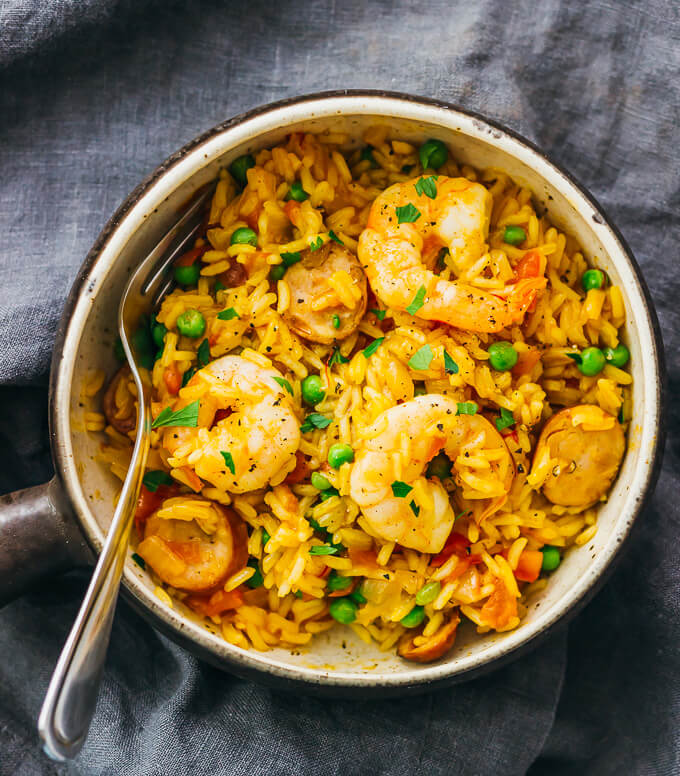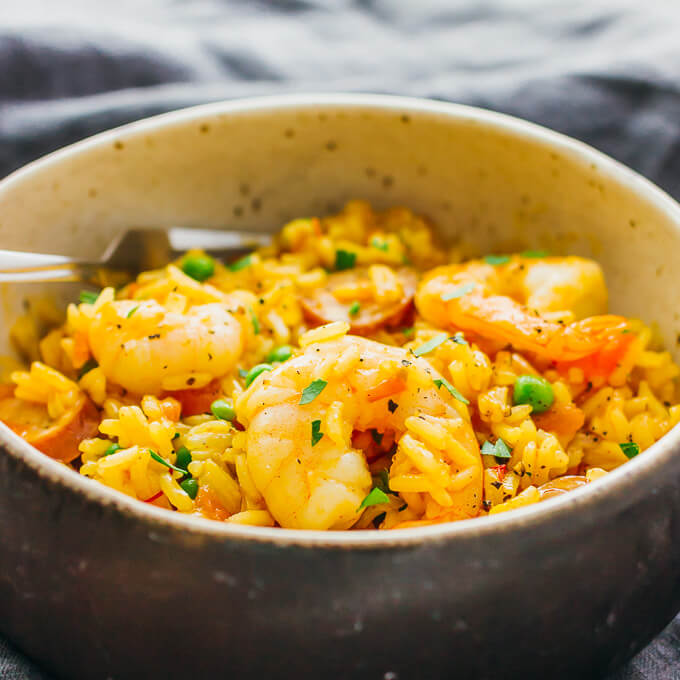 NOTES & TIPS

Meat substitutions in this recipe are easy to make since they're cooked separately from everything else. If you don't like shrimp, you can use some other seafood like scallops, and if you don't like sausage, you can substitute with chicken chunks. Just be sure to saute them first, cooking until tender or to your preference, transfer to a plate, and stir them back in at the end of the recipe.
The only item in the ingredients list that will be harder to find is saffron. Saffron is a spice made using the stigmas and styles ("threads") from a particular flower, and it's one of the costliest food ingredients in terms of price per weight. I buy Spanish saffron at Trader Joe's, where they sell a tiny affordable jar of it in their spice section.
I always use saffron when making paella, but seeing as how you're unlikely to use it for anything else, you can skip it if you're unable to find it locally. Saffron gives a distinctive yellow color to foods, so if you decide to omit it, your paella will not have the same color, aroma, and flavor.
Leftovers reheat well in the microwave, so don't be afraid to make this recipe even if you're only cooking for yourself or for two. Make sure you have a large enough pan to hold all of the ingredients — I use a 5 quart pan, and anything 4 quarts or larger will be sufficient.