Summary:
These garlic mashed turnips are a creamy and comforting side dish that comes together easily in one pot on the stovetop; no special equipment needed. Enjoy them as a delicious low carb replacement for mashed potatoes.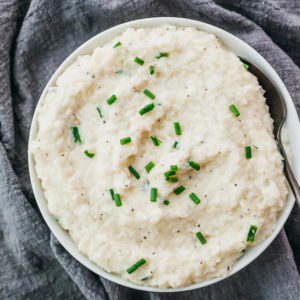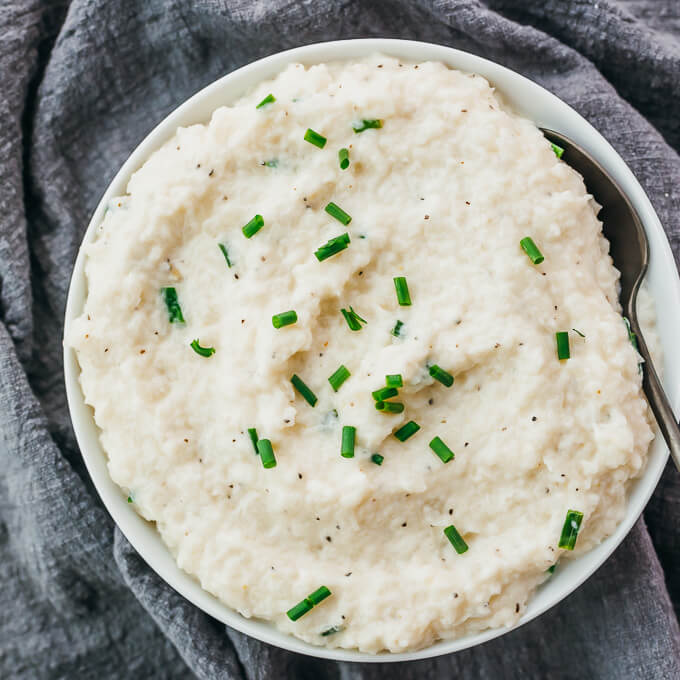 INGREDIENTS
2

medium purple-top turnips

2

cloves

garlic, minced

3

ounces

cream cheese

2

tablespoons

butter

1

tablespoon

finely chopped fresh chives

1/2

teaspoon

table salt

1/2

teaspoon

ground black pepper
INSTRUCTIONS
Cut Turnips: Peel turnips. Cut into roughly 2-inch chunks, about 16 chunks per turnip.

Boil Turnips: Add chopped turnips to 3 quart or larger pot, and fill with water. Cover with lid, and bring to boil. Boil turnips until very soft, about 30 minutes. Drain turnips in colander, emptying pot of water. Let turnips sit for about 5 minutes to steam out, then transfer turnips back to pot.

Thicken: Increase to medium heat so that mixture starts to bubble. Stir nearly constantly (to prevent sticking to bottom of pot) for a few minutes until mixture thickens and resembles mashed potatoes.

Serve: Cool for 5 minutes, season with salt and pepper to taste, and serve (Note 3).
NUTRITION
Makes 4 Servings
Amount Per Serving:
| | |
| --- | --- |
| Calories 140 (84% from fat) |   |
| Total Fat 13g | 20% |
|    Saturated Fat 8g | 40% |
| Cholesterol 38mg | 13% |
| Sodium 460mg | 19% |
| Net Carb 4g |   |
| Total Carb 5g | 2% |
|    Dietary Fiber 1g | 5% |
|    Sugars 2.5g |   |
| Protein 2g |   |
PHOTOS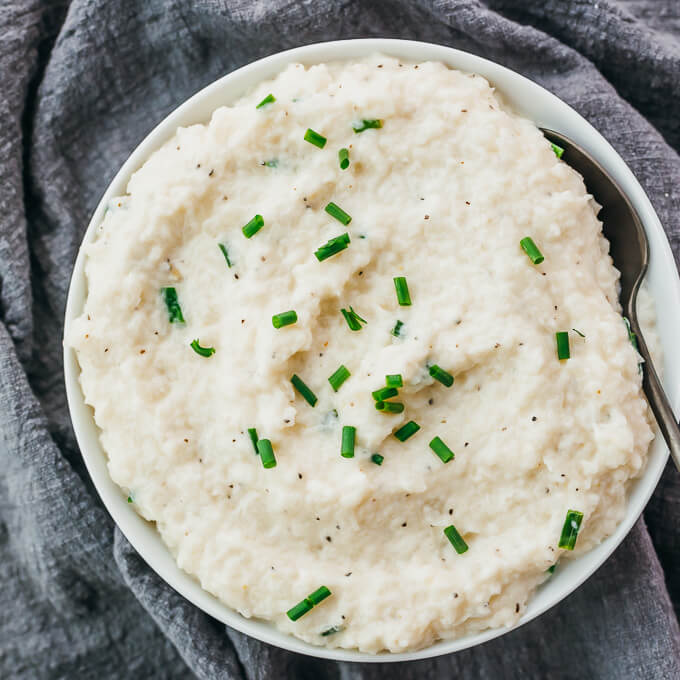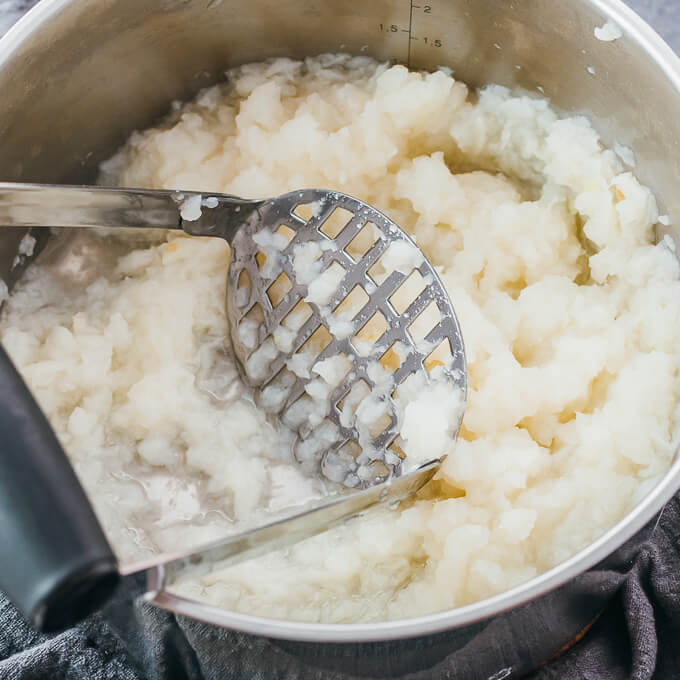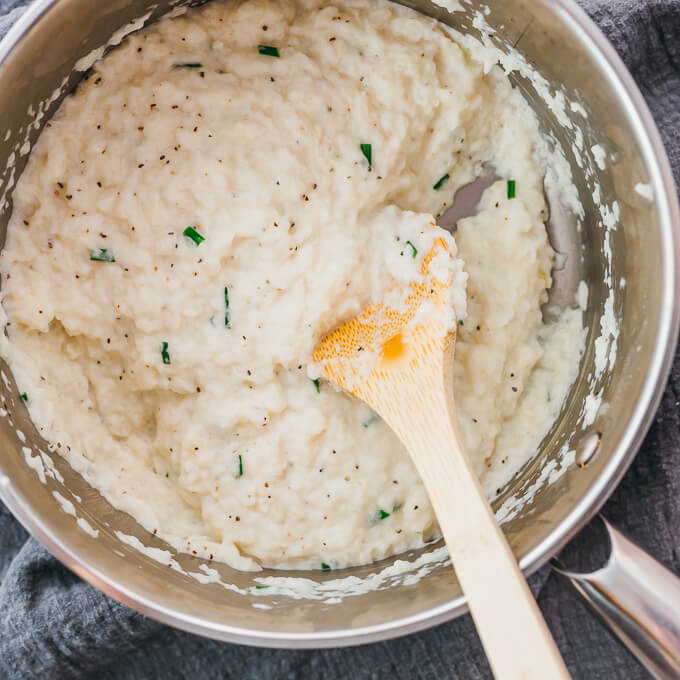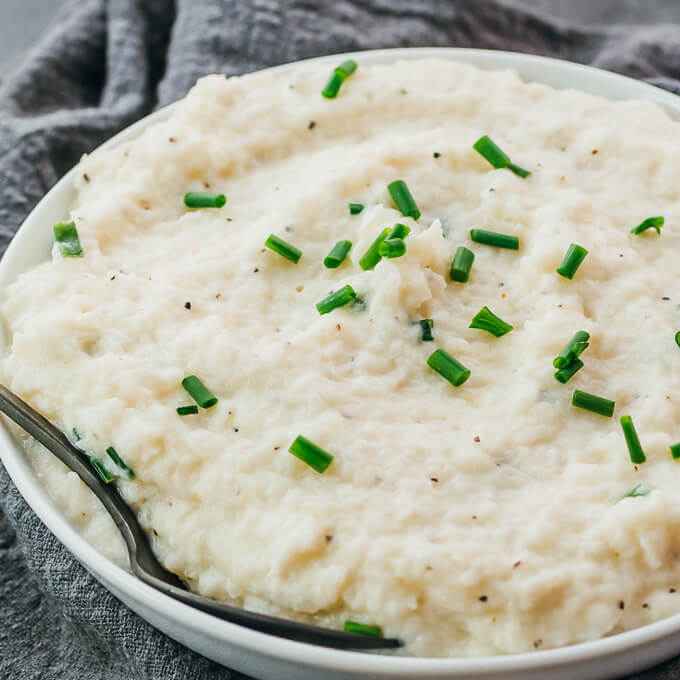 NOTES & TIPS
(1) Mashing Turnips. I use a potato masher, but you can also use a fork or a whisk. It should require little effort to mash the turnips because they're very mushy after boiling. How coarsely or finely mashed they are is up to you, depending on whether you prefer a chunkier or smoother texture.
(2) Combining Ingredients. If your turnips are particularly fibrous or if you prefer a super silky consistency, use an immersion blender to combine the mashed turnips with all of the other ingredients.
(3) Serving / Make Ahead. Serve warm, optionally with flavor add-ins (see Note 4), as a low carb side dish to meaty entrees like baked chicken breasts with a cheesy spinach topping, braised lamb shanks, or baked meatballs with creamy tomato sauce. Mashed turnips are also perfect for bringing to potlucks or holiday gatherings. Since they're not the usual mashed potatoes, it's nice to bring something that's a bit different to the table. To make ahead of time, follow the recipe's instructions, then cover and refrigerate. Reheat in a saucepan on the stovetop over medium heat until warmed through, stirring frequently.
(4) Flavor Add-Ins. Dress up this dish by mixing in or topping with crispy crumbled bacon, grated cheese, sour cream, sliced scallions, chopped fresh basil, or tomato salsa.