Summary:
This comforting Instant Pot Vegetable Beef Soup has tender chunks of beef and vegetables, simmered in a savory tomato-based broth. It's a great way to use up leftover vegetables, and makes a large number of servings to enjoy throughout the week.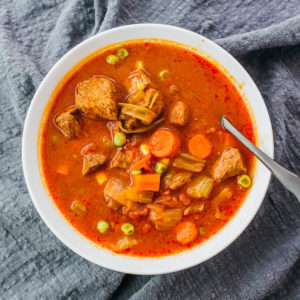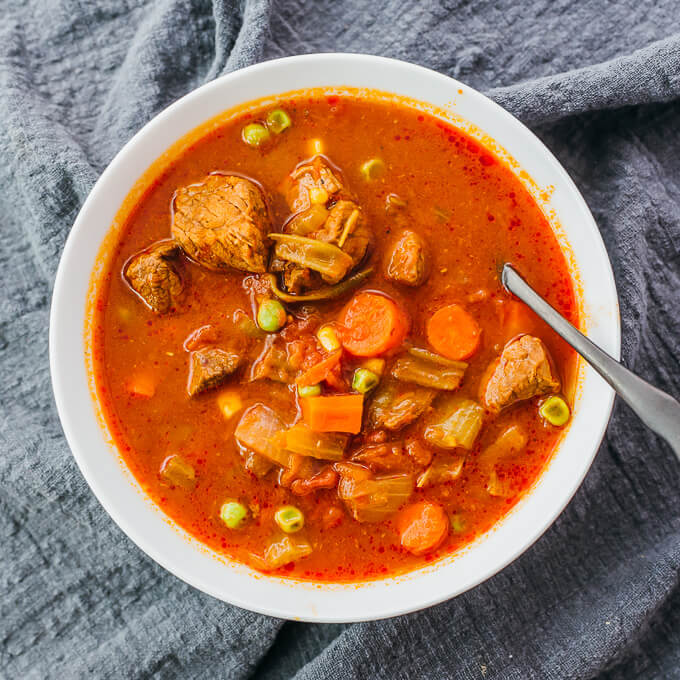 Instant Pot Vegetable Beef Soup
Natural Release:
25

minutes
INGREDIENTS
2

pounds

beef stew meat (Note 1)

3

medium ribs

celery, chopped (Note 2)

3

medium carrots, chopped

1

small onion, chopped

28-ounce can

crushed tomatoes

3

cups

low sodium beef broth

1.25

cups

chopped frozen green beans (Note 3)

1/2

cup

frozen corn

1/2

cup

frozen green peas

1

tablespoon

balsamic vinegar

1

tablespoon

olive oil

1/2

teaspoon

each: table salt, ground black pepper, ground thyme
INSTRUCTIONS
Cut Beef: If wet, pat beef dry with paper towels. Cut into bite-sized chunks, smaller than 1 inch. Trim off any excess fat. Season with salt and pepper.

Brown Beef: Turn on sauté mode on pressure cooker (Note 4) for high heat. Once heated, add olive oil and half of beef chunks, spreading them out. Cook until browned, 3 to 5 minutes per side, then transfer to large plate. Repeat with remaining beef.

Cook Vegetables: Add celery, carrots, onions, and thyme to now-empty pot. Cook vegetables for about 5 minutes, stirring occasionally. Stir in crushed tomatoes. Turn off sauté mode.

Add Other Ingredients: Return beef to pot, including any liquid collected on plate. Add green beans and beef broth to pot, stirring in with other ingredients.

Pressure Cook: Secure and seal lid. Cook at high pressure for 10 minutes, followed by 25 minute natural release. Manually release remaining pressure by gradually turning release knob to venting position.

Serve: Uncover, and stir in corn, green peas, and balsamic vinegar. Serve and store leftovers (Note 5).
NUTRITION
Makes 8 Servings
Amount Per Serving (1.5 cups):
| | |
| --- | --- |
| Calories 230 (23% from fat) |   |
| Total Fat 6g | 9% |
|    Saturated Fat 1g | 7% |
| Cholesterol 75mg | 25% |
| Sodium 740mg | 31% |
| Net Carb 8g |   |
| Total Carb 12g | 4% |
|    Dietary Fiber 4g | 15% |
|    Sugars 6.5g |   |
| Protein 29g |   |
PHOTOS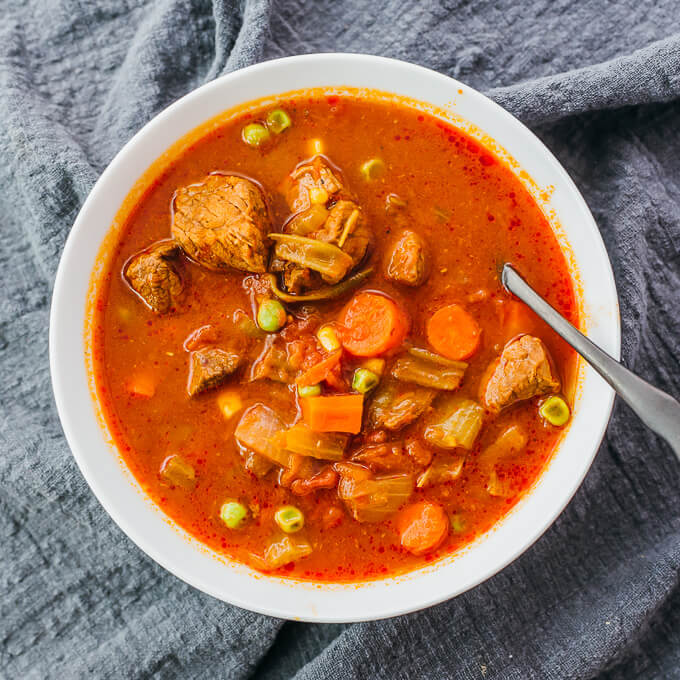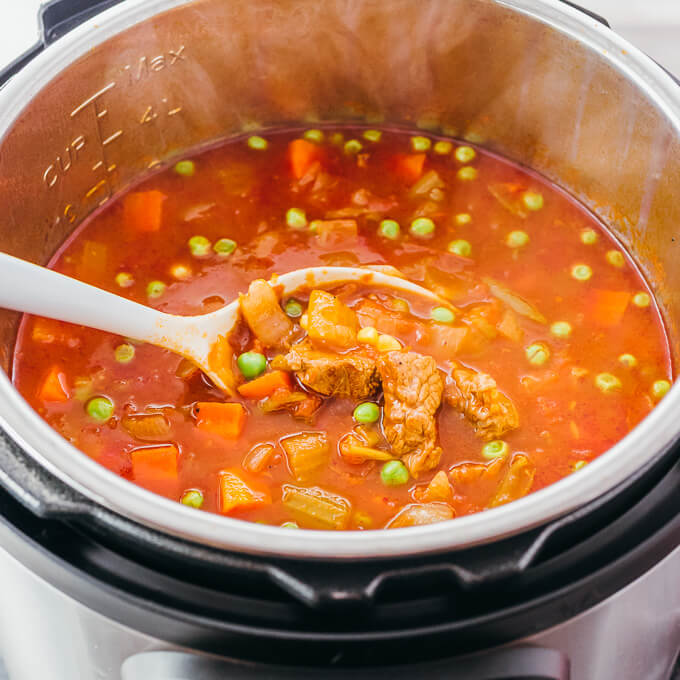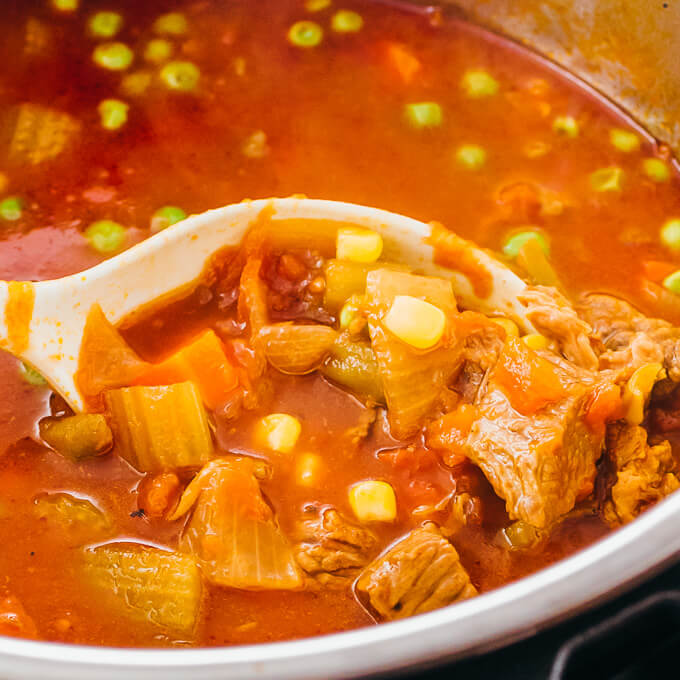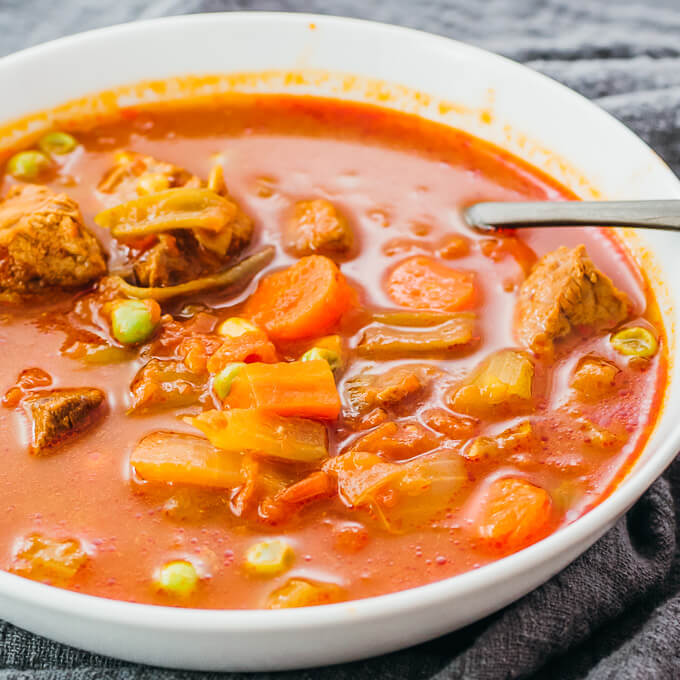 NOTES & TIPS
(1) Beef Stew Meat. I use fresh raw beef labeled as "beef stew meat" in U.S. grocery stores; they're usually trimmed and chopped-up chunks of meat from tougher cuts, like chuck or round. Round is usually leaner than chuck. These tougher cuts are appropriate for soups and stews because the long cooking time helps break them down.
(2) Celery/Carrots/Onions. To save prep time, check if your local grocery store sells mirepoix in the refrigerated produce area. Mirepoix is a pre-cut package of all three ingredients. If desired, they can be substituted with other chopped vegetables that you may have on hand.
(3) Green Beans/Corn/Peas. These frozen staples add variety and texture to the soup. If you're not eating low carb, you can replace some of these ingredients with potatoes or barley.
(4) Pressure Cooker. I use a 6-quart Instant Pot, and any electric pressure cooker with similar or larger capacity will work. Avoid smaller models because this recipe produces a large volume of soup, almost 3 liters.
(5) Serving / Leftovers. The soup will be very hot after cooking; ladle into bowls and cool a bit before serving, then season with salt and pepper to taste. Leftovers are fabulous. I usually don't eat this soup after making it; instead, I make a big batch ahead of time and refrigerate them as individual servings. They reheat well in the microwave, and you can enjoy them for lunches during the week.