Summary:
This soup is bursting with flavor, yet incredibly easy to make with simple ingredients like chicken and salsa. Cream cheese adds a creamy richness to the soup, which is then finished with avocado and shredded cheese.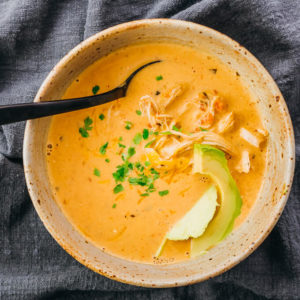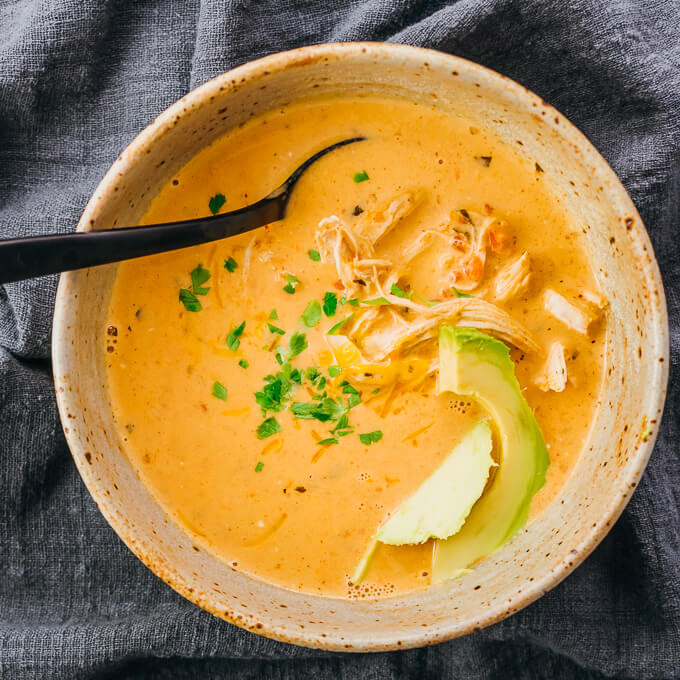 INGREDIENTS
Toppings:
1

avocado, thinly sliced or diced

1/2

cup

shredded cheddar cheese

2

tablespoons

chopped fresh cilantro or parsley
INSTRUCTIONS
Soften Cream Cheese: Cut cream cheese into 8 cubes. Set aside to soften while you work on the next step.

Pressure Cook: Stir together chicken broth, salsa, and taco seasoning in pressure cooker pot (Note 6) until well-mixed. Submerge chicken breasts in mixture. Secure and seal lid (Note 7). Cook for 25 minutes (Note 8) at high pressure, followed by quick pressure release.

Thicken Soup: Uncover and transfer only chicken breasts to plate; set aside. Whisk together 1 cup of hot liquid from pressure cooker with softened cream cheese in heatproof bowl or liquid measuring glass until smooth, a few minutes. Pour cream cheese mixture into pot, stirring it in.

Shred Chicken: Turn on saute mode for medium heat. While waiting for liquid to boil, finely shred chicken using two forks and return chicken to pot. Boil soup for a few minutes to combine flavors, stirring frequently, then turn off saute mode.

Serve (Note 9): Ladle soup into bowls, and top with avocado, cheddar cheese, and cilantro.
NUTRITION
Makes 7 Servings
Amount Per Serving (1 cup):
| | |
| --- | --- |
| Calories 290 (59% from fat) |   |
| Total Fat 19g | 30% |
|    Saturated Fat 9g | 45% |
| Cholesterol 83mg | 28% |
| Sodium 810mg | 34% |
| Net Carb 6g |   |
| Total Carb 9g | 3% |
|    Dietary Fiber 3g | 12% |
|    Sugars 3g |   |
| Protein 21g |   |
PHOTOS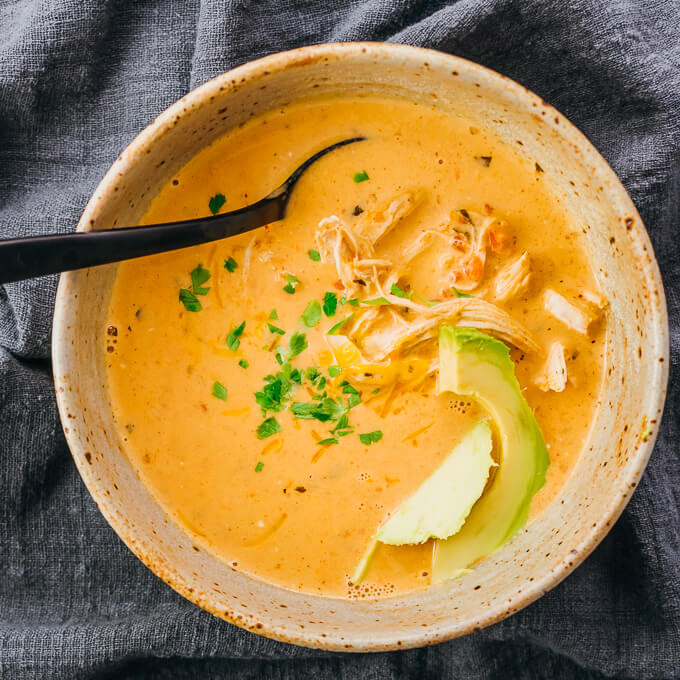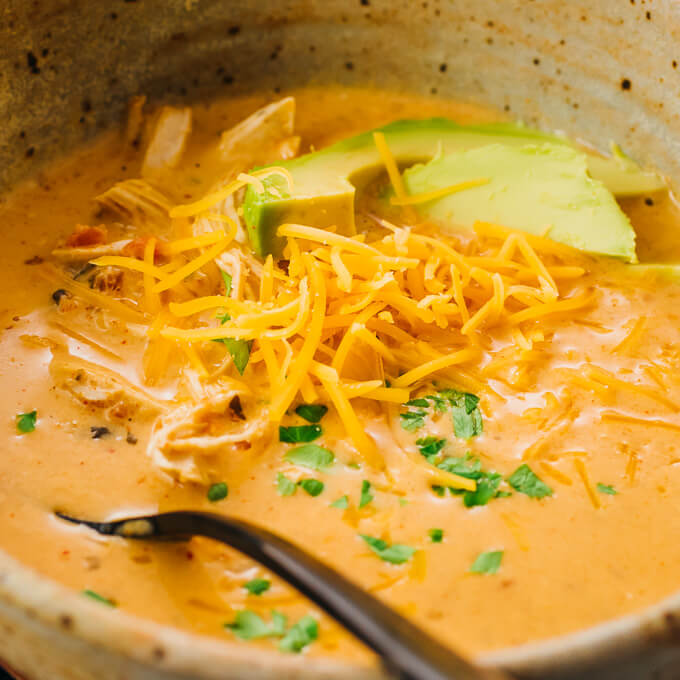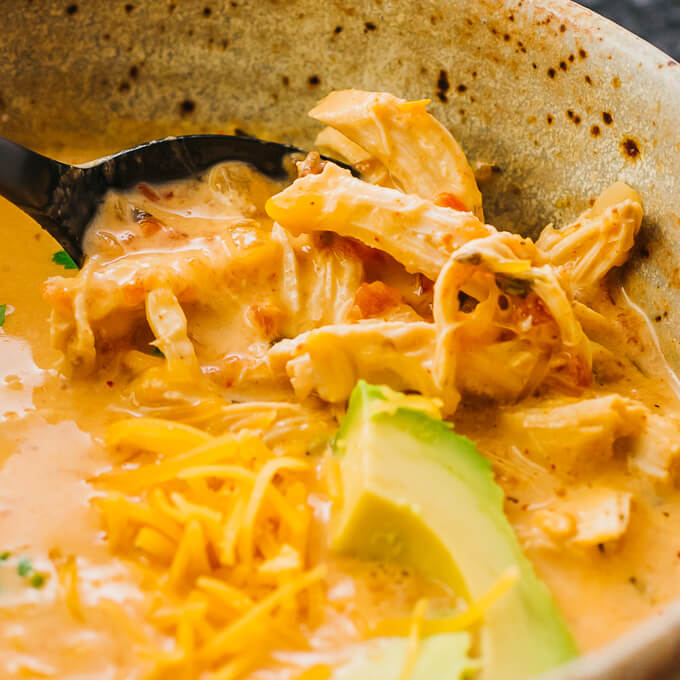 NOTES & TIPS
(1) Chicken Breasts. I use fresh chicken; if yours is frozen, defrost in the refrigerator overnight until thawed. You can also use already cooked shredded chicken. I haven't tried chicken thighs, but that should also work well for this recipe.
(2) Chicken Broth. I use low sodium broth to avoid an overly salty soup.
(3) Cream Cheese. I use regular, full-fat cream cheese by Philadelphia. This is the key ingredient that lends a thick and smooth consistency to the soup.
(4) Salsa. I use homemade salsa or the fresh kind that you can find in the refrigerated section of a grocery store. Not the shelf-stable jarred or canned salsa. Note that salsa is not the same as pico de gallo; salsa is thinner and pico de gallo is chunkier. I recommend buying mild salsa if this is your first time making this soup. The taco seasoning will provide the heat and you don't want to end up with soup that's too spicy to enjoy.
(5) Taco Seasoning Mix. You can find this in the spice aisle of your supermarket. I use Trader Joe's taco seasoning mix, and I find that 4 teaspoons provides an adequate level of spiciness. If you can't handle spices well, use 3 teaspoons or less. Homemade mixes also work well.
(6) Pressure Cooker Equipment. I use a 6-quart Instant Pot. Other sizes of electric pressure cookers should also work as long as all ingredients fit within the maximum capacity.
(7) Sealing Pressure Cooker. Before cooking, remember to seal the pressure cooker by turning the pressure knob from "venting" to "sealing," otherwise the pot will not pressurize.
(8) Pressure Cooking Time. If you scale the ingredients up or down to accommodate a different number of servings, the pressure cooking time remains the same.
(9) Serving. In addition to the serving suggestions mentioned in the recipe — avocado, shredded cheese, cilantro — you can add toppings like sour cream, crumbled Mexican queso fresco, a squeeze of lime juice, chopped fresh tomatoes, or sliced fresh jalapeños. Note that the soup is also fantastic as-is, without any toppings. Serve this for lunch or dinner alongside appetizers like fried jalapeño slices or bacon-wrapped jalapeño poppers. If you have leftovers, cover and refrigerate for up to a few days. Reheat in the microwave until warm.
(10) Nutrition. The estimated nutrition information includes the 3 toppings listed in the ingredients.