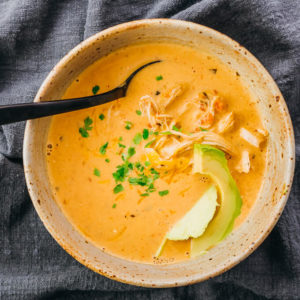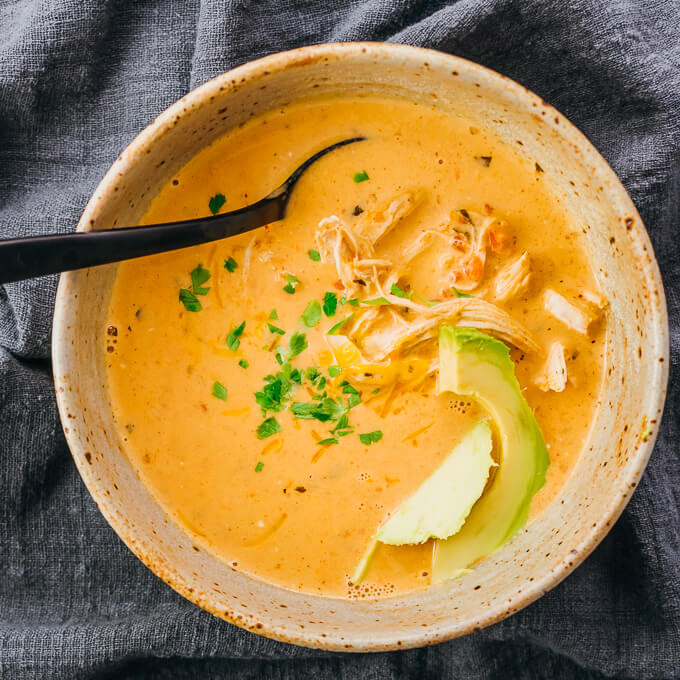 Instant Pot Salsa Chicken Soup
INGREDIENTS
1

lb

boneless skinless chicken breasts

3

cups

low sodium chicken broth

1

(8-ounce)

brick cream cheese

1 1/2

cups

mild salsa

4

tsp

taco seasoning mix

(or <3 teaspoons for milder version)
For topping:
1/2

cup

shredded cheddar cheese

1

avocado, thinly sliced or diced

2

tbsp

chopped cilantro or parsley
INSTRUCTIONS
Cut the cream cheese into 8 cubes. Set aside to soften while you work on the rest of the recipe.

Add chicken broth, salsa, and taco seasoning mix to the pressure cooker pot. Stir together until well-mixed.

Add chicken breasts to the pot, submerging them in the liquid.

Secure and seal the lid. Cook for 25 minutes at high pressure, followed by a manual pressure release.

Uncover and transfer only the chicken breasts to a plate.

In a heatproof bowl or measuring glass, add softened cream cheese and 1 cup of hot liquid from the pressure cooker pot. Whisk for a few minutes until smooth. Pour the cream cheese mixture into the pot and stir it in.

Turn on the saute mode for medium heat. While waiting for the liquid to come to a boil, use 2 forks to finely shred the chicken and return them to the pot.

Let the soup boil for a few minutes, stirring frequently. Turn off the saute mode.

Serve in bowls and top with avocado, cheddar cheese, and cilantro.
NUTRITION
Makes 7 Servings
Amount Per Serving (1 cup):
| | |
| --- | --- |
| Calories 290 (59% from fat) | |
| Total Fat 19g | 30% |
| Saturated Fat 9g | 45% |
| Cholesterol 83mg | 28% |
| Sodium 810mg | 34% |
| Net Carb 6g | |
| Total Carb 9g | 3% |
| Dietary Fiber 3g | 12% |
| Sugars 3g | |
| Protein 21g | |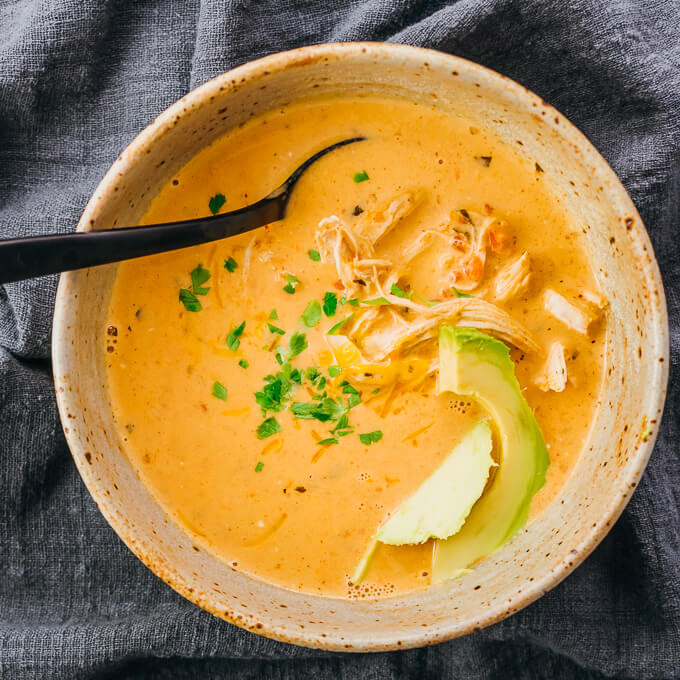 An Easy Recipe
I usually make my meals from scratch (like this recent Instant Pot Chili Verde), but every once in a while, I enjoy pulling together an effortless meal that uses some pre-made components. For this salsa chicken soup, I use store-bought salsa (instead of making my own) and a pre-made taco seasoning mix. Both add a ton of flavor, with little work required.
This is not quite a dump-and-go pressure cooker recipe, but it comes close. After pressure cooking the chicken, it needs to be shredded. And cream cheese is added to the soup, which gives it a creamy and rich texture. But that's about it. Overall, it's a really easy recipe that deserves a spot in your weeknight dinner rotation!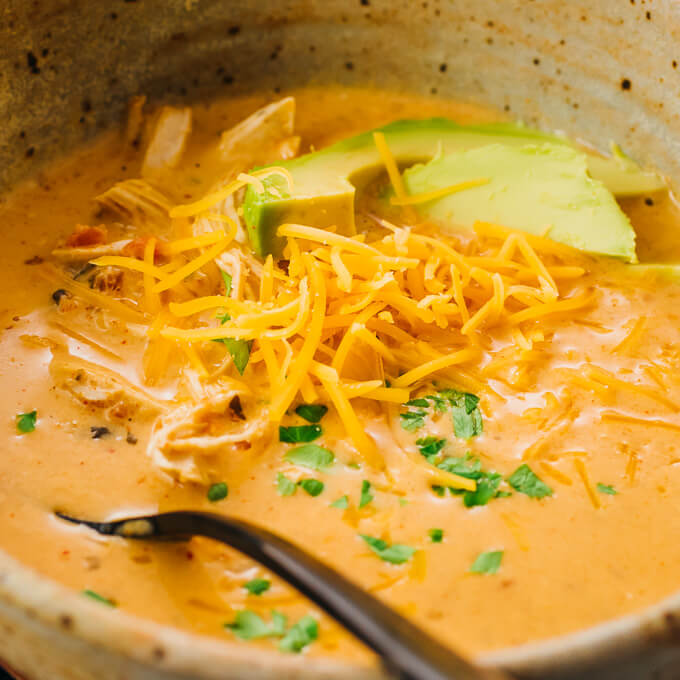 Selecting Ingredients
Chicken breasts. I use skinless and boneless fresh chicken breasts. Frozen is fine, but I recommend thawing overnight in the refrigerator. If you add frozen breasts directly to the pressure cooker pot, the resulting soup might be a bit more watery. You'll also need to increase the pressure cooking time. I haven't tested this recipe using chicken thighs, but they should work well.
Chicken broth. I use a low sodium broth, to avoid an overly salty soup. It's always easy to add salt to taste after the soup is done, but impossible to take it out.
Cream cheese. Any full-fat, regular cream cheese will work. I prefer the Philadelphia brand. Don't buy cream cheese spreads or light versions of cream cheese. And don't skip this ingredient — it adds substantial creaminess to the soup.
Salsa. I use fresh salsa that you can find in the refrigerated section of a supermarket near the produce. I don't use jarred or canned salsa. Note that salsa is not the same as pico de gallo; salsa is thinner and pico de gallo is chunkier. I recommend buying mild salsa if this is your first time making this soup. The taco seasoning will provide the heat and you don't want to end up with soup that's too spicy to enjoy.
Taco seasoning mix. You can find this in the spice aisle of your supermarket. I use Trader Joe's taco seasoning mix, and I find that 4 teaspoons provides an adequate level of spiciness. If you can't handle spices well, I'd dial it down to 3 teaspoons or less.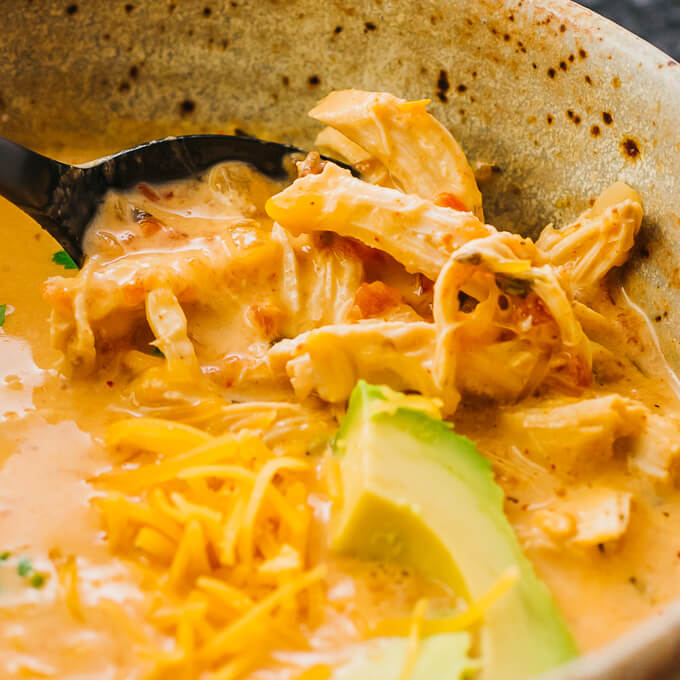 Serving and Leftovers
After the soup is cooked and ladled in bowls, add your toppings just before serving. I've offered some suggestions in the recipe — avocado, shredded cheese, cilantro — and you can add whatever else strikes your fancy, like sour cream or crumbled Mexican queso fresco. The soup is also fantastic as-is, without any toppings.
You can serve this soup with low carb almond flour biscuits, roasted cauliflower, or a simple green salad. This is a somewhat hearty soup, especially if you double the servings (each serving is 1 cup), so I typically serve it as the main course.
Covered leftovers store well in the refrigerator. Before serving, use the microwave to reheat the soup until warm.
SOUPS & STEWS MADE IN THE INSTANT POT: