Summary:
This simple one-pot soup is filled with tender bites of broccoli, topped with crispy crumbled bacon and shredded cheddar cheese. The soup is low carb and gluten free, naturally thickened with cream, cheese, and butter instead of flour.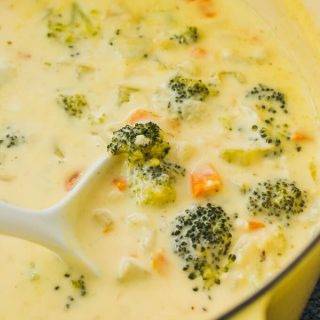 INGREDIENTS
4

cups

chopped broccoli florets (Note 1)

3

cups

shredded cheddar cheese (Note 2)

2

cups

heavy whipping cream

2

cups

water or broth (Note 3)

1.5

cups

diced onions (1/2 onion; Note 4)

1

cup

diced carrots

(3 carrots)

1

cup

diced celery

(3 stalks)

2

tablespoons

salted butter

5

strips

bacon

5

cloves

garlic, minced
salt and pepper, to taste
INSTRUCTIONS
Cook Bacon: Place bacon strips in single layer in large pot (Note 5) over medium heat. Flipping occasionally, cook until crispy, 5 to 10 minutes. Transfer bacon to paper towel lined plate to drain.

Sauté Vegetables: Add diced onions, carrots, and celery to pot with bacon drippings. Stirring frequently, cook over medium heat until softened, about 10 minutes.

Cook Broccoli: Add broccoli, heavy whipping cream, and water to pot. Bring to simmer over medium-high heat. Simmer uncovered until broccoli is tender, 5 to 10 minutes, stirring occasionally and reducing heat as needed to maintain simmer.

Add Cheese: Gradually stir in shredded cheddar cheese until melted and incorporated into soup. Add butter and minced garlic, stirring until butter is melted.

Thicken Soup & Serve: Simmer until soup is thickened to desired consistency, about 10 minutes. Let soup cool a bit, then add salt and pepper to taste. Serve in bowls (Note 6), and crumble bacon on top.
NUTRITION
Makes 6 Servings
Amount Per Serving:
| | |
| --- | --- |
| Calories 490 (81% from fat) |   |
| Total Fat 45g | 68% |
|    Saturated Fat 27g | 135% |
| Cholesterol 134mg | 45% |
| Sodium 390mg | 16% |
| Net Carb 11g |   |
| Total Carb 13.5g | 4% |
|    Dietary Fiber 2.5g | 10% |
|    Sugars 6.5g |   |
| Protein 13g |   |
PHOTOS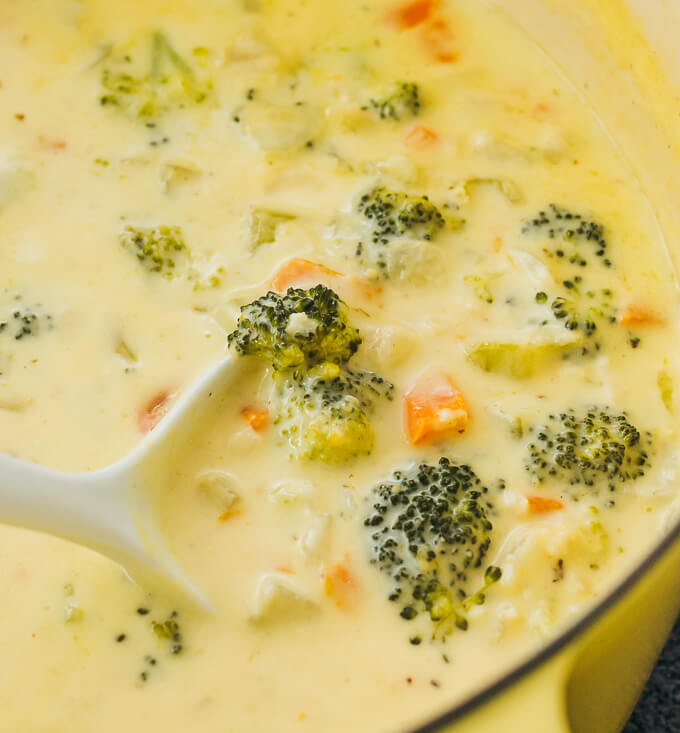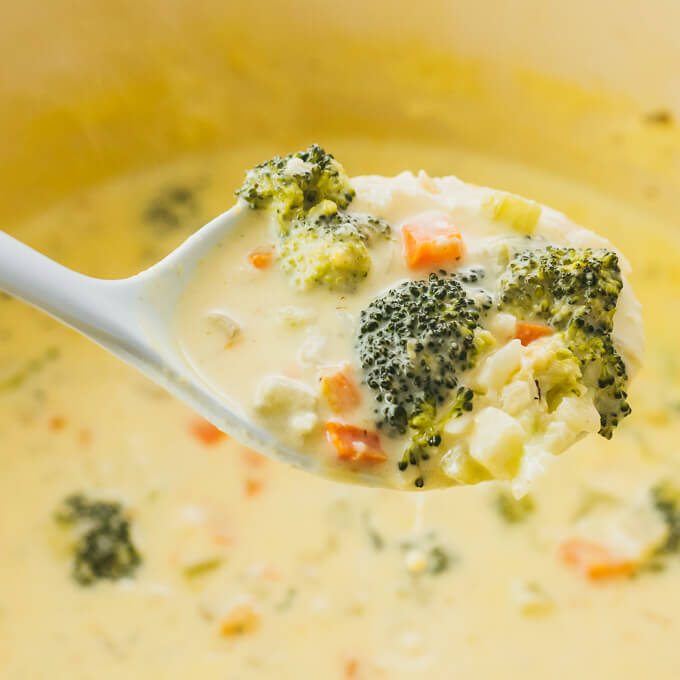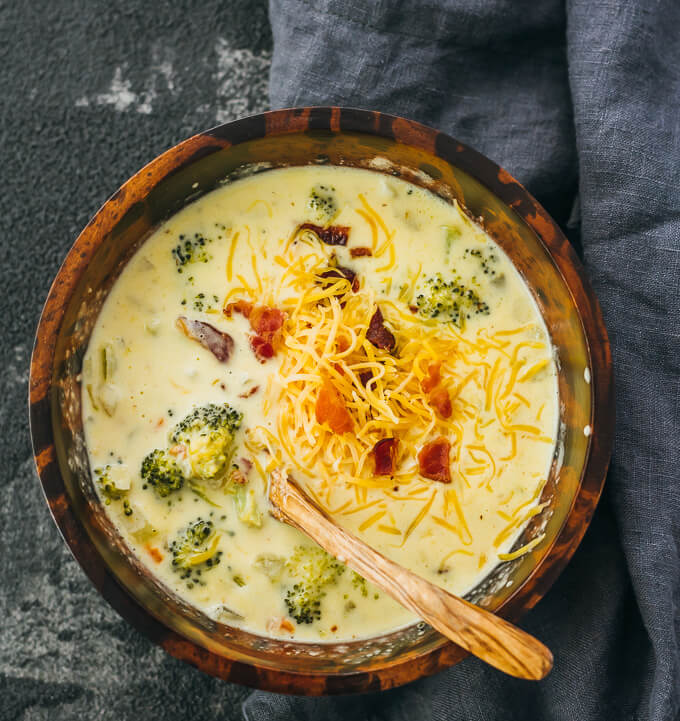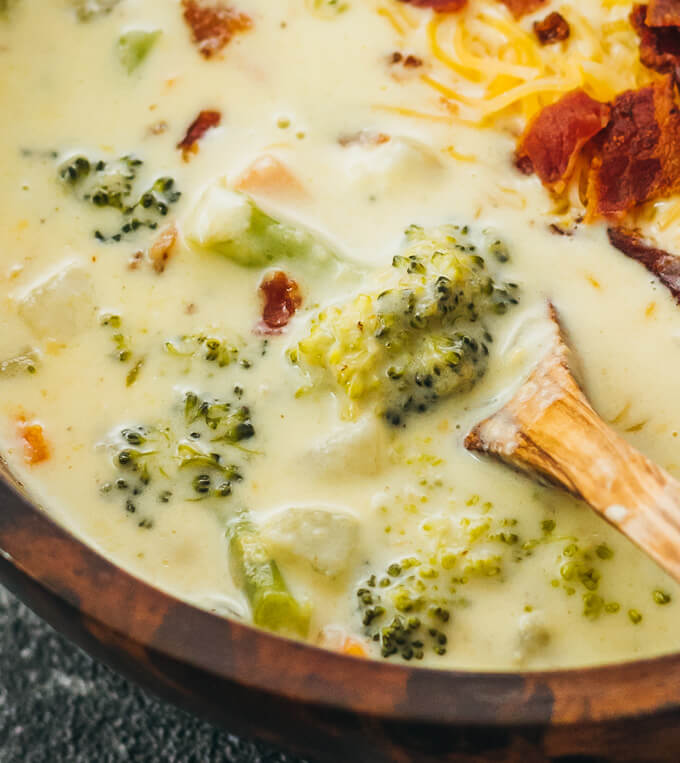 NOTES & TIPS
(1) Broccoli Florets. About 6 to 7 ounces weight. You can cut florets from a head of broccoli, or you can buy a bag of pre-cut raw florets located in the refrigerated produce section of many U.S. grocery stores.
(2) Cheddar Cheese. About 6 ounces weight. Use a bag of pre-shredded cheddar, instead of grating your own shredded cheese from a block. Cheddar cheese — especially sharp cheddar — does not melt well, so I recommend using a bag of pre-shredded cheese that includes emulsifiers to promote even melting. If that's not an option, toss the freshly grated cheddar with a few tablespoons of cornstarch plus 1 cup of shredded American cheese (which contains emulsifiers), which should help keep the soup silky and clump-free.
(3) Water / Broth. In my tests, there was no noticeable flavor difference between using water or broth. I use water for convenience, but some readers prefer using vegetable broth.
(4) Mirepoix Option. Save time on preparing the onions, carrots, and celery stalks by buying mirepoix, which is a pre-diced package of those vegetables. I buy a 14 ounce tub of mirepoix from Trader Joe's, which is the equivalent of half an onion, 3 carrots, and 3 celery stalks.
(5) Large Pot. I use a 6 quart dutch oven.
(6) Serving / Leftovers. Top the soup with extra shredded cheddar cheese or thinly sliced scallions. The soup is delicious in a bread bowl, or served alongside low carb dishes like a fresh green salad or almond flour garlic knots. Leftovers can be covered and stored in the refrigerator for up to 3 days, then reheated in the microwave until warmed through.