Summary:
Make jalapeño poppers by stuffing halved peppers with cream cheese and cheddar, wrapping in bacon, and baking in the oven until crisp and charred -- each bite is an explosion of flavor and contrasting textures. Great appetizer for keto and low carb diets, this 5-ingredient recipe is healthier and easier than the traditional method of breading and frying.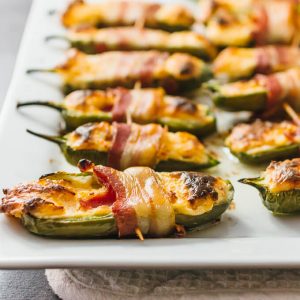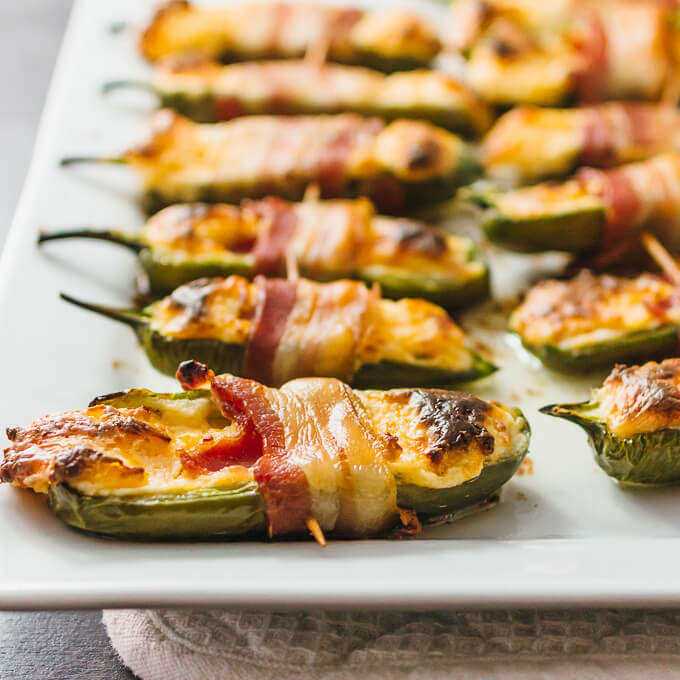 Bacon Wrapped Jalapeño Poppers (5 Ingredients)
INGREDIENTS
6

jalapeño peppers

(about 8 ounces total)

6

slices

bacon, cut widthwise in half

(kitchen shears can be useful for this)

4

ounces

cream cheese

(this is a half brick; I use Philadelphia regular cream cheese)

1/2

cup

shredded cheddar cheese

(about 2 ounces)

1/2

teaspoon

garlic powder
INSTRUCTIONS
Slice each pepper lengthwise in half, and discard seeds and membranes (use a spoon to scrape them out). Wearing gloves is recommended to protect your hands from capsaicin, which is mainly in the seeds and membranes.

In a microwave-safe mixing bowl, add cream cheese. Microwave until softened, 15 to 30 seconds. The cream cheese should be very soft to the touch so that it can be easily stirred with other ingredients. Add cheddar cheese and garlic powder, stirring with the cream cheese until well-mixed.

Stuff each pepper half with the cream cheese mixture. Wrap a halved bacon slice around each pepper. Secure with a toothpick, as needed. Place the stuffed pepper halves in a single layer on a baking tray, optionally lined with foil for easier cleanup.

Bake at 400 F until the cheese is starting to brown on top, 20 to 25 minutes. Optionally, turn on the broiler and broil for a few minutes to crisp up the bacon. Remove from the oven and let cool for 5 minutes before serving. Don't wait too long before eating because they are fantastic when hot and they can cool rapidly.
NUTRITION
Makes 4 Servings
Amount Per Serving (3 stuffed jalapeño halves):
| | |
| --- | --- |
| Calories 210 |   |
| Total Fat 17g | 26% |
|    Saturated Fat 10g | 48% |
| Cholesterol 53mg | 18% |
| Sodium 370mg | 15% |
| Net Carb 2g |   |
| Total Carb 2.5g | 1% |
|    Dietary Fiber 0.5g | 3% |
|    Sugars 1g |   |
| Protein 9g |   |
Serve this crowd-pleasing dish alongside other great low carb appetizers like crab stuffed mushrooms, spinach artichoke dip, or Instant Pot chicken wings.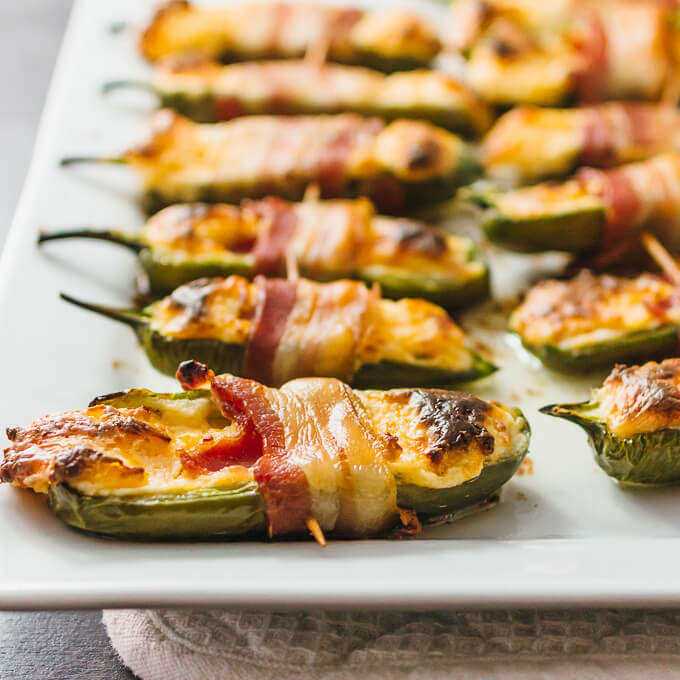 WHAT DO YOU STUFF JALAPEÑOS WITH?
These jalapeños are stuffed with a simple mixture of cream cheese, cheddar cheese, and garlic powder. If you don't have cheddar cheese but have some other kind of cheese handy, you can use that instead. Other cheeses that work well include pepper jack or Mexican blend cheeses.
When you're stuffing the jalapeños, don't over-stuff, or the cheese stuffing will slide out when baking. I usually stuff just enough to fill the pepper. If you're using toothpicks to secure the bacon, there's no need to wrap the bacon very tightly around each pepper. Otherwise, your baked jalapeños will look like they've had the cheese choked out of them.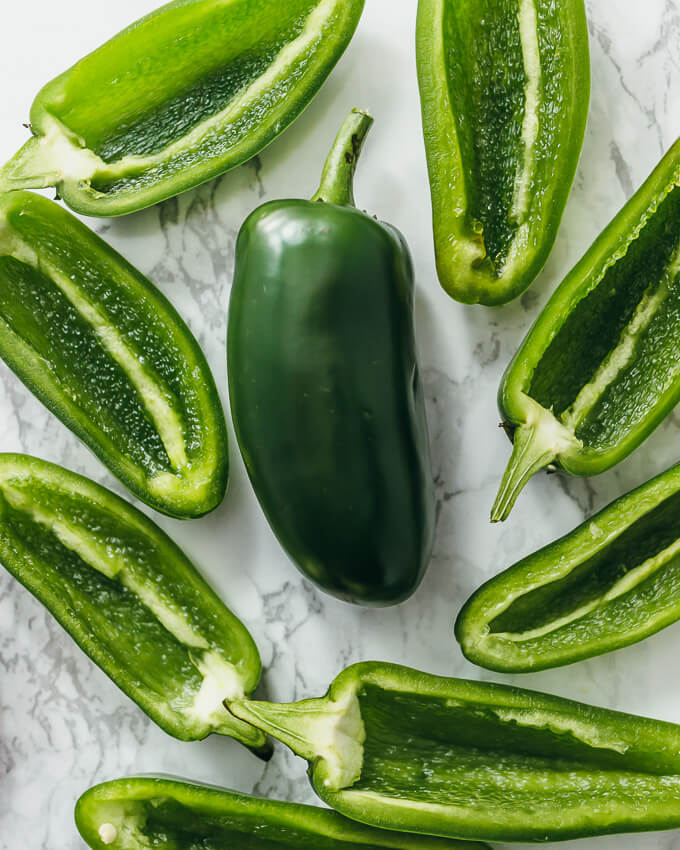 How do you adjust the spiciness?
You can make these jalapeño poppers less spicy by removing all of the seeds and membranes, which contain the majority of the capsaicin (that's what makes chili peppers hot). For a hotter version, keep some or all of the seeds and membranes.
If you or your guests can't tolerate chili peppers at all but you still want to try these out, I recommend using mini sweet bell peppers instead of jalapeños. You might have seen them in the produce section of your grocery store — each is about the same size as a jalapeño and they're packaged in multiple colors.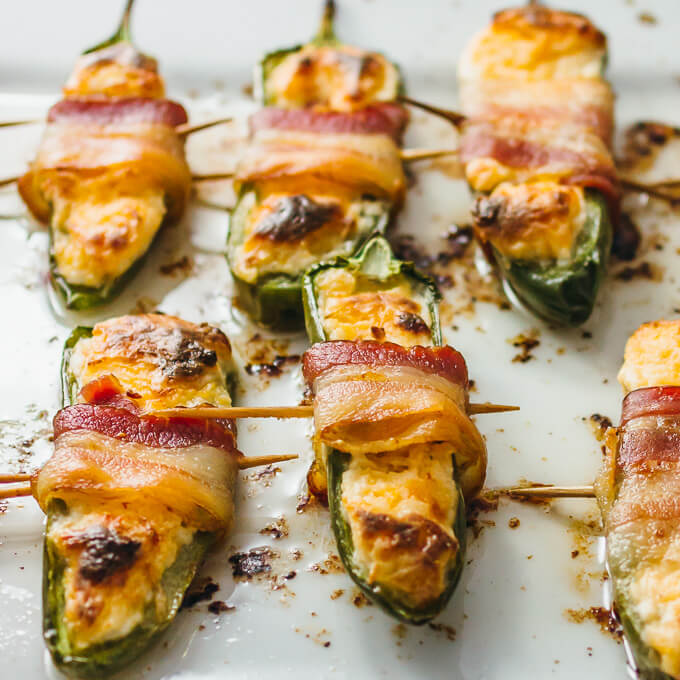 Mouthwatering Bacon Appetizers