Summary:
These cashew chicken noodles are delightfully tossed in a super spicy sauce with garlic, ginger, and sriracha.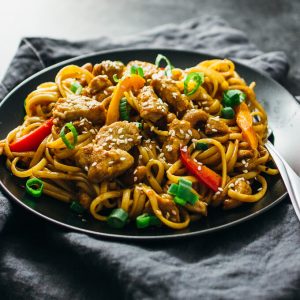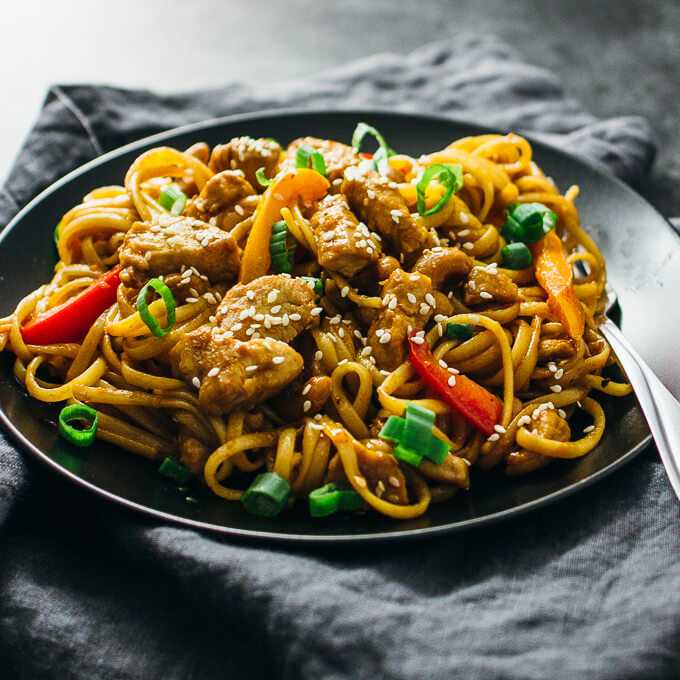 INGREDIENTS
For the chicken marinade:
1 1/2

pounds

boneless and skinless chicken breasts

chopped into 1/2-inch chunks

3

tablespoons

soy sauce

2

tablespoons

corn starch
INSTRUCTIONS
Assemble the chicken marinade. Mix and coat the chopped chicken with corn starch. Drizzle soy sauce over the chicken and mix. Let sit in the refrigerator for at least 30 minutes.

While waiting for the chicken to marinate, cook linguine noodles according to package instructions. Drain and rinse with cold water. Toss with a bit of oil to keep them from sticking. Set aside.

Combine and mix sauce ingredients in a bowl. Set aside.

Heat canola oil in a 3 quart or larger pan over medium heat. Add chicken, including the marinade, stirring to break apart any chunks that have stuck together. Cook until the chicken is cooked on the outside, about 5 minutes, stirring frequently.

Add cashews and sliced bell peppers to the pan. Cook until the bell peppers soften and the chicken is cooked through, 5 to 10 minutes, stirring frequently. Add more canola oil if the pan gets too dry.

Add cooked linguine noodles to the pan. Stir to combine. Add sauce to the pan. Stir until everything is coated in the sauce.

Remove pan from heat. Top with scallions and sesame seeds. Serve.
NUTRITION
689 kcal/serving

PHOTOS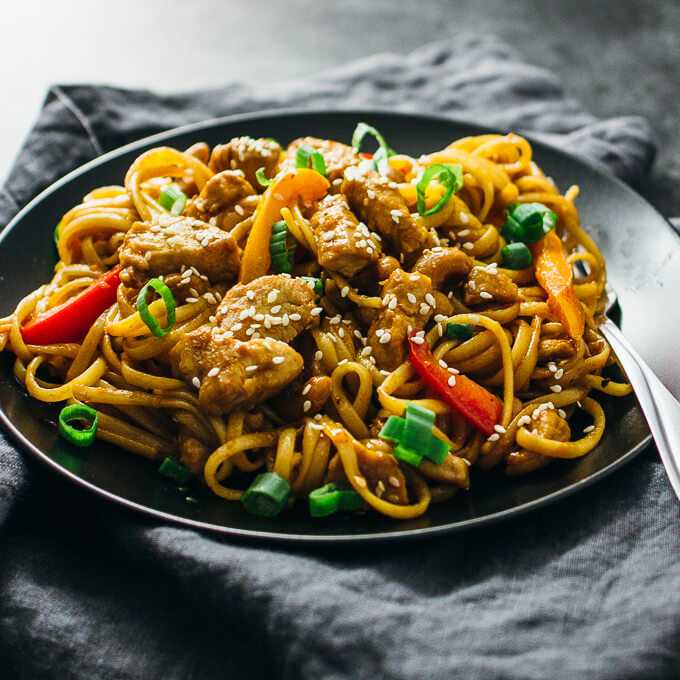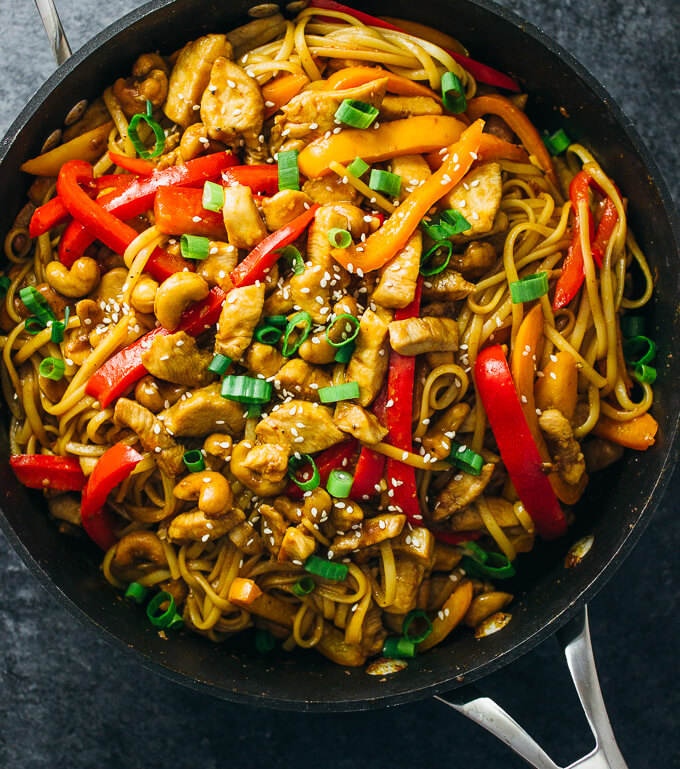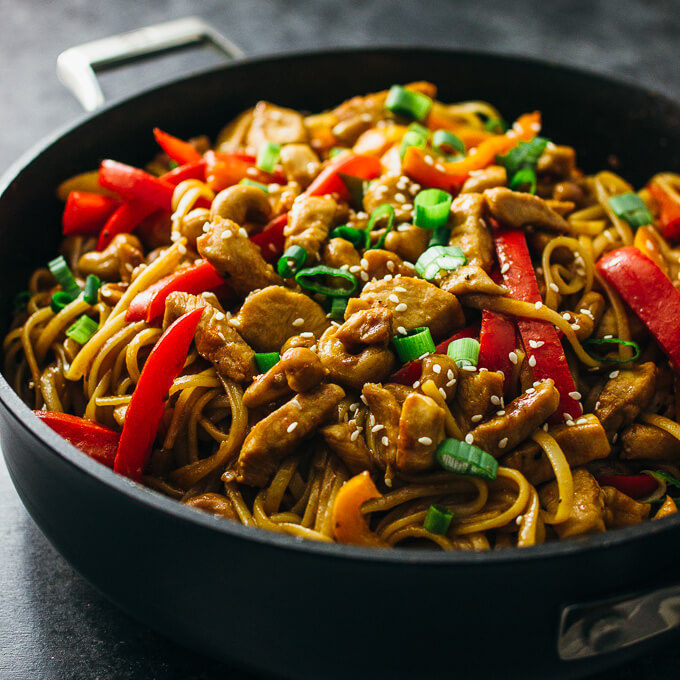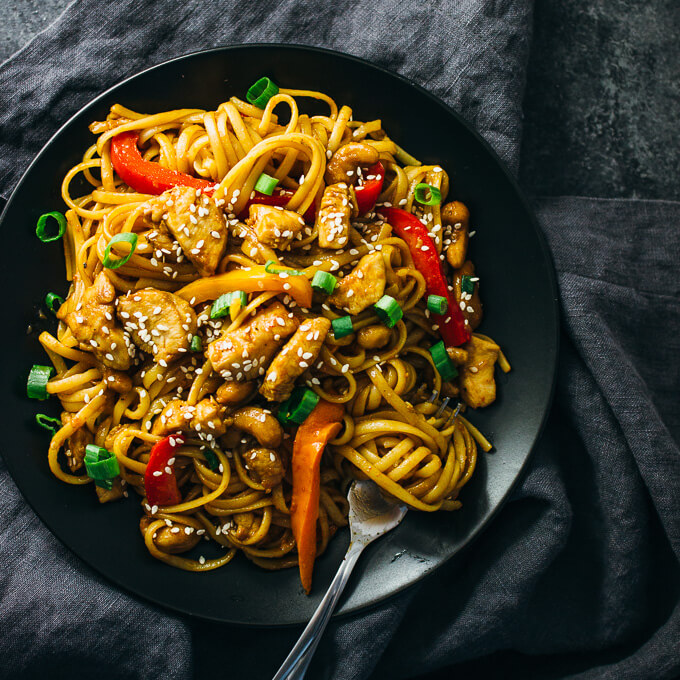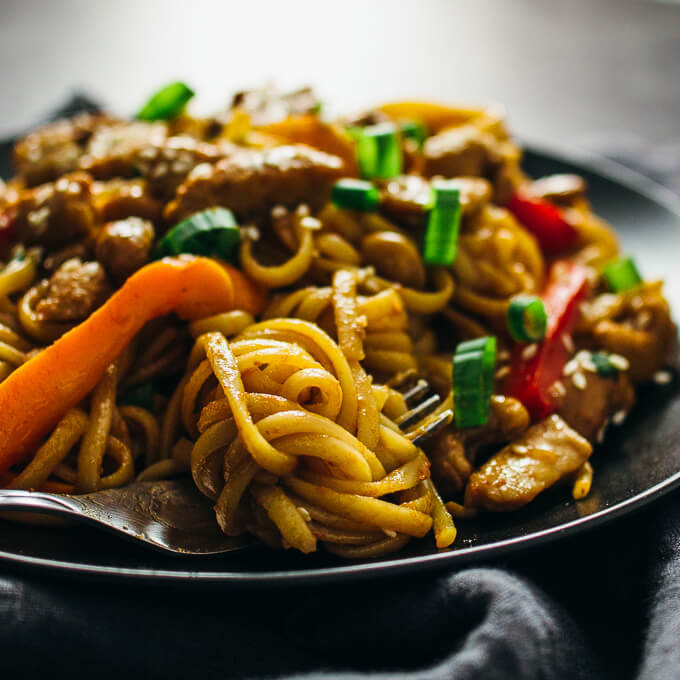 NOTES & TIPS

Use a high-sided 3-quart saute pan or larger, especially since you'll need extra room to stir everything together. Go for a nonstick pan, if possible, to avoid having chicken stuck to the bottom of the pan.
Once the chicken is marinated and the noodles are cooked, the recipe moves really fast so make sure that you have everything on standby. The sauce should already be assembled and mixed, and all of the veggies should be sliced.