Summary:
These cashew chicken noodles are delightfully tossed in a super spicy sauce with garlic, ginger, and sriracha.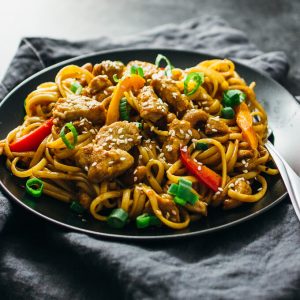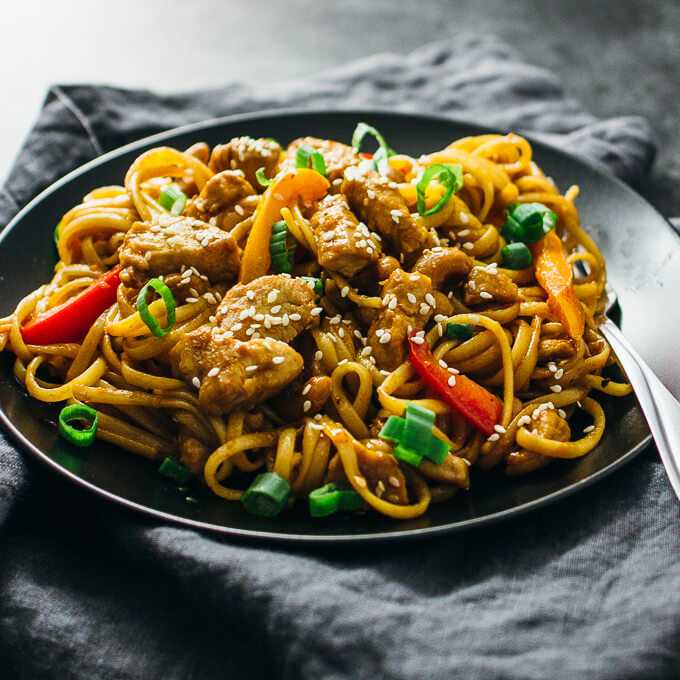 INGREDIENTS
For the chicken marinade:
1 1/2

pounds

boneless and skinless chicken breasts

chopped into 1/2-inch chunks

3

tablespoons

soy sauce

2

tablespoons

corn starch
INSTRUCTIONS
Assemble the chicken marinade. Mix and coat the chopped chicken with corn starch. Drizzle soy sauce over the chicken and mix. Let sit in the refrigerator for at least 30 minutes.

While waiting for the chicken to marinate, cook linguine noodles according to package instructions. Drain and rinse with cold water. Toss with a bit of oil to keep them from sticking. Set aside.

Combine and mix sauce ingredients in a bowl. Set aside.

Heat canola oil in a 3 quart or larger pan over medium heat. Add chicken, including the marinade, stirring to break apart any chunks that have stuck together. Cook until the chicken is cooked on the outside, about 5 minutes, stirring frequently.

Add cashews and sliced bell peppers to the pan. Cook until the bell peppers soften and the chicken is cooked through, 5 to 10 minutes, stirring frequently. Add more canola oil if the pan gets too dry.

Add cooked linguine noodles to the pan. Stir to combine. Add sauce to the pan. Stir until everything is coated in the sauce.

Remove pan from heat. Top with scallions and sesame seeds. Serve.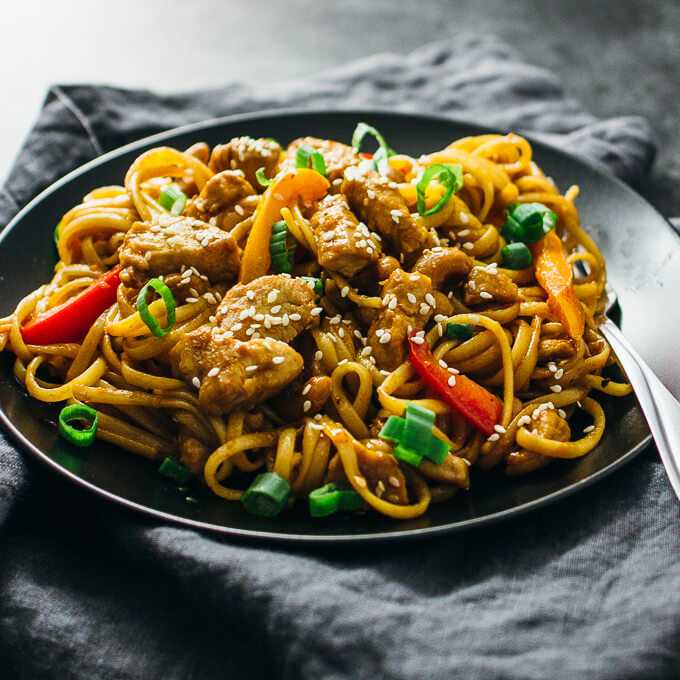 Chances are, this dish has something you love. Pasta noodles? Check. Tender chunks of chicken? Check. Roasted cashews? Check. It even has a really spicy sauce coating all of the noodles and chicken that'll be sure to have you grabbing the nearest glass of milk. There are also plenty of veggies as well — red and orange bell pepper slices and scallions. Overall, this is definitely not authentic Chinese or Thai cashew chicken, but more like a hodgepodge of various ingredients, flavors, and textures that I know will go great together.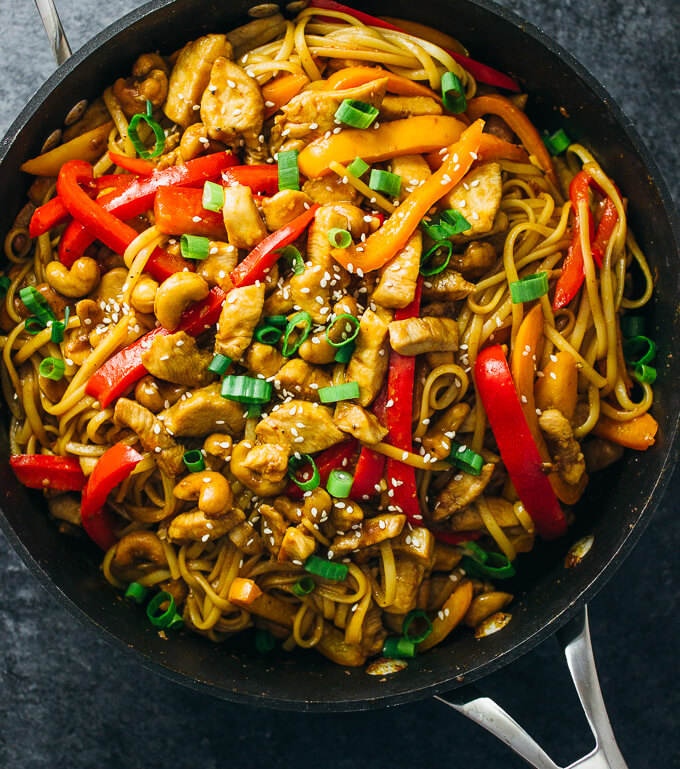 Dust off your biggest high-sided pan for this recipe. It has enough to feed a family of five or more — if you're a singleton, you should know that leftovers of this cashew chicken reheat really well in the microwave — so this recipe yields a big batch. I used a high-sided 3 quart saute pan and it was barely large enough, as you have to take into account the fact that you'll need room to stir everything together. Go for a nonstick pan, if possible, to avoid having chicken stuck to the bottom of the pan.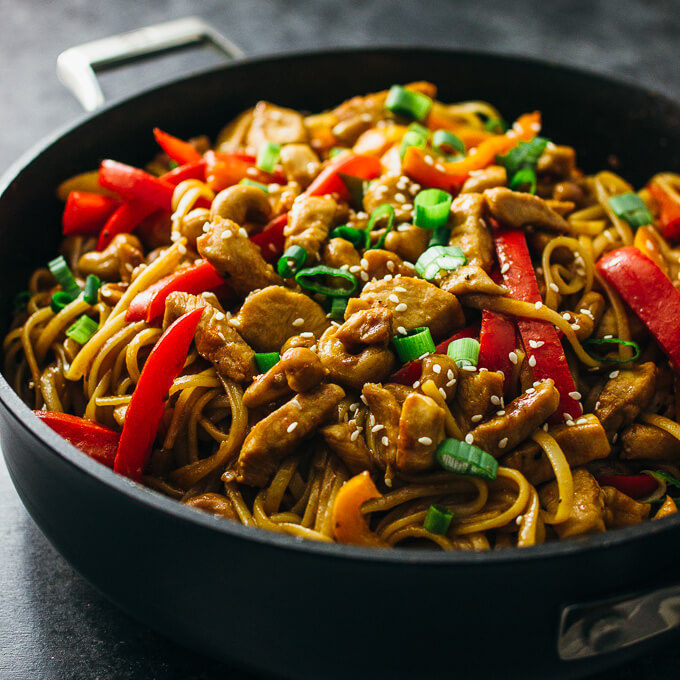 Once the chicken is marinated and the noodles are cooked, the recipe moves really fast so make sure that you have everything on standby. The sauce should already be assembled and mixed, and all of the veggies should be sliced. Then all that is left is to sear the chicken and bell peppers, and toss everything together with the noodles and sauce. It's not a complicated dish at all, and you can easily sub any leftover vegetables calling out to you from your fridge — mushrooms, zucchini, and carrots would work well here.