Summary:
These chicken fajitas are oven-baked on one sheet pan, making this recipe a breeze to cook. Even though they're not a sizzling spectacle on a flaming hot cast-iron skillet, each bite is packed with delicious flavors. The chicken and vegetables are baked hot and quick at a high oven temperature. A homemade spice mix gives the chicken a darker, fajita-like appearance. The vegetables are browned in some spots, yet juicy and tender within.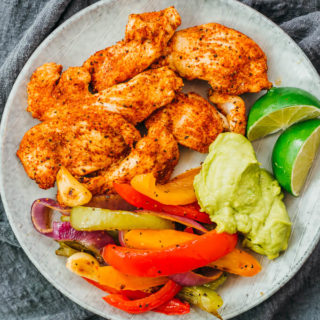 INGREDIENTS
For Vegetables (Note 1):
3

bell peppers (1 green, 1 red, 1 orange), cut into 1/2 inch wide strips

1

medium red onion, cut into 1/2 inch thick rings

5

cloves

garlic, sliced lengthwise

1

tablespoon

olive oil

1

teaspoon

table salt

1/2

teaspoon

ground black pepper
For Chicken:
1.5

pounds

boneless skinless chicken breasts (Note 2)

1

tablespoon

chili powder

1

teaspoon

ground cumin

1

teaspoon

table salt

1/2

teaspoon

ground black pepper
INSTRUCTIONS
Bake Vegetables: Adjust oven rack to lower-middle position of oven, and preheat to 475 F. Spread out bell pepper strips, onion rings, and garlic slices on baking half sheet (Note 3). Evenly sprinkle 1 teaspoon salt and 1/2 teaspoon black pepper over them, then drizzle 1 tablespoon olive oil on top. Toss everything directly on baking sheet until well-seasoned, then spread out evenly. Bake at 475 F for 10 minutes; while baking, proceed to next step.

Prepare Chicken: Pat chicken dry with paper towels, and cut each breast widthwise into 1/4 to 1/2 inch thick slices. Stir together 1 tablespoon chili powder, 1 teaspoon cumin, 1 teaspoon salt, and 1/2 teaspoon black pepper in small bowl until well-mixed. Use tongs to toss chicken slices with seasoning mix in medium mixing bowl until well-coated.

Bake Everything Together: When vegetables have finished baking, remove baking sheet from oven. Use spatula to scrape along bottom of baking sheet to loosen and flip vegetables. Spread them out again. Use tongs to evenly distribute seasoned chicken slices on top of vegetables. Return baking sheet to oven, baking at 475 F until chicken is cooked through, 5 to 7 minutes. Serve (Note 4) or save for later (Note 5).
NUTRITION
Makes 3 Servings
Amount Per Serving:
| | |
| --- | --- |
| Calories 340 |   |
| Total Fat 8g | 12% |
|    Saturated Fat 1g | 7% |
| Cholesterol 132mg | 44% |
| Sodium 1780mg | 74% |
| Net Carb 8.5g |   |
| Total Carb 12g | 4% |
|    Dietary Fiber 3.5g | 14% |
|    Sugars 4.5g |   |
| Protein 54g |   |
PHOTOS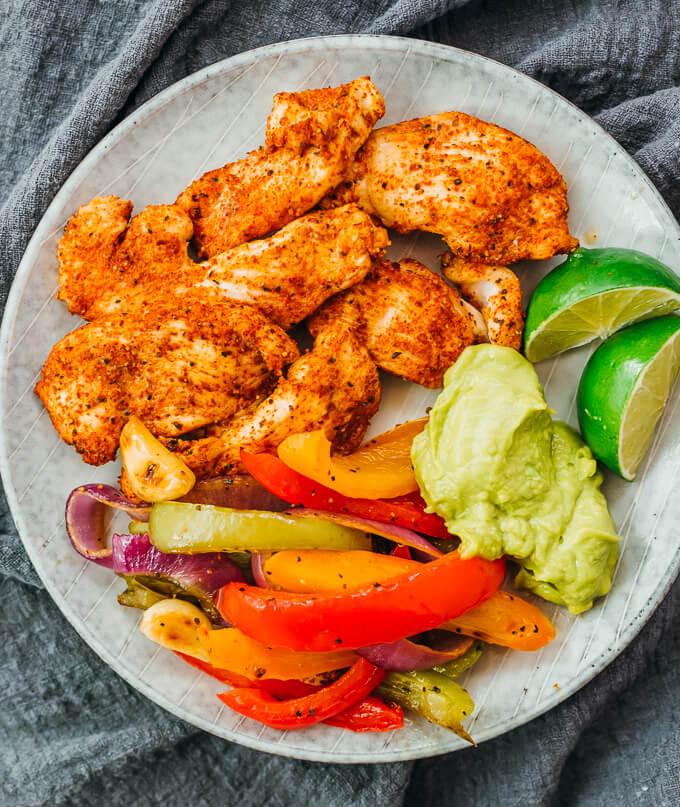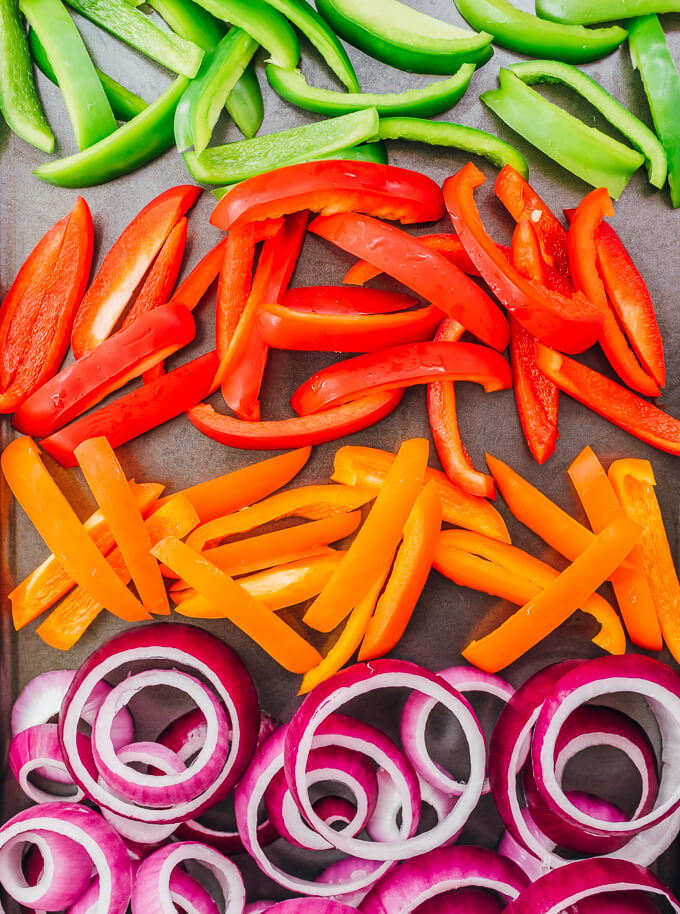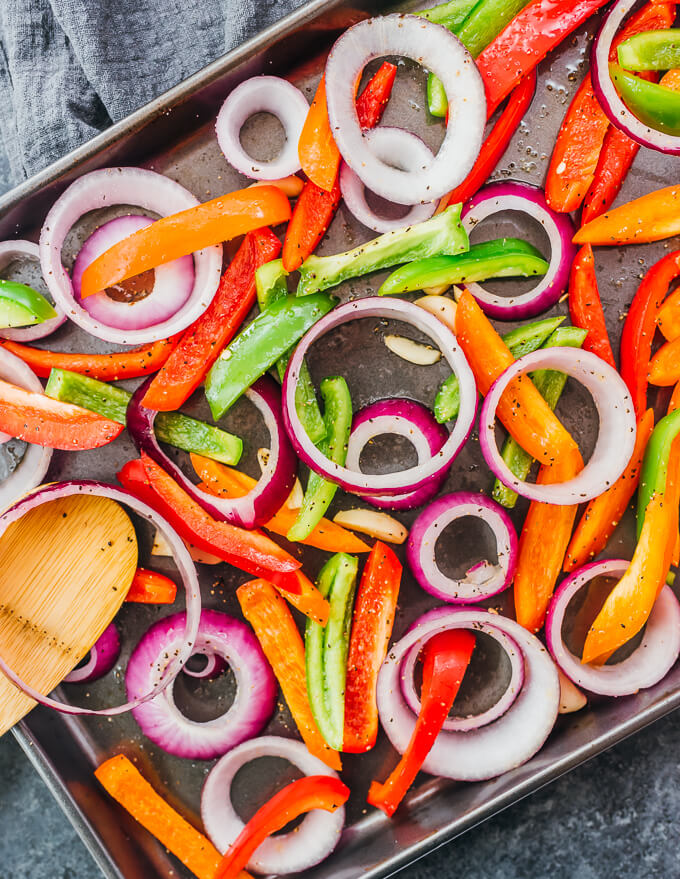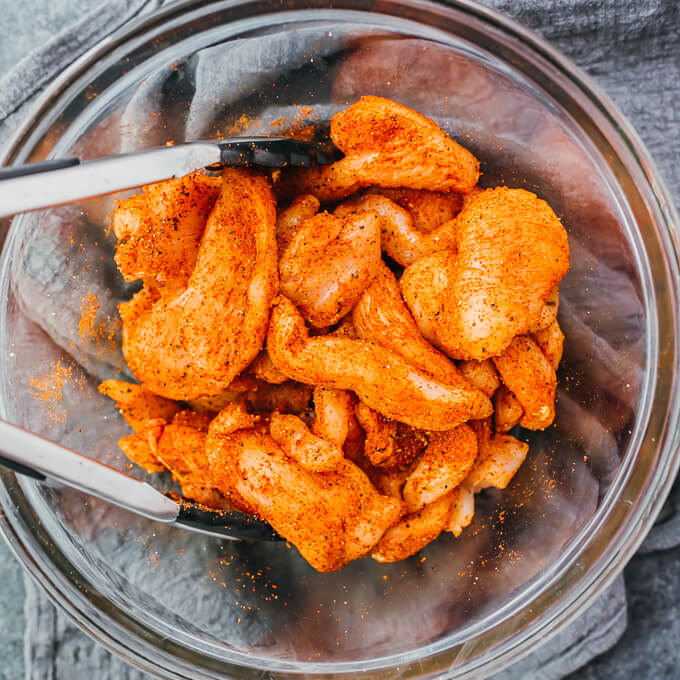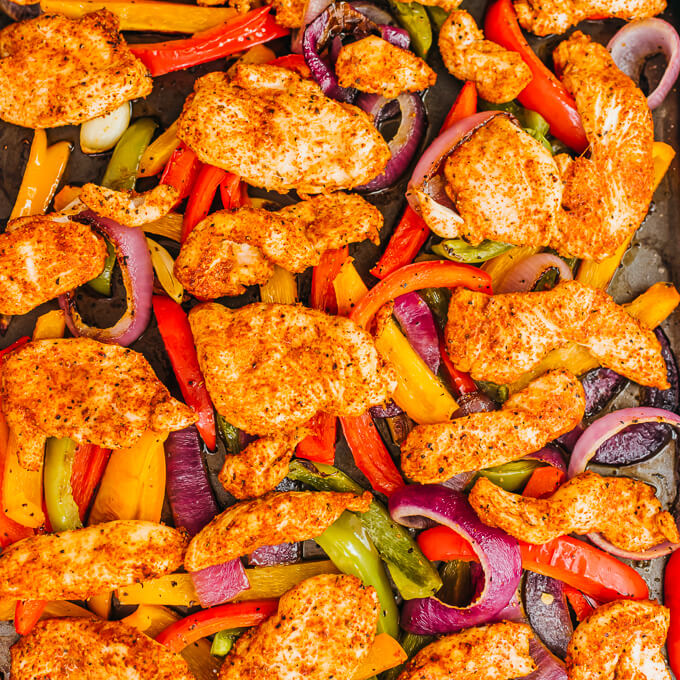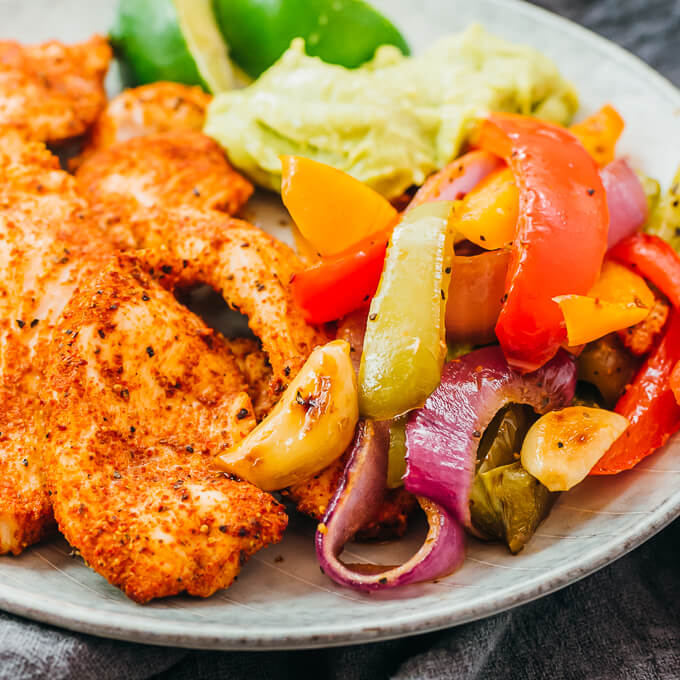 NOTES & TIPS
(1) Vegetables. I use bell peppers and red onions because they're traditional fajita vegetables, but you can substitute or add something else that you have on hand, like zucchini or tomatoes. Watch out for any adjustments you might have to make to the cooking time. Since roasting brings out these vegetables' natural flavors, no other seasoning besides salt and pepper is needed.
(2) Chicken. I use fresh; if yours is frozen, thaw overnight in the fridge. I use chicken breasts and they come out tender and moist, without getting tough. I haven't tested with other cuts, but boneless and skinless chicken thighs should also work well.
(3) Baking Sheet. I use an 11×17 inch rimmed baking sheet. No parchment paper or foil lining needed. By using a sheet pan, the chicken and vegetables are uniformly spread out with good heat coverage in the oven, which helps them brown instead of steam. You can use other kinds of bakeware as long as you can comfortably fit all of the ingredients without crowding.
(4) Serving. Serve chicken fajitas while hot, optionally with toppings like guacamole, sour cream, tomato salsa, or salsa verde. They're also great wrapped in low carb tortillas (like Mission's Carb Balance) or served with finger food like fried jalapeño slices.
(5) Saving For Later. If you have leftovers, store them covered in the refrigerator for up to 2 days. Reheat using a pan on the stovetop until warmed through. Avoid the microwave, which may result in mushy bell peppers and rubbery chicken.