Summary:
Baked ratatouille is a delicious vegetable medley of meltingly tender eggplant, tomatoes, and onions, balanced by crisper bites of bell pepper and zucchini. One of my favorite Side Dish Recipes -- suitable for low carb, keto, paleo, and vegan diets.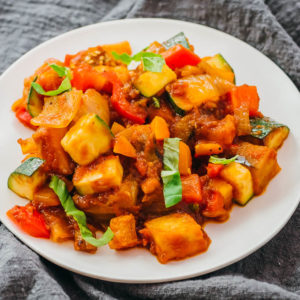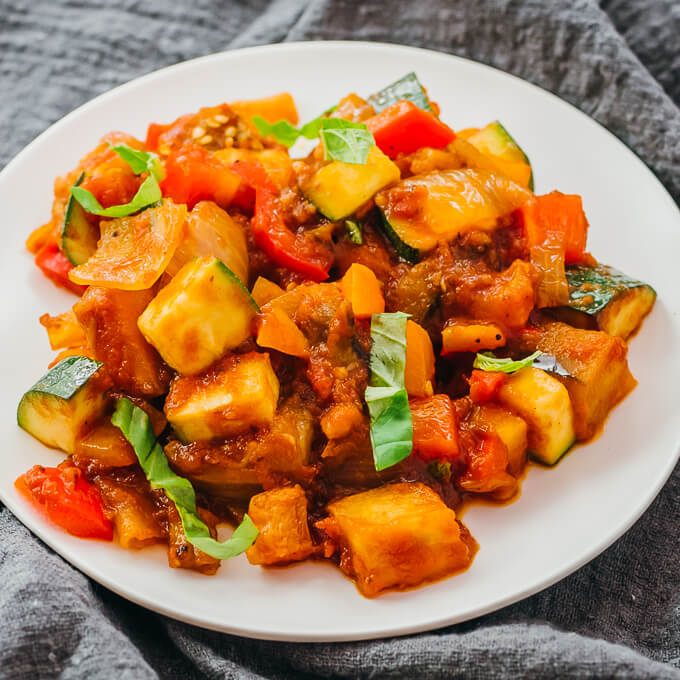 INGREDIENTS
1

large eggplant (1 1/2 lb), peeled and cut into 1-inch cubes

(peeling tip: cut off both ends first, then stand eggplant on a stable flat end and peel lengthwise)

1

large yellow onion, cut into 1-inch pieces

2

bell peppers (1 red, 1 orange), cut into 1/2-inch pieces

1

zucchini, cut lengthwise into 6 long spears, then cut widthwise into 1/2-inch-thick pieces

14.5

ounce can

crushed tomatoes

8

cloves

garlic, halved

1/3

cup

olive oil

3

tbsp

fresh chopped basil

1

tbsp

white vinegar

(or substitute with your favorite vinegar)

1

tsp

dried ground thyme

(powder, not leaves)

1/2

tsp

+ 1/2 tsp table salt

1/2

tsp

ground black pepper

1/8

tsp

crushed red pepper flakes
INSTRUCTIONS
Position an oven rack to the middle of the oven, and preheat to 400 F.

In a large oven-safe pot (I use a 6-quart dutch oven), add olive oil over medium-high heat. Once it's very hot, add onion, garlic, black pepper, and 1/2 tsp salt. Cook until the onions are softened and browned, about 10 minutes, stirring occasionally.

Stir in thyme and red pepper flakes for about a minute to release their flavors. Add eggplant and tomatoes, briefly stirring them in until mixed.

Transfer the pot to the oven. Bake uncovered until the eggplant is tender, about 35 minutes.

Remove the pot from the oven. Add bell peppers and zucchini, sprinkling 1/2 tsp salt on top, and briefly stir them in until mixed.

Cover, and let stand until the bell peppers and zucchini are tender, about 15 minutes. This serves two purposes: the residual heat cooks the vegetables, and the ratatouille cools down since it is better served warm than hot.

Uncover, and stir in the vinegar and basil. Loosen the flavorful browned bits stuck to the sides of the pot, mixing them into the ratatouille. Adjust salt and vinegar to taste. Transfer to a serving platter or individual bowls.

Leftovers: Store in an airtight container in the refrigerator for up to 4 days, and serve chilled, room temperature, or warm.
NUTRITION
Makes 8 Side Servings
Amount Per Serving:
| | |
| --- | --- |
| Calories 140 | |
| Total Fat 10g | 15% |
| Saturated Fat 1g | 7% |
| Cholesterol 0mg | 0% |
| Sodium 310mg | 13% |
| Net Carb 7.5g | |
| Total Carb 12.5g | 4% |
| Dietary Fiber 5g | 20% |
| Sugars 7g | |
| Protein 2g | |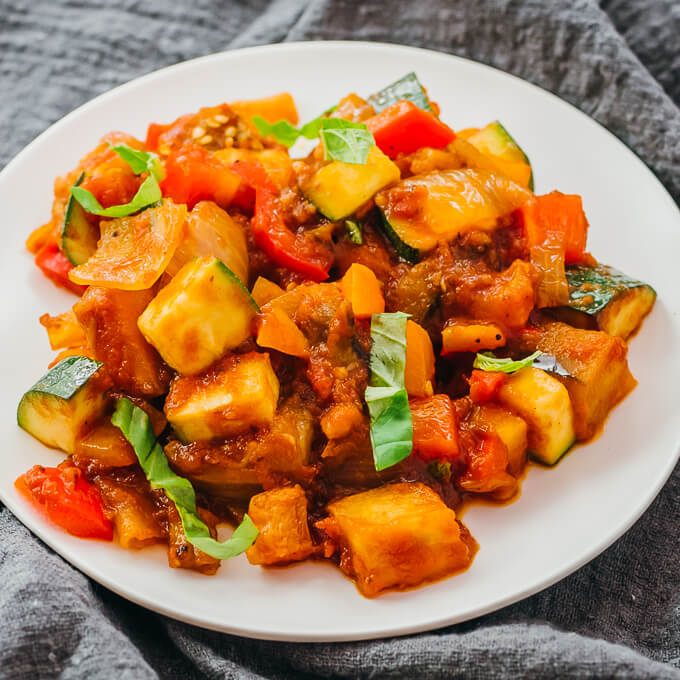 How This Ratatouille Recipe Is Different
Ratatouille is a vegetable stew that originated in Nice, France in the late 1800s. While there's a variety of ways to make this dish, traditionally it uses ingredients like eggplant, zucchini, tomato, onion, bell pepper, garlic, and a mix of herbs.
In my version of ratatouille, I prioritized 3 things:
Easy. I wanted less prep work and cooking. Some vegetables (onions and eggplant) are cut into large 1-inch pieces, significantly speeding up the process. I used a can of crushed tomatoes, instead of peeling and chopping fresh ones. And there's only 10 to 15 minutes of active cooking.
Soft & Crisp. I wanted to avoid a mushy vegetable stew by giving it a bit of a "bite." There's a mix of both soft and crisp here — silky smooth eggplant and tomatoes, balanced by the crisper bell peppers and zucchini. To accomplish this, the latter is not baked but cooks using residual heat.
Low Carb. I kept carb-dense ingredients like tomatoes to a minimum, without sacrificing on flavor. Each side serving has 7.5 g of net carbs.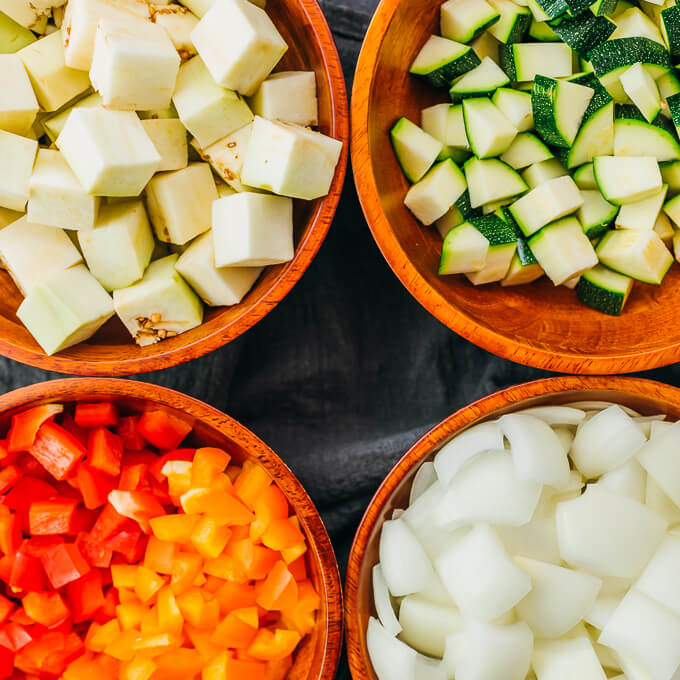 Serving Ideas
My favorite way of enjoying ratatouille is chilled, a day after cooking. The flavors settle overnight, and they're more vibrant when enjoyed cold. This is one of those versatile dishes that can be served chilled, room temperature, or warm. Avoid serving it hot.
Pair this side dish with chicken or fish, perhaps topped with an egg. You can also use it to make delicious vegetarian sandwiches and wraps.
Main Dishes To Pair With Ratatouille