Summary:
Steak Salad is a fancy meal that can be enjoyed as a healthy lunch or dinner. Perfect medium-rare steak, crispy bacon, avocado, and fresh tomatoes are served over a bed of vinaigrette-tossed lettuce. For more delicious salads, visit Keto and Low Carb Salad Recipes.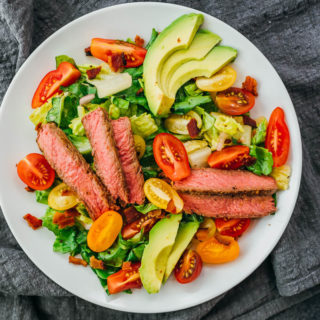 INGREDIENTS
1

boneless strip steak (0.75 to 1 lb), 1 1/2 inches thick

(avoid thicker ones which are harder to cook evenly, resulting in tougher steak)

4

slices

bacon

1

avocado, thinly sliced

1

pint

(2 cups) multi-color cherry or grape tomatoes (10 ounces weight total), halved or quartered for larger ones

2

romaine lettuce hearts (10 ounces weight total), chopped

1/4

tsp

table salt

1/4

tsp

ground black pepper
INSTRUCTIONS
Pat the steak dry with paper towels, and trim off the fat. Season both sides with salt and pepper. Let sit at room temperature.

Fry bacon slices in a pan (I use an 11-inch nonstick pan) over medium heat until crispy, 5 to 10 minutes, flipping them occasionally. Turn off the heat, and transfer the bacon to a paper towel lined plate to drain.

Spooning about 2 tsp of the bacon grease from the pan, drizzle over both sides of the steak. Brush all over the meat to slather it in bacon grease (I use a silicone pastry brush). Discard the remaining grease in the pan by pouring it out. Wipe the pan dry with a paper towel.

Heat the now-dry pan over medium-high heat until very hot, then add the greased steak. Cook for 2 minutes, flip to the other side, cook for another 2 minutes, and flip again. Then flip every minute until it's medium-rare in the thickest part (120 to 125 F), 3 to 5 minutes longer depending on the size of your steak. Transfer to a cutting board, and let it rest for about 10 minutes.

While the steak is resting, whisk all vinaigrette ingredients in a bowl until emulsified. Toss the vinaigrette with the chopped romaine lettuce until nicely moistened. Arrange lettuce, tomatoes, and avocado on 4 large plates or bowls. Crumble bacon on top. For more topping ideas, see section below called "Salad Customizations."

After the steak has rested, cut it into 1/4-inch slices. Thinner slices will taste more tender, so take the extra time to make very thin cuts. Lay sliced steak on top of the salads, and serve.
NUTRITION
Makes 4 Servings
Amount Per Serving:
| | |
| --- | --- |
| Calories 360 | |
| Total Fat 27g | 41% |
| Saturated Fat 5g | 24% |
| Cholesterol 44mg | 15% |
| Sodium 370mg | 15% |
| Net Carb 4g | |
| Total Carb 9g | 3% |
| Dietary Fiber 5g | 19% |
| Sugars 3g | |
| Protein 20g | |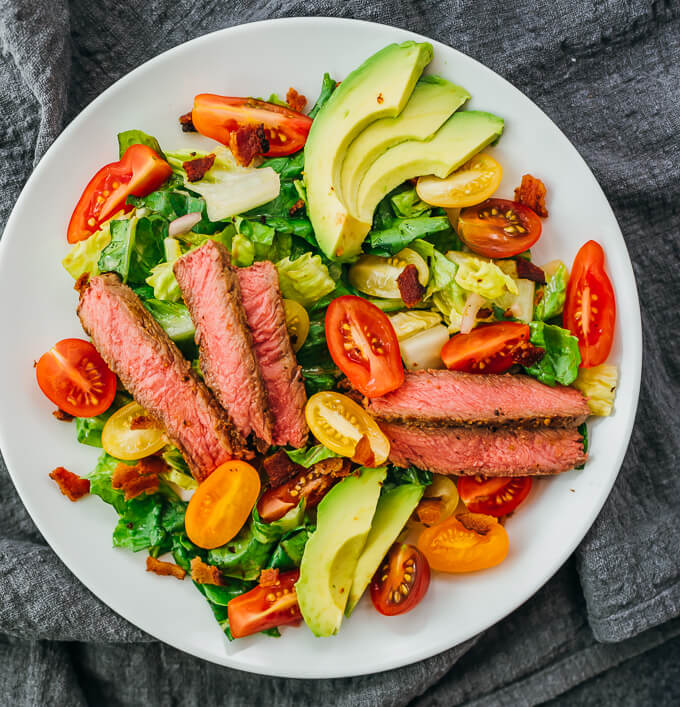 Salad Customizations
This salad is easy to customize to your preferences. Here are some ideas:
Add extra veggies like sliced onions and chopped bell peppers.
Summertime? Add grilled corn and cucumbers.
For extra protein, add hard-boiled eggs, nuts, and seeds.
For more flavor, add sliced olives and cheese like feta or parmesan.
Don't like strip steak? Use your favorite cut of steak; either pan-searing or grilling will work.
Replace red wine vinaigrette with your favorite dressing. Or do a simpler substitution by replacing red wine vinegar with balsamic or sherry.
Instead of romaine lettuce, use your favorite leafy greens. Another idea is to use shredded cabbage and carrots.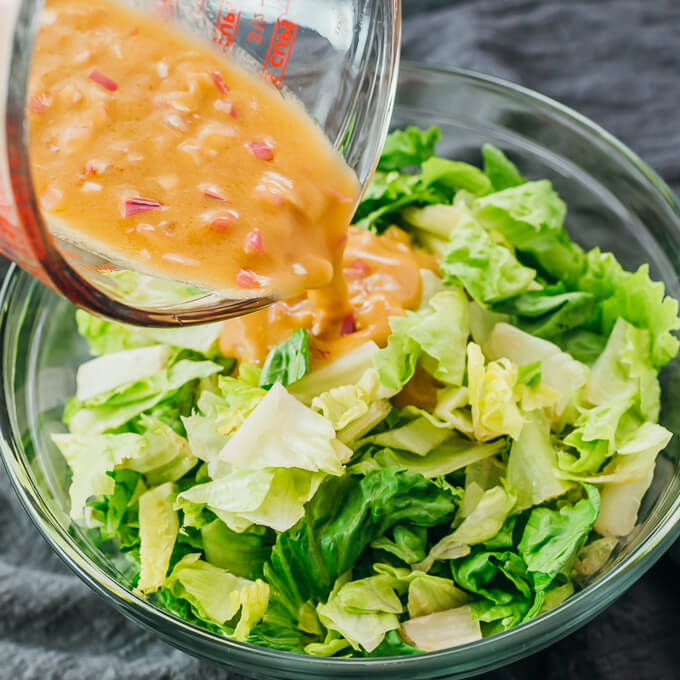 Making Ahead
Steak salad tastes best when enjoyed right away. If that's not possible, store the salad tightly covered in the refrigerator. I don't recommend making this more than a half-day in advance because the bacon loses its crispness, the lettuce starts to wilt, and the avocado turns brown. For best results, keep the avocado uncut, the lettuce undressed, and toppings separated until just prior to serving.
Sides To Serve With Steak Salad