Summary:
Drizzled with a balsamic vinaigrette dressing, this refreshing strawberry salad is made with fresh fruit, juicy and tangy onions, chopped nuts, and greens like romaine or spinach. You can serve this for a variety of guests, including those who are on low carb, keto, gluten free, vegetarian, vegan, and paleo diets. For more ideas, visit Salad Recipes.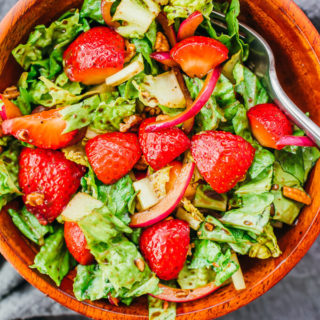 INGREDIENTS
Salad:
1

lb

fresh strawberries, hulled and quartered (3 1/2 cups)

2

romaine lettuce hearts (5 ounces weight each), cut into 1/2 inch thick pieces

(can substitute with baby spinach)

1/2

medium red onion, very thinly sliced

3/4

cup

chopped pecans (3 ounces weight)

(can substitute with chopped walnuts or preferred nuts)
Balsamic Dressing:
1/3

cup

balsamic vinegar (see section below called "Vinaigrette Dressing" for substitution ideas)

1/4

cup

olive oil

1

tsp

dijon mustard

(I use the brand Grey Poupon)

1/2

tsp

ground black pepper
INSTRUCTIONS
Add balsamic vinegar to a microwave-safe bowl (I use a 4-cup glass bowl or measuring glass). Microwave until hot, about 1 minute.

Add thinly sliced onions to the hot balsamic vinegar, using a fork to stir until well-coated. Let it sit at room temperature for at least 20 minutes, stirring occasionally. The onion slices will eventually soften and become mostly submerged in the vinegar.

While waiting for the onions, prepare the remaining salad ingredients (strawberries, lettuce, pecans), measuring and chopping as needed. A salad spinner is recommended for removing excess moisture from the lettuce. Add these ingredients to a bowl large enough for tossing the salad. Reserve some strawberries for garnishing if desired.

After the onion slices have steeped for at least 20 minutes, use a fork to remove them from the vinegar and add them to the salad tossing bowl.

In the bowl with the remaining balsamic vinegar, add olive oil, dijon mustard, and pepper. Whisk until emulsified.

Evenly pour about half of the dressing over the salad bowl, and toss until well-mixed. The lettuce should be nicely coated with dressing; if not, add more dressing and toss again. Season with salt and pepper to taste. Serve with leftover dressing on the side (nutrition info below assumes 75% of the dressing is consumed).

Making Ahead: You can prepare this salad a day in advance. Keep the salad separate from the dressing, and toss with the dressing shortly before serving.
NUTRITION
Makes 5 Servings
Amount Per Serving (1 dressed salad):
| | |
| --- | --- |
| Calories 230 | |
| Total Fat 20g | 30% |
| Saturated Fat 2g | 11% |
| Cholesterol 0mg | 0% |
| Sodium 20mg | 1% |
| Net Carb 9g | |
| Total Carb 14g | 5% |
| Dietary Fiber 5g | 19% |
| Sugars 7.5g | |
| Protein 3g | |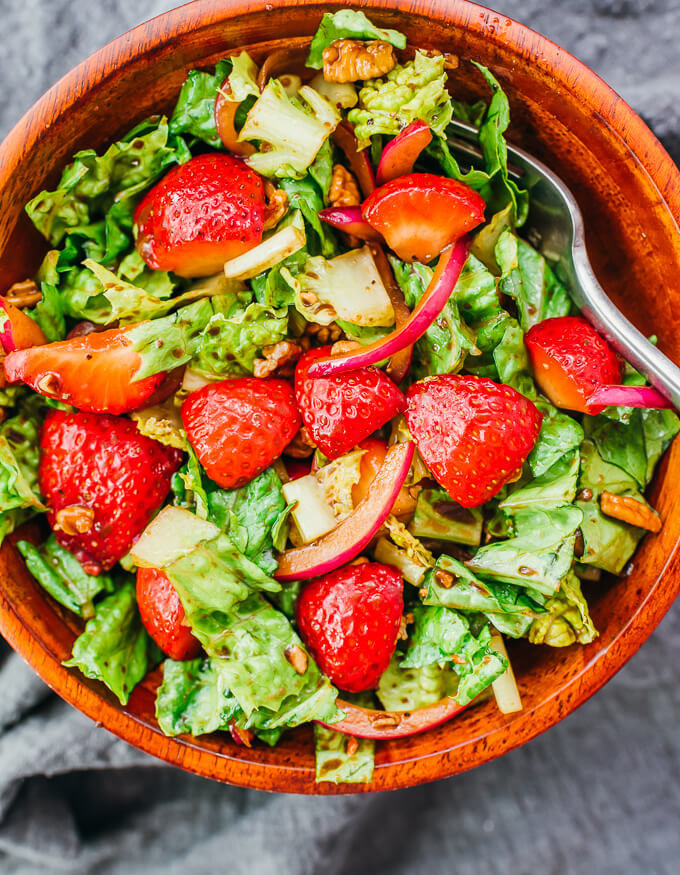 Taste and Texture
This strawberry salad has a good balance of both sweet and savory. The fresh fruit and balsamic vinegar are naturally sweet without added sugars, which is well-complemented by the savory chopped nuts and sliced onions. I like how it's not too sweet.
Since the onions are soaked in hot balsamic vinegar, it takes the sharp bite out of the raw onions. You're left with a bright pickled onion flavor, which adds a nice crisp tang to the salad.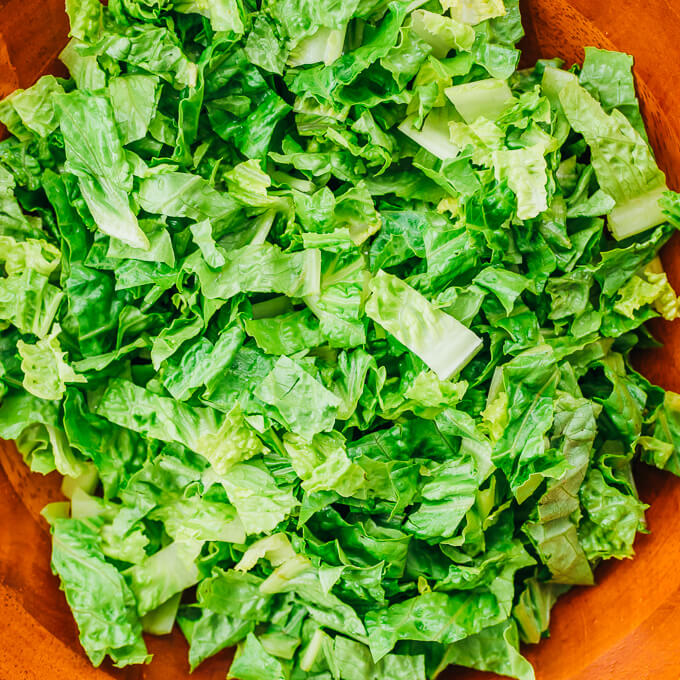 Vinaigrette Dressing
Strawberries and balsamic vinegar are a popular pairing — and for good reason. The vinegar intensifies the strawberry's taste, enhancing its sweet citrus flavors, so a balsamic vinaigrette was an obvious choice for this salad.
Other vinegars that work well include red wine vinegar or sherry vinegar, bringing their own unique flavors to the salad.
To further customize the dressing, you can mix in popular additions like a tablespoon of poppy seeds or a minced clove of garlic.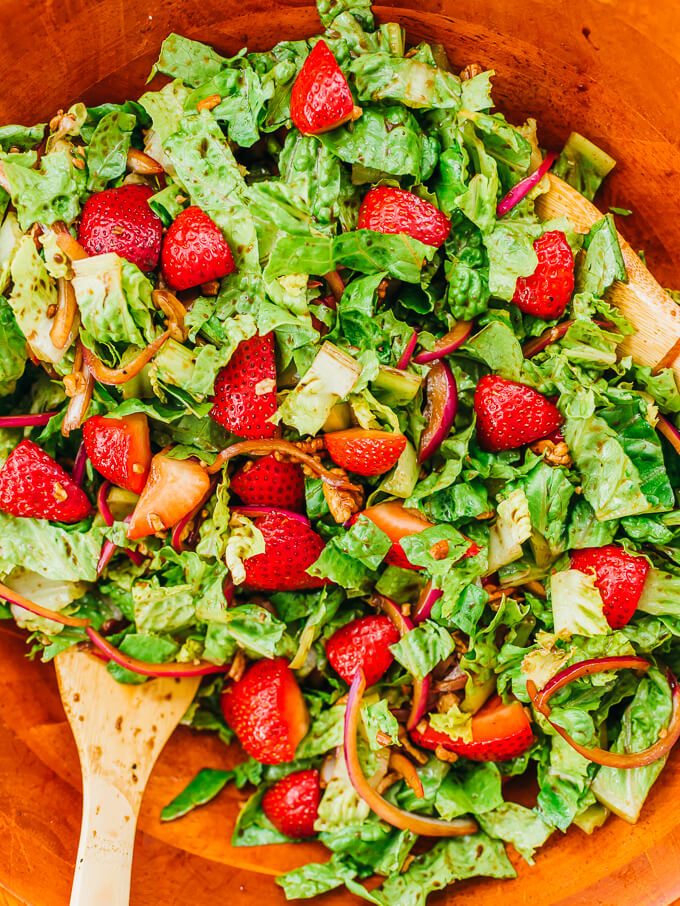 More Refreshing Summer Salads