Summary:
Lemon possets are a no-bake, creamy citrus dessert with only 3 main ingredients (cream, lemon, and a sweetener) plus a 4th ingredient for the berry topping. For more easy-to-make treats to satisfy sweet cravings, visit Keto and Low Carb Dessert Recipes.
INGREDIENTS
1

cup

heavy whipping cream

1/4

cup

(1.5 ounces weight) confectioners swerve sweetener (for more details, see "Note About Sweeteners" section below)

1

large lemon

1/3

cup

(2 ounces weight) fresh blueberries

(other berries or a mix of them would work too, like raspberries or blackberries)
INSTRUCTIONS
Grate the lemon until you have 1 tablespoon of grated lemon zest, taking care to avoid the bitter white pith of the peel. Cut and squeeze the lemon until you have 3 tablespoons of fresh lemon juice.

In a medium saucepan (I use a 7-inch wide and 3.5-inch tall nonstick pan), add heavy cream, swerve, and 1 tablespoon of lemon zest. Don't add the lemon juice. Avoid smaller saucepans because the cream will take up significant volume once it starts to boil.

Place the saucepan over medium-high heat. While waiting for the mixture to come to a boil, stir constantly to dissolve the sweetener, about 1 minute.

When a rapid foamy boil is established, stir frequently and decrease the heat as needed to maintain a steady boil. Watch carefully to avoid boiling over. When 5 minutes of foamy boiling have elapsed, immediately turn off the heat and pour the mixture into a heatproof measuring glass. The mixture should be reduced to just shy of 1 cup; if you have more than that, pour the mixture back into the saucepan and boil for another 1-2 minutes and measure again.

With the mixture in the measuring glass, add 3 tablespoons of lemon juice and stir it in. Let the mixture sit at room temperature for about 30 minutes or until a skin forms on top, keeping it in a cool area away from hot ovens.

Using a fine mesh (I use a nut milk bag), strain out all solids including lemon zest, applying pressure to the mesh to squeeze out liquid. Discard the solids. You should be left with a smooth and thick liquid, about 2/3 cup.

Evenly divide the liquid among 3 tiny serving glasses or bowls. I use glass prep bowls that can hold about 1/2 cup (4 fl oz) each.

Refrigerate them uncovered for 3 hours. Once they're set, top with blueberries and cover with plastic wrap. Store them in the refrigerator for up to 1 day until ready to serve.
NUTRITION
Makes 3 Servings
Amount Per Serving (1 posset):
| | |
| --- | --- |
| Calories 280 | |
| Total Fat 29g | 44% |
| Saturated Fat 18g | 91% |
| Cholesterol 90mg | 30% |
| Sodium 20mg | 1% |
| Net Carb 5.5g | |
| Total Carb 6g | 2% |
| Dietary Fiber 0.5g | 2% |
| Sugars 4.5g | |
| Protein 2g | |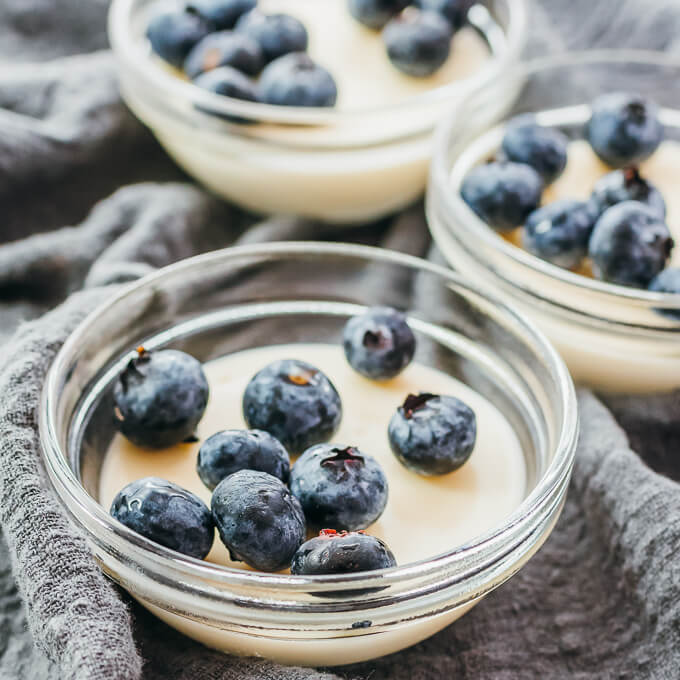 Taste & Texture
This lemon posset is very sweet with concentrated lemon flavors (like lemon keto fat bombs), and is served in small portions. It's topped with fresh blueberries, which adds extra tartness.
The texture is that of a silky and luscious cream, incredibly smooth and velvety. It's much thicker than a traditional pudding, custard, or mousse.
The key to a perfect lemon posset is managing the delicate balance between all three ingredients — cream, lemon juice, and the sweetener — for the ideal creamy texture and bright lemon flavor. I experimented with these ingredient ratios by adapting from America's Test Kitchen, which was the inspiration for this recipe.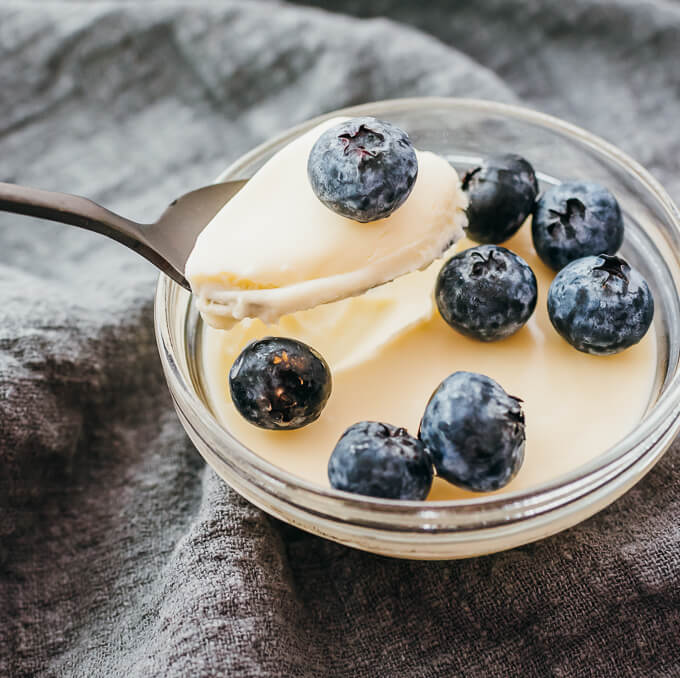 Note About Sweeteners
This recipe is designed for confectioners (powdered) swerve, and hasn't been tested with other sweeteners. In most of my recipes, it's not a problem if you substitute with other powdered sweeteners that also measure the same as swerve, but I don't recommend doing so in this case, given the sweetener's crucial role in getting the right taste and texture (and avoiding erythritol crystallilzation) in a lemon posset. I also caution against using liquid sweeteners or sweeteners that don't measure the same as swerve.
Two common misunderstandings:
Swerve is not the same as erythritol. Swerve is an erythritol blend that measures 1:1 as sugar, whereas pure erythritol is only about 70% as sweet as sugar. You cannot equally substitute one for the other.
Swerve and other erythritol blends are sugar alcohols and are non-impact, meaning that their carbohydrates are not digested by the body. When you're calculating net carbs, you should subtract out their carbs just like you would for fiber.
More Super Easy Keto Desserts