Summary:
Whether you call it apple crisp or apple crumble, this healthy keto version is free of sugar, flour, and oats. The fruity filling is made with apples, blackberries, and cinnamon, simmered in a skillet until a thick and rich mixture is formed. They're nicely complemented by a crunchy pecan and almond flour topping. For more low carb and gluten free treats, visit Keto Dessert Recipes.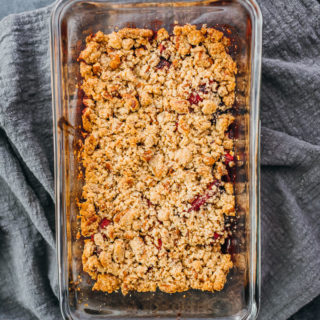 INGREDIENTS
Topping:
1/2

cup

(2oz/57g) chopped pecans

1/2

cup

(2oz/57g) blanched almond flour

1/4

cup

(1.3oz/36g) confectioners swerve sweetener (for more info, see section below called "Low Carb Sweeteners")

3

tablespoons

(1.5oz/43g) salted butter, melted

1/2

teaspoon

ground cinnamon
Filling:
3

small (1lb/454g) golden delicious apples, peeled, cored, cut into eight wedges each

(use sweet and crisp varieties such as golden delicious, honeycrisp, or braeburn which better maintain their texture and shape during cooking)

1 1/4

cup

(6oz/170g) fresh blackberries

1/4

cup

(1.3oz/36g) confectioners swerve sweetener

1/4

cup

(2oz/57g) water

2

tablespoons

(1oz/28g) salted butter

1

tablespoon

ground cinnamon

1

teaspoon

vanilla extract
INSTRUCTIONS
Prep: Position an oven rack in the center of the oven, and preheat to 350 F.

Topping: In a large mixing bowl, add all topping ingredients except the melted butter, stirring until well-mixed. Add butter, stirring until the mixture resembles moistened crumbles. Set aside.

Filling: In a skillet (I use a 10-inch nonstick), melt butter over medium heat. As it starts to bubble, stir occasionally to avoid burning. Once it starts to brown and you smell a nutty aroma, carefully stir in water to cool the butter, then stir in sweetener, cinnamon, and vanilla until dissolved. Bring to a simmer, and add apple wedges and blackberries. Cook until most of the released liquid is evaporated and the softened apples are easily punctured, 10 to 15 minutes, stirring frequently for even cooking. Turn off the heat.

Baking: Transfer the filling to a loaf baking dish (I use a glass 1.5-quart 9×5 inch loaf pan), scraping out every last bit of the sticky sauce and spreading out the filling to cover the bottom of the dish. Spread the topping evenly over the filling, breaking up large chunks and making sure the filling is covered by the topping. Transfer the dish to the oven, baking at 350 F until the topping looks crisp, 15 to 20 minutes. It will be very hot, so let it cool for about 10 minutes before serving.

Serving: This apple crisp is perfect when served with a scoop of keto vanilla ice cream or a dollop of whipped cream. Enjoy.
NUTRITION
Makes 8 Servings
Amount Per Serving:
| | |
| --- | --- |
| Calories 200 | |
| Total Fat 16g | 24% |
| Saturated Fat 5g | 25% |
| Cholesterol 19mg | 6% |
| Sodium 60mg | 3% |
| Net Carb 8.5g | |
| Total Carb 13g | 4% |
| Dietary Fiber 4.5g | 19% |
| Sugars 7g | |
| Protein 3g | |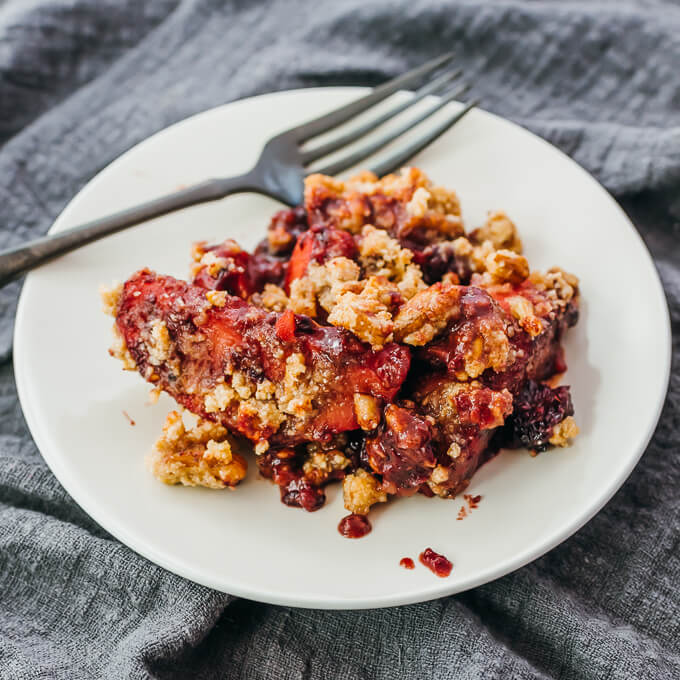 Crisp, crumble, or cobbler?
Crisps, crumbles, and cobblers all refer to fresh fruit desserts baked in the oven, but they differ in the type of topping they have.
Cobblers have the most straightforward definition. They have a topping composed of biscuit or pastry-like dough, dolloped over the fruit filling, giving it a cobbled appearance.
Crisps and crumbles are very similar, and these terms are often used interchangeably. Both have a streusel-like topping that is sweet and crumbly, traditionally made with flour, butter, and sugar. Crisps usually include oats in the topping that crisp up during baking, whereas crumbles do not.
The Topping
The topping for this keto version is simply a mixture of low carb nuts in the form of almond flour and chopped pecans, plus a small amount of sweetener and cinnamon. They're mixed with just enough melted butter to turn into moistened crumbles that get toasty during baking, mimicking a traditional apple crisp or crumble.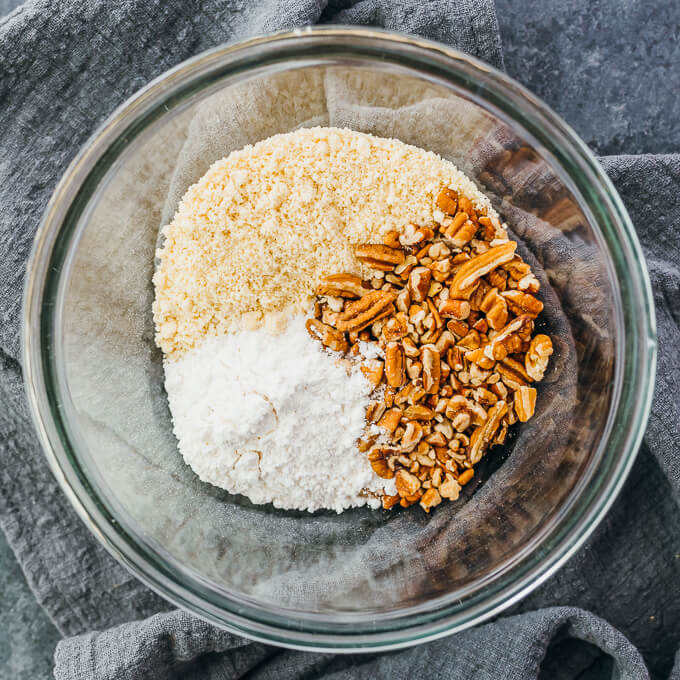 The Filling
The filling is where most of the flavor resides. A mixture of apples and blackberries are used — as opposed to 100% apples — to keep carbs at a minimum. The fruit is simmered in a mixture of browned butter, cinnamon, sweetener, and vanilla until thick and saucy.
The filling is poured into a baking dish, and covered with the crumbly nut topping. Baking longer at 350 F was preferable over baking shorter at higher temperatures because almond flour in the topping can easily burn at high temperatures.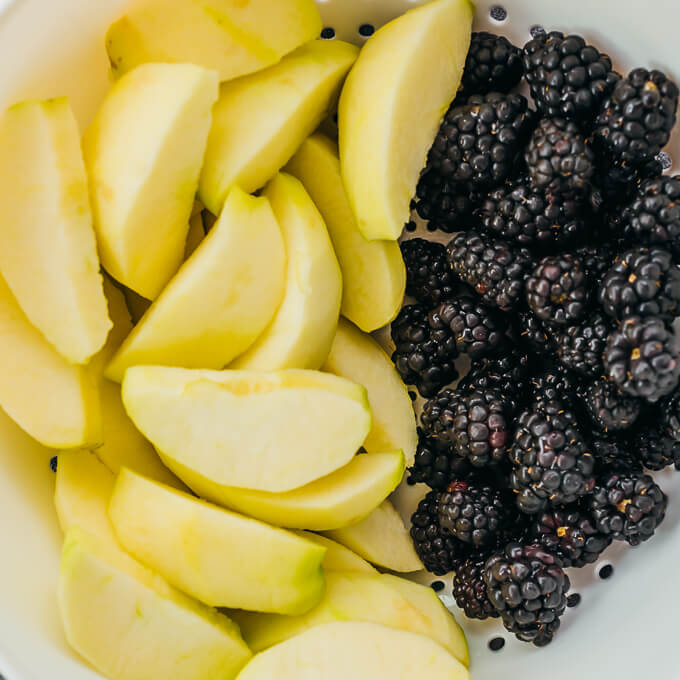 Low Carb Sweeteners
This recipe is designed for confectioners (powdered) swerve, and hasn't been tested with other sweeteners. I recommend measuring your sweetener by weight, not volume, for best results. In the recipe's ingredients, weight values are provided in parentheses in both ounce and gram units.
Swerve is not the same as erythritol. Swerve is an erythritol blend that measures 1:1 as sugar, whereas pure erythritol is only about 70% as sweet as sugar. You cannot equally substitute one for the other.
Swerve and other erythritol blends are sugar alcohols and are non-impact, meaning that their carbohydrates are not digested by the body. When you're calculating net carbs, you should subtract out their carbs just like you would for fiber.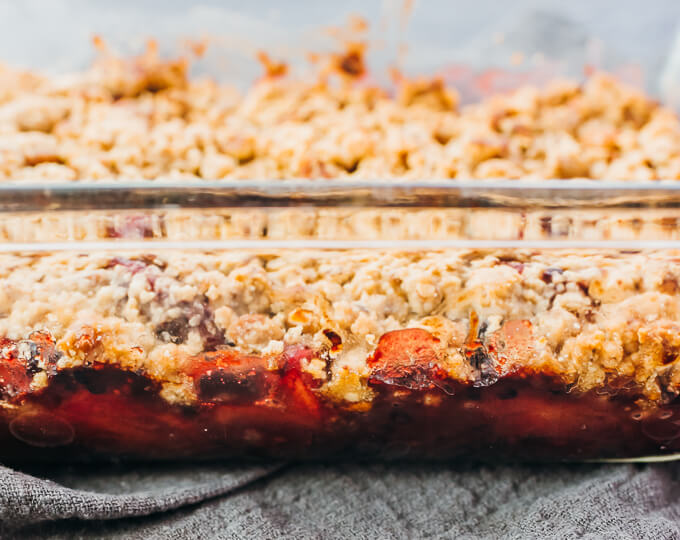 Berry Variations
You can substitute blackberries with a different type of berry such as blueberries or raspberries. Or for a larger filling, you can double the amount of berries and use 50% blackberries and 50% of another type — just add an extra 5 minutes of cooking the filling until thickened.
Note that the berries are mostly disintegrated after cooking, so they provide flavor and color to the apple crisp's filling, not texture.
Leftovers & Reheating
Cover and refrigerate leftovers, either in the original baking dish or divided into separate containers. To reheat, transfer the apple crisp to an oven-safe dish and bake at 350 F until heated through, 10 to 15 minutes. Do not use the microwave, which will turn the topping into a soggy mess.
More Keto Dessert Recipes