Summary:
Flourless with only 6 ingredients, these keto almond butter cookies are simple to make and store well at room temperature. Chewy on the inside and cakey on the outside, this tasty dessert can be served to anyone on a low carb or gluten free diet. For more ideas, see Keto Dessert Recipes.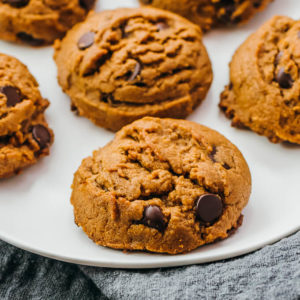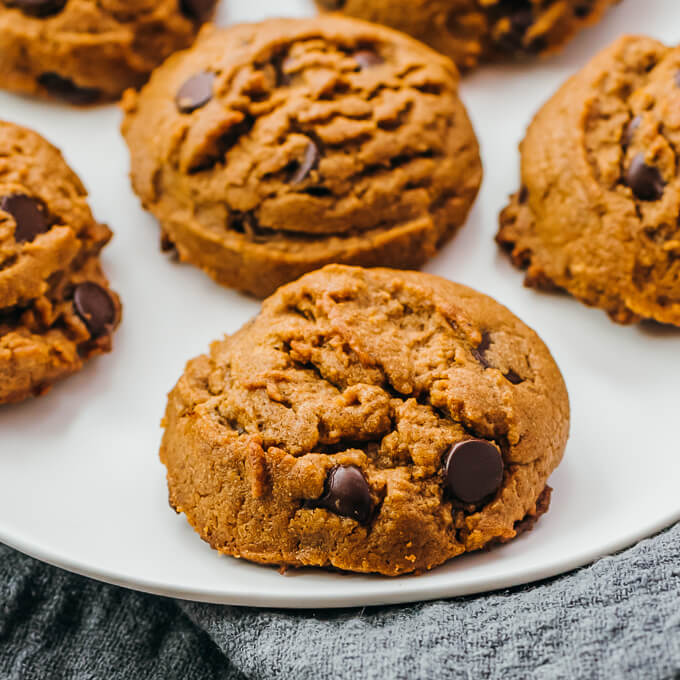 Almond Butter Cookies Recipe
INGREDIENTS
1

cup

(9 ounces weight) no-stir creamy almond butter, room temperature

(no-stir creamy/smooth versions give the best cookie texture, and room temperature helps the cookies spread in the oven)

6

tbsp

(2 ounces weight) sugar-equivalent sweetener

(I use confectioners swerve which is a 1:1 sugar replacement; see section below called "Other Tips")

1/3

cup

(2 ounces weight) sugar-free chocolate chips, added last

(I use Lily's 55% dark baking chocolate chips)

1

large egg

1

tsp

vanilla extract

1

tsp

baking soda
INSTRUCTIONS
In a mixing bowl, add all ingredients except the chocolate chips. Using a stiff utensil like a wooden spoon, stir until all ingredients are completely incorporated and well-mixed, a few minutes. The resulting dough should be thick and dense. Stir in chocolate chips until well-distributed.

Form the dough into small balls, each about 1.5 tbsp and 1.5 inches in diameter (I use a medium cookie scoop), placing them onto the baking sheet about 1 to 2 inches apart from each other. This should result in about 18 balls, 9 per baking sheet. Leave them as balls because they will spread a bit as they bake (don't flatten them, which yields denser and drier cookies).

Working in 2 batches, transfer the first baking sheet to the oven. Bake at 350 F until the cookies have spread a bit to a mound shape and are just starting to darken into a deeper brown around the edges, about 8 minutes. Do not overbake, otherwise they will lose their chewiness and taste dry; better to err on the side of underbaked cookies which will be extra chewy. Repeat with the second baking sheet.

Without touching the cookies, let them completely cool on the baking sheet away from any heat sources. The freshly baked cookies are very soft and will fall apart if you try to pick them up. As they cool, they will firm up.

Once they've completely cooled, serve the cookies or store in a zip-top bag or covered container at room temperature for up to a few days.
NUTRITION
Makes 18 Servings
Amount Per Serving (1 cookie):
| | |
| --- | --- |
| Calories 110 | |
| Total Fat 9g | 14% |
| Saturated Fat 1g | 7% |
| Cholesterol 10mg | 3% |
| Sodium 0mg | 0% |
| Net Carb 2g | |
| Total Carb 4.5g | 2% |
| Dietary Fiber 2.5g | 9% |
| Sugars 1g | |
| Protein 3g | |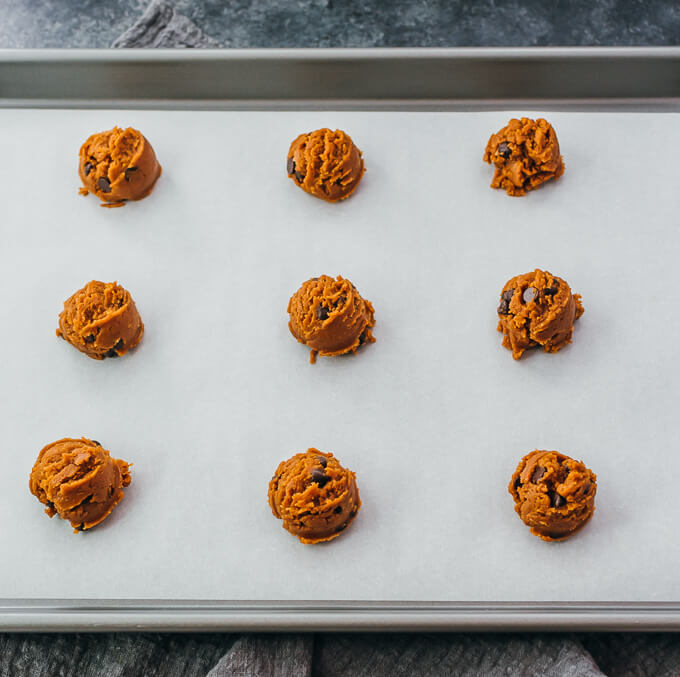 Why You Should Make These Cookies
Good for several diets. Whether you're on a special diet, or serving these to a large group of people, these cookies can be enjoyed by many. They're low carb, keto, sugar free, flourless, and gluten free. For paleo folks, substitute with paleo-friendly chocolate chips.
Easy and straightforward. There are only 6 ingredients, which are all combined in a single bowl by hand. No special equipment needed. Then they're formed into balls and baked — very simple.
Shelf-stable and portable. Since they can be stored at room temperature, these cookies are a convenient snack, even during travel. You can bring them along for road trips, hiking, and camping.
Developing The Perfect Cookie
I was inspired by my keto peanut butter cookies to make an almond butter version.
My goal was to develop a cookie that was completely flourless (not even almond flour or coconut flour), didn't taste dry even a few days post-baking, and that yielded just the right amount of spread.
I ended up testing this recipe five times, trying different baking times and proportions of fat until I was happy with the final taste and texture.
To avoid dry-tasting cookies, the key is slightly underbaking the cookies so that their interiors are still a bit gooey. This allows them to have chewy interiors, even a few days later. Since personal preference and ovens vary a lot, you may need to play around with the baking time to arrive at your perfect cookie texture.
Another way to keep the interiors chewy and moist is having mound-shaped cookies. They are thicker in comparison to disk-shaped cookies, whose interiors easily overbake and become dry because they are flatter. I also like the artisanal look of the rounder, thicker cookies.
To get the cookies to spread a bit but not too much, I use room temperature almond butter (instead of refrigerated) and baking soda (instead of baking powder), both of which promote spreading in the oven. The short baking time prevents them from spreading too much.
Other Tips
Measure by weight. I recommend using a digital food scale to measure out the almond butter, which is very sticky and will cling to your measuring cup. It's much easier to weigh out the appropriate amount of almond butter directly into your mixing bowl. I also measure the sweetener out by weight, since it can vary a lot depending how you pack it into the measuring spoon.
Check nutrition labels. Watch out for higher carb brands when buying almond butter and chocolate chips. I use a no-stir smooth almond butter by Simple Truth, a Kroger brand with 4g net carbs per 2 tbsp serving size. I use Lily's sugar-free chocolate chips which have 1g net carbs per 14g serving (remember to subtract out sugar alcohols to calculate net carbs). Avoid brands with higher carb counts.
Sweetener substitutions. I use confectioners swerve as my sweetener. You can use any other kind of dry sweetener, and it's a direct substitution if it also measures the same as sugar. If it doesn't, you'll need to perform the appropriate conversion so that you're adding the same amount of sweetness. Check your sweetener's packaging to determine how it compares to sugar.
More Easy Keto Cookie Recipes