Summary:
These flourless cookies made with almond butter are simple to make, with only 6 ingredients, and store well at room temperature. Chewy on the inside and cakey on the outside, this tasty dessert can be enjoyed by anyone on a low carb or gluten free diet.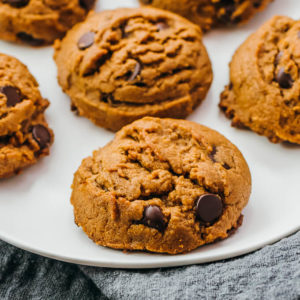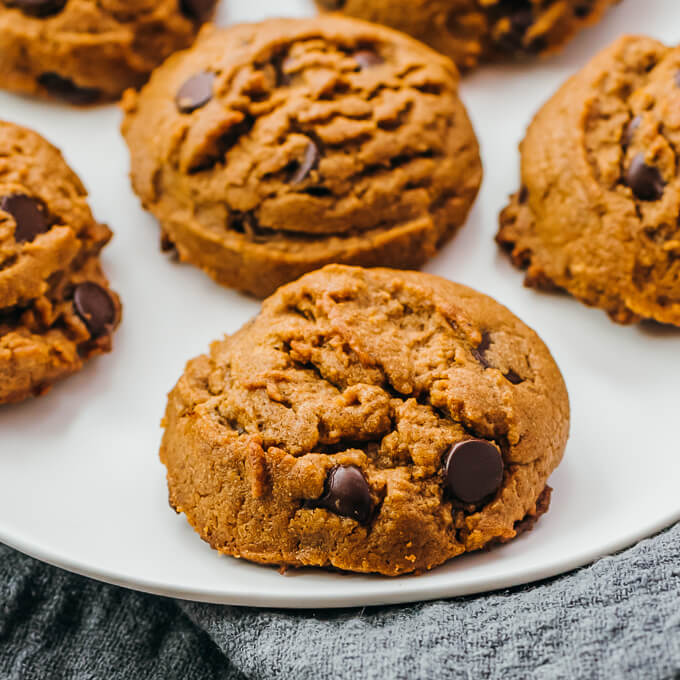 INGREDIENTS
INSTRUCTIONS
Prepare: Preheat oven to 350 F. Set aside 2 baking sheets lined with parchment paper.

Make Dough: Add all ingredients except chocolate chips to mixing bowl. Using stiff utensil or wooden spoon, stir until all ingredients are completely incorporated and well-mixed, a few minutes. Dough should be thick and dense. Stir in chocolate chips until well-distributed.

Bake: Working in 2 batches, transfer first baking sheet to oven. Bake at 350 F until cookies have spread a bit (mound shaped) and just starting to darken into deeper brown around edges, about 8 minutes (Note 7). Repeat with second baking sheet.

Cool: Without touching cookies, cool on baking sheet, away from any heat sources. Freshly baked cookies are very soft and will fall apart easily. As they cool, they will firm up. Once completely cooled, serve or store cookies (Note 8).
NUTRITION
Makes 18 Servings
Amount Per Serving (1 cookie):
| | |
| --- | --- |
| Calories 110 (74% from fat) |   |
| Total Fat 9g | 14% |
|    Saturated Fat 1g | 7% |
| Cholesterol 10mg | 3% |
| Sodium 0mg | 0% |
| Net Carb 2g |   |
| Total Carb 4.5g (Note 9) | 2% |
|    Dietary Fiber 2.5g | 9% |
|    Sugars 1g |   |
| Protein 3g |   |
PHOTOS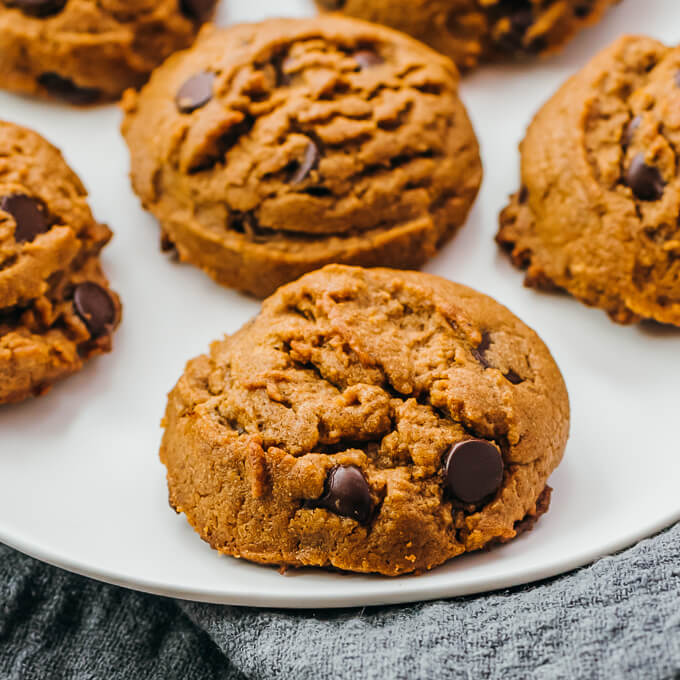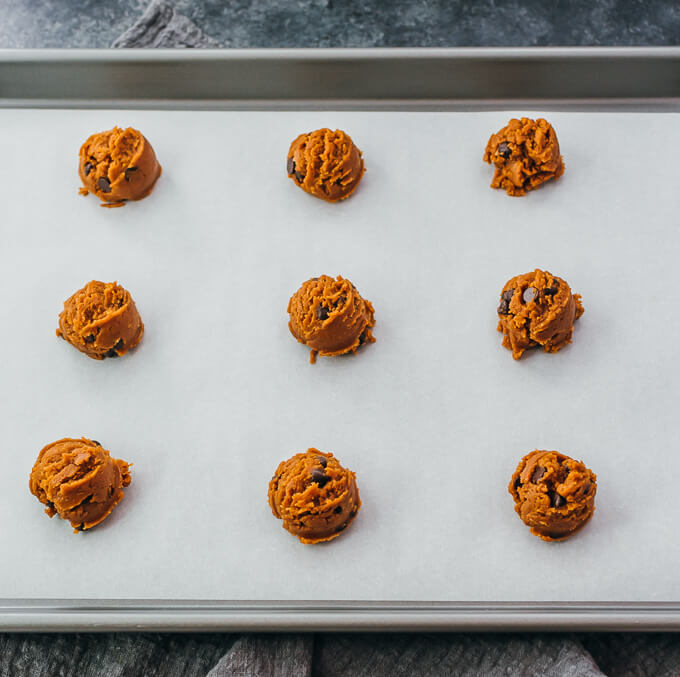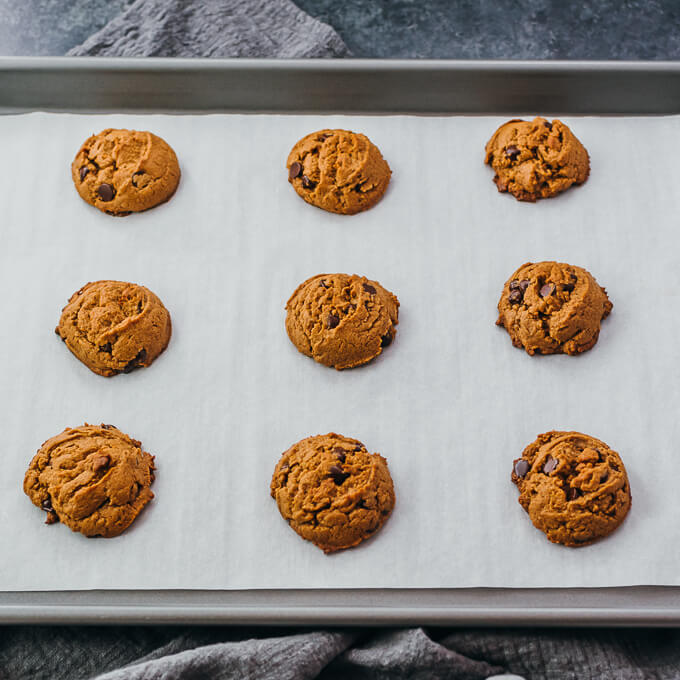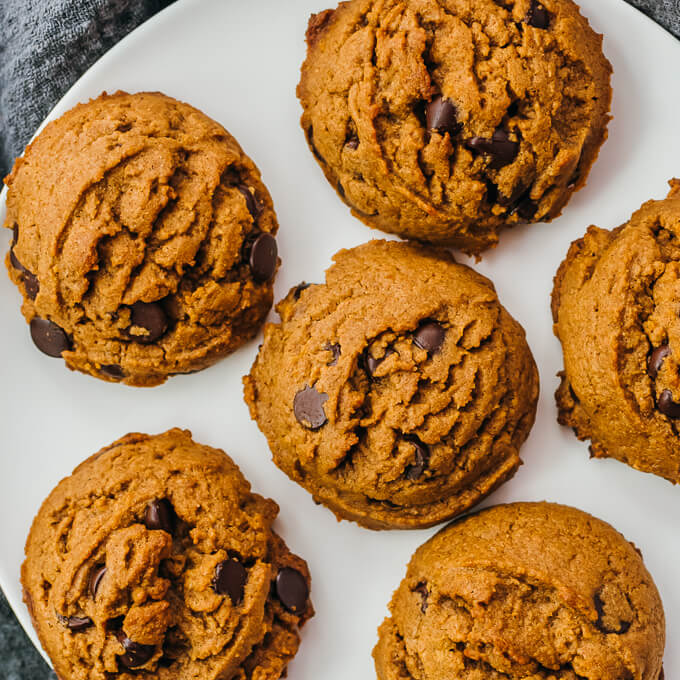 NOTES & TIPS
(1) Almond Butter. About 9 ounces weight. Almond butter is very sticky, so I recommend measuring it out by weight directly into the mixing bowl, circumventing the need for a measuring cup. I prefer using no-stir, creamy or smooth almond butter because it yields the best cookie texture. I use Kroger's Simple Truth brand, which has 4 grams net carbs per 2 tablespoon serving size. To help the cookies spread in the oven during baking, use room temperature (not refrigerated) almond butter or take it out of the refrigerator in advance to warm to room temperature.
(2) Sweetener. About 2 ounces weight. Confectioners Swerve is a dry sweetener that measures the same as regular powdered sugar; it's not the same as pure erythritol, which is about 70% as sweet. You can substitute with another brand or type of dry sweetener, and it's a direct 1:1 substitution if it also measures the same as powdered sugar. Otherwise, check your sweetener's packaging to determine how it compares to sugar so that you can make the appropriate conversion.
(3) Chocolate Chips. About 2 ounces weight. I use Lily's 55% dark baking chocolate chips, which are low carb and sweetened with stevia. You can find them at U.S. supermarkets such as Kroger and Whole Foods. Lily's chocolate chips are relatively small, so if you substitute with another brand, look for mini chocolate chips if possible.
(4) Baking Soda. Do not substitute with baking powder. Baking soda is an important ingredient that helps the cookies spread during baking.
(5) Forming Dough. I use a medium cookie scoop.
(6) Dough Balls. I prefer leaving the cookie dough in the shape of balls since they will spread a bit as they bake, resulting in thick mound-shaped cookies whose interiors are chewy and moist. Don't flatten them, or their interiors will easily overbake, resulting in denser and drier cookies.
(7) Baking Time. Monitor the cookies carefully for the signs of doneness described in the instructions. Do not overbake, otherwise they will lose their chewiness and taste dry; better to err on the side of underbaked cookies which will be extra chewy. Since personal preference and ovens vary a lot, you may need to experiment with the baking time to arrive at your perfect cookie texture.
(8) Serving / Storing. Enjoy these cookies at room temperature. Leftovers can be stored in a resealable bag or covered container at room temperature for up to 3 days. Since they don't need to be refrigerated, these cookies are a convenient travel-friendly snack. You can bring them along for road trips, hiking, and camping.
(9) Carbs. The nutrition calculation assumes you are using Swerve or a similar erythritol-based sweetener that uses sugar alcohols, whose carbs are non-impact and therefore not included in the nutrition estimate. Apps that count sugar alcohols will show a higher number of carbs.