Summary:
Enjoy these easy-to-make keto peanut butter cups that are low in carbs and sugar free, a popular choice among other snack recipes.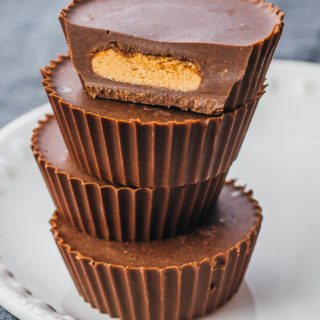 INGREDIENTS
340

grams

(12oz) low carb milk chocolate
INSTRUCTIONS
Mix all peanut butter ingredients very thoroughly, until it becomes a dough that does not stick to the sides of the bowl. For easier handling, refrigerate until used later.

Make low carb chocolate. Or, use storebought chocolate and melt on low heat or in a double boiler. Remove from heat once liquid.

Pour 12g chocolate (about 1 tbsp when hot) into each of the 12 cupcake wrappers.

Chill cupcake wrappers in the refrigerator until firm, about 15 minutes.

Take the wrappers and peanut butter out of the refrigerator. Place a 1/2 tablespoon ball of peanut butter in each wrapper and flatten until it nearly touches the edge of the wrapper.

Stir the remaining liquid chocolate and then pour 16g chocolate (about 4 tsp when hot) over each filled wrapper. Chill in the refrigerator until hardened, about 30 minutes. Store at room temperature.
NUTRITION
Makes 12 Servings
Amount Per Serving (1 peanut butter cup):
| | |
| --- | --- |
| Calories 220 (79% from fat) | |
| Total Fat 20g | 30% |
| Saturated Fat 10g | 52% |
| Cholesterol 0mg | 0% |
| Sodium 20mg | 1% |
| Net Carb 2g | |
| Total Carb* 5g | 2% |
| Dietary Fiber 3g | 12% |
| Sugars 1g | |
| Protein 6g | |
*Nutrition does not include sugar alcohols like erythritol, which cannot be digested by the body.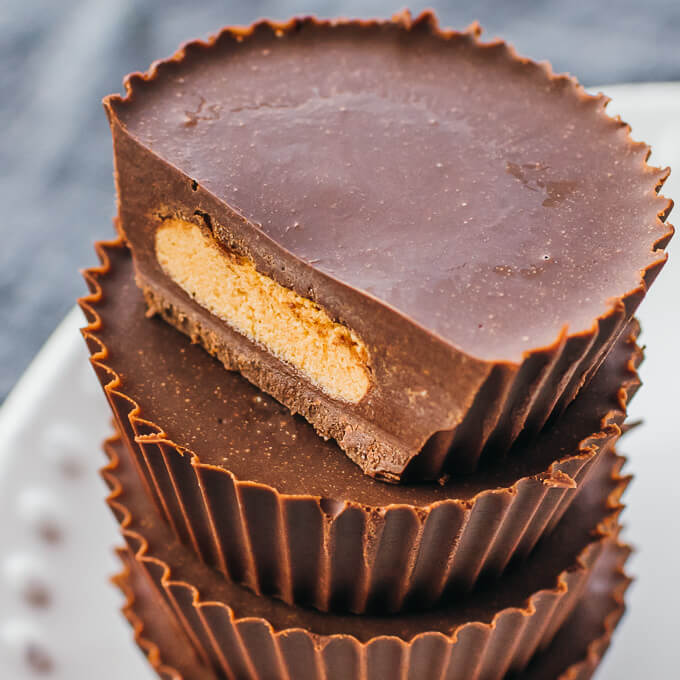 Reese's peanut butter cups are among my favorite treats, and now I can even enjoy them on a keto diet thanks to this homemade version. These are larger than the brand name version and only 2g net carbs each, with a thickened peanut butter center surrounded by a smooth milk chocolate exterior.
It's a no-bake recipe so the only work involved is melting the chocolate and assembling the peanut butter cups. This recipe can be used in conjunction with this tutorial on how to make low carb chocolate, or you can use storebought low carb chocolate by brands such as Lily's.
Making the peanut butter mixture: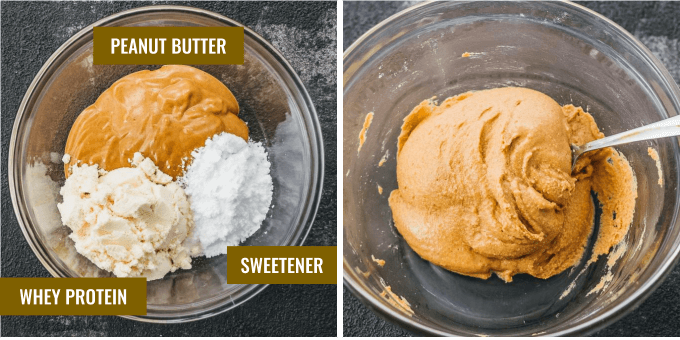 The first step is making the 3-ingredient sugar free peanut butter mixture. I use "natural" peanut butter, meaning it's composed of only peanuts and salt without any sugar or other additives. I use the creamy (not crunchy) kind to mimic Reese's cups. Make sure you stir up the bottle of peanut butter before using it, as there will probably be a lot of separation.
If you don't want to use peanut butter, you can use any nut butter of your choice like almond butter or cashew butter. Other types of butter may vary in their stickiness, so you might need to adjust the amount of other ingredients so it's easily spreadable.
I use powdered erythritol to sweeten the mixture, as I do with all of my keto dessert recipes. It's about 70% as sweet as table sugar. You can easily substitute with your sweetener of choice by adding it to taste.
Lastly, I add in whey protein powder to thicken the peanut butter mixture so it's easily spreadable and not too sticky. If you don't have whey protein, you can also substitute with blanched almond flour. You just need something dry and low carb with a fine texture to help reduce the stickiness of the peanut butter.
Assembling keto peanut butter cups: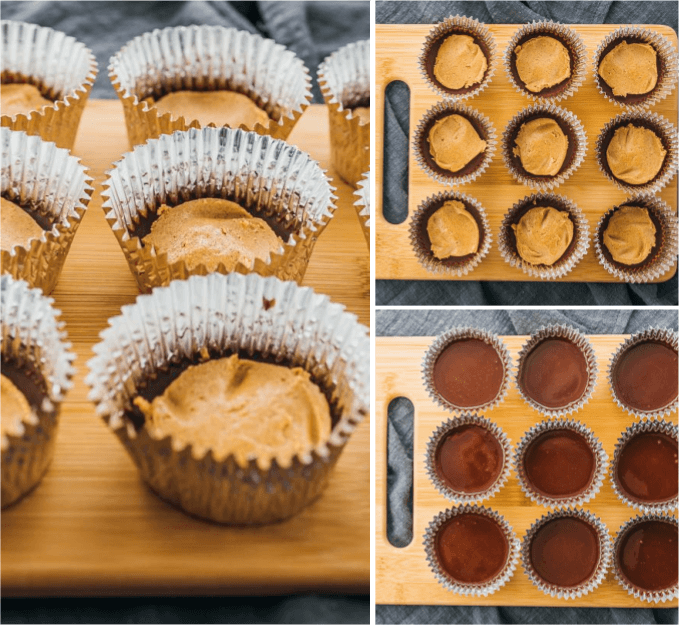 For the chocolate part, you can follow my recipe on making low carb chocolate or just buy storebought low carb chocolate. I recommend Lily's brand, which can be found at Whole Foods.
Whether you're making homemade chocolate or buying it, you'll need to melt it. I suggest setting up a double boiler or a small saucepan over low heat, and using a rubber spatula for stirring.
I recommend getting disposable cupcake wrappers or reusable silicone molds. They will be partially filled by the peanut butter cup, and when they're dry you can pop them out and they will look exactly like Reese's cups.
Weight measurements are provided in the recipe instructions for the amount of chocolate added to each cup. You can use a digital food scale to make sure you're adding the right measurements.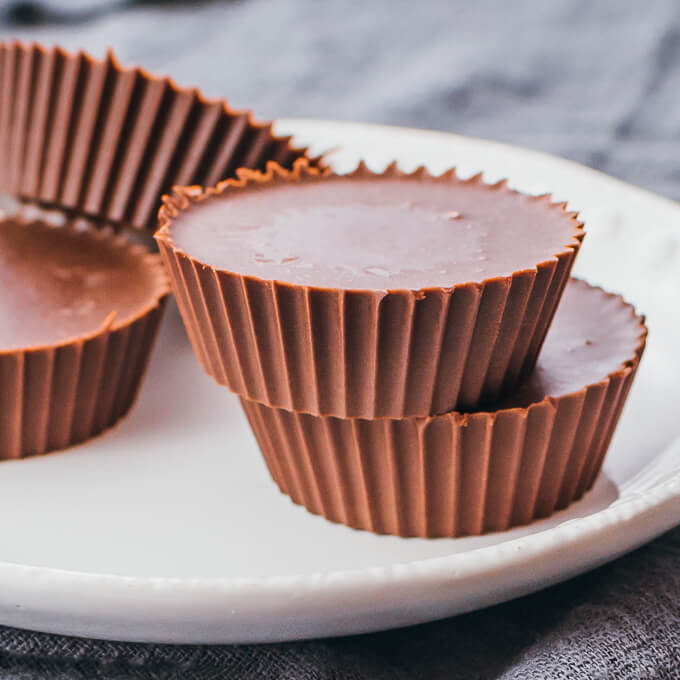 The recipe makes a total of 12 large peanut butter cups, or 12 servings. They taste best at room temperature on the same day they're made. For leftovers, cover and store in a cool place at room temperature.
MORE DELICIOUS KETO TREATS: