Summary:
These bars have a sweet, crunchy pecan topping over a crisp almond crust. To bring out an ultra nutty flavor, the pecans are given the full treatment: first toasted on a baking sheet, then soaked in sweetened browned butter. These bars only have 0.5 grams of net carbs apiece, forgoing traditional ingredients like corn syrup or honey. To keep the recipe simple, there are only 2 layers (crust and topping) and 5 unique ingredients.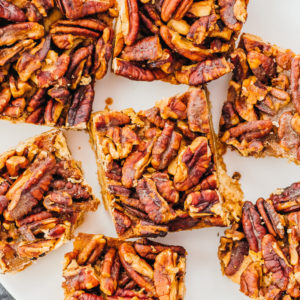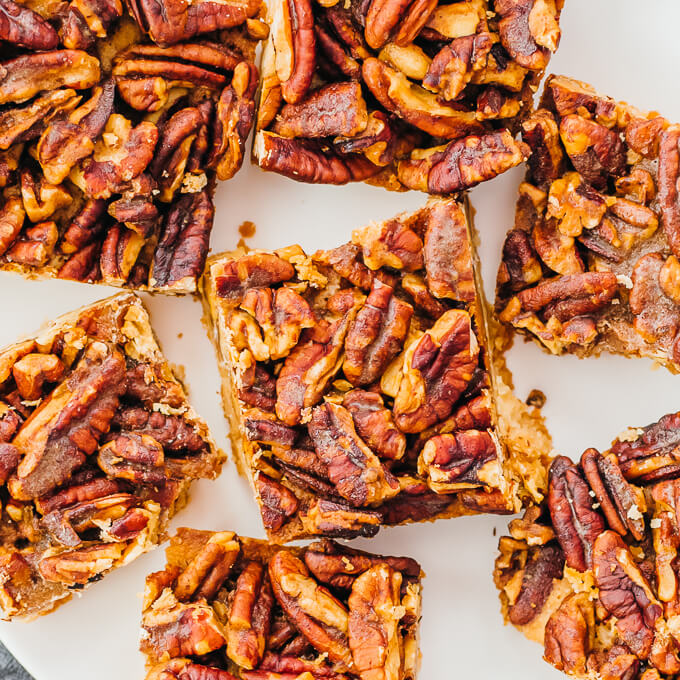 INGREDIENTS
Crust:
1

cup

almond flour (Note 1)

4

tablespoons

salted butter, melted

1/2

teaspoon

vanilla extract
INSTRUCTIONS
Toast Pecans (Note 4): Position oven rack in lower half of oven, and preheat to 350 F. Spread out pecans in single layer on baking half sheet. Bake at 350 F for 4 minutes, stir pecans and spread out again in single layer, and bake until fragrant and toasted, another 4 minutes. Set aside baking sheet to let pecans cool. Leave oven on.

Make Crust: Stir melted butter, sweetener, and vanilla in mixing bowl until well-mixed. Stir in almond flour until incorporated; should be dough-like and possibly crumbly. Transfer dough to 8×8 inch baking dish lined with foil. Spread dough out and use back of solid turner spatula to press down, forming thin flat crust (Note 5). Set aside.

Make Topping (Note 6): Stir sliced butter in saucepan (Note 7) over medium heat until melted, about a minute. When butter starts simmering, stir nearly constantly to avoid burning. Within a few minutes, sizzling should cease and caramel color should quickly develop with brown flecks at bottom, underneath foam. Immediately reduce to medium-low heat and stir in sweetener until dissolved, about a minute. Turn off heat. Stir in vanilla extract and toasted pecans until well-coated.

Assemble & Bake: Transfer pecan topping to prepared almond crust, spreading out evenly so crust is not visible. Lightly press down with back of solid turner spatula to flatten topping against crust, forming even surface. Bake at 350 F for 20 to 25 minutes; pecan bars should be sizzling a bit and darkened on top.

Cool & Serve: Keeping pecan bars in baking dish, cool at room temperature for 1 hour, ideally on wire rack. Cover, and refrigerate overnight or at least 6 hours to harden. After chilling, lift up foil to transfer pecan bars from baking dish onto cutting board. Use sturdy knife to cut into 16 bars — some crumbling is expected. Serve chilled and store leftovers (Note 8).
NUTRITION
Makes 16 Servings
Amount Per Serving (1 bar):
| | |
| --- | --- |
| Calories 170 (95% from fat) |   |
| Total Fat 18g | 27% |
|    Saturated Fat 5g | 24% |
| Cholesterol 17mg | 6% |
| Sodium 50mg | 2% |
| Net Carb 0.5g |   |
| Total Carb 2.5g (Note 9) | 1% |
|    Dietary Fiber 2g | 7% |
|    Sugars 0.5g |   |
| Protein 3g |   |
PHOTOS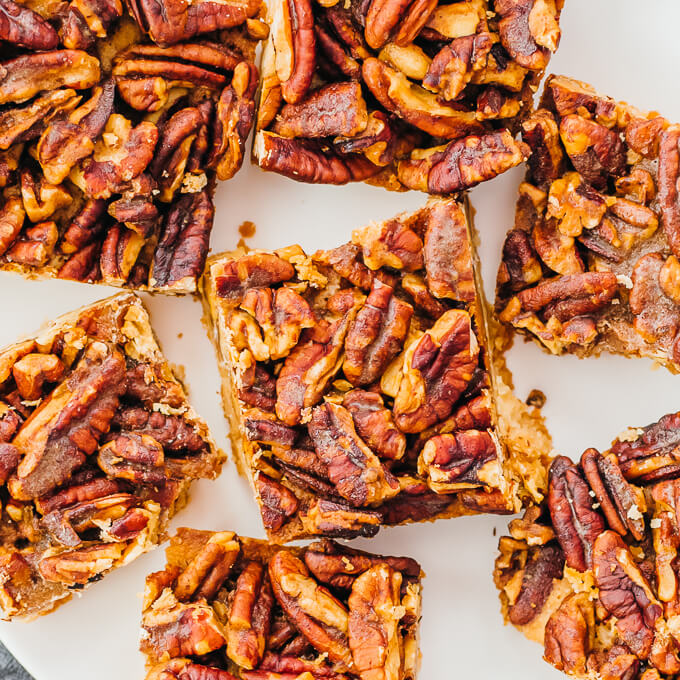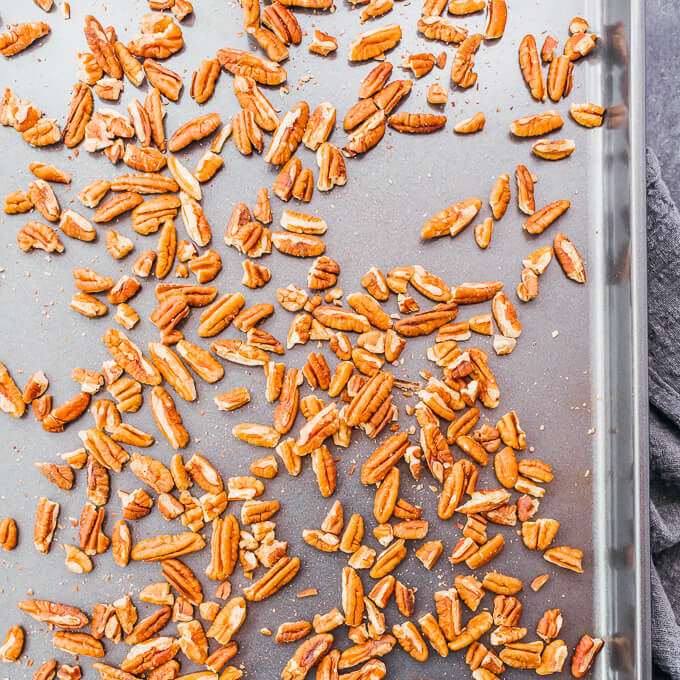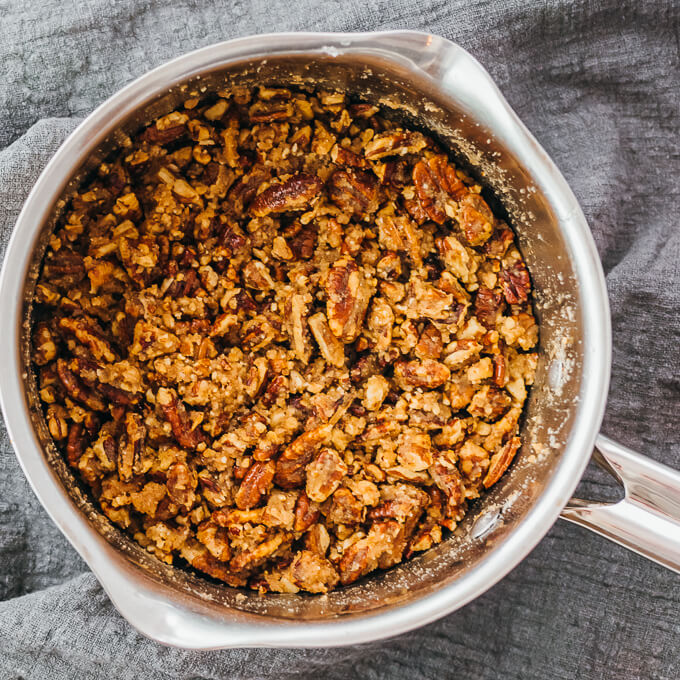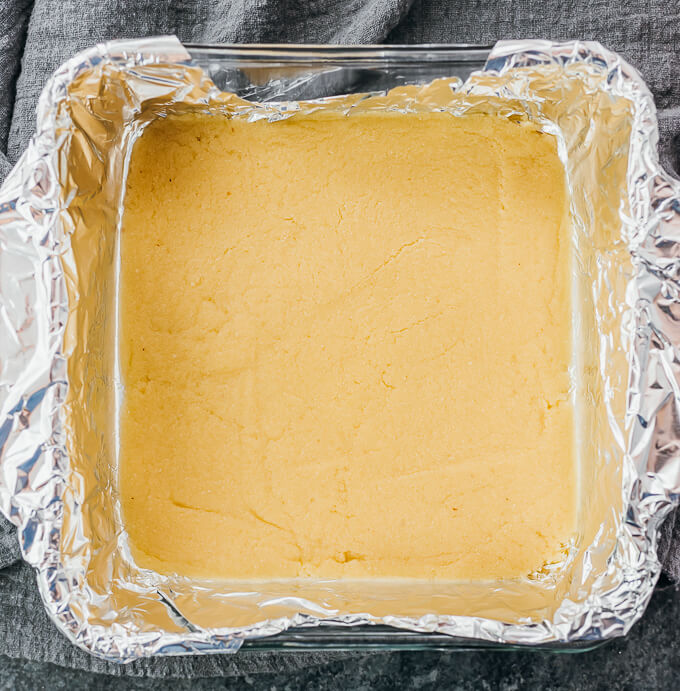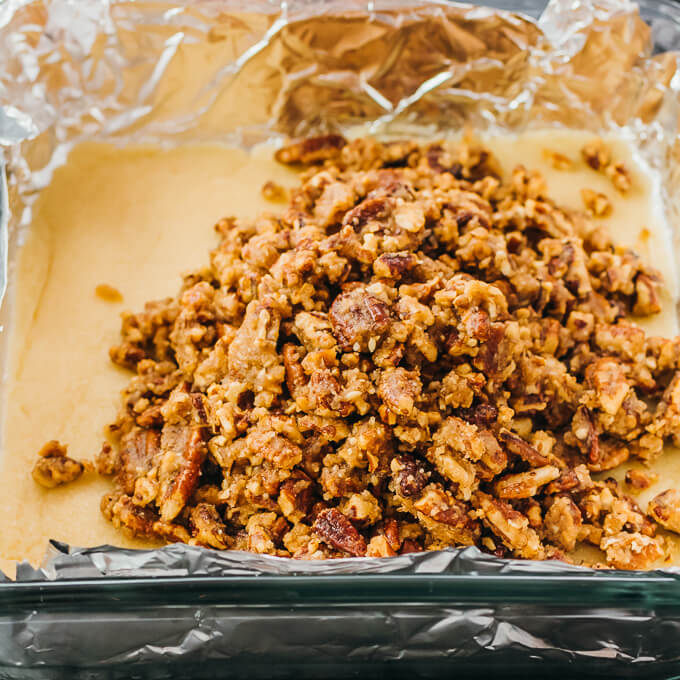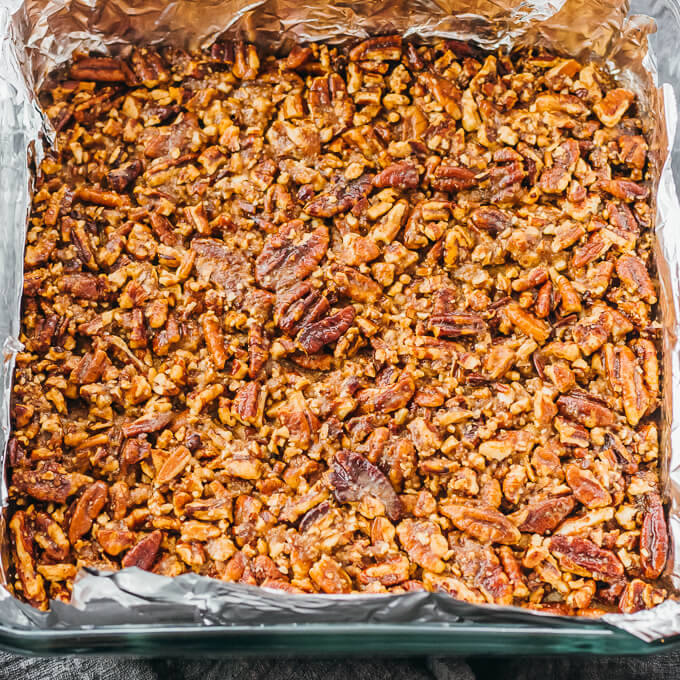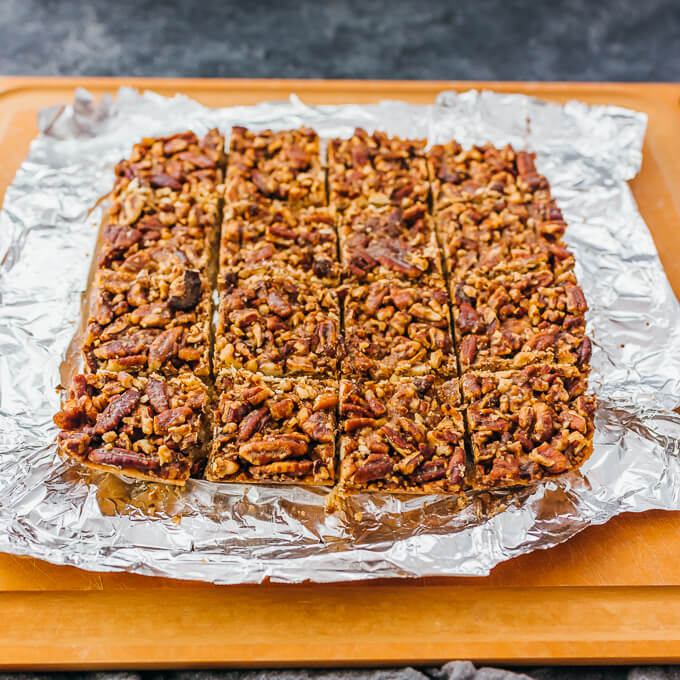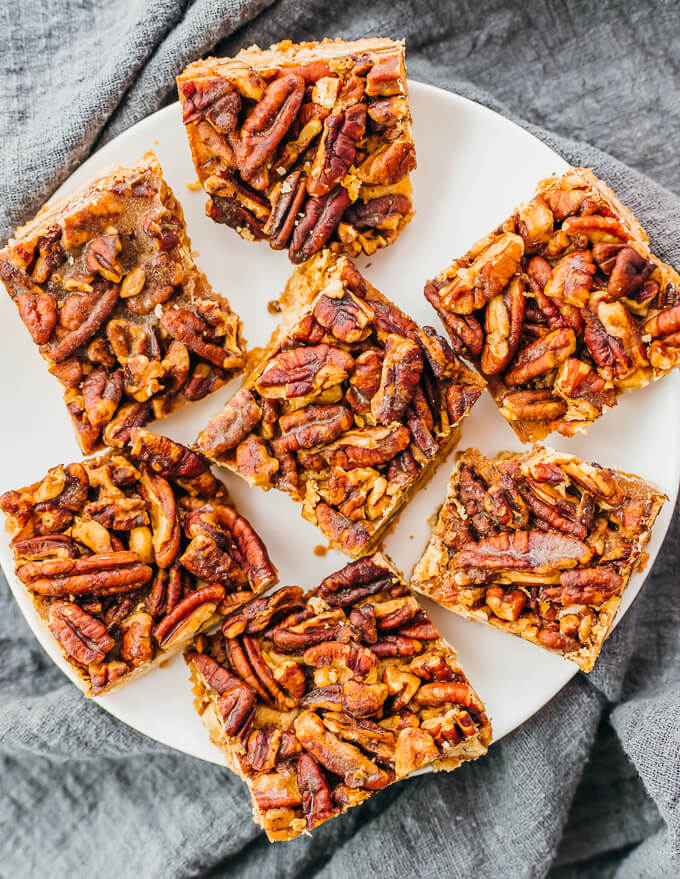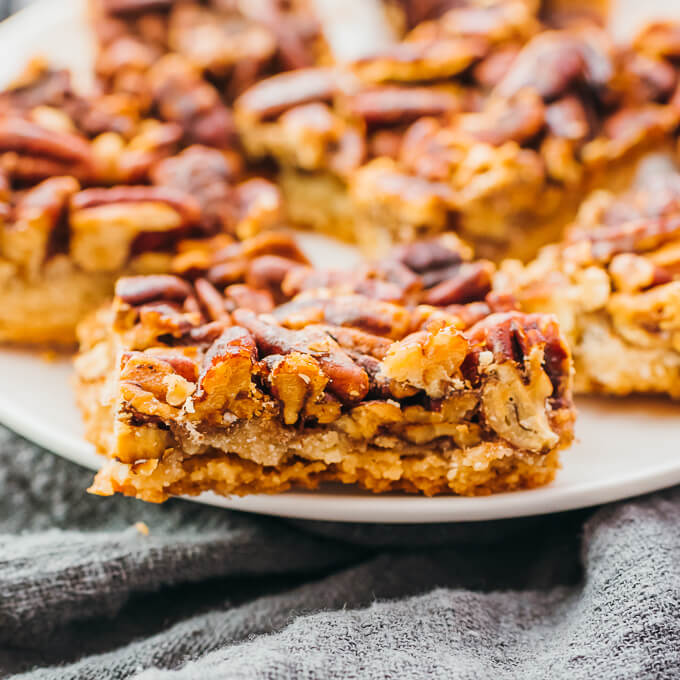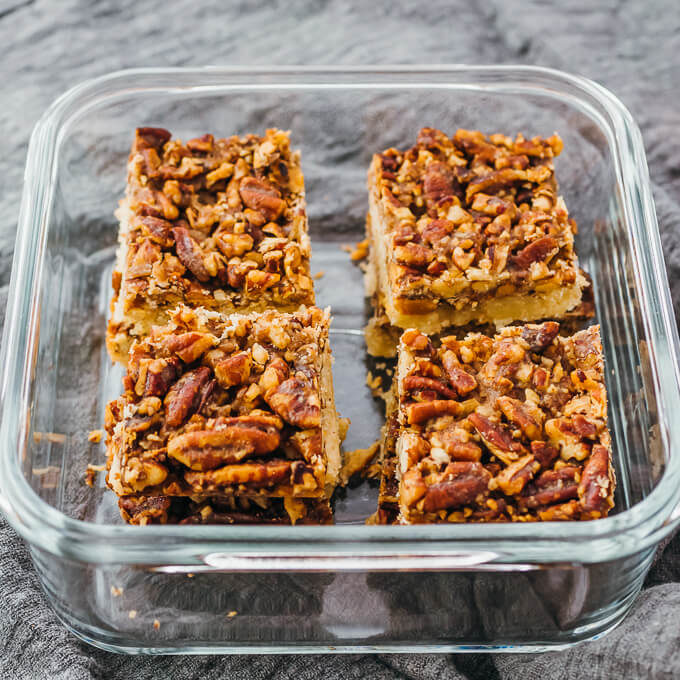 NOTES & TIPS
(1) Almond Flour. About 4 ounces weight. I use almond flour that is blanched, which means the skins are taken off of the almonds, so the resulting flour looks white. I typically use Costco's Kirkland brand, which has 2 grams of net carbs per 1/4 cup serving. Don't substitute with coconut flour or other flours, which vary in their absorbency.
(2) Sweetener. About 1 ounce weight for the crust and 2.5 ounces weight for the topping. Confectioners Swerve is a dry sweetener that measures the same as regular powdered sugar; it's not the same as pure erythritol, which is about 70% as sweet. To substitute with a different sweetener, check your sweetener's packaging to determine how it compares to regular sugar. If granulated, powder it using a blender like a Nutribullet.
(3) Pecan Pieces. About 6 ounces weight. Use pecan pieces, not halves. Pieces should be 1/4 to 1 inch in length, often found in the baking aisle of U.S. grocery stores, not in the snack or ready-to-eat nuts section.
(4) Toasting Pecans. Don't skip this step; toasting the pecans separately is important because it will bring out a lot of nutty flavor. When toasting, it's not necessary to grease or line the baking sheet — just place the pecans directly on it.
(5) Making Crust. The crust should be very thin. It may seem like there isn't enough dough to cover the bottom of the dish, but keep flattening and spreading until it covers the entire bottom of the dish.
(6) Making Topping. The recipe moves quickly during this step, so have all of your topping ingredients measured and ready to go before starting.
(7) Saucepan. I recommend using a stainless steel saucepan instead of nonstick so that you can easily see when the butter is browning. I use a 1.5 quart saucepan with a 7 inch diameter.
(8) Serving / Leftovers. These pecan bars are best enjoyed chilled. Leftovers can be stored in an airtight container in the refrigerator for up to 4 days.
(9) Carbs. The nutrition calculation assumes you are using Swerve or a similar erythritol-based sweetener that uses sugar alcohols, whose carbs are non-impact and therefore not included in the nutrition estimate. Apps that count sugar alcohols will show a higher number of carbs.