Summary:
This low carb keto breakfast casserole has a base of eggs, cream, and cheese, lending it a rich and velvety taste. Fresh spinach and tomatoes round out this vegetarian dish. To save time, prepare a day in advance. Find more tasty ideas at Casserole Recipes.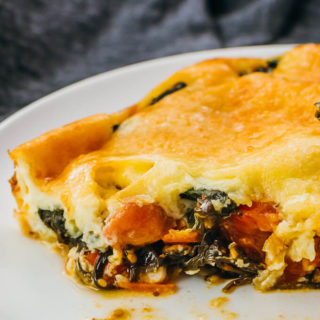 Spinach Tomato Breakfast Casserole Recipe
INGREDIENTS
1

(10-ounce)

package cherry or grape tomatoes (2 cups)

1

(10-ounce)

package fresh baby spinach, roughly chopped and any large stems removed (7 cups packed)

4

large eggs

5

cloves

garlic, thinly sliced

1/2

cup

heavy whipping cream

1/2

+ 1/4 cup finely grated parmesan cheese

(powdery or sandy texture, not shredded)

3

tbsp

salted butter

1/2

tsp

table salt

1/2

tsp

ground black pepper
INSTRUCTIONS
Set aside an 8×8 inch baking dish or other 2-quart bakeware. I use a glass dish and do not grease or line.

In a 10-inch high-sided skillet, add butter over medium heat, stirring to coat the skillet's bottom as it melts.

Once the butter has completely melted, add tomatoes, garlic, and black pepper. Cook until the tomatoes are softened and starting to peel, about 5 minutes, stirring occasionally.

Increase to medium-high heat. Add half of the spinach, constantly stirring until wilted, about 1 minute. Repeat with the remaining half of the spinach until wilted. If your skillet can't hold half of the raw spinach, then work in smaller batches.

Continue cooking until the tomatoes have broken down and nearly all of the released liquid has evaporated, about 5 minutes, stirring frequently. This step helps reduce overall moisture in the baked casserole.

Transfer the skillet's contents to the baking dish, spreading it out evenly along the bottom of the dish, to the edges and corners.

In a large mixing bowl, add eggs, heavy whipping cream, 1/2 cup parmesan cheese (remaining 1/4 cup is reserved for topping), and salt. Whisk until well-mixed and the mixture is a pale yellow color.

Carefully pour the mixture over the tomatoes and spinach in the baking dish. Cover tightly with plastic wrap and refrigerate until ready to bake, up to a day in advance. Keep the 1/4 cup parmesan cheese separate.

Set the oven to 350 F. Take the casserole out of the refrigerator, and discard the plastic wrap. Evenly sprinkle remaining 1/4 cup parmesan cheese on top.

When the oven has preheated, bake uncovered until the top is puffy and golden, about 40 minutes. A toothpick in the center should come out clean. Cool at room temperature for 15 minutes to let the interior set.

Cut into 4 squares and serve. Leftovers can be covered and stored in the refrigerator, and reheated uncovered in a 350 F oven for 10 to 15 minutes.
NUTRITION
Makes 4 Servings
Amount Per Serving (4×4-inch square):
| | |
| --- | --- |
| Calories 350 | |
| Total Fat 27g | 42% |
| Saturated Fat 17g | 84% |
| Cholesterol 258mg | 86% |
| Sodium 620mg | 26% |
| Net Carb 4.5g | |
| Total Carb 7g | 2% |
| Dietary Fiber 2.5g | 10% |
| Sugars 3.5g | |
| Protein 16g | |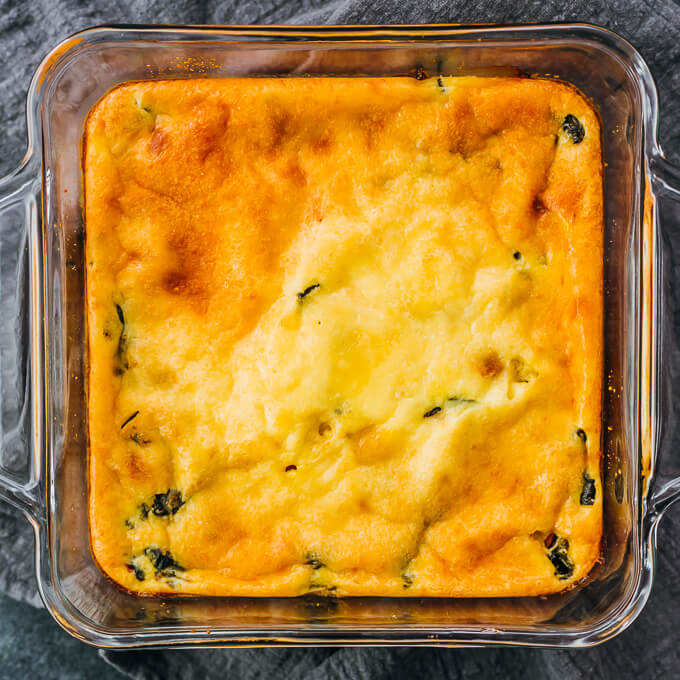 Designed For Keto & Easy to Customize
This recipe is specifically designed for anyone on a keto or other low carb diet. It's under 5g net carbs per serving, with a significant proportion of calories coming from fat sources like heavy whipping cream, parmesan cheese, and butter.
It's also very flexible. You can swap in other vegetables like bell peppers, onions, broccoli, or cauliflower. If you want extra protein, you can mix in sausage, ground beef, prosciutto, or ham. Just make sure these ingredients are pre-cooked on the stovetop before baking. For an extra pop of color, top with crispy crumbled bacon or sliced scallions.
Make Ahead For A Convenient Breakfast
Whether you're serving this for a holiday breakfast around Christmas or just want to save time, you can conveniently prepare this egg casserole up to a day in advance. About an hour before serving, preheat the oven and bake the casserole. Straightforward and easy.
You can serve this baked casserole with other low carb breakfast fare like cheddar biscuits or large-batch crispy baked bacon.
More Low Carb Breakfast Ideas