Summary:
This recipe is one of my easiest desserts, with only 4 ingredients. The almond flour dough is easy to mix and form by hand, no special equipment needed. Softened butter binds everything together without the use of eggs. The end result is a delicious cookie with a shortbread-like texture, great for a variety of occasions.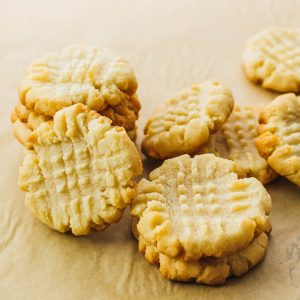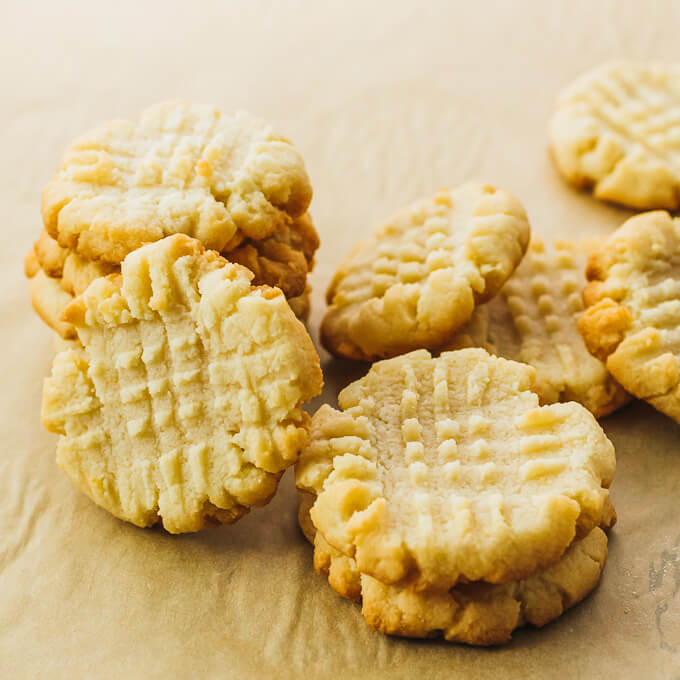 INSTRUCTIONS
Form Cookies: Use dough to make ten 1-inch balls, placing them on lined baking sheet about 2 inches apart from each other. Flatten each ball using fork, then rotate 90 degrees and flatten again, forming criss-cross pattern (Note 5).
NUTRITION
Makes 10 Servings
Amount Per Serving (1 cookie):
| | |
| --- | --- |
| Calories 100 (85% from fat) |   |
| Total Fat 9g | 14% |
|    Saturated Fat 3g | 13% |
| Cholesterol 9mg | 3% |
| Sodium 30mg | 1% |
| Net Carb 1g (Note 9) |   |
| Total Carb 2g | 1% |
|    Dietary Fiber 1g | 5% |
|    Sugars 0.5g |   |
| Protein 2g |   |
PHOTOS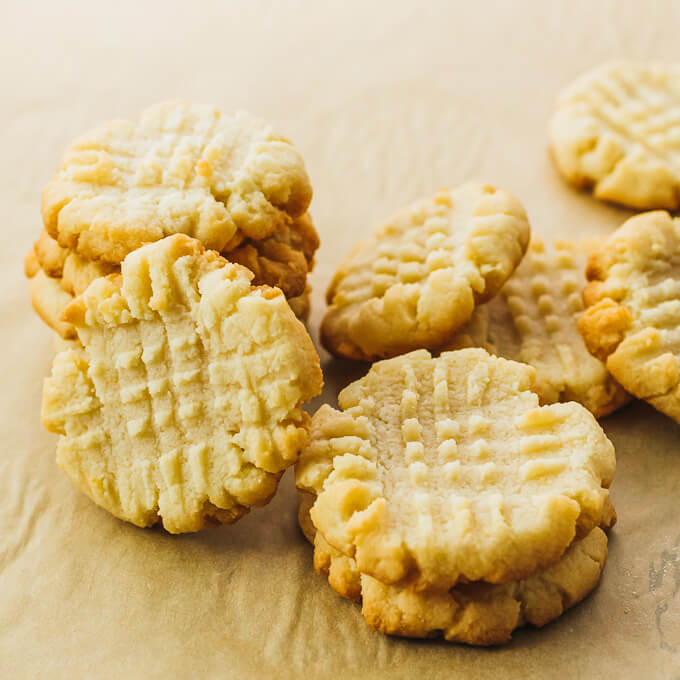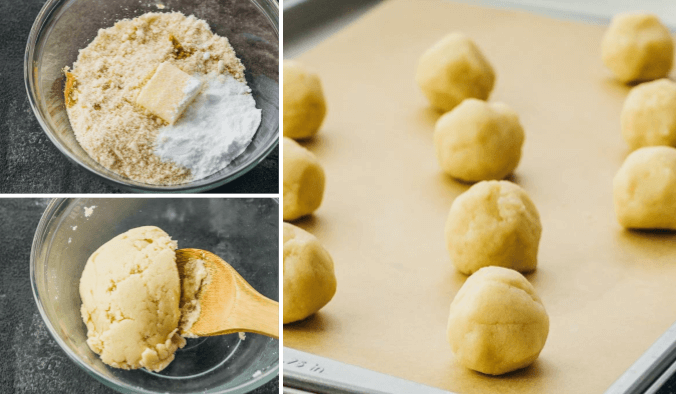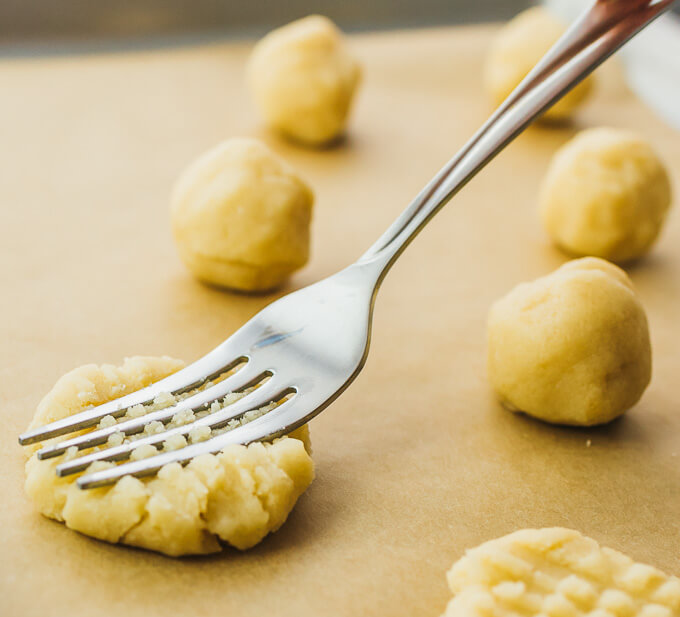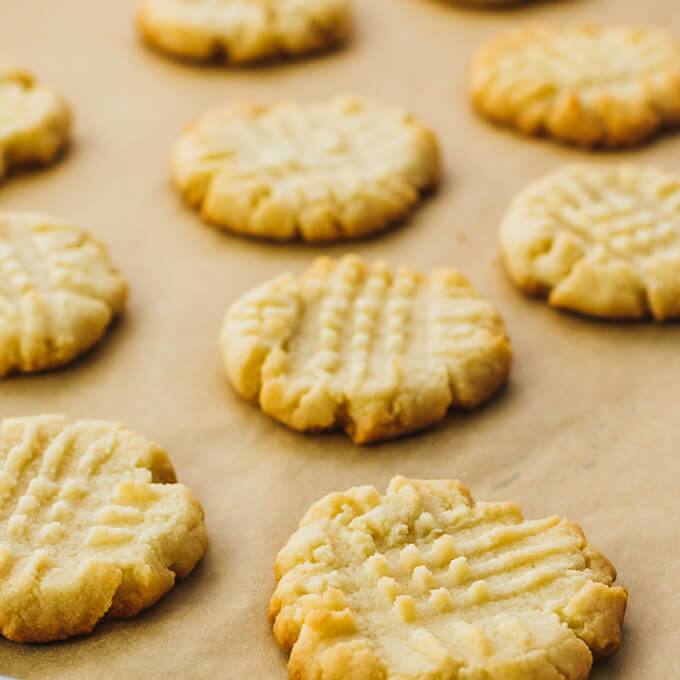 NOTES & TIPS
(1) Almond Flour. I use almond flour that is blanched, which means the skins are taken off of the almonds, so that the resulting flour looks white. Unblanched almond flour should work, but don't substitute with coconut flour or other flours, which vary in their absorbency.
(2) Sweetener. About 1.3 ounces weight for powdered erythritol and 1 ounce weight for Confectioners Swerve. Both of them are powdered sweeteners, not granulated. If you use a granulated version, you can powder it using a small blender like a Nutribullet. For best results, don't substitute with a liquid sweetener because it alters the ratio of dry to wet ingredients. If you substitute with your preferred sweetener and don't know how much to use, mix it in to the dough to taste.
(3) Cohesive Dough. I find it easiest to combine the ingredients by kneading them together using my hand rather than stirring with a utensil. If you have trouble getting a cohesive dough, your butter may not be soft enough. Let the ingredients sit out longer and try again.
(4) Flavor Add-Ins. Since these cookies are like a blank canvas, many readers have shared some creative ideas in the comments section. Here are some of them:
Adding toasted sliced almonds, shredded coconut, or sugar-free dark chocolate chips
Adding fresh juice or zest from lemons
Adding unsweetened baking chocolate or cocoa powder
Replacing some of the almond flour with finely ground pecans
Replacing some of the vanilla extract with almond extract or lemon extract
Making thumbprint cookies with strawberry or blueberry jam
Making snickerdoodles by dusting with cinnamon
Dipping cookies in melted chocolate
Let me know in the comments section if you experimented with this recipe!
(5) Cookie Shape. You can form the cookies into your desired shape and pattern. Note that these cookies will maintain their shape during baking and will not spread.
(6) Baking Time. The baking time varies, depending on your oven and the thickness of your cookies. The cookies are done when they're golden around the edges, which has taken me anywhere from 8 to 12 minutes when testing with different ovens. After baking and cooling the cookies, if they have a soft or odd texture, then they are likely underbaked and you should bake them again. The cookies are perfectly baked when they have a crisp, shortbread-like texture.
(7) Serving. Serve these cookies with a low carb hot chocolate, tea latte, or cinnamon dolce latte, or alongside other sweets like lemon poppy seed scones, cheesecake, or fresh seasonal berries. You can enjoy them as an everyday dessert or snack, or for holidays like Christmas or Mother's Day brunch.
(8) Leftovers. Store leftovers in a covered container at room temperature for up to a few days.
(9) Nutrition. The nutrition calculation assumes you are using erythritol, Swerve, or other sweetener that uses sugar alcohols, whose carbs are non-impact and therefore not included in the nutrition estimate. Apps that count sugar alcohols will show a higher number of carbs.