Summary:
This eggnog drink is made using low carb ingredients including almond milk and a sugar-free sweetener. It's perfect if you're looking for keto-friendly drinks, and you can enjoy it with or without alcohol.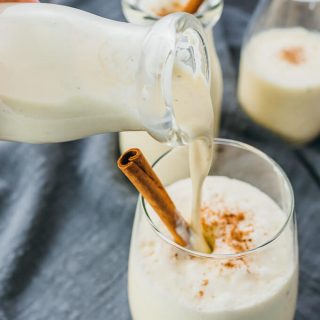 Keto Eggnog (Low Carb & Sugar Free Recipe)
INGREDIENTS
2

cups

heavy whipping cream

1

cup

unsweetened plain almond milk

3/4

cup

powdered erythritol sweetener (4.5 ounces weight)

4

large eggs

1/2

teaspoon

vanilla extract

1/2

teaspoon

ground nutmeg

1/4

teaspoon

ground cinnamon
INSTRUCTIONS
Separate the egg yolks from the whites. In a bowl, stir the egg yolks until smooth. Set aside the egg whites.

Add almond milk, heavy cream, powdered erythritol, and beaten egg yolks to a saucepan, and place over medium-low heat.

Stir together the ingredients until the mixture reaches 160 F, 10 to 15 minutes, stirring almost constantly. The mixture should not be hot enough to simmer.

Turn off the heat. Add vanilla extract, nutmeg, and cinnamon, and whisk until spices are well-mixed (they will not completely dissolve). Let stand to cool, and then cover and refrigerate for at least a few hours or overnight to chill.
For serving:
When the eggnog is chilled, use fine mesh to strain the liquid for a smoother drink; cheese cloth or nut milk bag would work well. Pour into individual glasses, and top with additional nutmeg and garnish with cinnamon sticks.

Optionally for a foamier drink: Use a hand mixer to beat the egg whites until soft peaks form. Add as much of the foamy egg whites as desired by stirring with the chilled eggnog, and serve.

Optionally for an alcoholic drink: Add desired alcohol to each serving glass, and pour the chilled eggnog over it, stirring a bit.
NUTRITION
Makes 6 Servings
Amount Per Serving (2/3 cup):
| | |
| --- | --- |
| Calories 330 (89% from fat) | |
| Total Fat 33g | 50% |
| Saturated Fat 19g | 97% |
| Cholesterol 214mg | 71% |
| Sodium 90mg | 4% |
| Net Carb 2.5g | |
| Total Carb 3g | 1% |
| Dietary Fiber 0.5g | 1% |
| Sugars 2.5g | |
| Protein 7g | |
Nutrition information does not include erythritol, which cannot be digested by the body.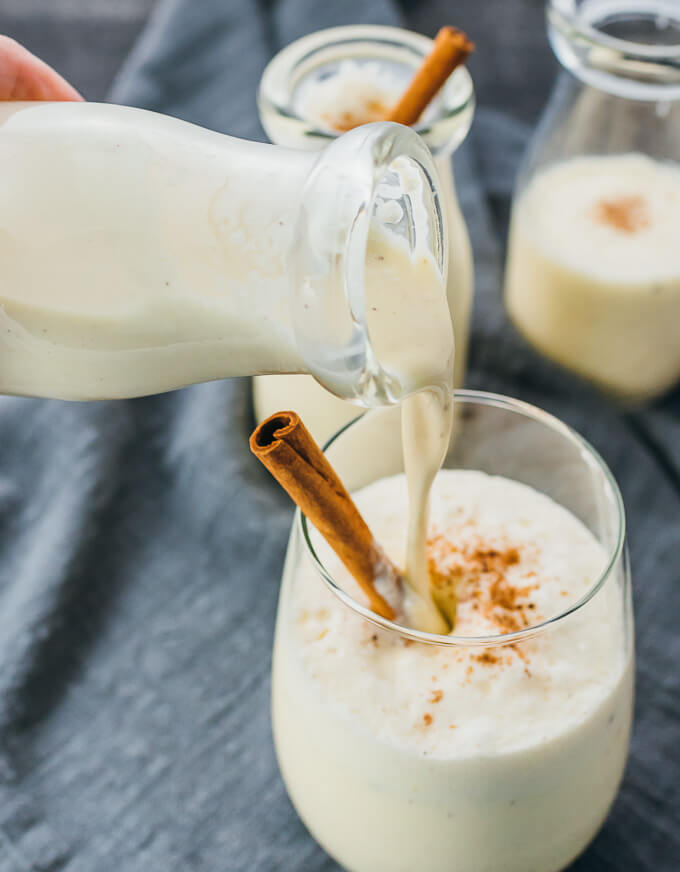 With homemade eggnog, you can enjoy it any day of the year, and it'll be better than store-bought versions since you can tweak it to your tastes. And it has fewer carbs — guilt free eggnog. The texture is creamy and smooth, with a sweet taste and hints of nutmeg and cinnamon. It's surprising how easy it is to make, consisting primarily of heavy cream, almond milk, egg yolks, and a low carb sweetener.
STEP BY STEP: HOW TO MAKE HOMEMADE KETO EGGNOG:

Digging into eggnog's history, I learned that it originated with the British aristocrats, who drank hot eggnog and spiked it with sherry or brandy to prevent it from spoiling. Eventually, eggnog hopped the pond and American colonists started enjoying eggnog with cheaper and more readily available liquors such as rum. Soon it became a popular fixture at winter holiday parties and it has since kept that tradition.
No one is really sure how the name came about, but some suggest that "nog" comes from "noggin," which is a wooden mug used for serving alcohol. The combined term "eggnog" became commonplace by the late 18th century.
My list of eggnog ingredients is typically sans alcohol and whipped egg whites, but I've included instructions in my recipe on how to incorporate them. For alcohol, I recommend rum, bourbon, whisky, or brandy, and about one ounce per serving. You can add the liquor at the last step after the eggnog has chilled.
The whipped egg whites are also optional. If you prefer the texture of store-bought eggnog drinks, you will likely want to skip the egg whites; on the other hand, if you prefer a foamier eggnog, then you will love the extra volume and fluffiness of the drink once you've stirred in the foamed egg whites.
I use powdered erythritol as my low carb sweetener of choice, which is about 70% as sweet as sugar. It has no effect on blood sugar or insulin, and your body actually cannot digest it. I buy erythritol online in granulated form, and use my Nutribullet to pulverize it into powder, making it more easily dissolved with other ingredients. You may substitute with another type of sweetener as long as it's also in powdered or confectioners form and you make the appropriate conversion.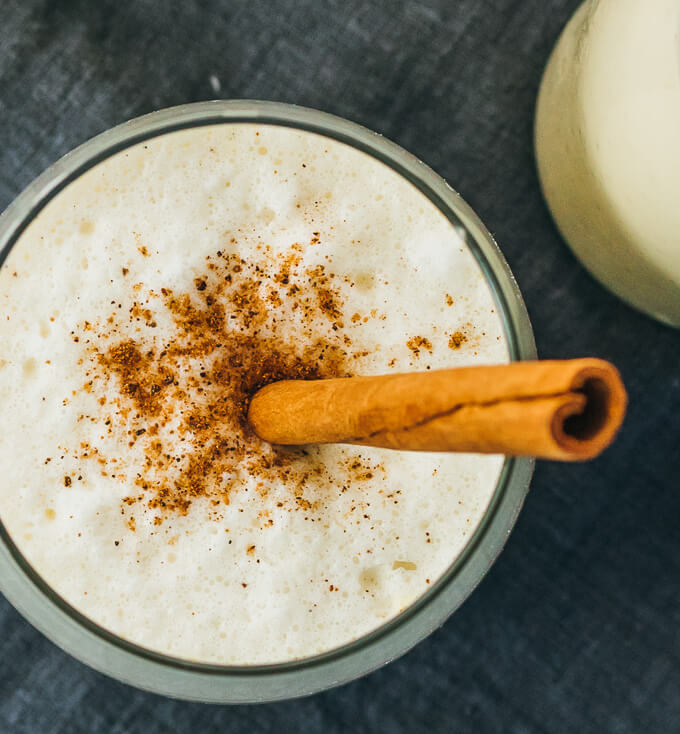 A few quick tips:
Shake your almond milk carton prior to using. The liquid will settle and you don't want to use separated parts of it.
Use an instant read thermometer to judge how long to heat the eggnog mixture — better than guessing.
Start the recipe the night before you plan to serve it. It'll take time for the eggnog to chill and it tastes better the next day.
If you love this eggnog, I also recommend these keto friendly and low carb desserts: pumpkin cheesecake bars and peanut butter cookies.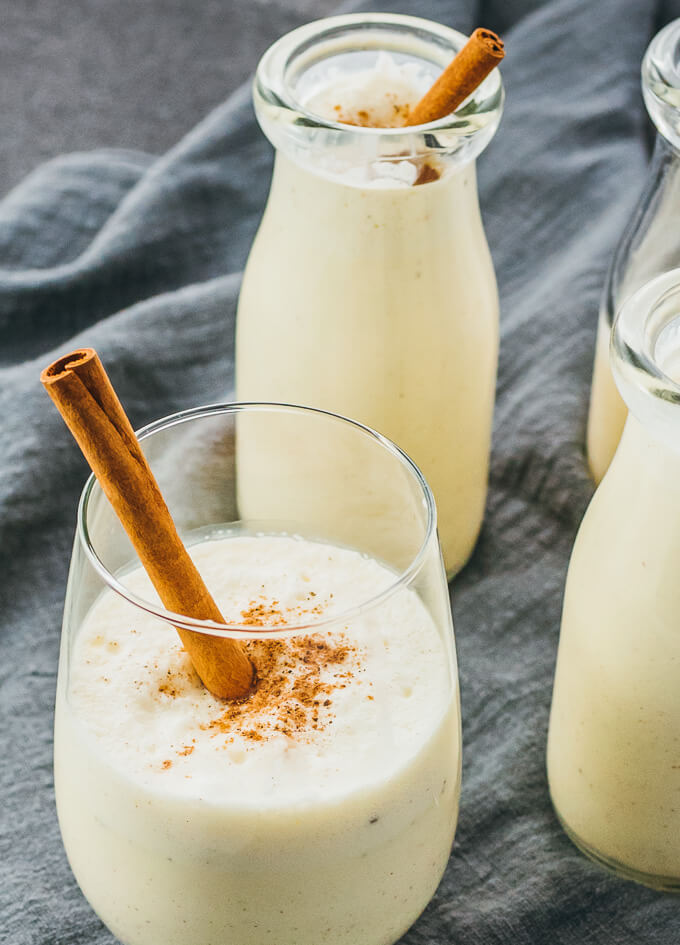 More Wintertime Low Carb Recipes