Summary:
These easy-to-make mini keto cheesecake bites are the size of cupcakes or muffins, with a New York cheesecake style filling and almond flour crust. Low carb, sugar free, and gluten free dessert.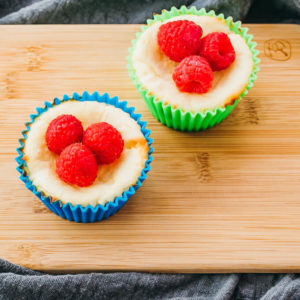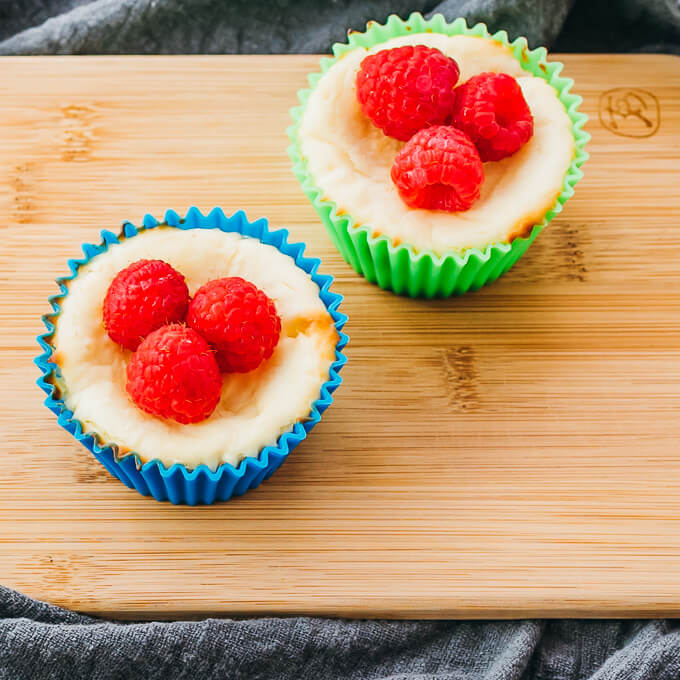 Easy Mini Keto Cheesecake Recipe
Yield:
12
mini cheesecakes
INGREDIENTS
Filling:
2

(8-ounce)

bricks cream cheese, room temperature

3/4

cup

confectioners swerve sweetener (3 ounces weight)

2

large eggs, room temperature

1/4

cup

heavy whipping cream, room temperature

1

tbsp

fresh lemon juice

1

tsp

vanilla extract

1/2

cup

fresh raspberries (3 ounces weight), plus more for topping if desired
INSTRUCTIONS
Preparation:
Remove cold ingredients (cream cheese, eggs, heavy cream) from the refrigerator. Do this at least 30 minutes before proceeding with the rest of the recipe.

Preheat the oven to 350 F.
Making The Crust:
Combine melted butter and sweetener in a mixing bowl, stirring together until the sweetener is dissolved. Add almond flour, stirring until the butter is absorbed and a dough is formed.

Divide the dough among the cupcake liners. Flatten to a smooth crust in each cupcake liner by using a spoon to measuring cup to firmly press the dough.

Bake at 350 F for 5 minutes. Remove from the oven and let it rest while you work on the filling.
Making The Filling:
Add cream cheese and sweetener to a large bowl. Use a hand mixer to beat on low speed until smooth and creamy, about 1 minute.

Add heavy cream, lemon juice, and vanilla. Beat on low speed until smooth, about 30 seconds, scraping down beaters as needed.

Add eggs one at a time, beating on low speed until just combined, about 30 seconds each. Don't overmix the eggs.

Use a spatula to gently fold the raspberries into the batter until well-distributed. Evenly divide the batter among the cupcakes, filling all the way to the top. Flatten the surface.
Cooking & Cooling:
Bake at 350 F for 20 minutes.

Let the mini cheesecakes cool completely, and then cover and refrigerate them overnight. Serve chilled and optionally top with additional raspberries.
NUTRITION
Makes 12 Servings
Amount Per Serving (1 mini cheesecake):
| | |
| --- | --- |
| Calories 230 (87% from fat) | |
| Total Fat 23g | 35% |
| Saturated Fat 11g | 57% |
| Cholesterol 84mg | 28% |
| Sodium 180mg | 8% |
| Net Carb 3g | |
| Total Carb 4g | 1% |
| Dietary Fiber 1g | 5% |
| Sugars 1g | |
| Protein 5g | |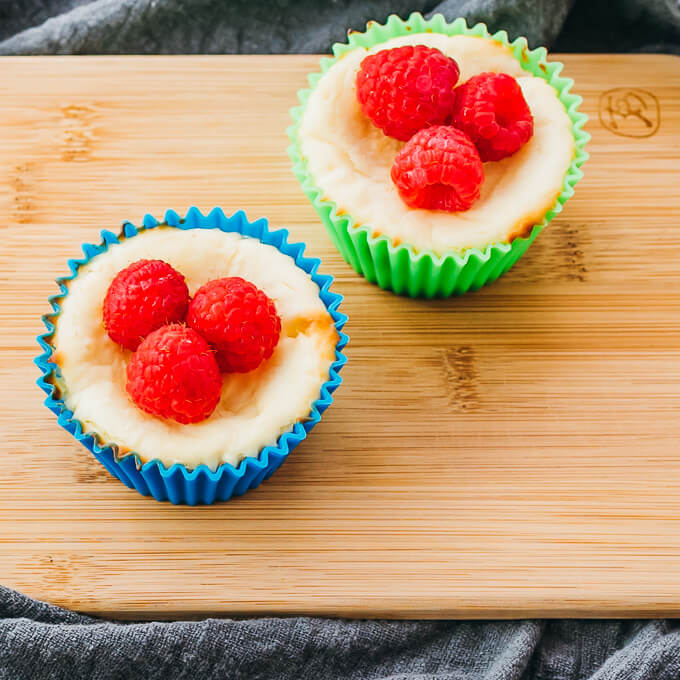 Tastes Like A New York Style Cheesecake
I was born in New York, so its namesake cheesecake is the only kind that I'll make. This smooth-tasting cheesecake is well-known for its dense and creamy texture, thanks to the use of either heavy cream or sour cream in its filling.
Besides the usual ingredients of cream cheese, eggs, and vanilla, I also add a drizzle of lemon juice and stir in a handful of raspberries. Sugar is swapped out in favor of a low carb sweetener like swerve. The end result is the same great flavor and texture as traditional cheesecake, with way fewer carbs.
Development for this recipe was inspired by my other New York style cheesecake — Instant Pot Cheesecake made in an electric pressure cooker.
Why You Should Make Mini Cheesecakes
Here are a few reasons why you should make mini cheesecakes instead of full-sized ones:
They bake 2-3 times faster. Less waiting around.
Foolproof baking. Since they bake faster, they are less likely to crack.
No slicing required. These mini cheesecakes are convenient bites that are grab-and-go.
Simpler to scale up or down. You can easily make the exact quantity you want, as opposed to full-sized cheesecakes which are baked in standard cake pans.
Tips For Making The Best Low Carb Cheesecake
Have all of your ingredients at or near room temperature before using them. This makes it significantly easier to combine everything thoroughly into a smooth, lump-free batter.
Beat ingredients at low or medium-low speeds, which will yield a denser cheesecake. Beating at high speed adds more air to the batter, which should be avoided.
Choose a dry sweetener with the same sweetness as sugar, and ideally in powdered (confectioners) form, not granulated. I use swerve, which is an erythritol blend. I also recommend measuring out the sweetener by weight since volume can vary depending on how it's packed.
If you select a sweetener that doesn't measure the same as sugar, such as pure erythritol, you'll need to make the necessary conversions. If your sweetener is granulated, use a small blender likes a Nutribullet to powder it.
I recommend using silicone baking cups because they keep their shape, which makes it easier to form a flat crust along the bottom of the cups. It's a bit harder to do so using foil or paper cupcake liners.
Carbs In Almond Flour & Cream Cheese
Almond flour has about 2g net carbs per 1 ounce (about 1/4 cup) serving. I always verify this on nutrition facts labels before purchasing; if you don't know how to calculate net carbs, read this low carb guide for beginners. Brands that I've used in the past include King Arthur Flour, Trader Joe's, and Kirkland.
Cream cheese has 1.56g net carbs per 1 ounce serving, according to the USDA's basic foods report. Manufacturers will either round up or down, so you will see either 1g or 2g on labels. Avoid any cream cheese brands that are more than that. Note that this is for regular cream cheese, not low fat or spreadable varieties.
Flavor Mix-ins
This recipe is a great cheesecake base and you can easily incorporate additional flavors. Here are a few ideas:
Replace the raspberries with blueberries, blackberries, or sliced strawberries.
Make a sauce or drizzle using a sweetener and fruit juice of choice.
Replace some of the almond flour with ground pecans.
Make cheesecake brownies by replacing the crust with this low carb brownie recipe.
Mix pumpkin puree and spices into half of the batter to form a pumpkin cheesecake layer, like in these keto pumpkin cheesecake bars.
More Easy Low Carb & Keto Dessert Recipes