Summary:
These mini cheesecakes are convenient bite-sized treats — each about the size of a cupcake or small muffin — and bake 2 to 3 times faster than full-sized cheesecakes. They have a rich New York style cheesecake filling that's creamy and dense, supported by an almond flour crust.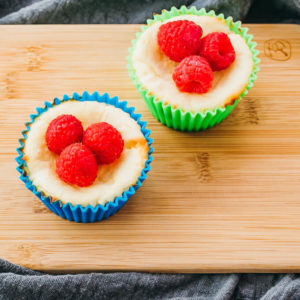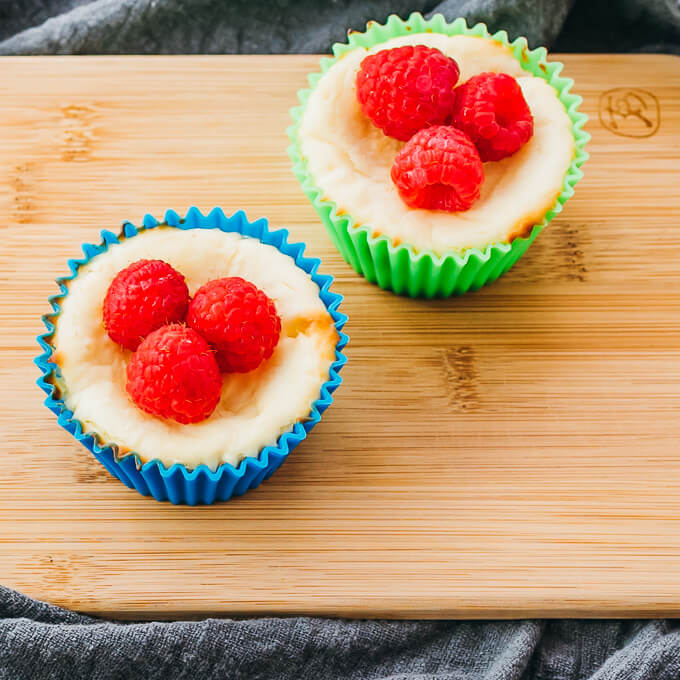 INSTRUCTIONS
Prepare: Set cream cheese, eggs, and heavy whipping cream on countertop to warm, at least 30 minutes before proceeding with recipe (Note 5). Set aside 12 silicone baking cups (Note 6) or cupcake tin fitted with foil liners. Preheat oven to 350 F.

Make Crust: Stir melted butter and sweetener in mixing bowl until combined, then stir in almond flour until butter is absorbed, forming dough. Divide dough among baking cups or cupcake liners, and firmly press down using spoon or measuring cup to form flat, smooth crust.

Bake Crust: Bake crust for 5 minutes at 350 F. Remove crust from oven and rest for 10 minutes while filling is prepared in next step.

Make Filling (Note 7): Beat cream cheese and sweetener in large bowl with electric hand mixer on low speed until smooth and creamy, about 1 minute. Add heavy cream, lemon juice, and vanilla. Beat on low speed until smooth, about 30 seconds, scraping down beaters as needed. Add eggs one at a time, beating on low speed until just combined, about 30 seconds each. Use spatula to gently fold raspberries into batter until well-distributed.

Bake Cheesecake: Evenly divide batter among baking cups or cupcake liners, filling all the way to top. Smooth and flatten tops of cheesecakes. Bake at 350 F until set, about 20 minutes.

Cool & Serve: Let cheesecakes cool completely, then cover and refrigerate overnight. Serve chilled (Note 8).
NUTRITION
Makes 12 Servings
Amount Per Serving (1 cheesecake):
| | |
| --- | --- |
| Calories 230 (87% from fat) |   |
| Total Fat 23g | 35% |
|    Saturated Fat 11g | 57% |
| Cholesterol 84mg | 28% |
| Sodium 180mg | 8% |
| Net Carb 3g |   |
| Total Carb 4g (Note 9) | 1% |
|    Dietary Fiber 1g | 5% |
|    Sugars 1g |   |
| Protein 5g |   |
PHOTOS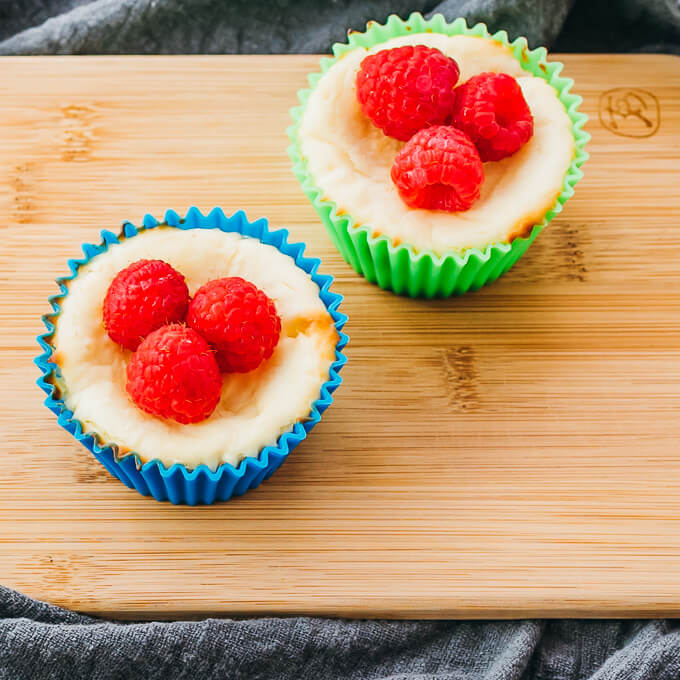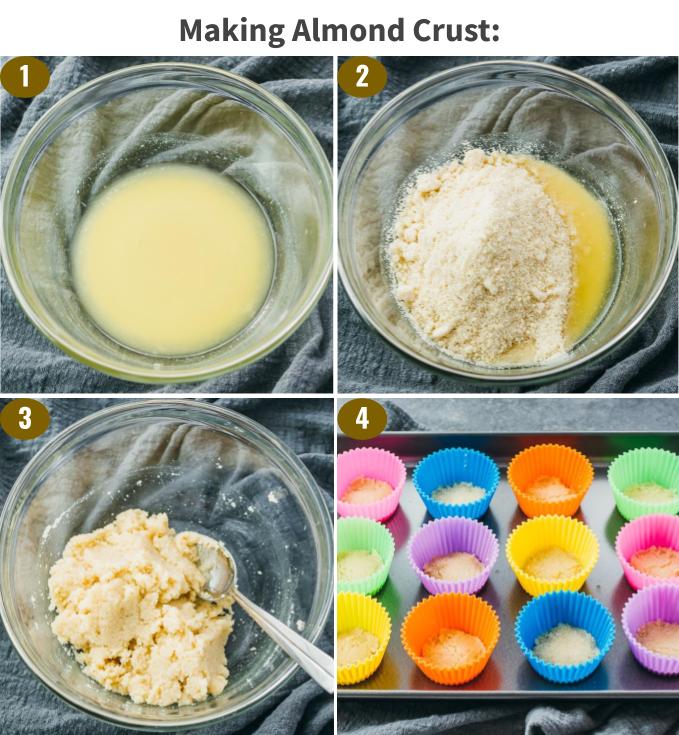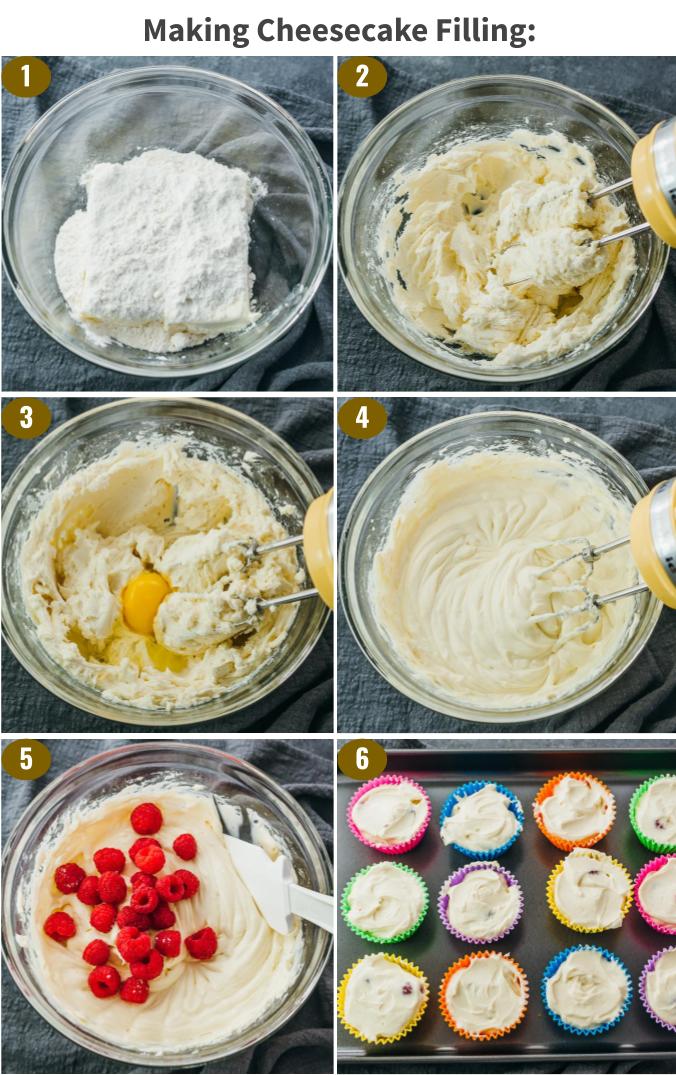 NOTES & TIPS
(1) Almond Flour. About 3 ounces weight. I use almond flour that is blanched, which means the skins are taken off of the almonds, so the resulting flour looks white. I typically use Costco's Kirkland brand, which has 2 grams of net carbs per 1/4 cup serving. Some readers have enjoyed substituting with ground pecans or walnuts. Don't substitute with coconut flour, which is more absorbent than almond flour.
(2) Sweetener. Crust: 1 tablespoon = 0.4 ounces weight. Filling: 3/4 cup = 3 ounces weight. Confectioners Swerve is a dry sweetener that measures the same as regular powdered sugar; it's not the same as pure erythritol, which is about 70% as sweet. If you use a different type of sweetener, you can use the amount listed in the recipe if your sweetener also measures the same as regular powdered sugar. Otherwise, you'll have to calculate the converted amount. Your sweetener's packaging should indicate how its sweetness compares to sugar. If your sweetener is granulated, you can powder it by running the granules through a blender like a Nutribullet.
(3) Cream Cheese. Two standard bricks = 16 ounces total. I use regular, full-fat cream cheese from the brand Philadelphia, not reduced fat or light versions.
(4) Raspberries. About 3 ounces weight. If desired, set aside extra raspberries for topping.
(5) Room Temperature Ingredients. It's important to remove cold ingredients — cream cheese, eggs, heavy whipping cream — from the refrigerator at least 30 minutes before starting the recipe. You want to give them time to come to room temperature, helping to ensure a smooth and creamy batter. Otherwise, you might end up with a lumpy batter.
(6) Baking Cups. I recommend using silicone baking cups because they keep their shape, which makes it easier to form a flat almond crust along the bottom of the cups. It's a bit harder to do so using foil or paper cupcake liners.
(7) Making Filling. Don't over-mix while beating the batter, or you'll end up with a fluffier and more voluminous batter (and have way too much batter for the amount of almond crust). At every step, the batter should be mixed until the ingredients are incorporated and smooth, and no more. This will give you a rich and dense New York style cheesecake. I provide electric mixer time estimates in the recipe to give you an idea, based on a 5-speed KitchenAid electric hand mixer. I recommend using a low speed; beating at higher speeds introduces more air into the batter, which should be avoided.
(8) Serving / Storage. Each mini cheesecake is delicious by itself, with a dollop of whipped cream, or topped with fresh berries. Store leftover cheesecakes in an airtight container in the refrigerator for up to 5 days or in the freezer for up to 3 months. Once frozen, thaw in the refrigerator overnight.
(9) Carbs. The nutrition calculation assumes you are using an erythritol-based sweetener like Swerve, whose carbs are non-impact and therefore not included in the nutrition estimate. Apps that count sugar alcohols will show a higher number of carbs.
(10) Flavor Options. This recipe is a great cheesecake base and you can easily incorporate additional flavors. Here are a few ideas: (1) Replace the raspberries with blueberries, blackberries, or chopped strawberries. (2) Make a sauce or drizzle using a sweetener and fruit puree (e.g., Blueberry Jam). (3) Change up the crust by replacing some or all of the almond flour with ground pecans or ground walnuts. (4) Mix pumpkin puree and spices into half of the batter to form a pumpkin cheesecake layer, like in Pumpkin Cheesecake Bars.