Summary:
This hot chocolate drink is silky smooth and thick, with a decadently rich and chocolatey taste. You don't need any special equipment to make this at home — just grab a saucepan and a whisk for mixing.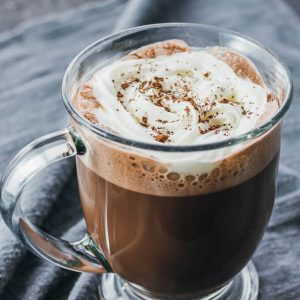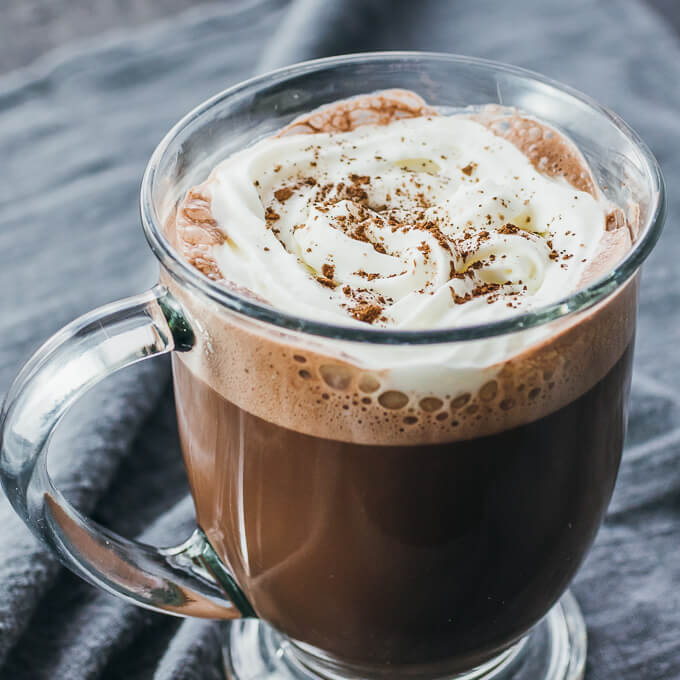 INSTRUCTIONS
Heat Ingredients: Add all ingredients to small saucepan, and place over medium-low heat. Whisking frequently, heat mixture until just starting to lightly simmer and cocoa powder is completely dissolved (Note 4), 10 to 15 minutes. Turn off heat.

Serve: Stir and loosen any chocolate stuck to sides of saucepan. Divide among 2 mugs, and serve warm (Note 5).
NUTRITION
Makes 2 Servings
Amount Per Serving:
| | |
| --- | --- |
| Calories 150 (84% from fat) |   |
| Total Fat 14g | 22% |
|    Saturated Fat 7g | 36% |
| Cholesterol 34mg | 11% |
| Sodium 290mg | 12% |
| Net Carb 3g |   |
| Total Carb 6g (Note 7) | 2% |
|    Dietary Fiber 3g | 13% |
|    Sugars 1g |   |
| Protein 3g |   |
PHOTOS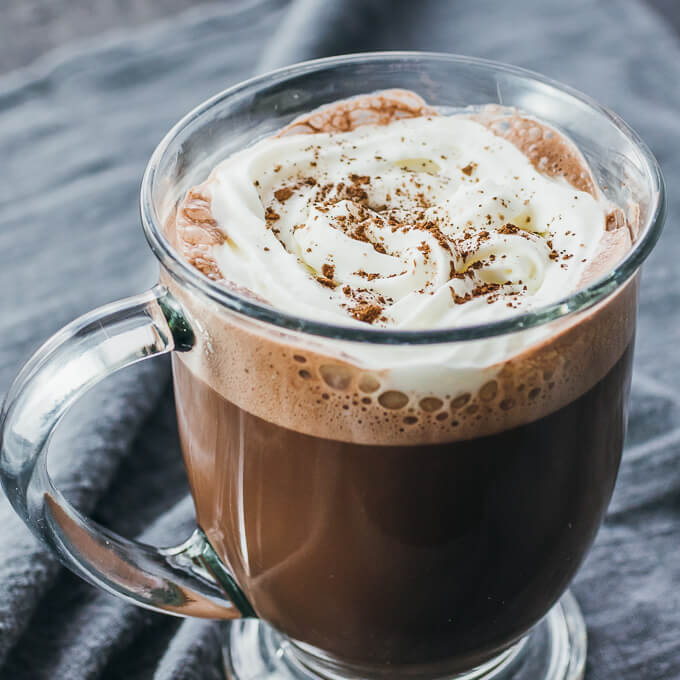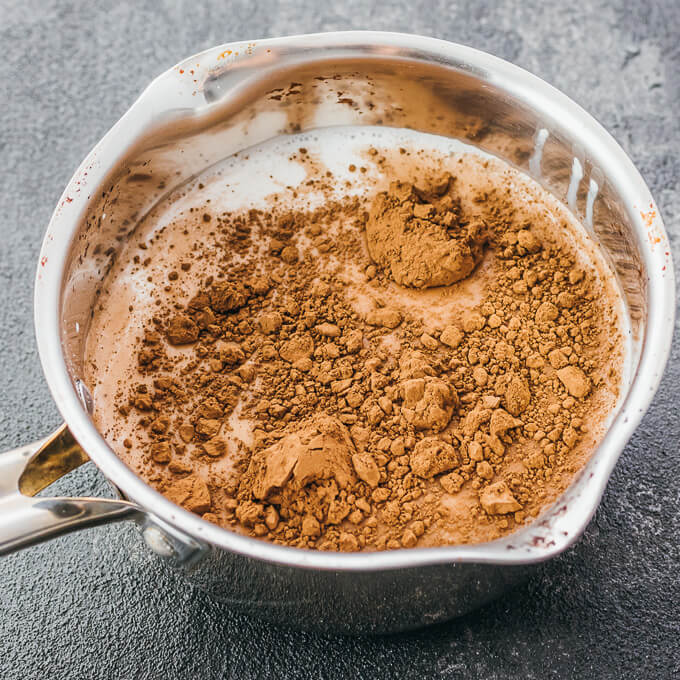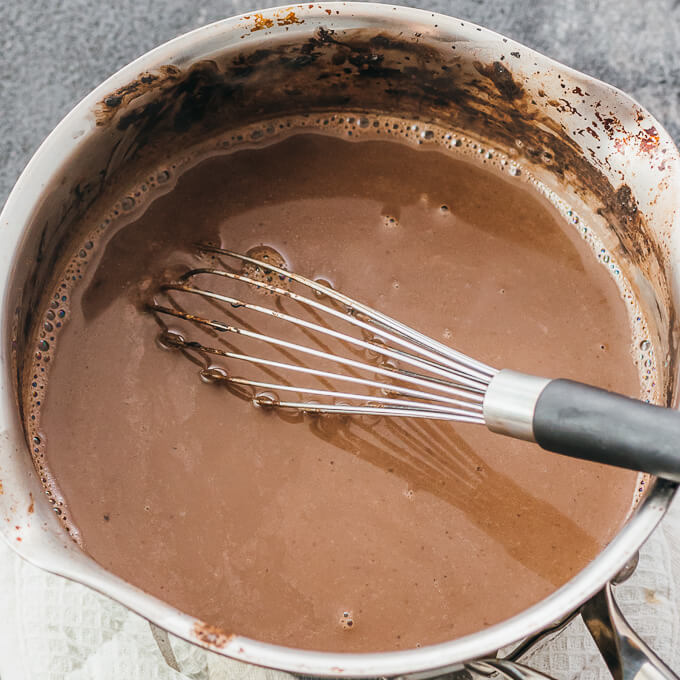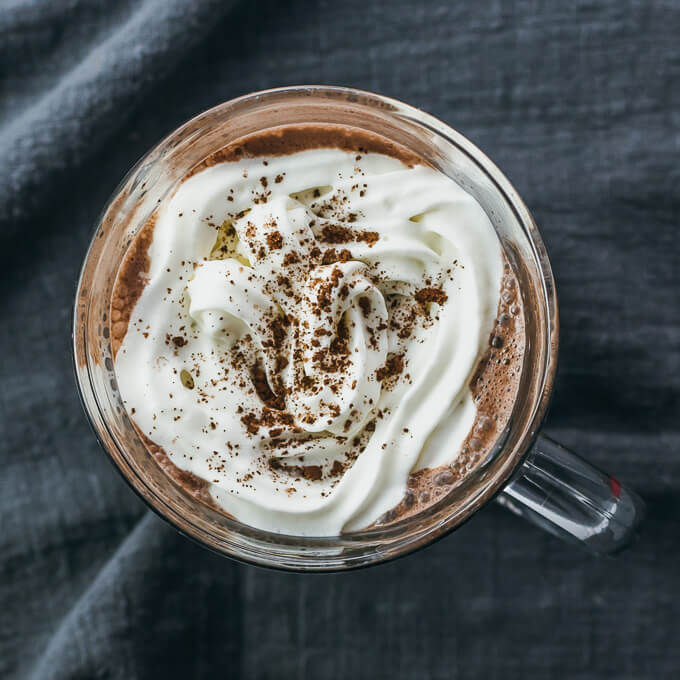 NOTES & TIPS
(1) Almond Milk. Almond milk is used for its fewer carbs compared to dairy milk. You can substitute with other nut milks, ideally unsweetened and plain. Find them in the refrigerated fresh milk section in U.S. grocery stores. To determine if your nut milk is unsweetened, look at the carton's nutrition facts — it should only have 1 gram of total carbs per 1 cup serving. Anything more than that and it's likely sweetened with added sugars.
(2) Sweetener. Erythritol is about 70% as sweet as sugar and Swerve measures the same as sugar. You can substitute with your favorite dry or liquid sweetener by adding it to taste after the hot chocolate is combined and heated through.
(3) Cocoa Powder. I use 2 tablespoons of Hersheys Special Dark. For extra lusciousness and an almost syrupy consistency, use 3 tablespoons.
(4) Heating Mixture. Monitor carefully to avoid overheating and burning the mixture, which should be barely hot enough to simmer.
(5) Serving / Leftovers. Serve warm, optionally topped with whipped cream or with cocoa powder sprinkled on top. The hot chocolate mixture will be quite hot coming off the stove, so you may need to wait for it to cool first. Leftovers can be covered and refrigerated for up to 2 days. Before serving, stir and reheat in a saucepan or in a microwave.
(6) Foamier Drink Option. Use a tabletop blender, immersion blender, or an espresso machine's frothing attachment to process the drink until frothy.
(7) Carbs. The nutrition calculation assumes you are using erythritol or an erythritol-based sweetener that uses sugar alcohols, whose carbs are non-impact and therefore not included in the nutrition estimate. Apps that count sugar alcohols will show a higher number of carbs.