Summary:
This beef and broccoli dinner is delicious and flavorful, yet uses simple ingredients that cook quickly in a pressure cooker. Sugar can be easily substituted with erythritol for a low carb option.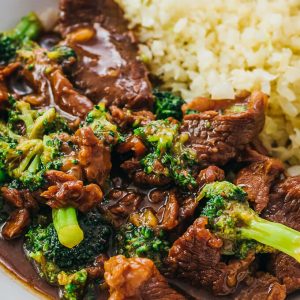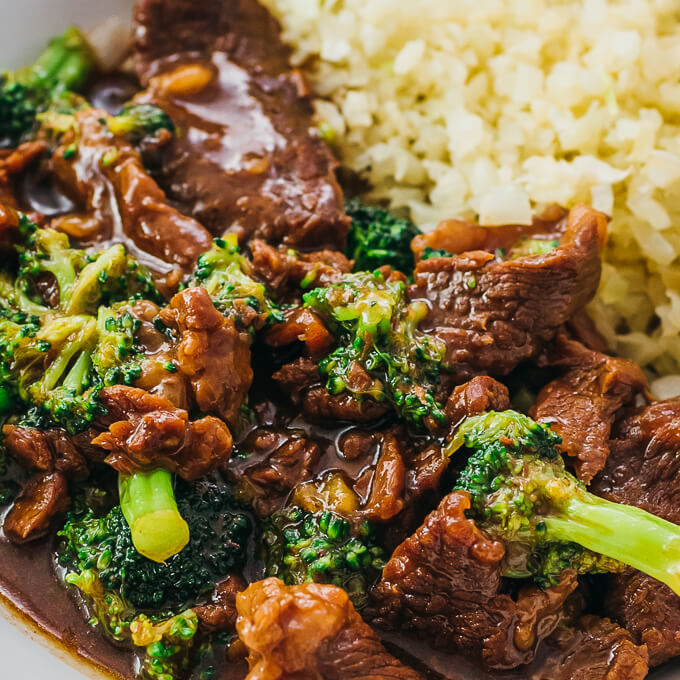 INSTRUCTIONS
Brown Beef: Select sauté mode on pressure cooker (Note 6) for medium heat and add oil. Once heated, add garlic and sliced beef. Cook for a few minutes until browned, stirring frequently. Keeping beef in pot, add beef broth, soy sauce, and sweetener. Stir until sweetener is dissolved. Turn off sauté mode.

Pressure Cook: Secure and seal lid. Cook at high pressure for 15 minutes (Note 7). Meanwhile, cook broccoli by microwaving for 3 to 4 minutes until tender. When pressure cooker is done, turn release knob to venting position for quick pressure release.

Thicken Sauce: Uncover pressure cooker and remove 1/4 cup of liquid. Mix with corn starch in small bowl until completely dissolved and smooth, then add back to pot. Turn on sauté mode for medium heat. Simmer sauce for about 5 minutes to thicken a bit, stirring frequently. Turn off sauté mode.

Serve: Add cooked broccoli back to pot and briefly stir to coat with sauce. Serve immediately (Note 8).
NUTRITION
Makes 4 Servings
Amount Per Serving:
| | |
| --- | --- |
| Calories 520 (52% from fat) |   |
| Total Fat 30g | 45% |
|    Saturated Fat 10g | 52% |
| Cholesterol 134mg | 45% |
| Sodium 1330mg | 55% |
| Net Carb 7.5g |   |
| Total Carb 10g (Note 9) | 3% |
|    Dietary Fiber 2.5g | 10% |
|    Sugars 1.5g |   |
| Protein 51g |   |
PHOTOS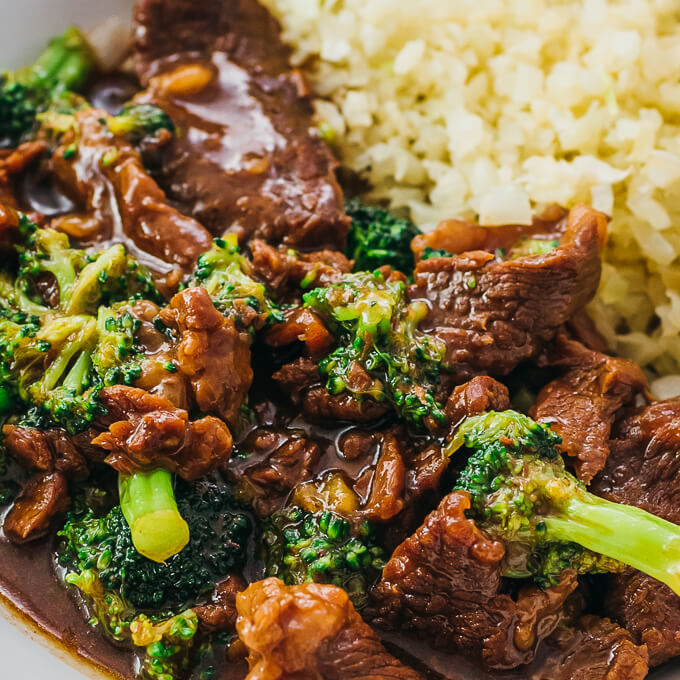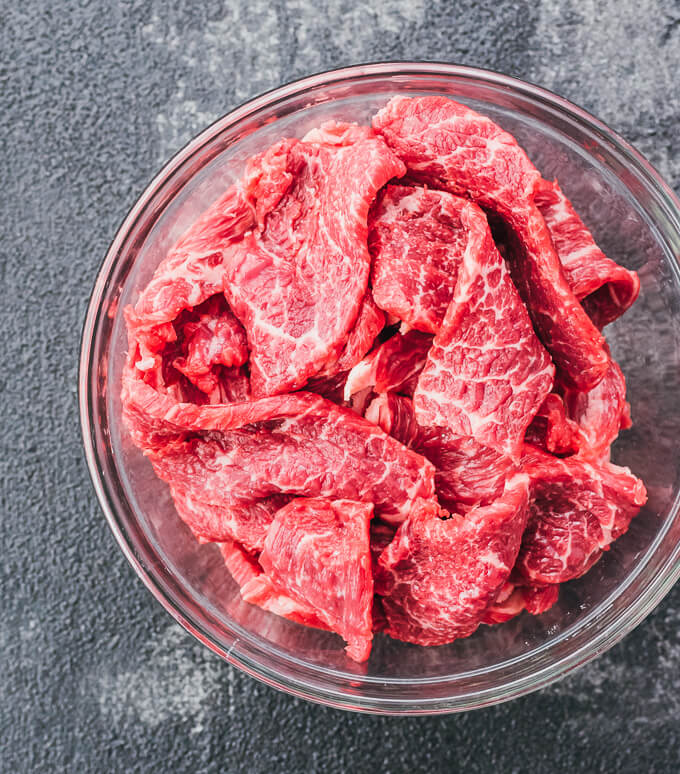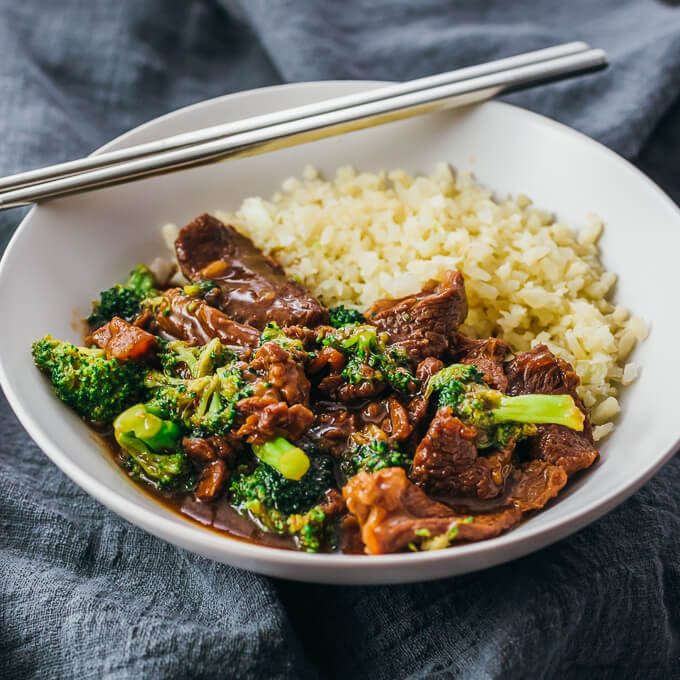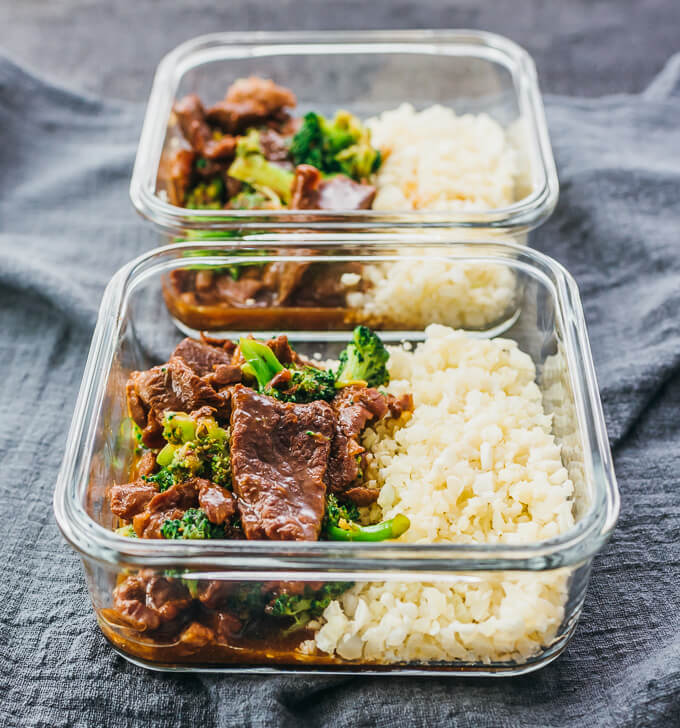 NOTES & TIPS
(1) Beef. Choose a well-marbled boneless chuck roast or chuck steak cut, which becomes tender when pressure cooked. Marbling refers to the fat within the meat, between the muscle fibers. High quality steaks have plenty of evenly distributed marbling, which results in a juicier texture. Large sections of fat should be trimmed off. I find it easiest to cut thin slices of beef by using a sawing motion with a serrated knife, slicing against the grain.
(2) Broccoli. About 12 ounces weight. You can cut florets from a head of broccoli, or you can buy a bag of pre-cut raw florets located in the refrigerated produce section of many U.S. grocery stores. I recommend cutting the florets into smaller pieces (no larger than 2 inches) so that they cook quickly. I use fresh florets, but frozen should be fine — you may need to cook them longer in the microwave and thoroughly drain to remove moisture.
(3) Soy Sauce. I use low sodium soy sauce by brands like Kikkoman or Trader Joe's. Avoid regular soy sauce, which will be too salty. "Light soy sauce" refers to color and is not the same as "low sodium soy sauce." If you follow a paleo, whole30, or gluten-free diet, substitute with coconut aminos.
(4) Sweetener. Use any dry granulated sweetener, such as brown sugar. I use erythritol, which is a zero-calorie and zero-carb sweetener.
(5) Corn Starch. This provides a nice glossy finish to the sauce and allows it to easily stick to the beef. One tablespoon of corn starch has 7 grams of net carbs for the whole recipe, or less than 2 grams per serving. Xanthan gum doesn't tend to work as well because it'll thicken into a gooey and gelatinous sauce, not glossy. It's also easy to accidentally use too much xanthan gum and end up with a gloopy mess.
(6) Pressure Cooker. I use a 6-quart Instant Pot. You can use a different size of electric pressure cooker as long as all ingredients fit within the maximum capacity line.
(7) Pressure Cooking. Before cooking, remember to seal the pressure cooker by turning the pressure knob from "venting" to "sealing," otherwise the pot will not pressurize. After cooking, to perform a quick pressure release, turn the knob back to "venting" and wait for the pressure pin to drop before uncovering. If you scale the ingredients up or down for a different number of servings, the pressure cooking time remains the same.
(8) Serving. Serve with an appetizer like Asian cucumber salad and a side dish like riced cauliflower to help soak up extra sauce.
(9) Carbs. The nutrition calculation assumes you are using erythritol, whose carbs are non-impact and therefore not included in the nutrition estimate. Apps that count sugar alcohols will show a higher number of carbs.