Summary:
A quick beef and broccoli recipe made in the Instant Pot pressure cooker, similar to a Mongolian beef stir fry. Easily adaptable for a low carb / keto lifestyle.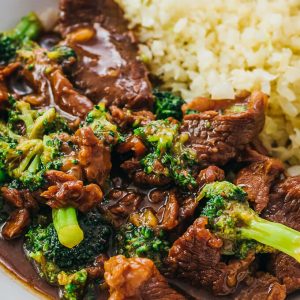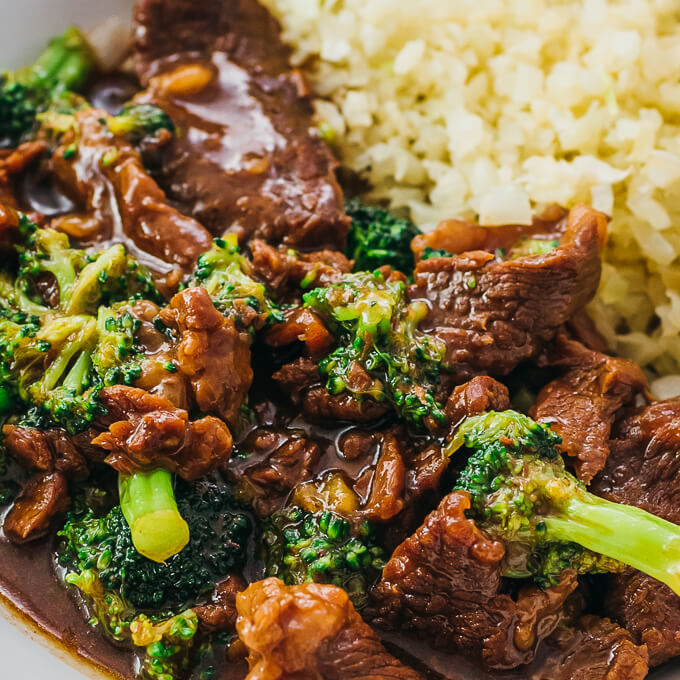 INGREDIENTS
1 1/2

pounds

boneless chuck roast beef

sliced into thin strips

12

ounces

broccoli florets (6-7 cups)

4

cloves

garlic

minced

1

tablespoon

canola oil
INSTRUCTIONS
Select the sauté mode on the pressure cooker for medium heat and add canola oil. When the pot is hot, add garlic and sliced beef. Cook for a few minutes until browned, stirring frequently.

Add beef broth, soy sauce, and sweetener. Stir together to dissolve the sweetener. Turn off the sauté mode.

Secure and seal the lid. Cook for 15 minutes at high pressure.

While waiting for the pressure cooker, cook broccoli by microwaving for 3-4 minutes until tender.

When the pressure cooker is done, manually release pressure by carefully turning the release knob to its venting position.

Uncover the pressure cooker and remove about 1/4 cup of liquid. Mix it with corn starch in a small bowl until completely dissolved and smooth, and add it back to the pot.

Turn on the sauté mode for medium heat. Let the sauce simmer for about 5 minutes to thicken it a bit, stirring frequently. Turn off the sauté mode.

Add cooked broccoli back to the pot and briefly stir to coat with the sauce. Serve immediately with a side such as cauliflower rice.
NUTRITION
This recipe yields 8 g net carbs per serving. Nutrition information assumes the low carb sweetener erythritol is used, which cannot be digested by the body.
Nutrition Facts Per Serving
| | |
| --- | --- |
| Calories 310 |   |
| Total Fat 9g | 14% |
|    Saturated Fat 2g | 10% |
|    Trans Fat 0g |   |
| Cholesterol 112mg | 37% |
| Sodium 1220mg | 51% |
| Potassium 0mg | 0% |
| Total Carb 10g | 3% |
|    Dietary Fiber 2g | 8% |
|    Sugars 4g |   |
| Protein 41g |   |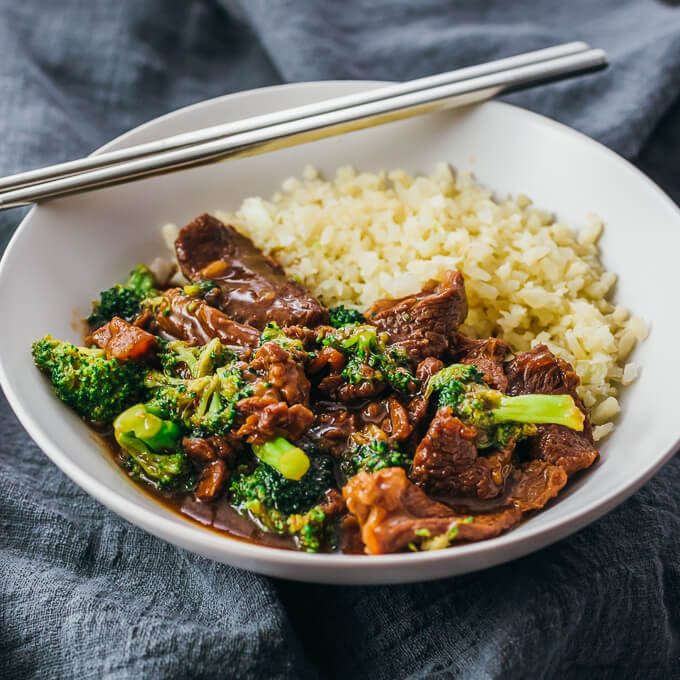 This Instant Pot Beef And Broccoli recipe is adapted from my previous beef stir fry dishes — Mongolian Beef, Crazy Good Beef And Broccoli (and its low carb companion), and Slow Cooker Beef And Broccoli. It's very similar in taste and texture, with tender beef slices and delicious bites of broccoli.
You can make this for a quick weeknight dinner for a family of four, or easily double the ingredients for a larger crowd. This dish goes well with a variety of sides, including cauliflower rice and spiralized vegetables.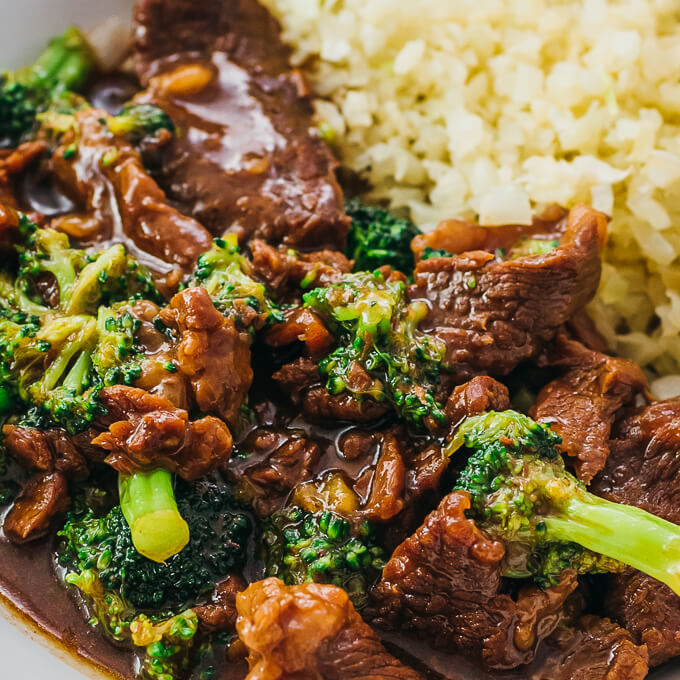 The choice of meat is important. I recommend boneless chuck roast beef, which becomes tender when pressure cooked. Don't use common stir fry cuts like flank steak because those are intended for quick searing on a pan and will end up overcooked and tough when pressure cooked.
If you can, choose a cut of chuck roast that is well marbled. Marbling refers to the fat within the meat between the muscle fibers. High quality steaks have lots of evenly distributed marbling, and lower quality ones with have very little or almost no visible marbling. Well marbled meat has sufficient fat to provide a juicier texture when cooked so that the meat isn't dry and flavorless.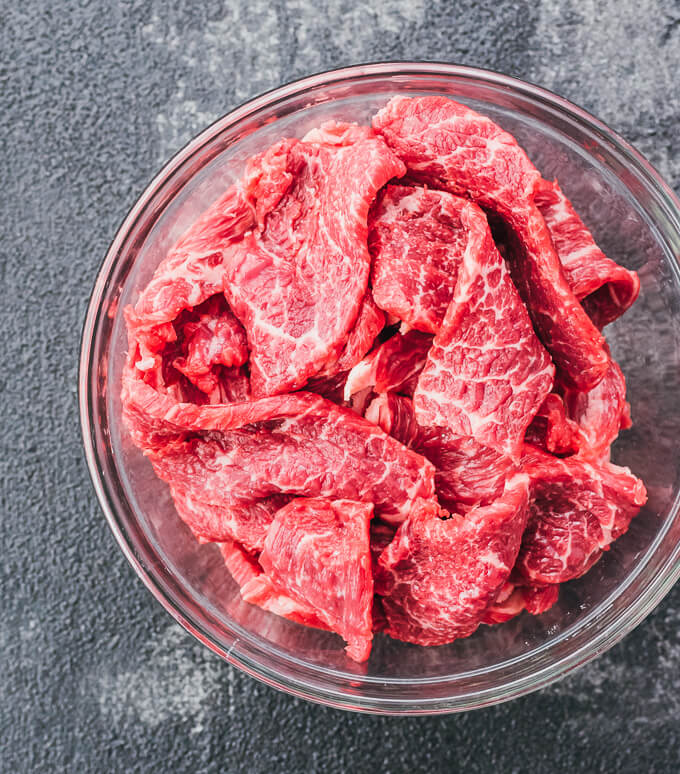 Tips for the best instant pot beef and broccoli
Choose a well marbled, boneless chuck roast cut for the beef.
Make sure that you use soy sauce specifically marked as low sodium or reduced sodium; otherwise, you'll end up with a very salty dish. This is not the same as "light soy sauce."
For the sweetener, I recommend using a dry granulated sweetener. For low carb folks, use erythritol or Swerve. For everyone else, use brown sugar.
Don't eat this dish by itself; serve with side dishes such as cauliflower rice or spiralized vegetables. I recommend about 4 ounces of cauliflower rice per person. You can microwave the cauliflower rice to cook it while waiting for the pressure cooker. If you're not low carb, you can serve with medium grain white rice or noodles.
You can double the recipe to meal prep for a week's worth of lunches or dinners. If you double the ingredients, you don't need to increase the pressure cooking time.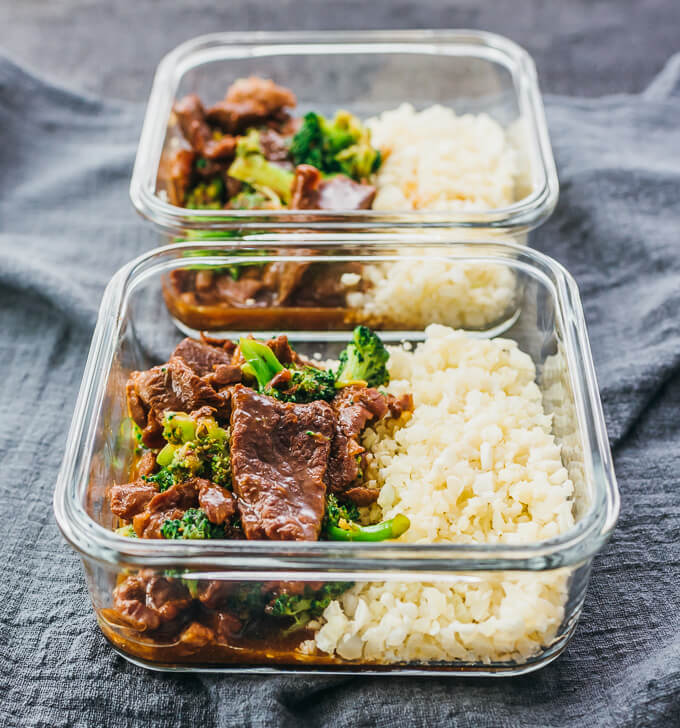 MORE DELICIOUS INSTANT POT RECIPES: