Summary:
This low carb, keto friendly stir fry has ground beef and shredded cabbage cooked in a slightly spicy sauce. With just 7 ingredients, it only takes 30 minutes to prep and cook. For more easy recipes, visit One Pan Meals.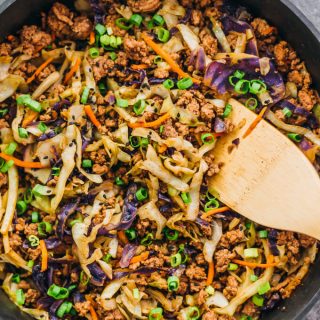 INGREDIENTS
NUTRITION
Makes 3 Servings
Amount Per Serving (1.25 cups):
| | |
| --- | --- |
| Calories 420 (47% from fat) |   |
| Total Fat 22g | 34% |
|    Saturated Fat 9g | 43% |
| Cholesterol 133mg | 44% |
| Sodium 520mg | 21% |
| Net Carb 6g |   |
| Total Carb 9.5g | 3% |
|    Dietary Fiber 3.5g | 13% |
|    Sugars 5g |   |
| Protein 39g |   |
PHOTOS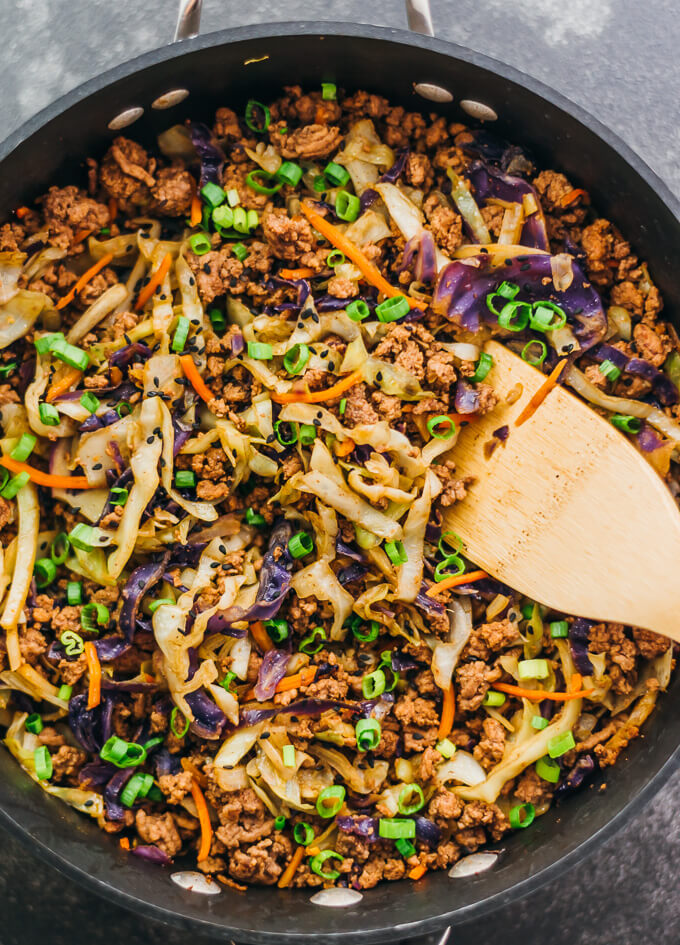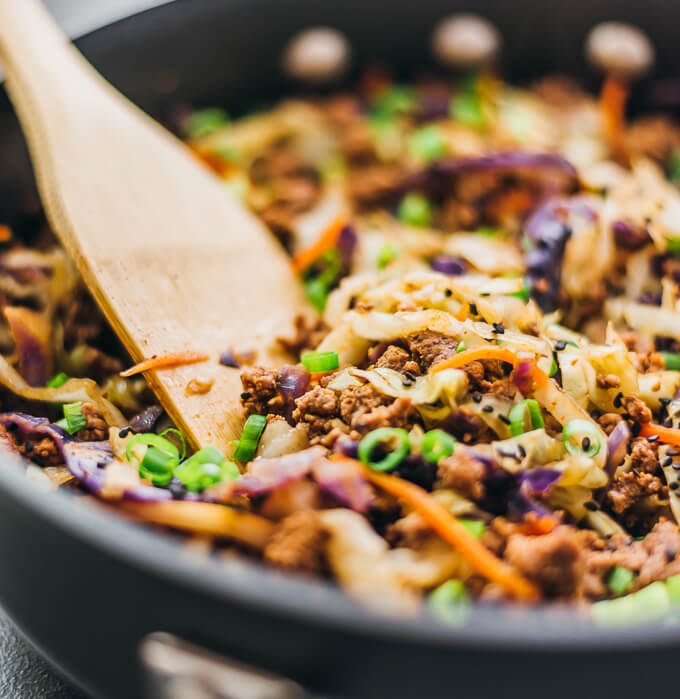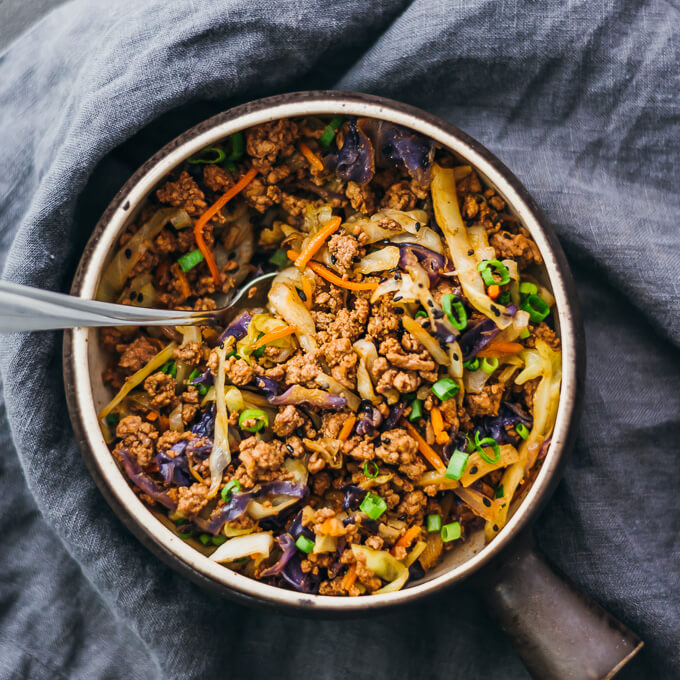 NOTES & TIPS
(1) Ground Beef. I typically use 85% lean. Don't have beef? Use ground turkey, pork, or other meats.
(2) Coleslaw Mix. Most U.S. supermarkets sell a pre-shredded bag of mixed cabbage and carrots, located in the refrigerated section next to salad kits. If you can't find this, substitute with 5 cups of mixed shredded cabbage and carrots. This dish has a high beef-to-cabbage ratio, so if you prefer having more frequent bites of cabbage, you can increase the cabbage by an extra 50%.
(3) Scallions. They're also known as green onions. I use both green and white parts.
(4) Soy Sauce. Both regular and low-sodium varieties work well; I use the brand Kikkoman.
(5) Sriracha. I use the brand Huy Fong. You can substitute with another chili garlic sauce or your favorite hot sauce.
(6) Pan. The pan should be large enough to simultaneously hold both ground beef and coleslaw. I use a nonstick 10-inch pan with 3-inch-tall sides. No lid needed. It's not necessary to pre-heat the pan, and oil is not required.
(7) Finishings. For a nice flavoring and extra fat, drizzle toasted sesame oil over the pan. Make sure to use toasted oil (it should have a dark amber color) or else it won't be flavorful. Another idea is mincing in a few fresh garlic cloves. Both the sesame oil and garlic should be added at the same time as the soy sauce and sriracha.
(8) Serving. Serve them with a refreshing Asian Cucumber Salad. If you have leftovers, cover and store them in the refrigerator for up to a few days. Reheat using the microwave or on the stovetop until warmed through.