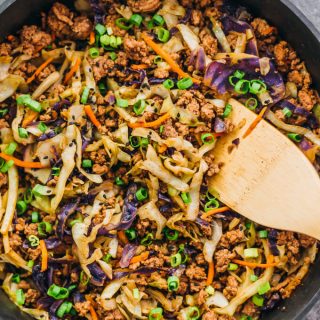 Ground Beef and Cabbage Stir Fry
DESCRIPTION
This is a super fast and easy stir fry dinner with ground beef, cabbage, carrots, and scallions.
INGREDIENTS
1

lb

extra lean ground beef

9

oz wt.

bag cole slaw mix

(or mix of green cabbage, purple cabbage, shredded carrots)

2

scallions, thinly sliced

1

tablespoon

freshly grated ginger

2

tablespoons

low-sodium soy sauce

1

tablespoon

sriracha

1

tablespoon

oil

black sesame seeds

(for garnish)
INSTRUCTIONS
Combine soy sauce and sriracha in a small mixing bowl and stir until smooth. Set aside.

Heat a 3 quart or larger pan over medium-high heat. Add oil and tilt the pan to spread it around. Add ground beef and cook until browned, about 5 minutes, stirring frequently and breaking the meat apart.

Add cole slaw mix to the pan and stir with the beef. Cook until cabbage is wilted and tender, about 5 minutes, stirring frequently.

Reduce heat to medium-low. Pour sauce over the pan, and add ginger. Stir until everything is well-mixed. Add salt to taste, if needed.

Remove pan from heat. Stir in sliced scallions, and garnish with sesame seeds. Serve while hot.
NUTRITION
This recipe yields 9 g net carbs per serving.
Nutrition Facts Per Serving
| | |
| --- | --- |
| Calories 410 |   |
| Total Fat 15g | 23% |
|    Saturated Fat 5g | 23% |
|    Trans Fat 0.1g |   |
| Cholesterol 120mg | 40% |
| Sodium 760mg | 32% |
| Potassium 330mg | 9% |
| Total Carb 14.5g | 5% |
|    Dietary Fiber 5.5g | 21% |
|    Sugars 8g |   |
| Protein 42g |   |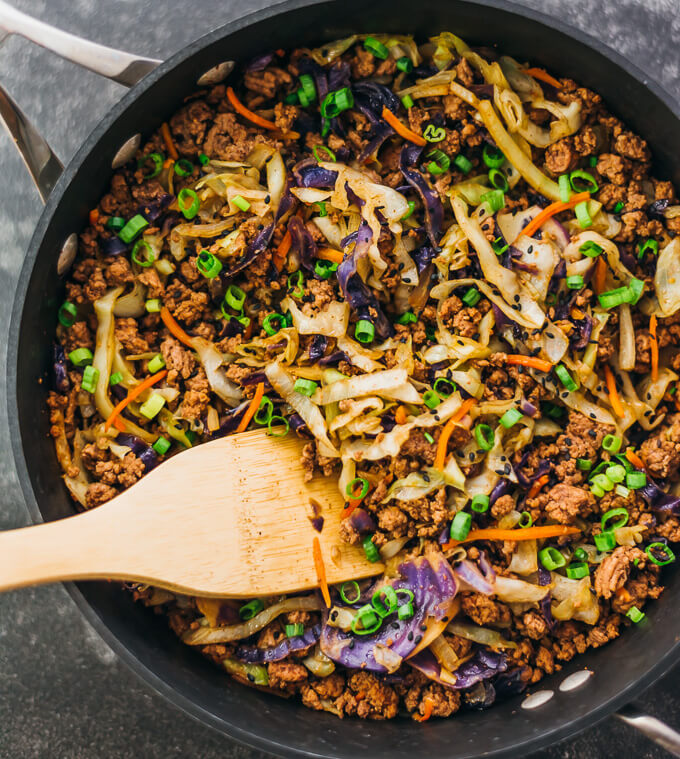 This stir fry is the fastest dinner I've made in a long time. It only takes 20 minutes — 5 minutes of prep plus 15 minutes of cooking — and you've got yourself a protein-packed dinner. This dish is perfect for those weeknights when you're in a pinch and need to get dinner on the table in very little time.
Also, you only need one pan to make this dish, from browning the beef to stirring in cabbage to adding the sauce. There are only eight ingredients total, and the sauce itself is a simple mixture of soy sauce, sriracha, and a bit of ginger.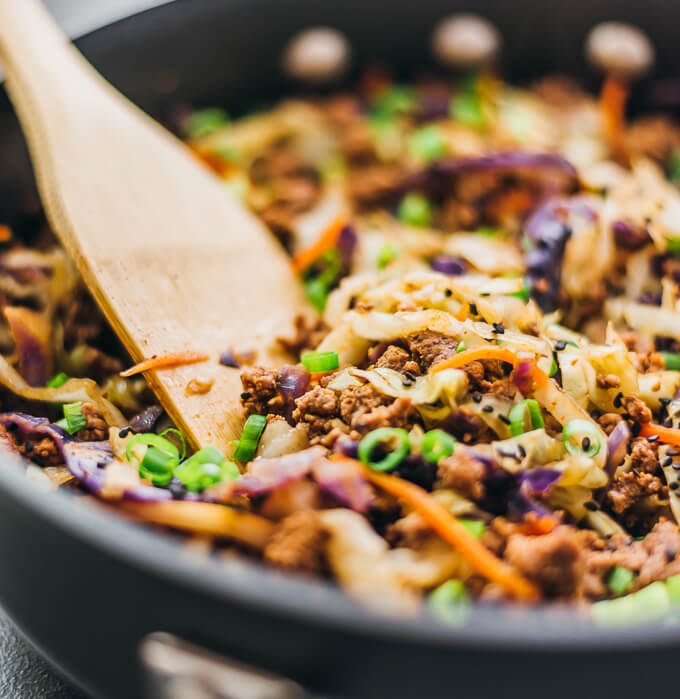 This ground beef and cabbage stir fry reminds me of a lot of things. Sometimes I think of it as a "healthy meaty cole slaw" or "exposed egg rolls without wrappers," or like an "Asian taco filling."
But one thing's for sure — it's very meaty, hearty, and filling. It has a high beef to cabbage ratio, so if you prefer having more frequent bites of cabbage, you can increase the cabbage up to 16 ounces. Just make sure that your pan is appropriately sized for the increased amount of cabbage.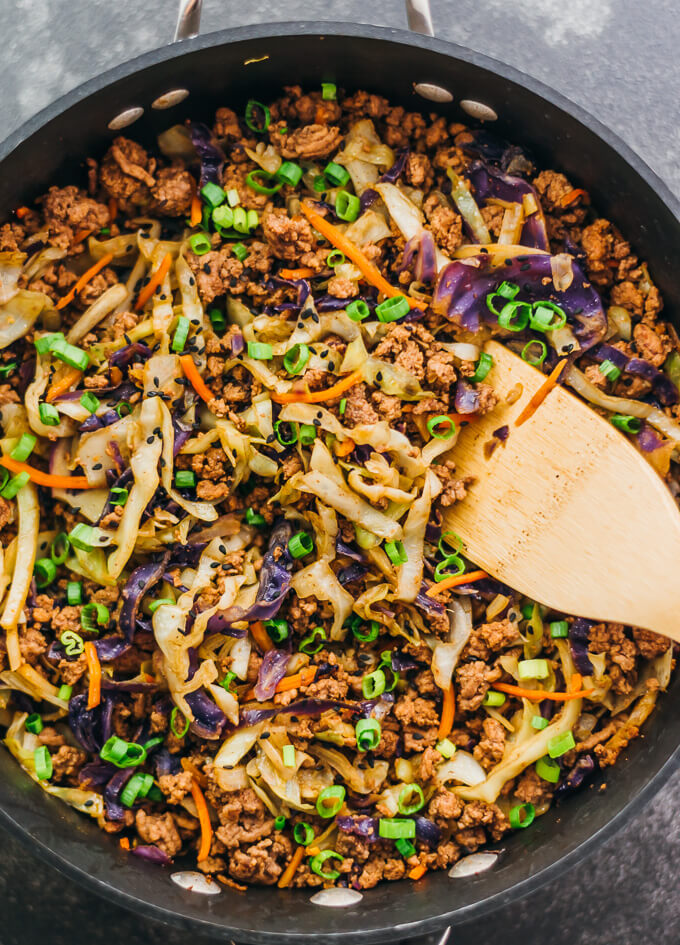 The key to making this recipe super fast is using a pre-shredded bag of mixed cabbage (green and purple) and carrots. Most supermarkets sell something like this, whether it's sold as "cabbage mix" or "cole slaw mix." Just check its contents to verify that it has cabbage and carrots. I love these bags because they save you precious time compared to shredding the veggies yourself, and also because it gives you a fixed quantity of various raw vegetables without having to buy them separately, especially if you only plan to use a little of each.