I'm in love with this chicken tikka masala recipe — it's restaurant quality, made from scratch, and easy to make. It's relatively quick to whip up as well; most of the time is spent marinating the chicken and only 20 minutes is spent simmering the sauce on the stove. If chicken tikka masala is your go-to dish to order at Indian restaurants, then you've got to try this!
UPDATE: I added an Instant Pot chicken tikka masala recipe for those of you who prefer to use your pressure cooker.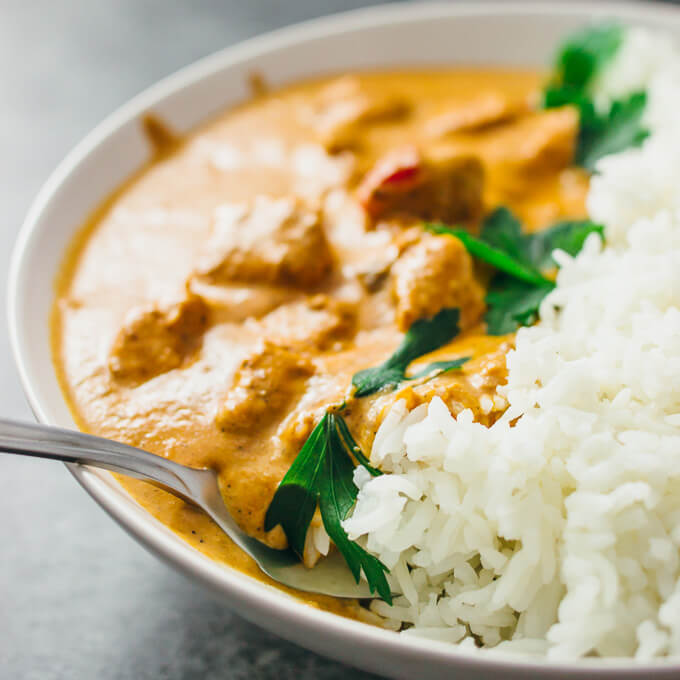 Making your own Indian food at home without store-bought sauces can sound daunting, but in practice it is a lot easier than it sounds! Tikka masala sauce is essentially just tomato puree mixed with heavy cream and garam masala, and then simmered until it becomes a nice thick sauce. Garam masala is simply a mix of dried spices like cumin, cardamom, cinnamon, cloves, nutmeg, etc. I recommend buying this dried Indian spice mix — it's available at your local Whole Foods market and also on Amazon. A small amount will last you a long time and through many chicken tikka masalas!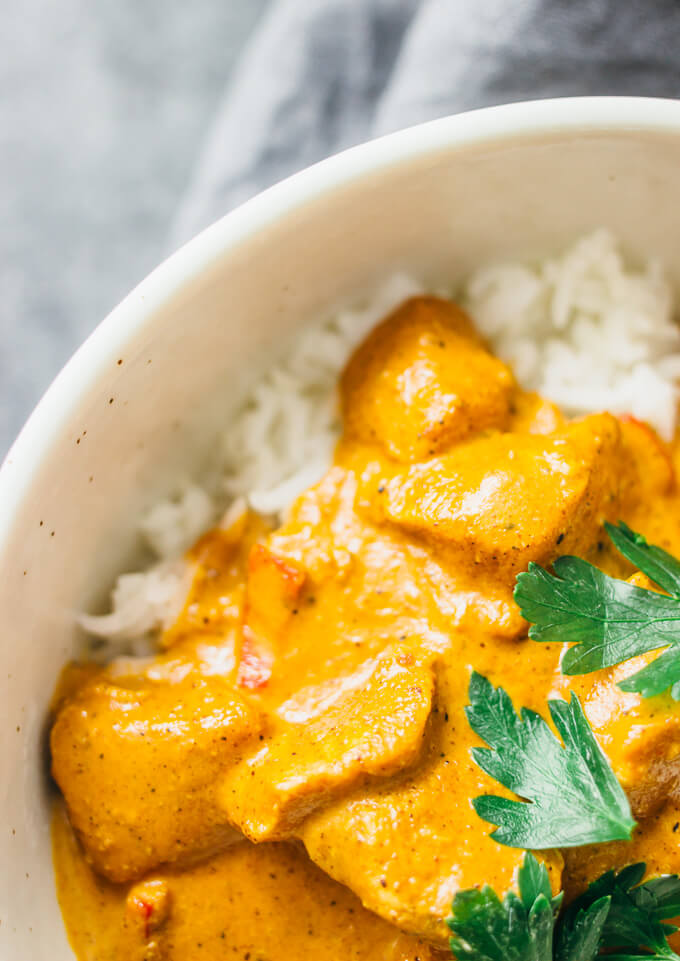 Let me give you some background on my history with chicken tikka masala. My obsession with it started about a decade ago, when I was living with a roommate who introduced me to the world of Indian food. I fell in love with chicken tikka masala and since then, I've ordered it every time I've seen it on a menu. On average, I eat chicken tikka masala A FEW TIMES A WEEK ? — whether it be at a restaurant, the store-bought frozen kind (anyone else equally obsessed with Trader Joe's frozen chicken tikka masala?), or various homemade ones. I've experimented with more chicken tikka masala recipes than I can count, and this recipe is my favorite! It's the perfect combination of not-too-complicated (I've tried to pare it down to the essentials) and super tasty (I can't tell the difference between this recipe and the kind I've had in restaurants).
Also, this recipe makes a very, very generous amount of sauce! The sauce-to-chicken ratio is very high. So there is PLENTY of sauce left to soak your basmati rice in, or to dip with naan. Yum!
For a low carb and keto friendly version, simply make the recipe as follows and substitute white rice with riced cauliflower or low carb naan.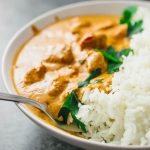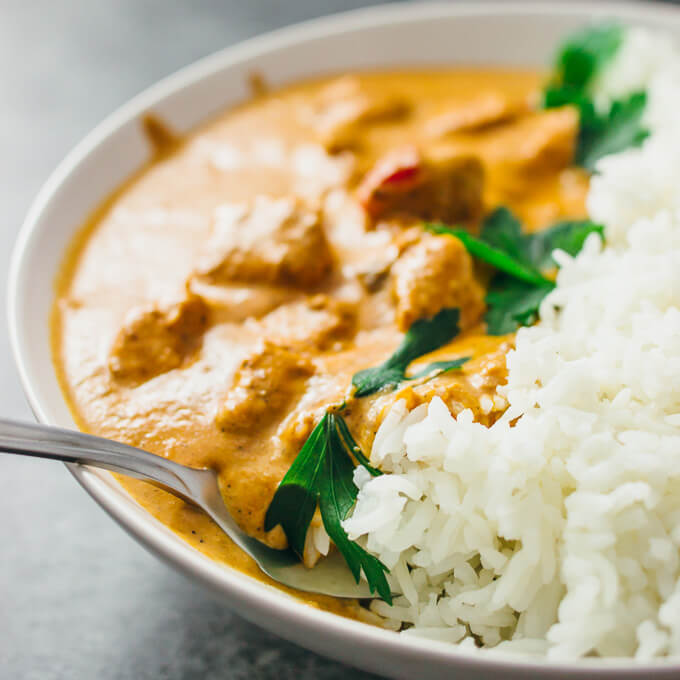 Best chicken tikka masala
This Indian chicken tikka masala recipe is restaurant quality, made from scratch, and easy to make.
Prep Time
1
hour
30
minutes
Ingredients
For marinating the chicken:
12

ounces

boneless and skinless chicken breasts

chopped

1

cup

plain 2% fat greek yogurt

about 6-7 ounces

1

tablespoon

garam masala

1

tablespoon

lemon juice

about half a lemon

2

teaspoons

black pepper

1/4

teaspoon

ground ginger
For the sauce:
15

ounce

can tomato sauce or puree

2

cups

heavy whipping cream

1

jalapeño

seeded and diced

5

garlic cloves

minced

1

tablespoon

butter

4

teaspoons

garam masala

1

teaspoon

paprika

1/2

teaspoon

salt
Instructions
Marinating the chicken: Combine all marinade ingredients in a bowl and mix well. Add chicken chunks and coat with the marinade. Let sit in the refrigerator for at least 1 hour.

Sautéing the chicken: Add chicken chunks along with the marinade to a 3-quart pan over medium-high heat and sauté until the chicken is mostly cooked, about 5 minutes.

Simmering the sauce: Reduce to medium heat. Add butter, jalapeño, and garlic to the same pan. Cook until the garlic browns, about 1 minute. Add the tomato sauce, heavy whipping cream, garam masala, paprika, and salt. Mix well. Bring to a boil and then decrease heat to a simmer over medium-low heat. Simmer until the sauce thickens, about 20 minutes, stirring occasionally.

Serving: Serve with basmati rice or naan. Garnish with cilantro or parsley.
Recipe Notes
This recipe yields 13 g net carbs per serving. Nutrition information does not include rice or naan.
Nutrition Facts Per Serving
| | |
| --- | --- |
| Calories 700 |   |
| Total Fat 53g | 82% |
|    Saturated Fat 35g | 173% |
|    Trans Fat 0g |   |
| Cholesterol 262mg | 87% |
| Sodium 810mg | 34% |
| Potassium 260mg | 7% |
| Total Carb 19.5g | 7% |
|    Dietary Fiber 6.5g | 27% |
|    Sugars 6g |   |
| Protein 25g |   |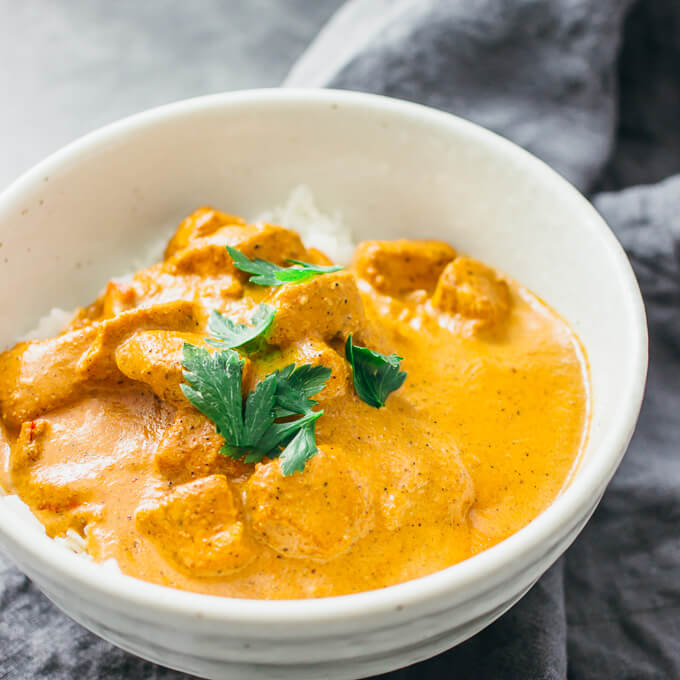 This post was originally published on September 12, 2016.