Summary:
This pasta bake is a weeknight dinner staple in the Savory Tooth household: a garlic and cheesy pasta casserole with chicken that feeds a crowd. This is an easy recipe; only ONE dish required (just the baking dish) and everything is cooked at the same time in the oven. No need to boil the pasta or cook the chicken beforehand!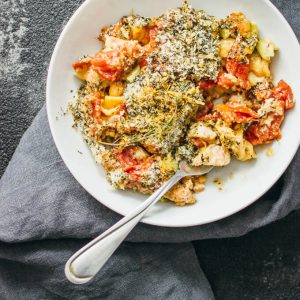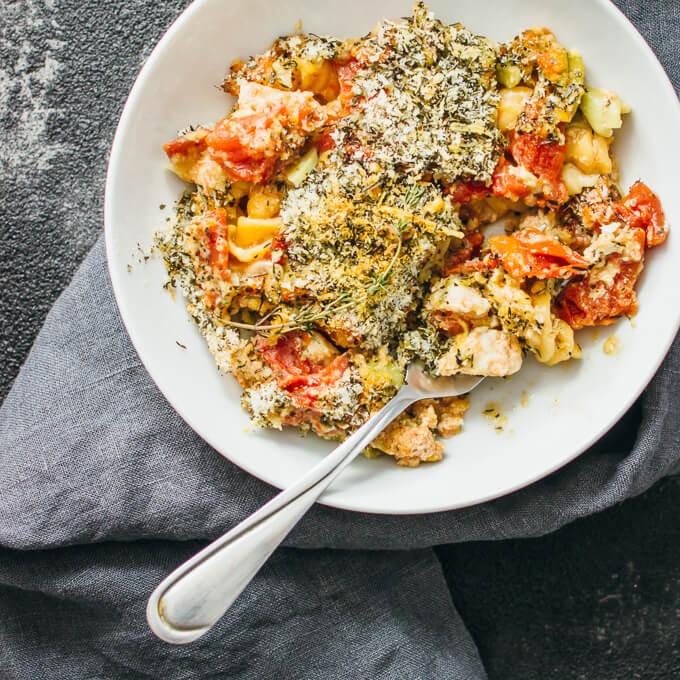 INGREDIENTS
6

ounces

rotini pasta

uncooked

12

ounces

raw boneless and skinless chicken breasts

cut into 1/2 to 1 inch chunks (if you have cooked chicken, that's fine too)

10

cloves

of garlic

chopped

28 ounce can diced tomatoes

liquid included

1

teaspoon

salt

1/2

teaspoon

pepper

2.5

cups

shredded cheese

mix of cheddar, Monterey jack, mozzarella, and asiago

2

cups

whole milk
For the herb topping:
1/2

cup

shredded Parmesan cheese

1/2

cup

panko bread crumbs

1/4

cup

dried herbs

mix of thyme, basil, and parsley
INSTRUCTIONS
Set the oven to 400 F. Spray cooking oil on a 9 x 13 inch casserole pan.

Add and distribute all of the casserole ingredients onto the pan. Stir so that the ingredients are mixed.

Tightly cover the pan with two layers of foil, and place in the oven to bake until the pasta and chicken are cooked, about 50 minutes.

Remove the pan from the oven and turn the oven up to broil. Prepare the herb topping by mixing all of the topping ingredients together.

Remove the foil from the pan. Distribute the herb topping over the casserole. Place the uncovered pan back in the oven and let it broil until the topping is browned and crispy, about 5 minutes.

Let the casserole cool before scooping into it, about 10 minutes.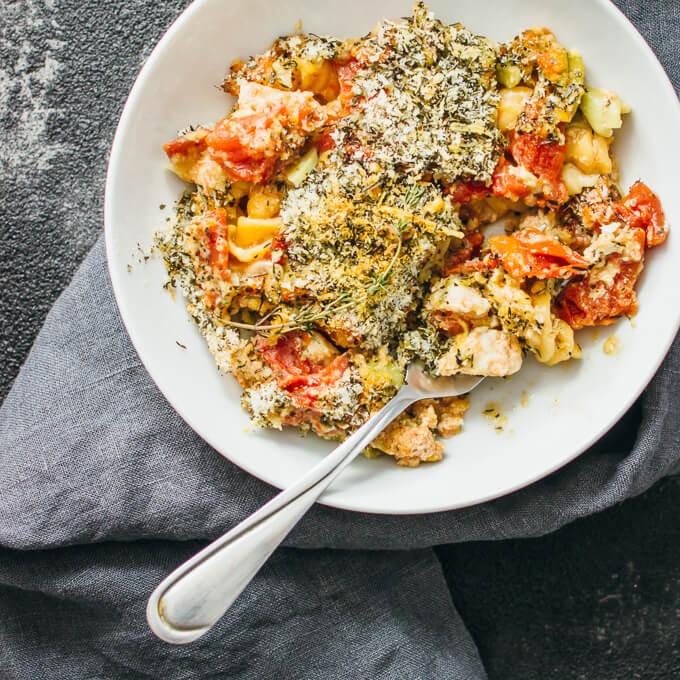 You read that correctly; you don't need to cook any of the ingredients in this casserole beforehand! Both the pasta and the chicken can go in raw. There's no need to grab an extra pot to boil the pasta beforehand. Isn't that great? I love making this meal for weeknight dinners because it's easy and fast. All you need to do is assemble and mix all of the ingredients together in the casserole baking dish, bake, and then you are done! The oven does all of the work for you.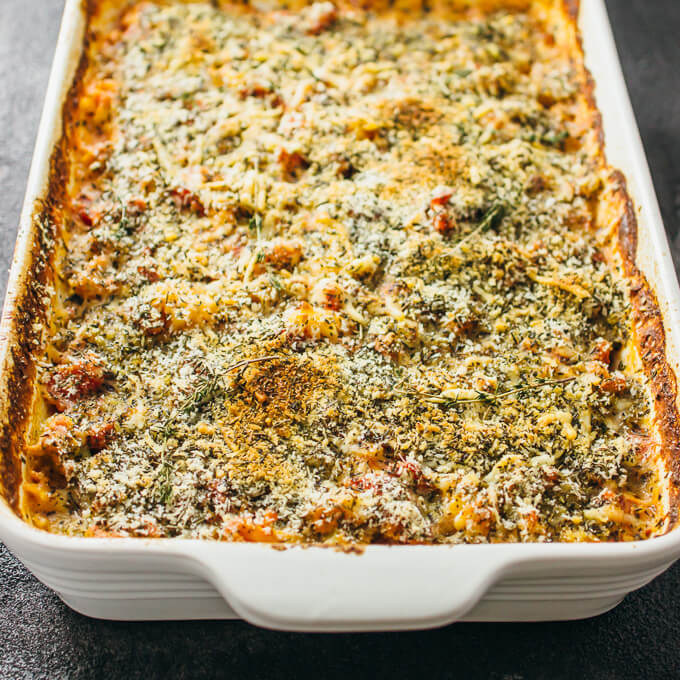 Check out that topping! The topping is a mixture of dried herbs (basil and thyme work well here), shredded parmesan cheese, and bread crumbs. It's been broiled so it's nicely browned and crispy. ?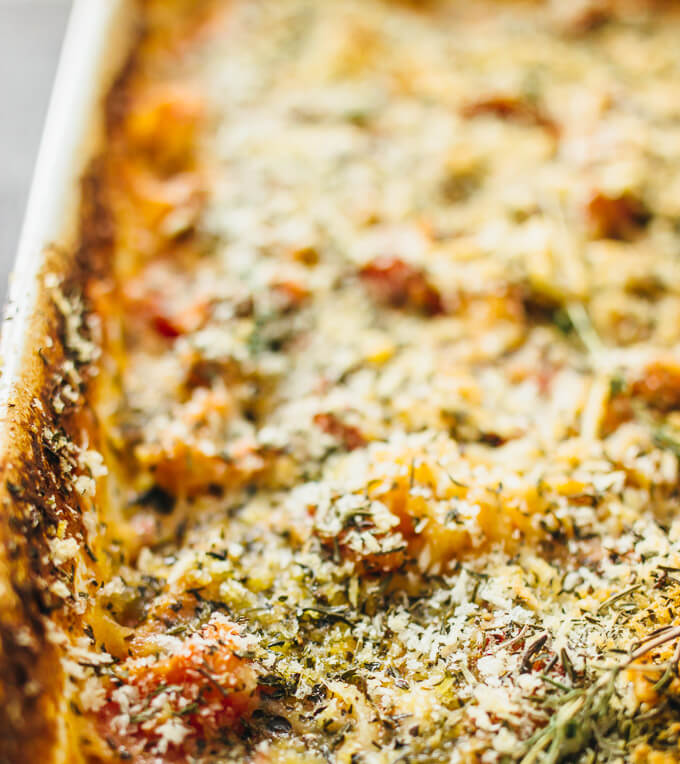 This pasta casserole is also very savory and makes your house smell wonderful: roasted chicken and tomatoes, LOTS of garlic (I use 10 cloves in this recipe so you know I don't mess around ?), and broiled crispy herb and bread crumbs . So comforting. First time I made this dish was after Mr. Savory Tooth and I went on a big outdoor run in below-freezing temperatures, and let's just say that we devoured this casserole. Every time I make this its delicious aroma wafts everywhere and I'm pretty sure all of my neighbors know when I'm making my pasta casserole!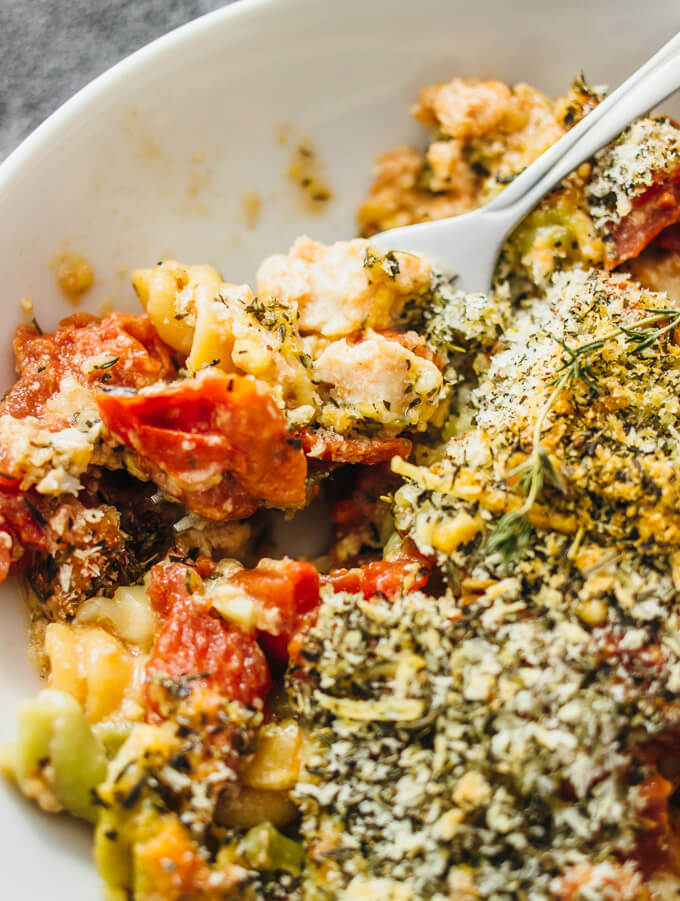 I mentioned earlier that this is a single-dish/one-dish kind of recipe. Here, a single casserole pan serves as your mixing and prep bowl, your baking pan, and your serving pan. After making this, you'll hardly have any dishes to wash except for a cutting board and a measuring cup. Easy cleanup!
And the LEFTOVERS. Seeing these pasta casserole leftovers in my fridge always makes me smile because they taste so good after a quick zap in the microwave. This casserole will feed a crowd and so Mr. Savory Tooth and I get to enjoy these leftovers for days afterwards.