Summary:
This pasta bake is a weeknight dinner staple in my household: a garlic and cheesy pasta casserole with chicken that feeds a crowd. This is an easy recipe; only one dish required (just the baking dish) and everything is cooked at the same time in the oven. No need to boil the pasta or cook the chicken beforehand.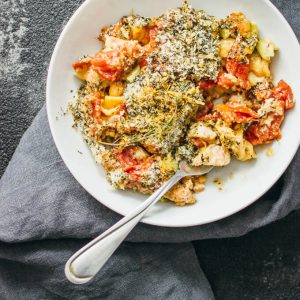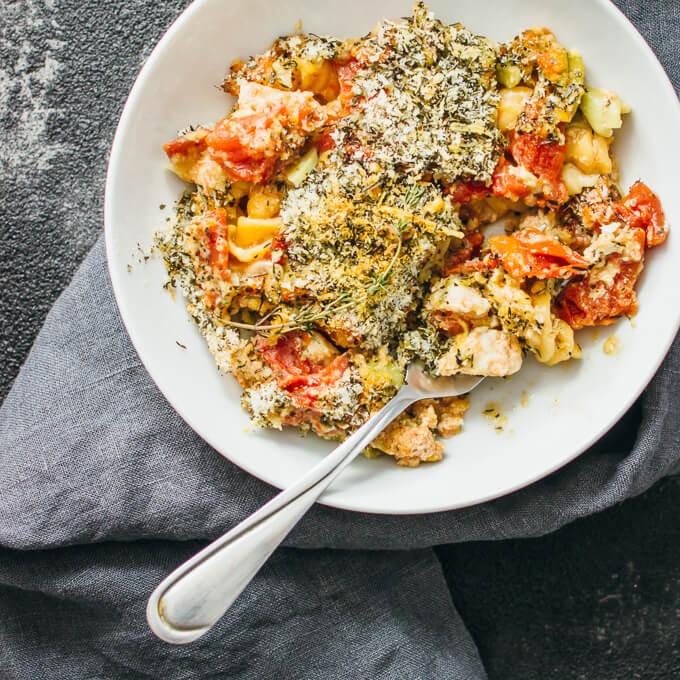 INGREDIENTS
6

ounces

rotini pasta

uncooked

12

ounces

raw boneless and skinless chicken breasts

cut into 1/2 to 1 inch chunks (if you have cooked chicken, that's fine too)

10

cloves

garlic

chopped

28 ounce can diced tomatoes

liquid included

1

teaspoon

salt

1/2

teaspoon

pepper

2.5

cups

shredded cheese

mix of cheddar, Monterey jack, mozzarella, and asiago

2

cups

whole milk
For the herb topping:
1/2

cup

shredded Parmesan cheese

1/2

cup

panko bread crumbs

1/4

cup

dried herbs

mix of thyme, basil, and parsley
INSTRUCTIONS
Set the oven to 400 F. Spray cooking oil on a 9 x 13 inch casserole pan.

Add and distribute all of the casserole ingredients onto the pan. Stir so that the ingredients are mixed.

Tightly cover the pan with two layers of foil, and place in the oven to bake until the pasta and chicken are cooked, about 50 minutes.

Remove the pan from the oven and turn the oven up to broil. Prepare the herb topping by mixing all of the topping ingredients together.

Remove the foil from the pan. Distribute the herb topping over the casserole. Place the uncovered pan back in the oven and let it broil until the topping is browned and crispy, about 5 minutes.

Let the casserole cool before scooping into it, about 10 minutes.
NUTRITION
471 kcal/serving

PHOTOS