Summary:
This simple, foolproof recipe uses a slow cooker on low heat to turn a bone-in turkey breast into juicy and tender meat.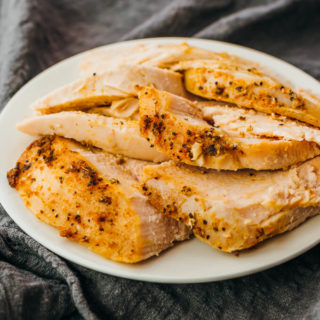 INGREDIENTS
1

bone-in turkey breast (Note 1)

1/2

cup

water or broth
INSTRUCTIONS
De-skin Turkey: Add water or broth to slow cooker (Note 3). Remove skin from turkey (Note 4) and transfer to slow cooker, breast side facing up with cavity underneath.

Season Turkey: Add lemon zest, salt, pepper, oregano, garlic, paprika, and butter to small microwave-safe bowl. Microwave until butter is melted, about 1 minute. Stir until paste forms. Brush or rub paste all over turkey breast.

Cook: Cover and cook on low heat until cooked through, 5 to 6 hours. Starting at 5 hours, use instant-read thermometer to periodically check for doneness (165 F in thickest part of breast).

Serve: Transfer turkey to cutting board and cut into slices. Serve and store leftovers (Note 5).
NUTRITION
Makes 6 Servings
Amount Per Serving (8-ounce portion):
| | |
| --- | --- |
| Calories 340 (20% from fat) |   |
| Total Fat 7g | 11% |
|    Saturated Fat 3g | 17% |
| Cholesterol 168mg | 56% |
| Sodium 1070mg | 45% |
| Net Carb 0.5g |   |
| Total Carb 1g | 0% |
|    Dietary Fiber 0.5g | 1% |
|    Sugars 0g |   |
| Protein 68g |   |
PHOTOS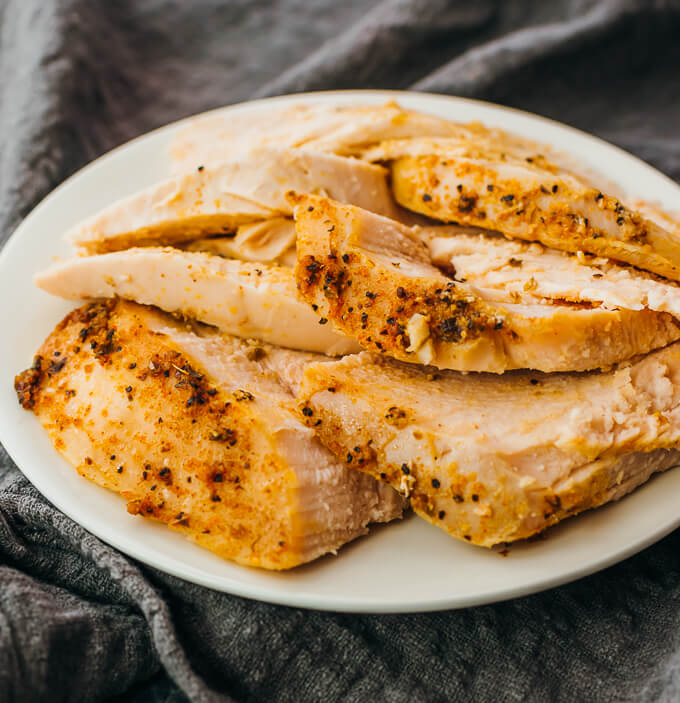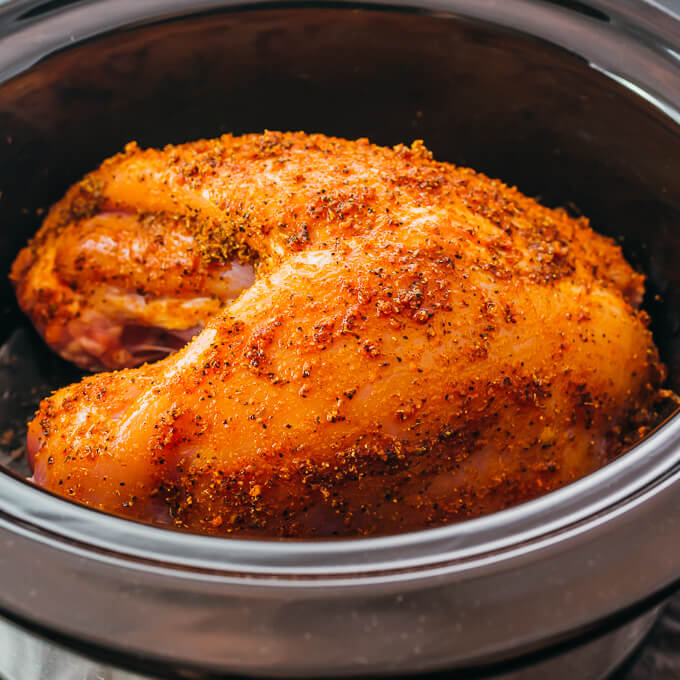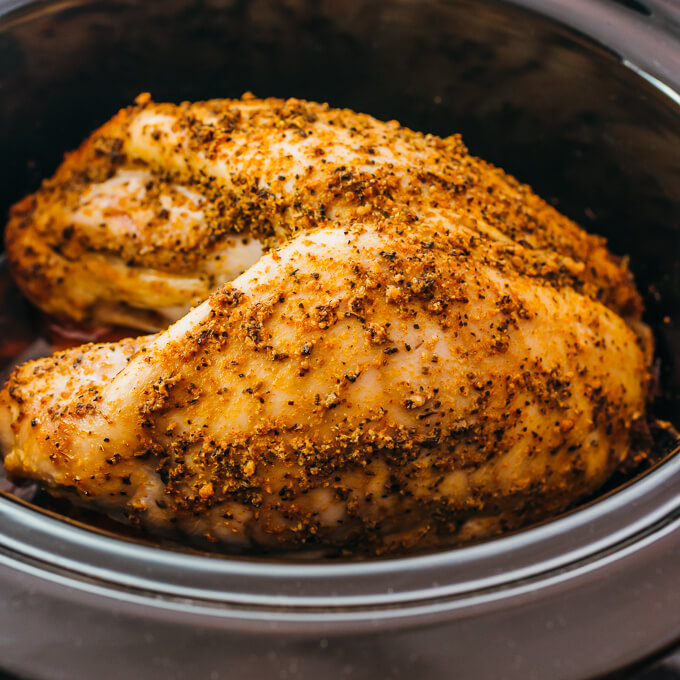 NOTES & TIPS
(1) Turkey. I use a bone-in turkey breast with rib attached, weighing 5 to 6 pounds. If yours is frozen, defrost in the refrigerator until thawed, about 2 full days (48 hours).
(2) Grating Lemons. I use a microplane to get very fine zest. Avoid grating bitter white areas. The rest of the lemon isn't used in this recipe; squeeze it for fresh juice to use in lemon posset or lemon fat bombs.
(3) Slow Cooker. Use an oval-shaped slow cooker with at least a 6-quart capacity. I don't recommend using a round slow cooker, which may not fit the turkey breast.
(4) De-skinning Turkey. Remove the skin by pulling it away from the meat, using kitchen shears or a small knife to assist. Removing the skin allows the seasoning rub to be applied directly to the meat, resulting in more flavor. If you decide to keep the skin on, I recommend broiling the turkey afterwards to crisp the skin, monitoring carefully to avoid burning or overcooking the meat.
(5) Serving / Leftovers. Serve sliced turkey with drippings from the slow cooker or use them to make a gravy. Pair with low carb sides like mashed cauliflower, cranberry sauce, and balsamic roasted brussels sprouts. Turkey leftovers can be stored in an airtight container in the refrigerator for up to 3 days. Reheat in the microwave, or on a skillet with butter until nicely seared and golden. Or, you can repurpose leftovers by making a creamy turkey mushroom bake.