Summary:
This barbacoa dish features boneless chuck roast, tossed in a spicy orange sauce made of onions, garlic, chipotle peppers in adobo, and lime juice. The meat is slowly cooked until falling apart, then shredded and optionally pan seared.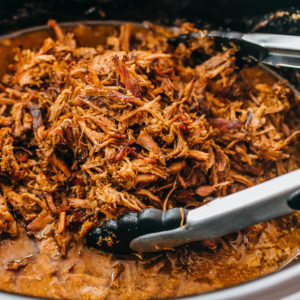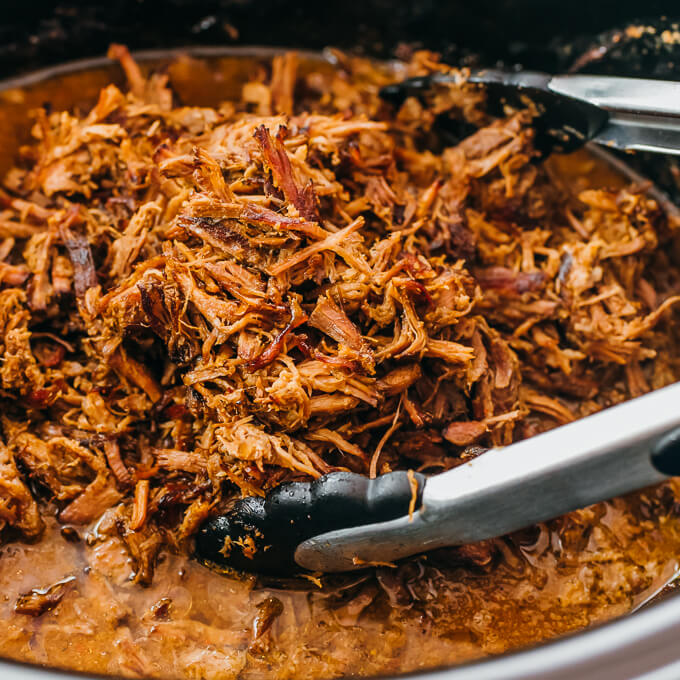 INGREDIENTS
3 to 4

pounds

boneless chuck roast (Note 1)
Chipotle Sauce:
1

small onion, roughly chopped

5

cloves

garlic

2

limes, squeezed

(3 to 4 tablespoons juice)

1

tablespoon

ground cumin

1.5

teaspoons

table salt

1

teaspoon

ground black pepper
INSTRUCTIONS
Prepare Beef: Trim exterior fat from beef, then cut beef into 2-inch chunks (Note 3). Place chunks along bottom of slow cooker.

Blend Sauce: Blend all sauce ingredients in blender (Note 4) until combined, about 20 seconds. Pour sauce over beef chunks in slow cooker, and use tongs to mix until well-coated.

Cook & Shred: Cover and cook on low heat for 8 hours. Transfer only meat to large bowl, and shred using two forks.

Optional Sear: Transfer shredded meat to large sauté pan (Note 5). Flipping meat frequently, cook over medium-high heat until browned with crispy bits, about 5 minutes.
NUTRITION
Makes 6 Servings
Amount Per Serving:
| | |
| --- | --- |
| Calories 560 (64% from fat) |   |
| Total Fat 40g | 61% |
|    Saturated Fat 16g | 80% |
| Cholesterol 211mg | 70% |
| Sodium 770mg | 32% |
| Net Carb 3g |   |
| Total Carb 4g | 1% |
|    Dietary Fiber 1g | 4% |
|    Sugars 1g |   |
| Protein 44g |   |
PHOTOS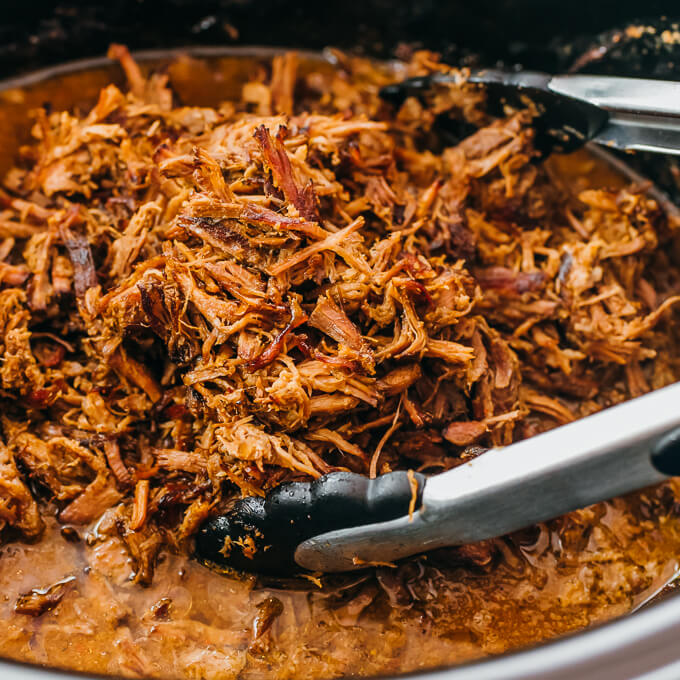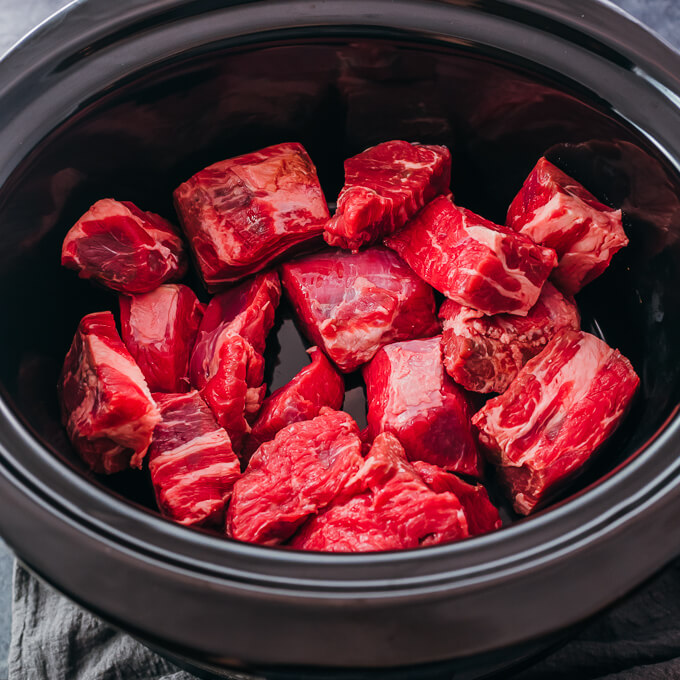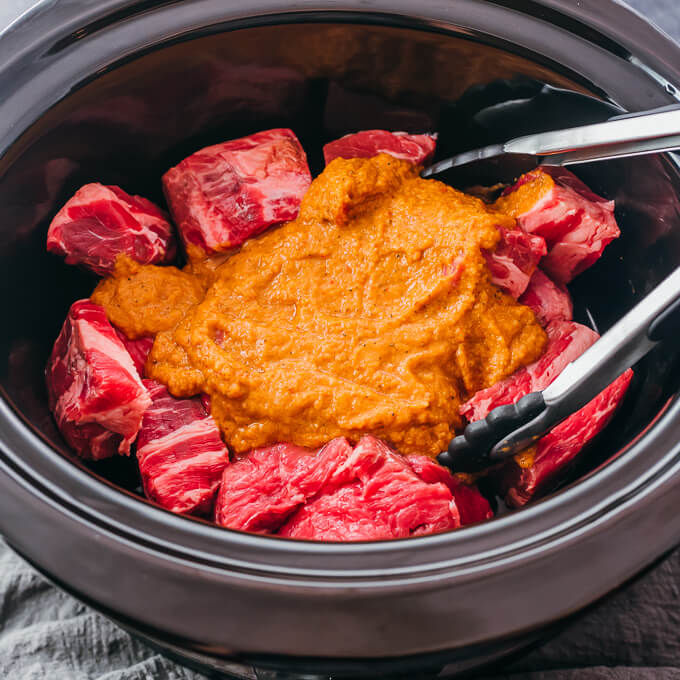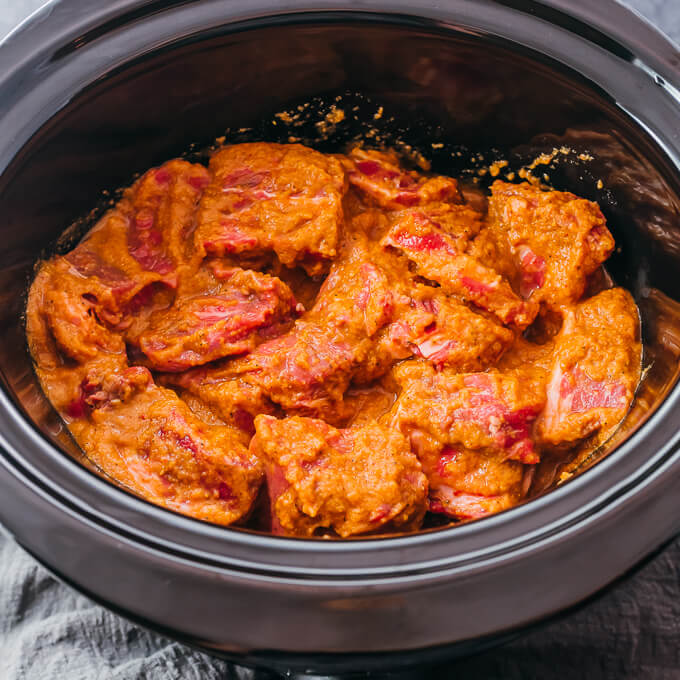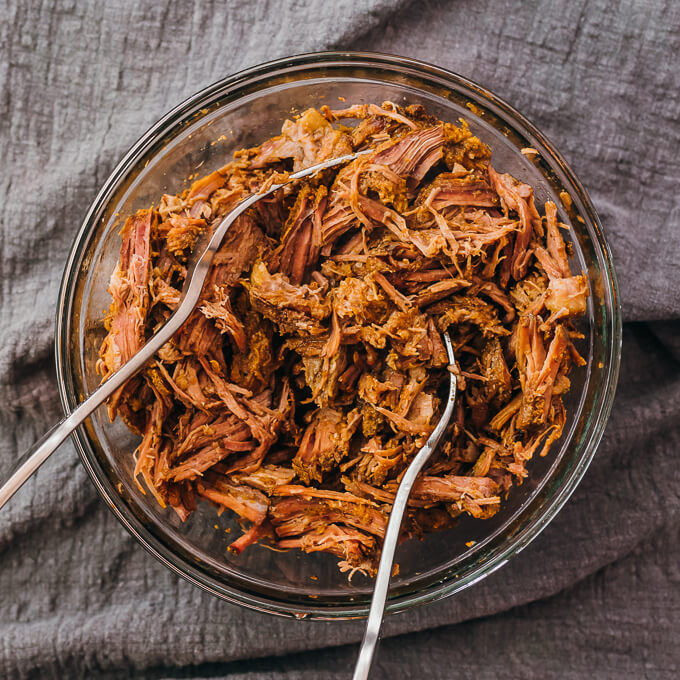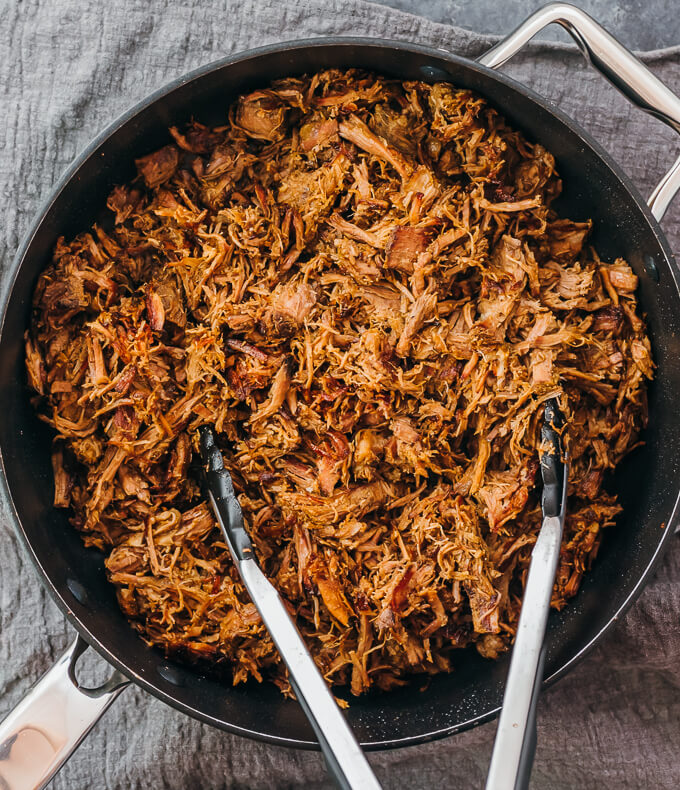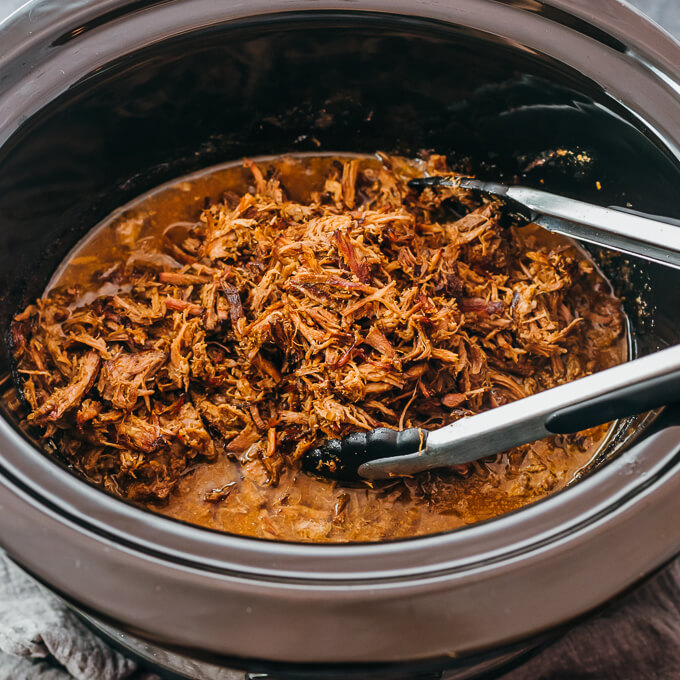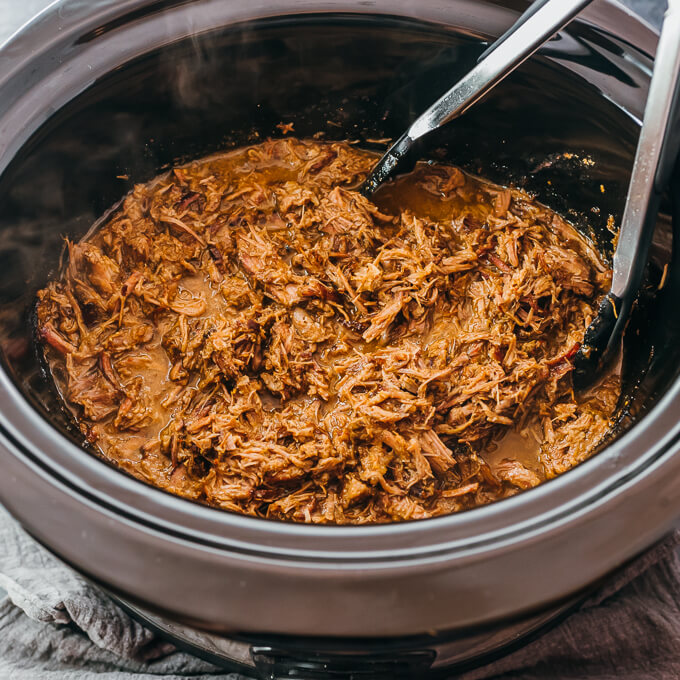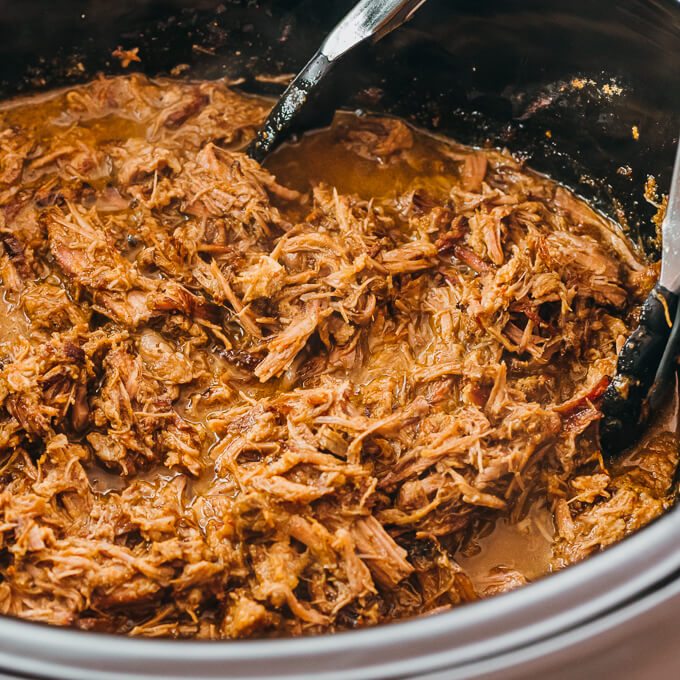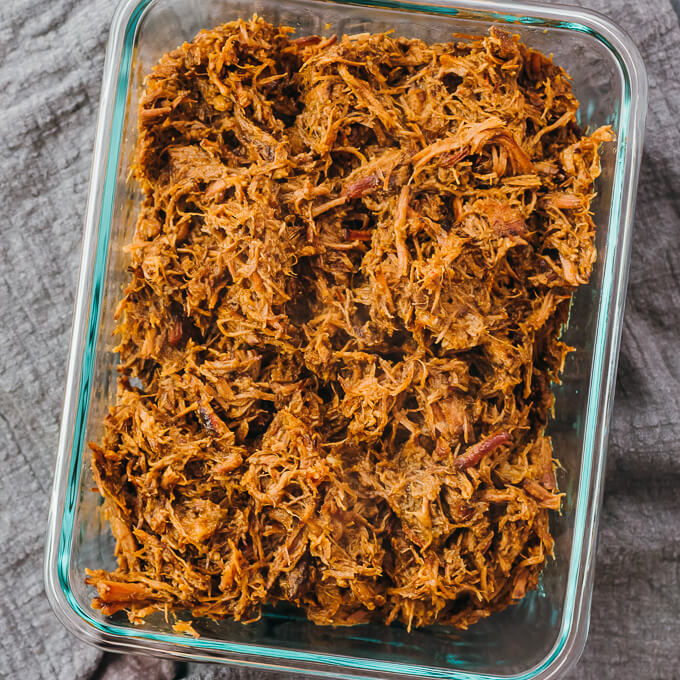 NOTES & TIPS
(1) Beef Cut. Barbacoa is often prepared using beef cheeks in the U.S., but I typically use chuck roast for convenience. Other popular roast cuts for slow cooking include brisket and round. Select a cut that has less exterior fat as that will be trimmed off. Since the meat is slow cooked until shreddable, any roast or steak cut will work — just use a total of 3 to 4 pounds of boneless beef. If your beef has a bone, remove it while cutting the beef into chunks in Step 1.
(2) Chipotles. These are smoked and dried jalapeños canned in a spicy adobo sauce. I use 3 chipotles and any adobo sauce sticking to them. You can find chipotles in the same aisle as canned peppers and enchilada sauces in U.S. supermarkets.
(3) Cutting Beef. By cutting the beef into 2-inch chunks instead of leaving it whole, the meat will be better seasoned. The beef chunks will lay flat along the bottom of the slow cooker, ensuring even cooking.
(4) Blender. I use a Nutribullet pitcher blender, but a food processor will work too.
(5) Large Pan. I use a nonstick sauté pan. Either 10 or 12 inches wide will work — the larger the pan, the faster the sear. No oil or greasing of the pan is needed.
(6) Remaining Liquid. The drippings left over in the slow cooker are very flavorful and contain rendered fat from the beef. If you want your beef on the drier side, combine the beef with just enough liquid to moisten it. If you want a saucier beef, you might want to use all of the available liquid. I prefer to not waste any of it so I generally use all of the liquid, and if the beef looks too wet, I boil it down in a saucepan until thickened.
(7) Serving. A 3-pound chuck roast yields 6 servings, and a 4-pound one yields 8 servings. Serve barbacoa beef with toppings like tomato salsa, salsa verde, pico de gallo, diced red onions, sour cream, guacamole, and/or chopped fresh cilantro. Wrap it in low carb tortillas to make burritos or enchiladas, or serve with Mexican cauliflower rice in a bowl. Barbacoa leftovers can be stored in an airtight container in the refrigerator for up to 3 days, and reheated in the microwave or in a skillet on the stovetop.