Summary:
This is a flavorful chunky-style guacamole with simple seasonings, fresh lime juice, and shredded cheddar cheese. Enjoy it as a dip, spread, or side dish.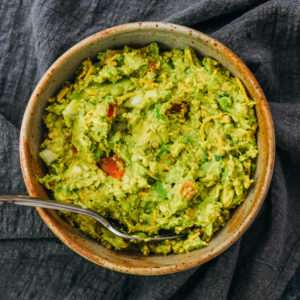 INGREDIENTS
INSTRUCTIONS
Mash Avocados: Halve avocados and scoop out flesh into large bowl. Add lime juice, garlic powder, cayenne, black pepper, and salt. Mash until well-mixed with chunky consistency (a potato masher works well).
NUTRITION
Makes 5 Servings
Amount Per Serving (1/2 cup):
| | |
| --- | --- |
| Calories 190 (78% from fat) |   |
| Total Fat 16g | 25% |
|    Saturated Fat 4g | 19% |
| Cholesterol 12mg | 4% |
| Sodium 200mg | 8% |
| Net Carb 3g |   |
| Total Carb 9g | 3% |
|    Dietary Fiber 6g | 23% |
|    Sugars 1g |   |
| Protein 5g |   |
PHOTOS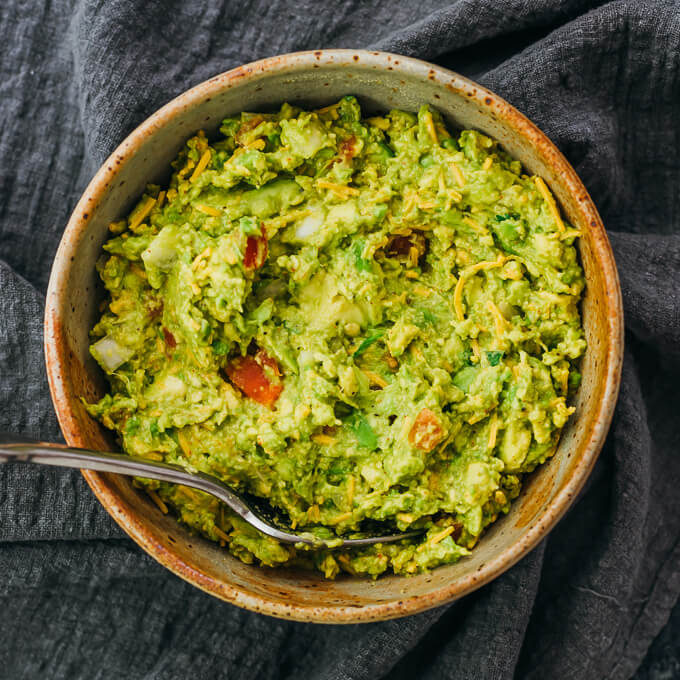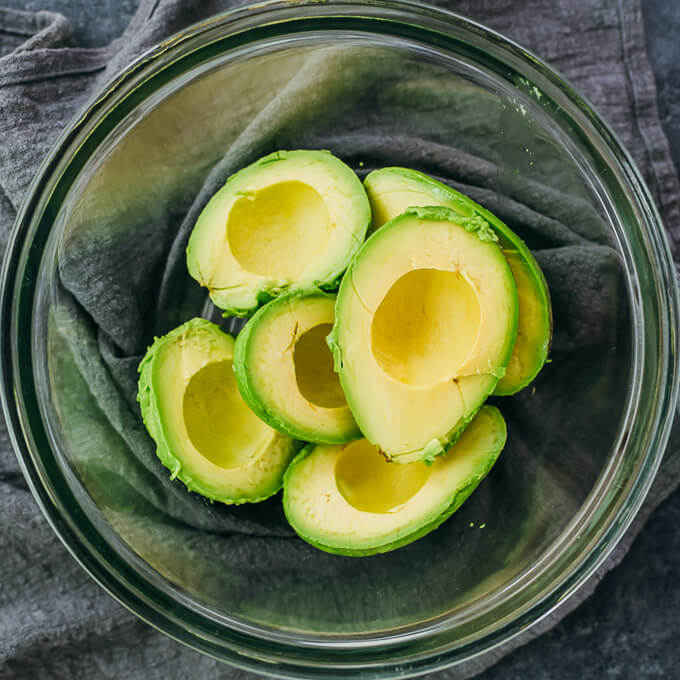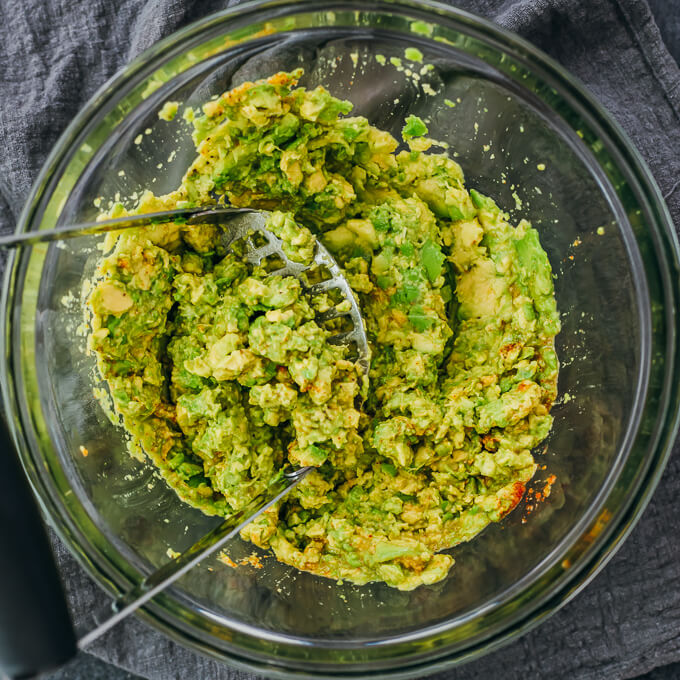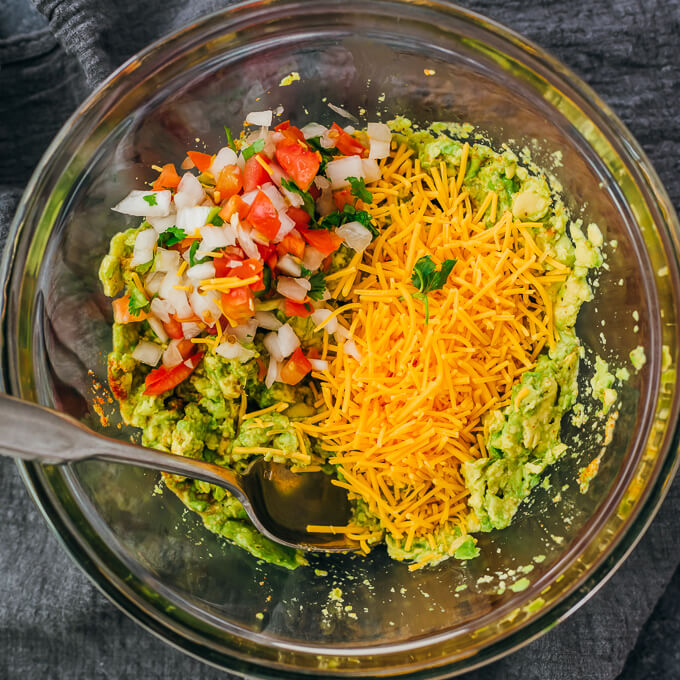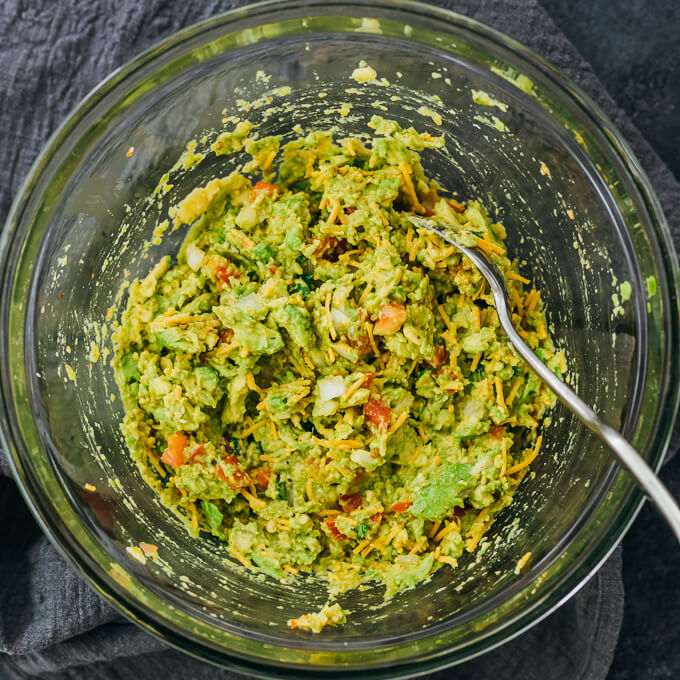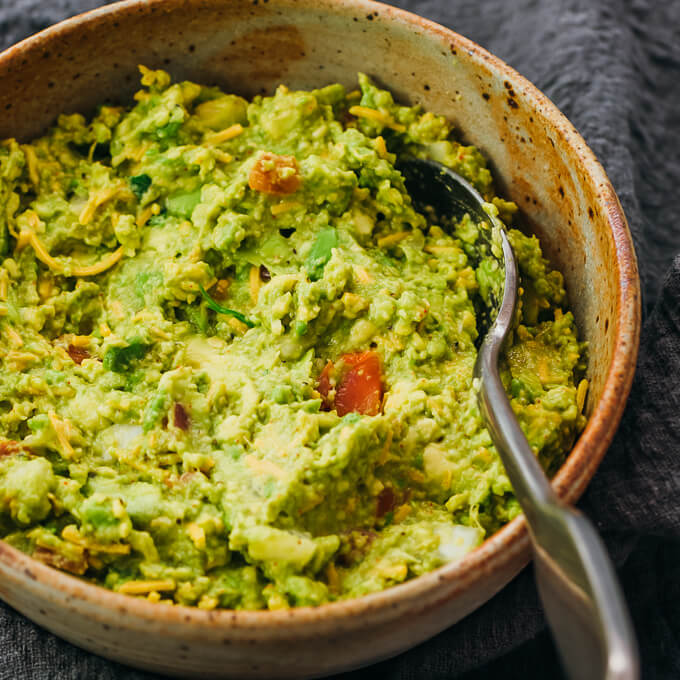 NOTES & TIPS
(1) Avocado. You can use 3 medium or 2 large avocados. After peeling and pitting, this should be about 14 ounces total weight of avocado flesh. Use ripened avocados so that they are easier to mash; ripe avocados yield to gentle pressure when squeezed.
(2) Cheddar Cheese. You can substitute with your favorite shredded, grated, or crumbled cheese by adding them to taste. Mexican Cotija cheese is a crumbly cheese with a nice salty bite, like a Mexican feta cheese. Pepperjack cheese would also be delicious.
(3) Pico De Gallo. Pico de gallo is a mix of chopped tomatoes, onions, chili peppers, and cilantro. You can use store-bought, usually found in the refrigerated sections of U.S. grocery stores, or use a homemade mix of chopped tomatoes and onions. You can substitute with salsa, but it will result in a more watery and less chunky guacamole since salsas have more liquid content.
(4) Cayenne. This amount results in mildly spicy guacamole. Double it for a moderately spicy version.
(5) Serving. Enjoy guacamole with low carb dippers like almond flour crackers, flax seed crackers, parmesan crisps, pork rinds, celery sticks, baby carrots, or halved mini bell peppers. I also enjoy this guacamole by itself, as a side to sheet pan chicken fajitas, a spread over toasted keto bagels, or as part of a chicken burrito bowl.
(6) Saving For Later. Transfer guacamole to a clean serving bowl. Cover with plastic wrap, pressing the plastic along the surface of the guacamole to reduce browning. Refrigerate up to 1 day in advance. Before serving, let it stand at room temperature for 30 minutes to warm up a bit.