Summary:
Keto bagels made with low carb ingredients including almond flour and mozzarella cheese, topped with a homemade everything bagel seasoning mix. It's a "fathead" dough recipe that's easy to make. See more Low Carb Copycat Recipes.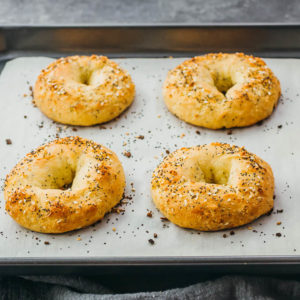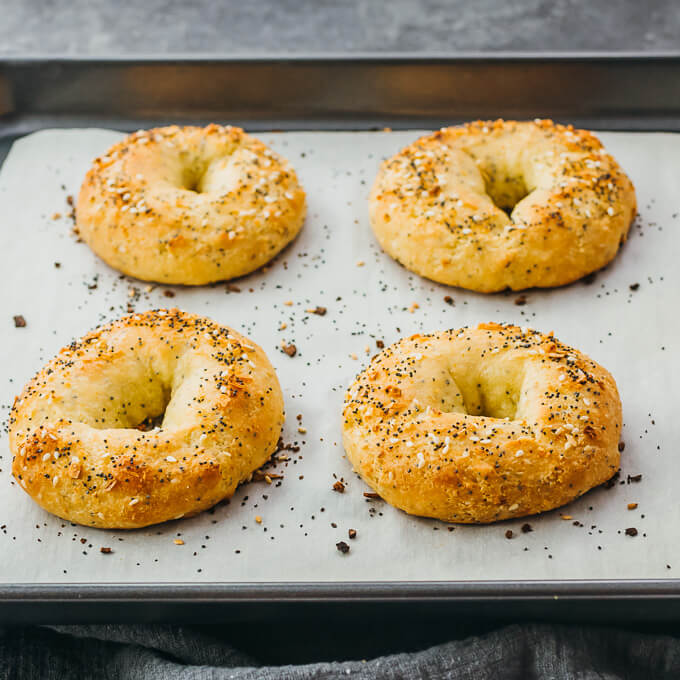 INGREDIENTS
1.5

cups

shredded mozzarella cheese (170 g)

1

cup

blanched almond flour (113 g)

(this cannot be substituted with coconut flour)

2

tbsp

cream cheese (28 g)

1

large egg

1/2

tbsp

olive oil

1.5

tsp

baking powder
Seasoning Mix (Or Use Seasoning Of Choice):
INSTRUCTIONS
In a small bowl, add all seasoning mix ingredients and stir until well-mixed.

In a large heatproof bowl, add almond flour, about two-thirds of the seasoning mix, and baking powder. Whisk until well-mixed.

Add mozzarella cheese and cream cheese to the same bowl. Microwave for 45 seconds, stir, and microwave for another 45 seconds or until the cheese is melted. Stir until the mixture forms a smooth dough.

Add the egg to the same bowl, working it in until absorbed and well-mixed. If easier, use your hands to knead once the dough is cool enough to handle.

Divide the dough into 4 equal pieces. Shape each piece into a log about 6 inches long, and attach the ends to form a bagel shape. Place the bagels at least 1 inch apart on the prepared lined baking sheet.

Brush olive oil across the tops. Take the remaining seasoning mix and sprinkle on top, using as much or as little as desired.

Bake at 375 F until golden brown on top, about 20 minutes. Since ovens vary, start monitoring at 15 minutes.
NUTRITION
Makes 4 Servings
Amount Per Serving (1 bagel w/ seasoning):
| | |
| --- | --- |
| Calories 370 (72% from fat) | |
| Total Fat 30g | 46% |
| Saturated Fat 8g | 41% |
| Cholesterol 82mg | 27% |
| Sodium 680mg | 28% |
| Net Carb 6.5g | |
| Total Carb 10g | 3% |
| Dietary Fiber 3.5g | 13% |
| Sugars 2g | |
| Protein 19g | |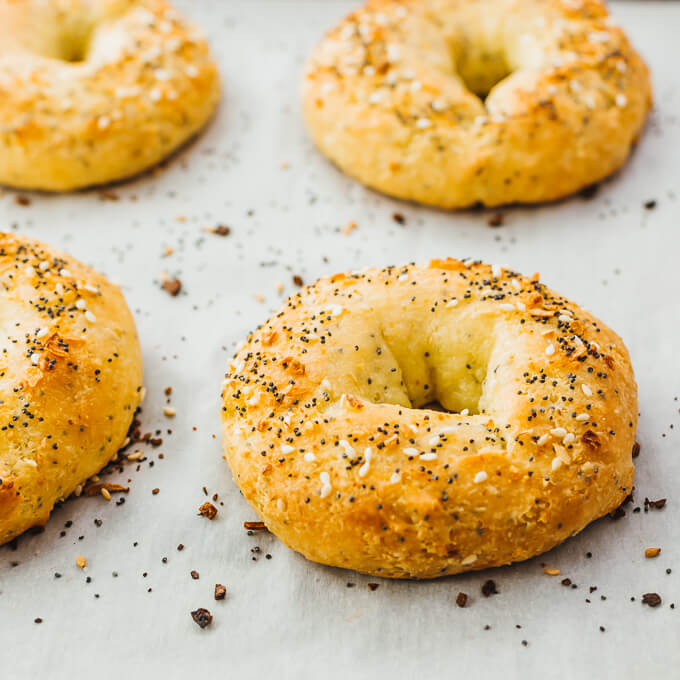 Bagels Made With Fathead Dough
I use fathead dough to make these bagels, which is a simple low carb dough composed of almond flour, mozzarella cheese, cream cheese, and egg. I'm always pleasantly surprised at how easily these ingredients can come together to form a dough, versatile in its uses whether you're making pizza crusts or garlic knots.
The baked result looks eerily similar to regular bagels. And you can easily slice them in half, slather with your favorite cream cheese spread, and eat them like you would normal bagels. They make for a convenient grab-and-go breakfast or snack.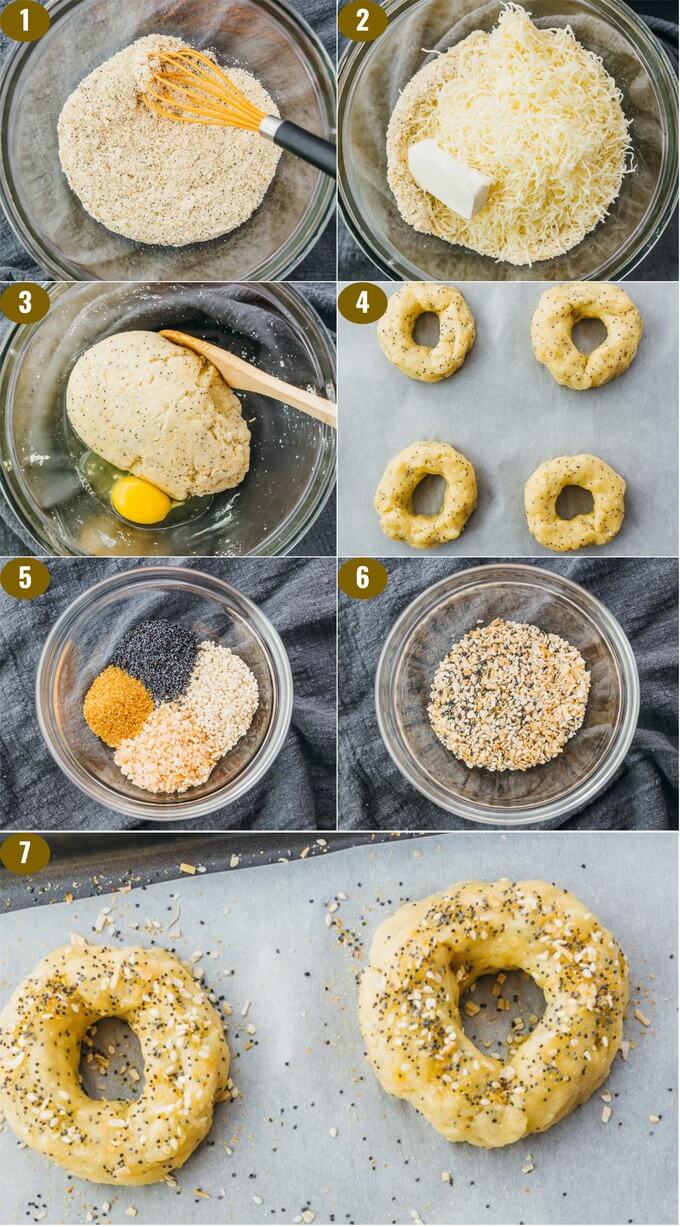 Homemade Everything Bagel Seasoning Mix
These bagels include a homemade seasoning mix that mimics "everything bagel" seasoning — sesame seeds, poppy seeds, dry minced onion, and garlic powder — and it's added to both the dough and the topping.
You can make your own seasoning as I did, or use 2-3 tablespoons of store-bought everything bagel seasoning. Another option is to skip the seasoning altogether and just make plain bagels. Either way will work.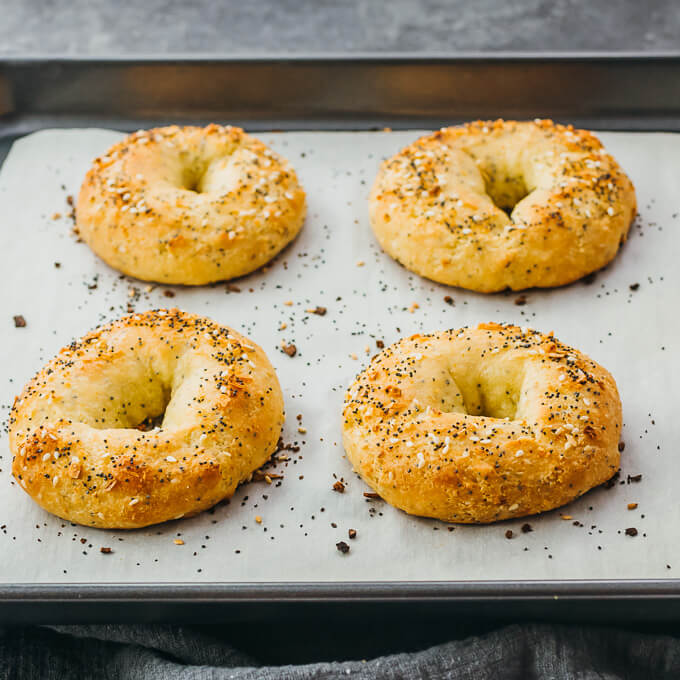 Tips For Making Successful Bagels
For best results, measure out the main ingredients (mozzarella cheese, almond flour, and cream cheese) by weight, not volume. You'll also get more consistent results that way.
Watch out for the carbs in almond flour, which can vary from brand to brand. It should be 2g net carbs per 1/4 cup or 1 ounce serving (if you don't know what net carbs are, read this beginners guide on how to start a low carb diet). I typically buy Kirkland brand almond flour in bulk from Costco.
I use the microwave to heat the dough ingredients. The microwave times are estimates only, and depending on your particular appliance, you may need longer or shorter times. The goal is to microwave long enough, pausing to stir every 45 seconds or so, so that the ingredients can be easily stirred to form a smooth dough.
Use a nonstick liner for baking these bagels. I use parchment paper, and another good option is a silicone baking mat. Note that wax paper is not the same as parchment paper and shouldn't be used in the oven.
Don't crowd the individual bagels too close together on the baking sheet. They will expand a fair amount as they bake. I usually space them 2 inches apart.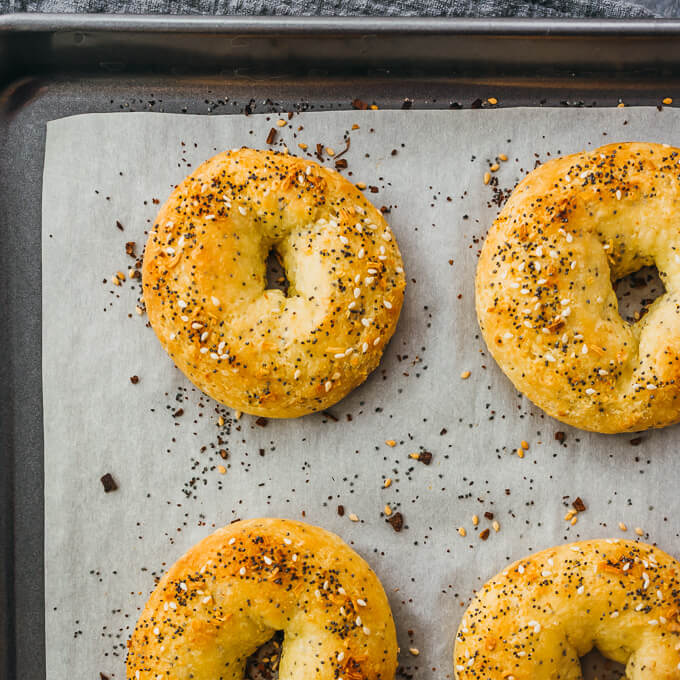 More Easy Low Carb & Keto Recipes