Summary:
Use basic low carb ingredients like almond flour and mozzarella cheese to make these fantastic keto bagels. A homemade seasoning mix turns them into "everything bagels," or omit it for a plain version. Once baked, you can slice and toast these bagels, slathering your favorite spread on top or turning them into bagel sandwiches. Great for breakfast or lunch.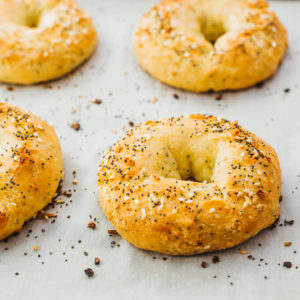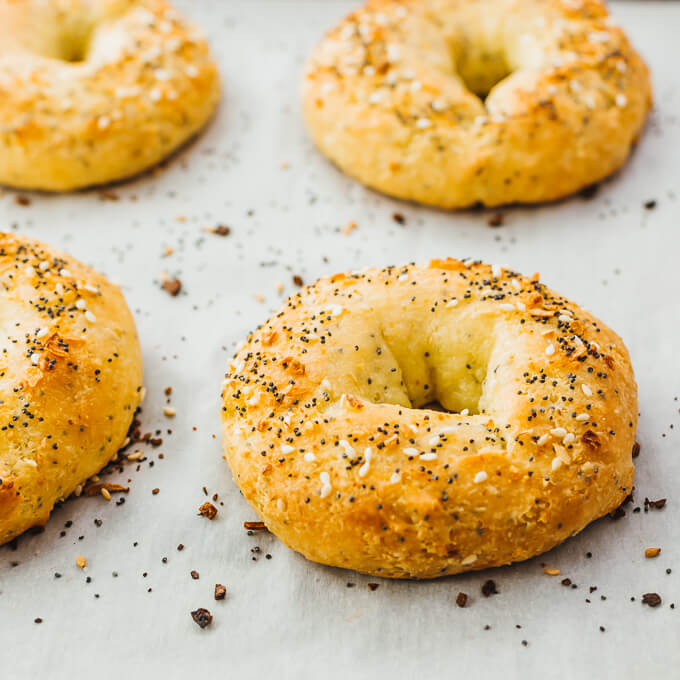 INGREDIENTS
1.5

cups

shredded mozzarella cheese (Note 1)

1

cup

almond flour (Note 2)

1

ounce

cream cheese

1

large egg

1/2

tablespoon

olive oil

1.5

teaspoons

baking powder
Optional Seasoning Mix (Note 3):
INSTRUCTIONS
Prepare: Preheat oven to 375 F. Prepare baking half sheet lined with parchment paper or nonstick baking mat. Stir together all seasoning mix ingredients in small bowl until well-mixed.

Make Dough: Whisk almond flour, two-thirds of seasoning mix, and baking powder in microwave-safe bowl until well-mixed. Add mozzarella cheese and cream cheese to same bowl. Microwave uncovered for 45 seconds, stir, and microwave again for another 45 seconds or until cheese is melted (Note 4). Stir until mixture forms into smooth dough. Add egg to same bowl, working it in until completely absorbed and well-mixed; alternatively, use hands to knead it in once dough is cool enough to handle.

Form Bagels: Divide dough into 4 equal pieces. Shape each piece into 6-inch-long log, and attach ends to form bagel shape. Place bagels at least 2 inches apart on prepared lined baking sheet. Brush olive oil across tops of bagels. Sprinkle remaining seasoning mix on top, using as much or as little as desired.
NUTRITION
Makes 4 Servings
Amount Per Serving (1 bagel w/ seasoning):
| | |
| --- | --- |
| Calories 370 (72% from fat) |   |
| Total Fat 30g | 46% |
|    Saturated Fat 8g | 41% |
| Cholesterol 82mg | 27% |
| Sodium 680mg | 28% |
| Net Carb 6.5g |   |
| Total Carb 10g | 3% |
|    Dietary Fiber 3.5g | 13% |
|    Sugars 2g |   |
| Protein 19g |   |
PHOTOS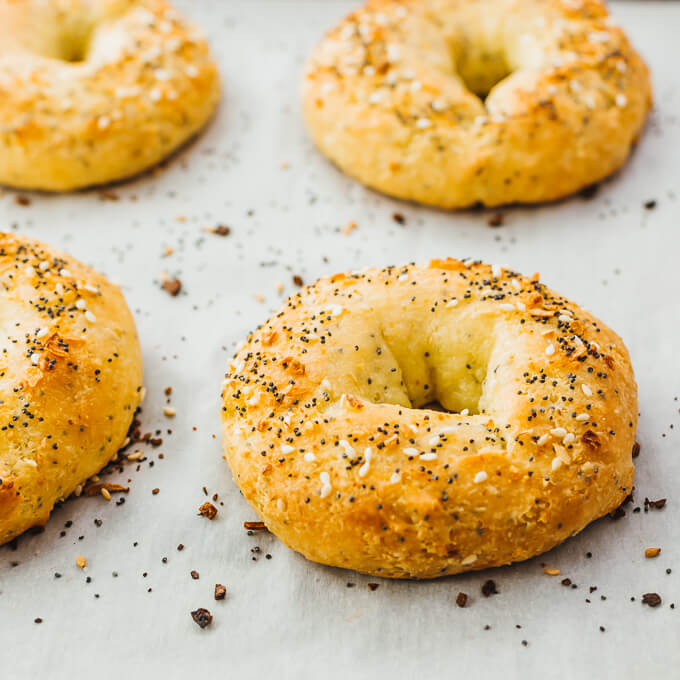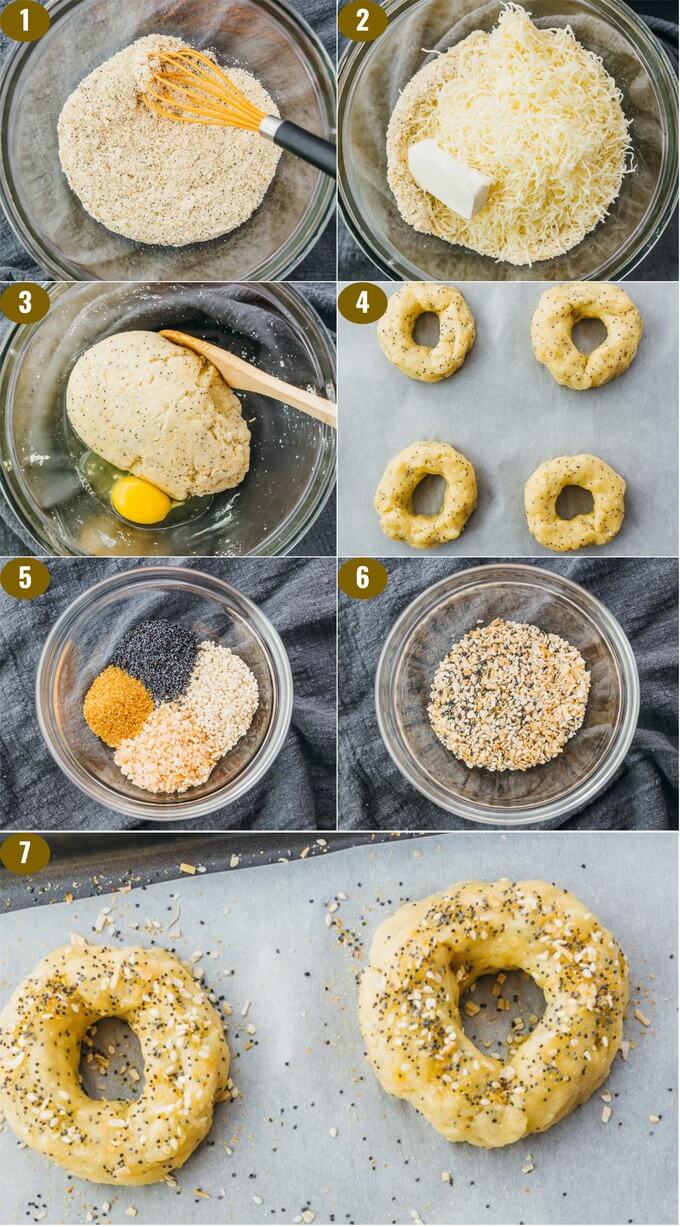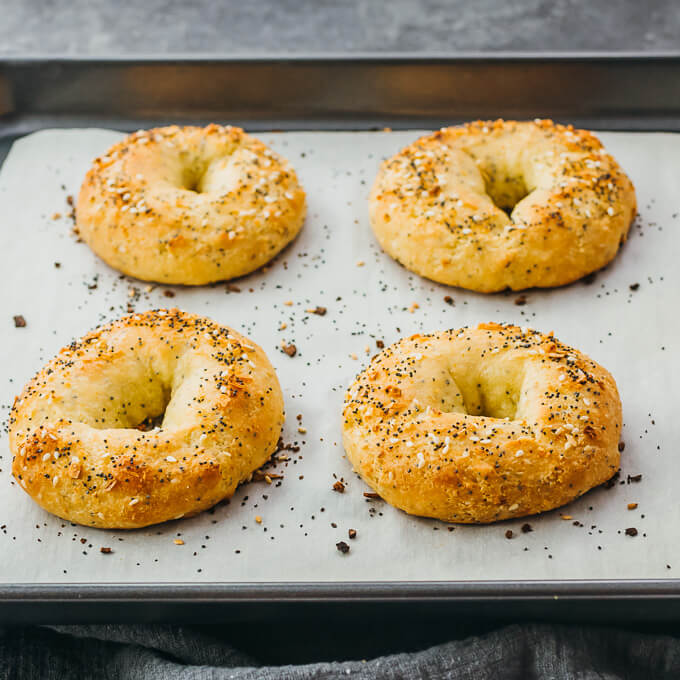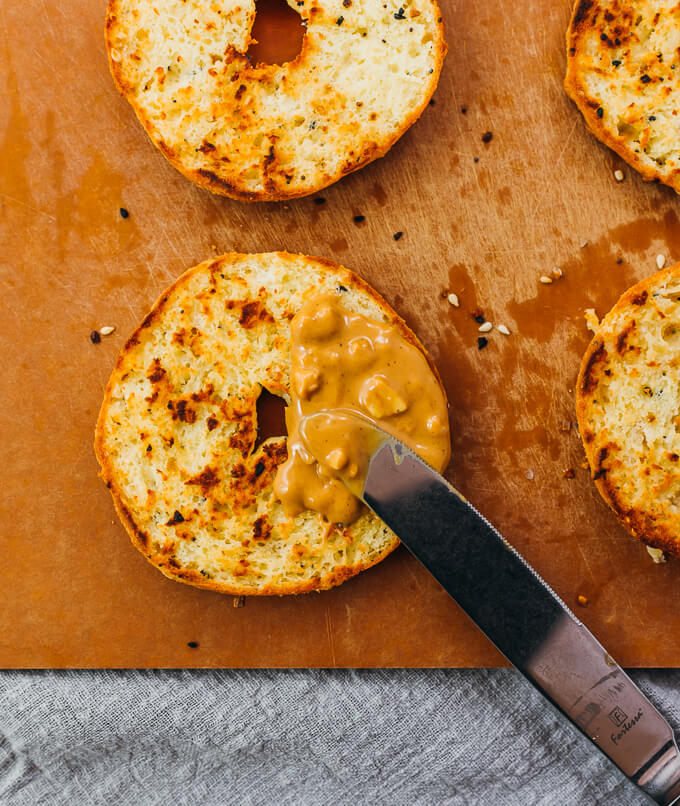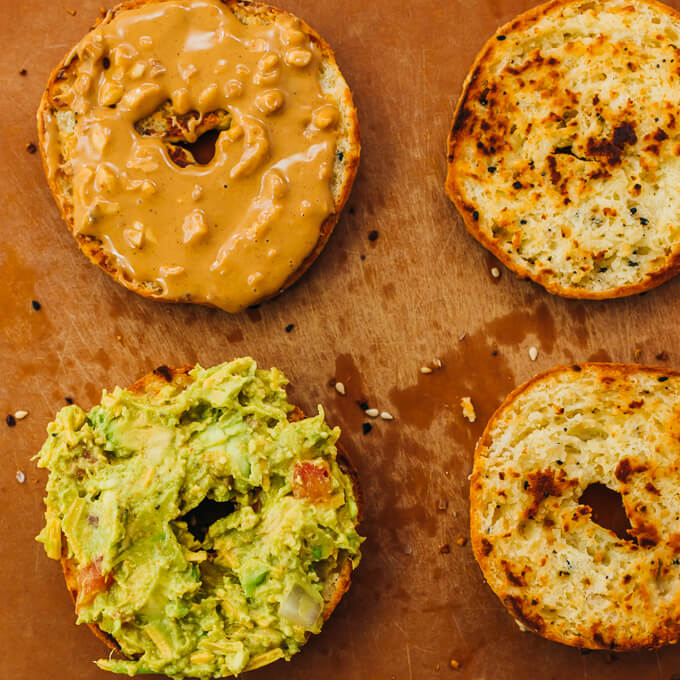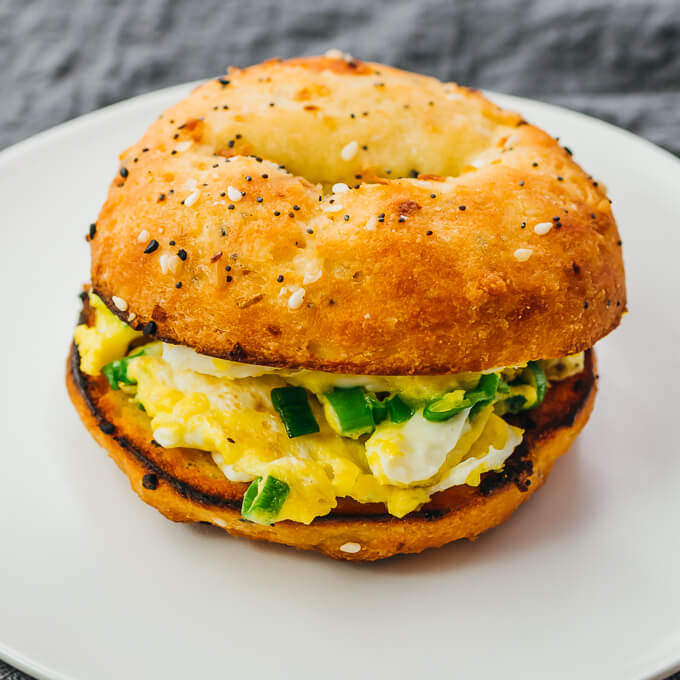 NOTES & TIPS
(1) Mozzarella Cheese. About 6 ounces weight. I use a pre-shredded bag of low-moisture part-skim cheese, which means the cheese has been dried out for a longer shelf life and better browning ability. Mozzarella plays an important role in achieving a dough with the proper texture, so I don't recommend substituting with other types of cheese.
(2) Almond Flour. About 4 ounces weight. I use almond flour that is blanched, which means the skins are taken off of the almonds, so the resulting flour looks white. I generally don't recommend substituting with other flours because they vary in their absorbency, but one reader (Brittani) got good results using 1/2 cup coconut flour instead.
(3) Seasoning Mix. This is a homemade "everything bagel' seasoning, which is used as a topping and added to the dough. You can replace it with 2 tablespoons of your favorite seasoning, homemade or store-bought, or omit it completely for plain bagels.
(4) Microwaving Mixture. The mixture should be heated enough that it can be easily stirred into a cohesive dough — see step-by-step photos to get an idea of what it should look like. The microwave cooking time is based on a 700-watt microwave operating at 100% power, and is approximate since microwaves vary.
(5) Serving. Serve these bagels like you would any regular bagel. Use a toaster or toast the bagel halves on a hot skillet. They're delicious when slathered with a cream cheese spread or topped with guacamole or avocado slices (think avocado toast!). Since the "everything bagel" seasoning flavor is very prominent, skip the seasoning mix and make plain bagels if you plan on using peanut butter, a fruity jam (like low carb blueberry jam), or more delicate flavors. You can also make a bagel sandwich using a filling like scrambled eggs and scallions, avocado egg salad, or smoked salmon and cream cheese.
(6) Storage. Let the bagels cool completely at room temperature, then store in a covered container or resealable bag in the refrigerator. For best results, enjoy within a few days. To reheat, cut each bagel in half, and place the halves in a toaster or on a skillet over medium heat for 5 minutes or until heated through.