Summary:
This thick and creamy soup is a hearty but low calorie meal made in a pressure cooker. Red peppers, basil, and thyme add complexity to the flavors. The acidity of the tomatoes is well-balanced by the sweetness of the carrots.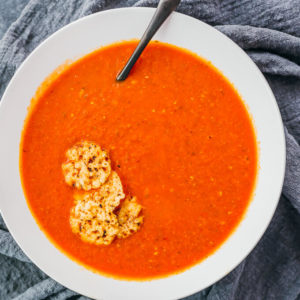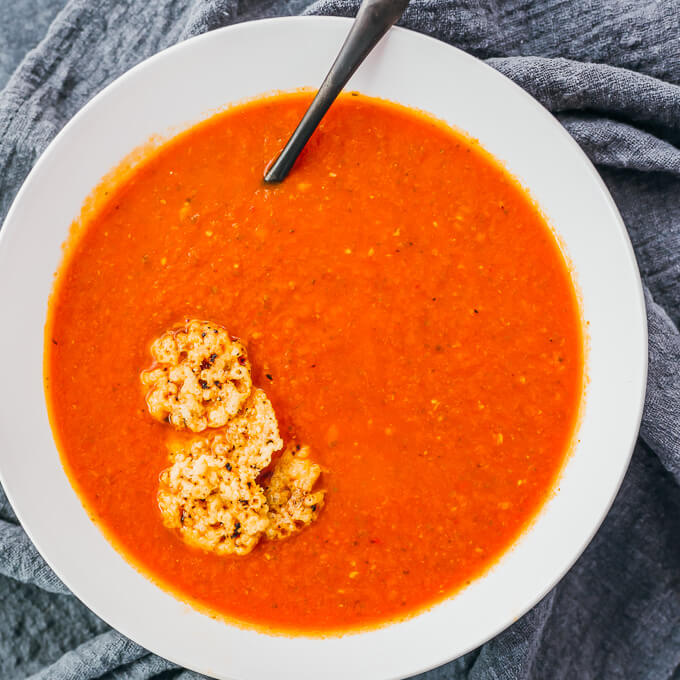 Instant Pot Tomato Soup
Natural Release:
10

minutes
INSTRUCTIONS
Sauté: Select sauté mode on pressure cooker (Note 6) for medium heat. Once heated, add butter to grease bottom of pot. Add onions, carrots, salt, thyme, and red pepper flakes. Stirring frequently, cook until vegetables are starting to brown, about 10 minutes. Stir in basil until wilted, about a minute. Turn off sauté mode.

Pressure Cook: Add crushed tomatoes, drained red peppers, and water to pot, stirring together. Secure and seal lid. Cook for 5 minutes at high pressure, followed by 10-minute natural release. Manually release remaining pressure by gradually turning release knob to venting position.

Blend: Uncover pot. Use immersion blender (Note 7) to blend tomato mixture until thick and very smooth, or pour into tabletop blender for same effect.

Serve: Gradually stir in parmesan cheese until melted. Optionally, season with additional salt to taste. Serve while warm (Note 8).
NUTRITION
Makes 7 Servings
Amount Per Serving (1 cup):
| | |
| --- | --- |
| Calories 110 (35% from fat) |   |
| Total Fat 4g | 7% |
|    Saturated Fat 3g | 16% |
| Cholesterol 14mg | 5% |
| Sodium 770mg | 32% |
| Net Carb 8.5g |   |
| Total Carb 11g | 4% |
|    Dietary Fiber 2.5g | 11% |
|    Sugars 4g |   |
| Protein 5g |   |
PHOTOS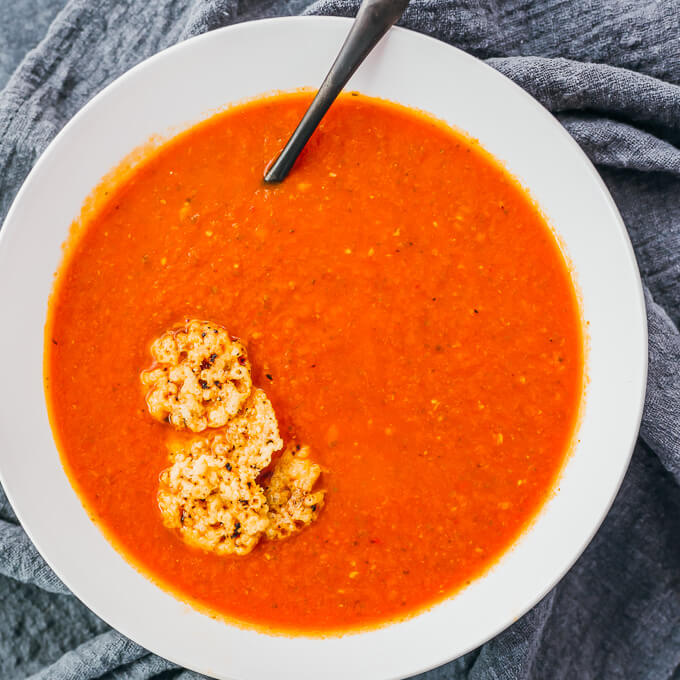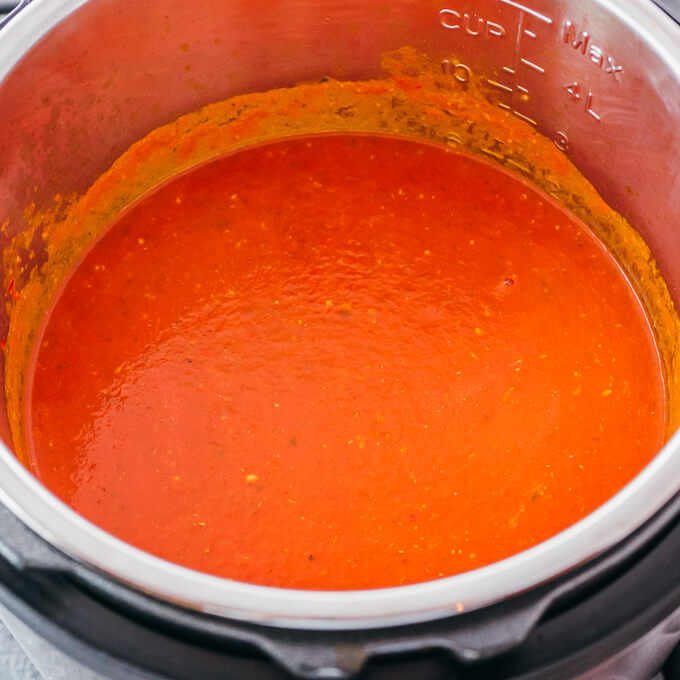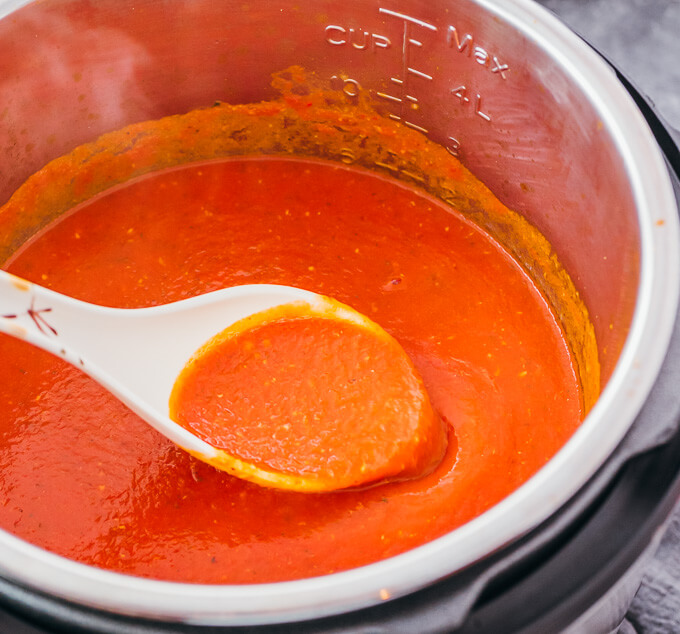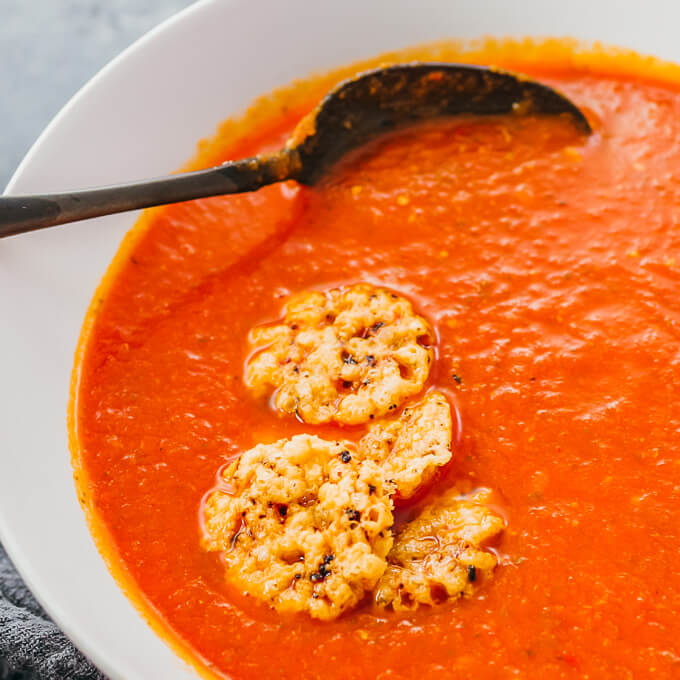 NOTES & TIPS
(1) Basil. About 1.5 ounces weight of fresh basil leaves.
(2) Water. I use water instead of broth because most commercial broths are just salt and additives that contribute little flavor. However, if you have homemade stock, that would be a great substitution for water.
(3) Parmesan Cheese. This is finely grated parmesan that has a sandy or almost powdery texture, not shredded, often available in pre-grated bags in the refrigerated section of U.S. grocery stores. This can be substituted with similar cheeses like pecorino romano or asiago.
(4) Dried Thyme. This amount is for powdered dry thyme, not whole leaves.
(5) Crushed Red Pepper. This adds a bit of heat, and can be adjusted accordingly or substituted with your favorite spice. I use a very mild amount, but it can be omitted entirely.
(6) Pressure Cooker. I use a 6-quart Instant Pot. You can use a different size of electric pressure cooker as long as all ingredients fit within the maximum capacity line.
(7) Blender. An immersion blender is convenient for making puréed soups like this. If you don't have one, pour the soup into a large countertop blender and blend for the same effect. Make sure that your blender is safe for use with hot liquids.
(8) Serving. Serve in bowls, optionally topping with extra fresh basil. Pair with low carb sides like homemade parmesan crisps or almond flour crackers, or higher carb options like croutons, grilled cheese, baked potato, or crusty bread.