Summary:
Ultra thin and super crunchy, these Parmesan Cheese Crisps can be easily made at home with just 2 ingredients. You can enjoy these low carb chips as a standalone snack, dipped in sauces, or crumbled over salads and soups.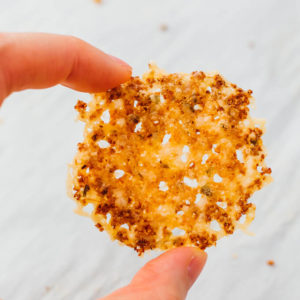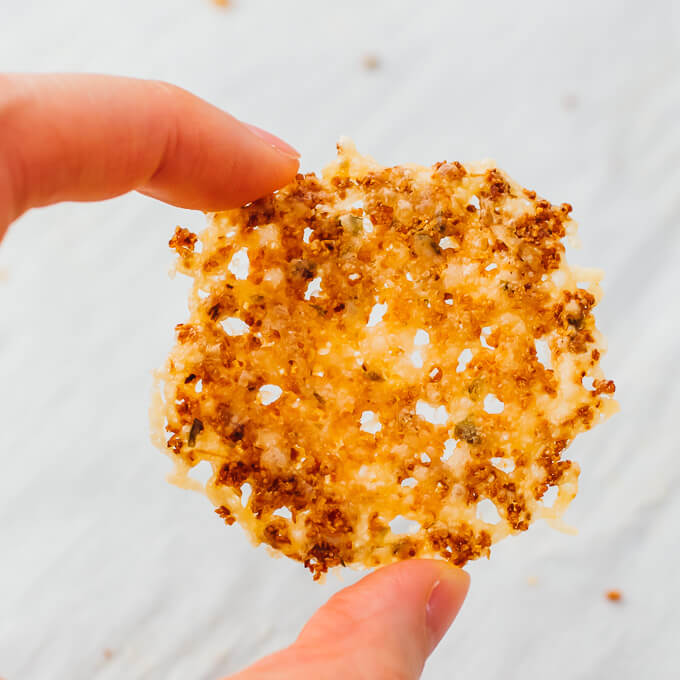 INSTRUCTIONS
Make Cheese Mixture: Grate parmesan cheese, ending up with 1/2 to 2/3 cup of grated cheese. Use fork to stir grated cheese with garlic powder in bowl until well-mixed.

Form Crisps: Scoop slightly less than 1 tablespoon of cheese mixture onto lined baking sheet. Loosely shape into flat 2-inch circle. Repeat until mixture is used up, yielding about 12 crisps, spaced about 1 inch apart on baking sheet.
NUTRITION
Makes 2 Servings
Amount Per Serving (6 parm crisps):
| | |
| --- | --- |
| Calories 90 (51% from fat) |   |
| Total Fat 5g | 8% |
|    Saturated Fat 3g | 17% |
| Cholesterol 14mg | 5% |
| Sodium 250mg | 10% |
| Net Carb 2.5g |   |
| Total Carb 3g (Note 7) | 1% |
|    Dietary Fiber 0.5g | 1% |
|    Sugars 0.5g |   |
| Protein 8g |   |
PHOTOS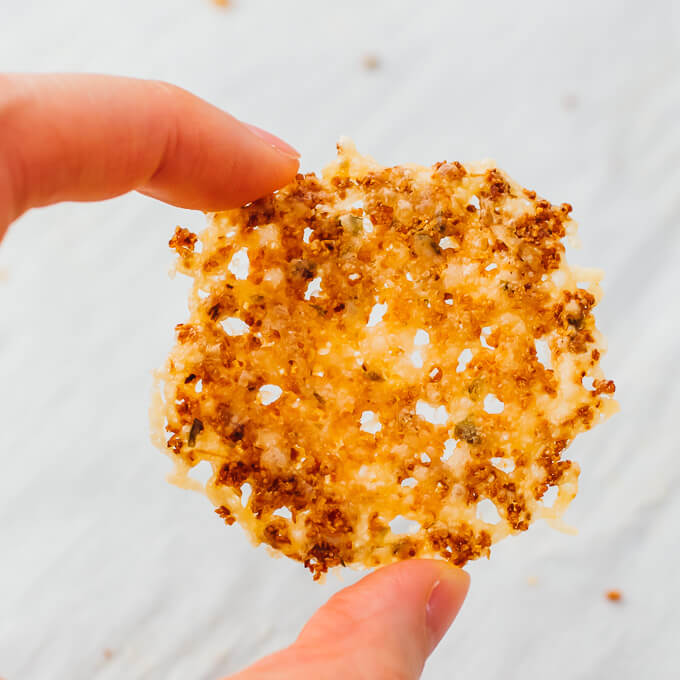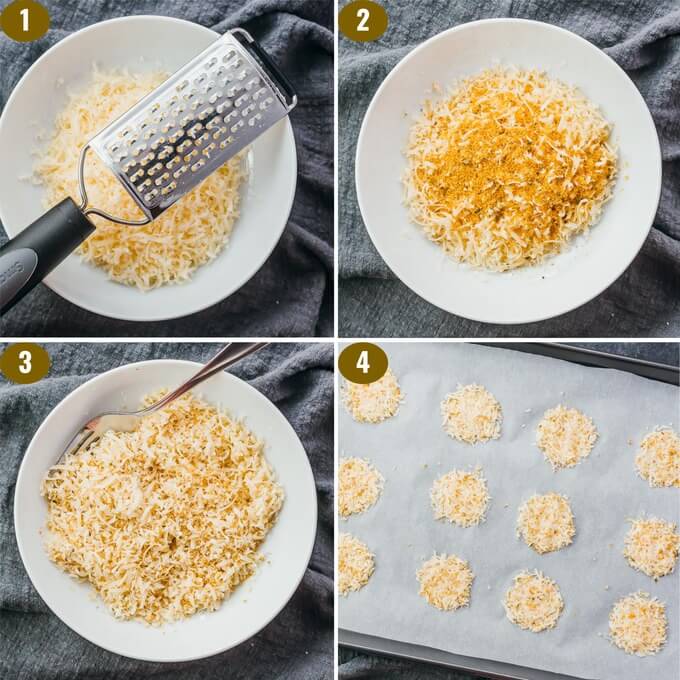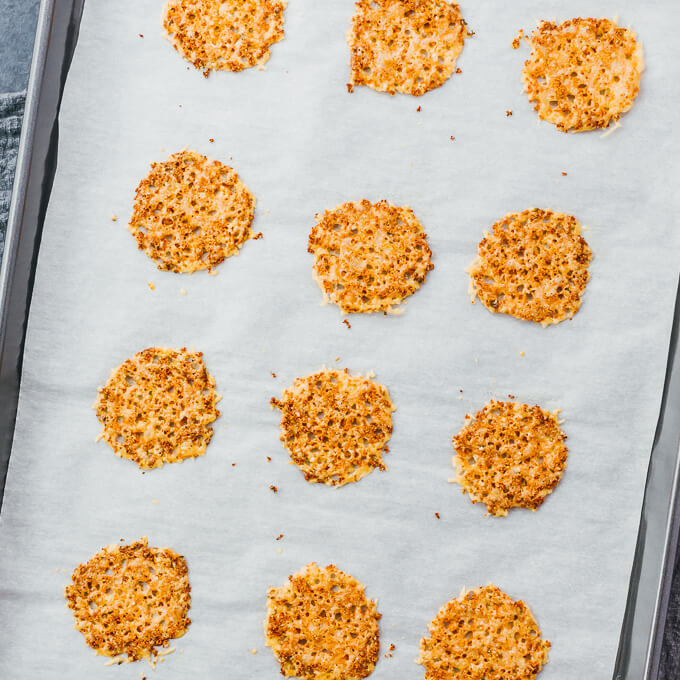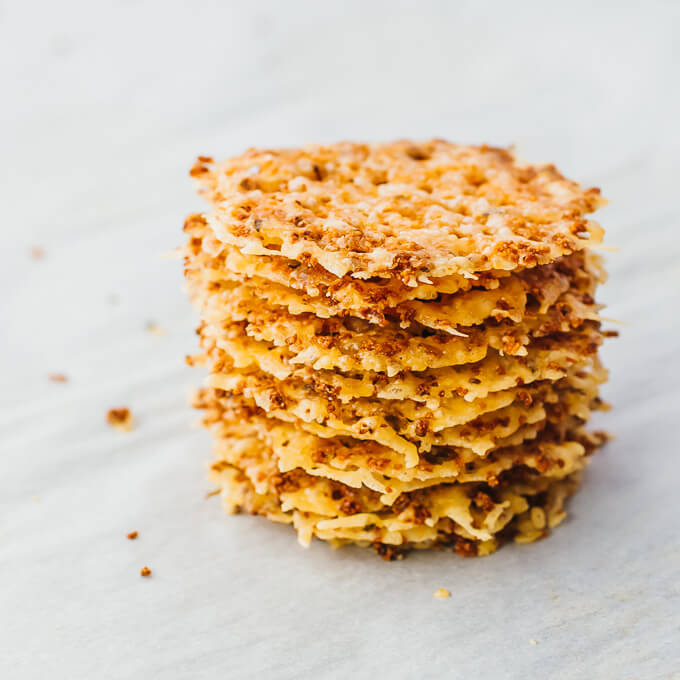 NOTES & TIPS
(1) Parmesan Cheese. I use fresh cheese that comes tightly wrapped in plastic (in wedge or block form), not a bag of pre-grated cheese. I haven't tested with other cheeses, but I expect asiago, cheddar, and pepperjack will also work well.
(2) Garlic Powder. I use a garlic powder blend that includes dried parsley. If you don't want garlic flavored cheese crisps, you can try other flavors: sea salt with coarsely ground black pepper, everything bagel seasoning, dry minced onion, crushed red pepper, dried rosemary, dried basil, or dried oregano. For plain parmesan crisps, skip the seasoning entirely.
(3) Baking Sheet Lining. I recommend using a nonstick surface to line the baking sheet, such as parchment paper or a silicone baking mat. With a nonstick lining, the cheese crisps will slide right off after baking. You may have a hard time without a nonstick surface. Note that wax paper is not the same as parchment paper, and shouldn't be used in the oven.
(4) Baking Time. When the cheese bakes, it will bubble as it releases steam. The crisps are done when the bubbling activity drops noticeably, indicating that much of the liquid content has been simmered off. That means they're getting dry and crisp, and you should remove them from the oven at that point. My oven takes 7 to 8 minutes, and I usually bake closer to 8 minutes because I prefer an extra crispy texture. Plus, the garlic flavor becomes more pronounced — almost a bit charred — which I really like. Depending on your taste preferences and your particular oven, you may want to experiment with shorter or longer baking times. If the crisps do not come out as crispy as you'd like, increase the baking time by 1 minute. The longer you bake, the crisper they will get. Be careful that you don't burn them.
(5) Serving. Serve parmesan crisps as a standalone low carb snack, or dip them into guacamole, tomato salsa, salsa verde, artichoke spinach dip, or crab dip. You can also crumble them over low carb salads and soups, such as tomato basil soup or broccoli cheddar soup.
(6) Leftovers. After the crisps have fully cooled, store any leftovers in an airtight container or resealable bag at room temperature for up to 3 days.
(7) Carbs In Cheese. Cheese is a popular snack and ingredient for many people on a keto diet. Although not zero carb (i.e., cheese isn't pure protein and/or fat), cheese is generally low in carbs but varies depending on the type. Manufacturer nutrition labels often include rounding, so even if the label says 0 carbs, it doesn't mean it has zero carbs (heavy whipping cream is another example). According to the USDA's basic nutrient report, parmesan cheese has 0.91 grams of total carbs and 0g of fiber per 1 ounce serving. So while any cheese-based snack is certainly low in carbs, don't be fooled into thinking it's a no carb snack.