Summary:
Whether you're looking to bake or grill, this is an all-purpose marinade recipe that works for chicken breasts, thighs, or other cuts. It's easy to make this at home with some basic ingredients like olive oil, lemon juice, and simple seasonings.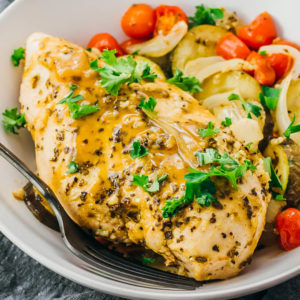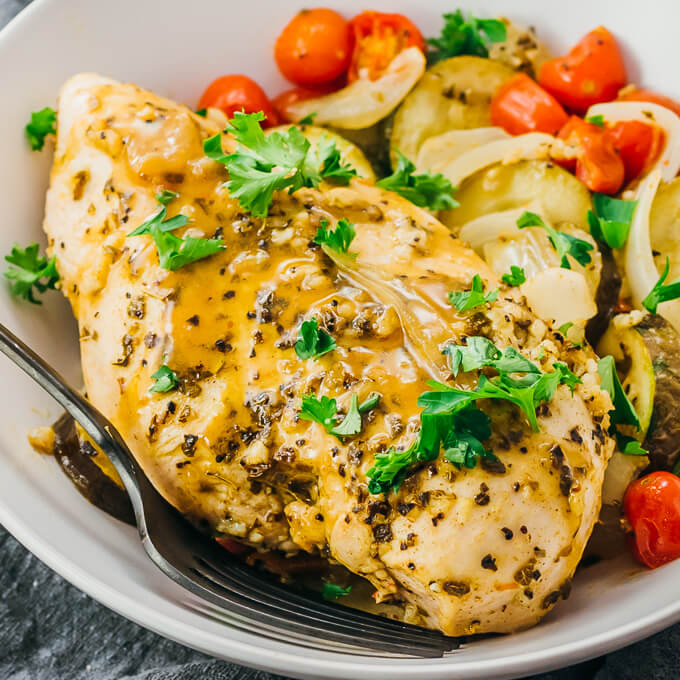 INGREDIENTS
1 to 1.5

pounds

chicken breasts, thighs, or other cuts (Note 1)
Marinade:
1/4

cup

olive oil

1/4

cup

fresh lemon juice (Note 2)

5

cloves

garlic, minced

1

teaspoon

dried oregano

1

teaspoon

ground thyme

1/2

teaspoon

table salt

1/2

teaspoon

ground black pepper
INSTRUCTIONS
Prep Chicken: If moist, pat chicken dry with paper towels to avoid diluting marinade. Optionally, use fork to pierce chicken on all sides to increase marinade coverage. Place chicken in resealable bag or shallow dish (Note 3).

Prep Marinade: Stir all marinade ingredients in bowl until well-mixed. Pour marinade over chicken in resealable bag or shallow dish, arranging chicken so it's coated with marinade on all sides.
NUTRITION
Makes 2 Servings (Note 7)
Amount Per Serving:
| | |
| --- | --- |
| Calories 500 (55% from fat) |   |
| Total Fat 31g | 47% |
|    Saturated Fat 5g | 23% |
| Cholesterol 132mg | 44% |
| Sodium 730mg | 30% |
| Net Carb 3.5g |   |
| Total Carb 4g | 1% |
|    Dietary Fiber 0.5g | 2% |
|    Sugars 1g |   |
| Protein 52g |   |
PHOTOS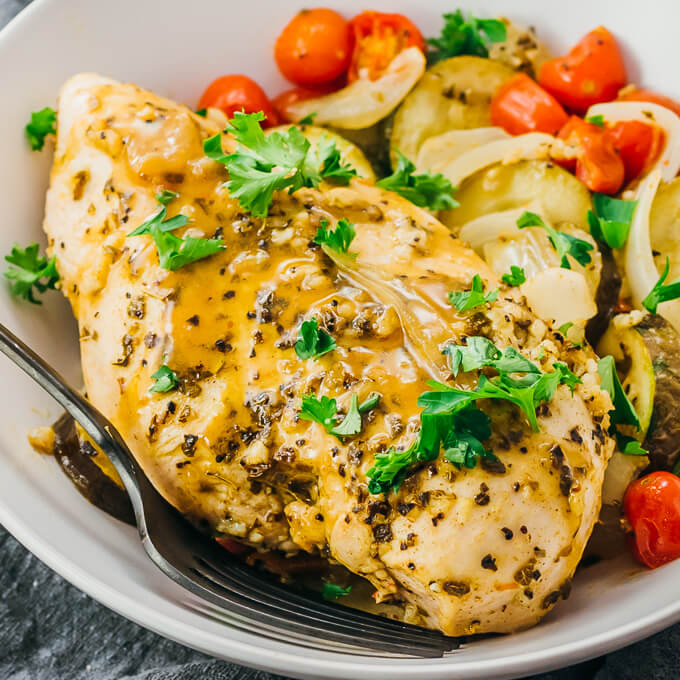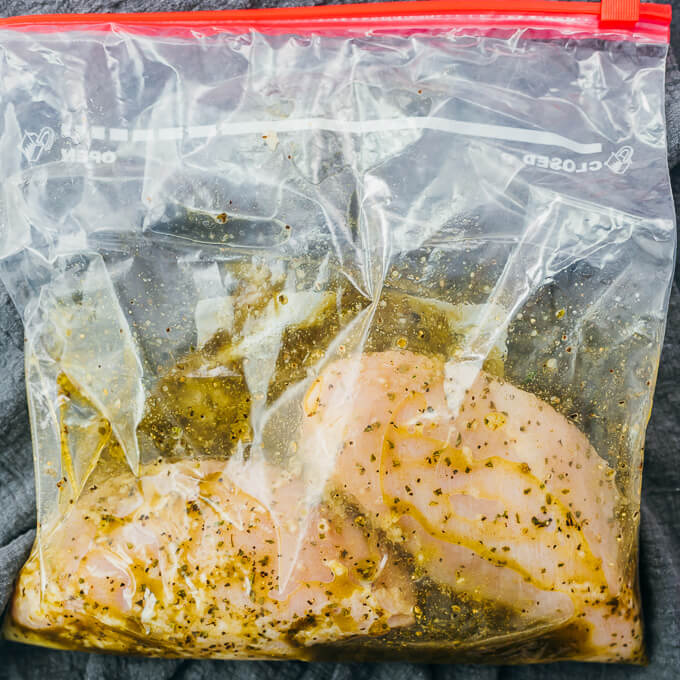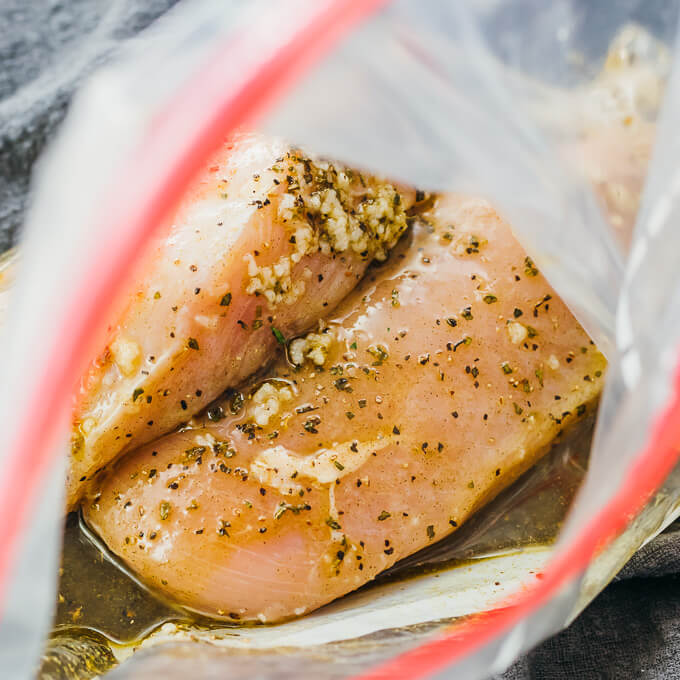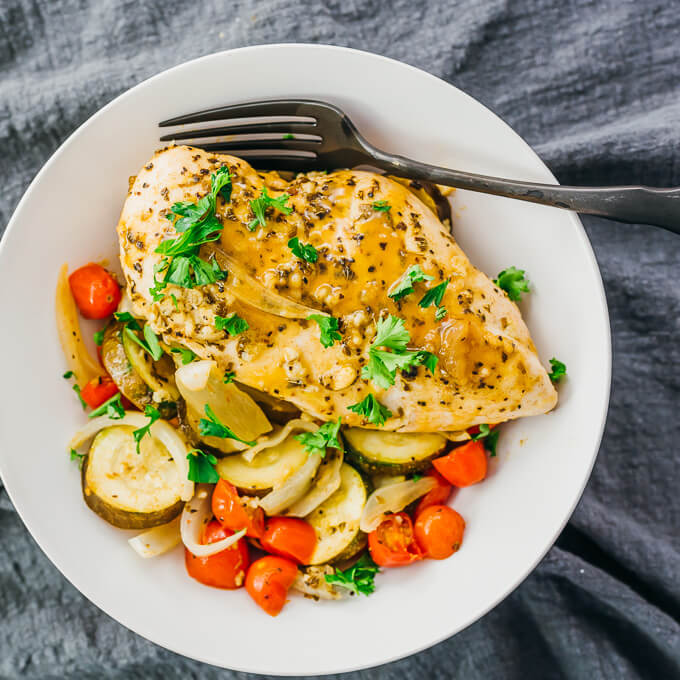 NOTES & TIPS
(1) Chicken. I use fresh whole chicken breasts that are boneless and skinless, but thighs or other chicken cuts will also work well. You can also use pre-cut chicken like chicken breast halves, chicken tenders, or chicken cutlets. Since chicken types differ in size and thickness, the cooking time will vary substantially depending on the cut. This marinade's sister recipe — Baked One-Pot Chicken & Vegetables — assumes you are using fresh, whole, boneless skinless chicken breasts.
(2) Lemon Juice. This can be substituted with your favorite vinegar, such as balsamic vinegar or red wine vinegar.
(3) Resealable Bag vs. Dish. I prefer using a resealable bag instead of a dish for holding the chicken and marinade. A bag can easily mold to the shape of the chicken and provide better marinade coverage, whereas a dish often means that one side of the chicken isn't fully exposed to the marinade. A resealable bag also means less cleanup.
(4) Marinating Time. Avoid marinating longer than 24 hours. This marinade's acidic component (lemon juice) can break down the meat's muscle fibers such that the meat's texture becomes mushy.
(5) Baking. Make baked chicken by following this Baked One-Pot Chicken Recipe (shown in photos on this page), which re-purposes the marinade to form a flavorful sauce that goes on top of the chicken. The chicken is baked alongside vegetables like tomatoes, onions, and zucchini for a complete meal. It takes about 45 minutes at 400 F for baking whole boneless and skinless chicken breasts.
(6) Grilling. Using a preheated grill, it takes about 10 minutes (flipping halfway) for chicken breasts until you get nice sear marks and it's cooked through. This is great for summer cookouts, and you can use the grilled chicken for fajitas, kabobs, salads, and casseroles. Serve with side dishes like strawberry salad, low carb fried zucchini coins, or a quick coleslaw.
(7) Nutrition. The calculation includes both the chicken and the marinade ingredients listed in the recipe. This recipe is suitable for a variety of diets, including low carb, keto, and paleo. Most of the carbs comes from the lemon juice and garlic, and to a lesser extent, spices like oregano and thyme.