Summary:
This is a fabulous all-purpose chicken marinade recipe, whether you're looking to bake, grill, or BBQ. It works for both breasts and thighs, and has delicious Greek inspired flavors. It's very easy to make, and is suitable for a range of healthy diets including low carb, keto, and paleo.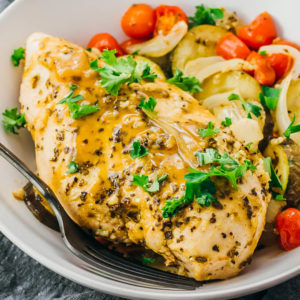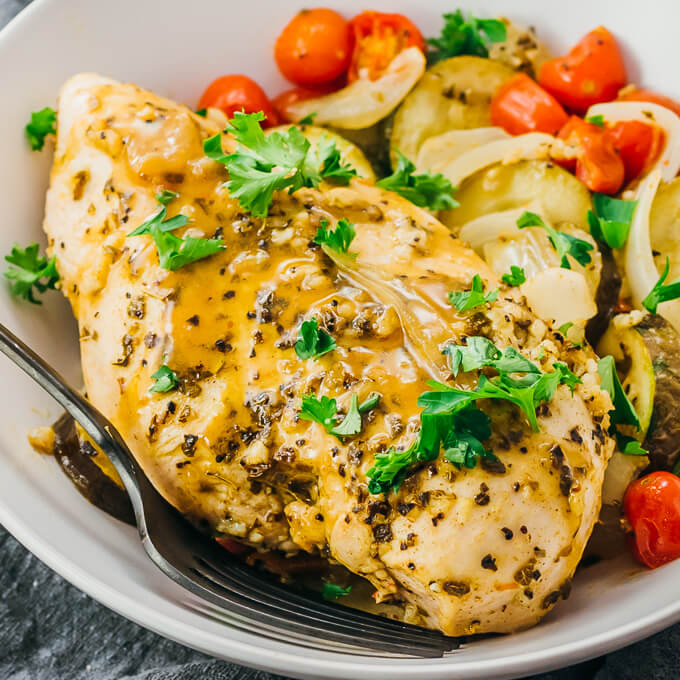 INGREDIENTS
2

boneless skinless chicken breasts (1 – 1 1/2 pounds total)

or thighs
Marinade:
1/4

cup

olive oil

1/4

cup

fresh lemon juice

5

cloves

garlic

minced

1

teaspoon

dried oregano

1

teaspoon

ground thyme

1/2

teaspoon

salt

1/2

teaspoon

black pepper
INSTRUCTIONS
Use paper towels to pat the chicken breasts dry. In a bowl, add all marinade ingredients and stir until mixed.

In a resealable bag or shallow dish, add chicken and marinade. Arrange the chicken breasts so they're coated with the marinade on all sides.

Marinate in the refrigerator for at least 1 hour.

Use the marinated chicken to make baked Greek Chicken. See "What To Do With Marinated Chicken" section below.
NUTRITION
Makes 2 Servings
Amount Per Serving:
| | |
| --- | --- |
| Calories 500 (55% from fat) | |
| Total Fat 31g | 47% |
| Saturated Fat 5g | 23% |
| Cholesterol 132mg | 44% |
| Sodium 730mg | 30% |
| Net Carb 3.5g | |
| Total Carb 4g | 1% |
| Dietary Fiber 0.5g | 2% |
| Sugars 1g | |
| Protein 52g | |
Tips For Marinating Chicken
This marinade is designed for about 1 to 1 1/2 pounds of chicken. You can use either breasts or thighs, and they should be boneless and skinless. Pat the chicken dry with paper towels before marinating, to avoid diluting the marinade.
I prefer using a resealable bag instead of a dish for holding the chicken and marinade. A bag can easily mold to the shape of the chicken and provide better coverage, whereas a dish often means that one side of the chicken isn't fully exposed to the marinade. A resealable bag also means less cleanup.
Marinate for at least 1 hour and up to a few hours in the refrigerator. Avoid marinating too long — you'll run the risk of mushy chicken when acid in the marinade begins to break down the meat.
What To Do With Marinated Chicken
Here are two popular ways to cook marinated chicken for various uses:
Grilled Chicken. Fire up the grill to make grilled chicken, which can be used in chicken fajitas, salads, kabobs, and casseroles. This is great for summertime barbeques. Using a preheated grill, it takes about 10 minutes (flipping halfway) for chicken breasts until you get nice sear marks and it's cooked through.
Baked Chicken. Baking is another great option. I recommend making Greek Chicken (pictured below), which uses this marinade along with cherry tomatoes, onions, and zucchini. It's a wonderfully comforting dinner. It takes about 45 minutes at 400 F for boneless and skinless chicken breasts.
More Delicious Chicken Recipes