Summary:
This versatile sauce adds quick flavor to any low carb meal, whether you use it as a sauce, dip, or spread. Although pesto is typically made with basil, you can substitute some or all of it with herbs or other vegetables that you have on hand.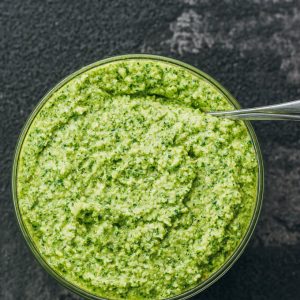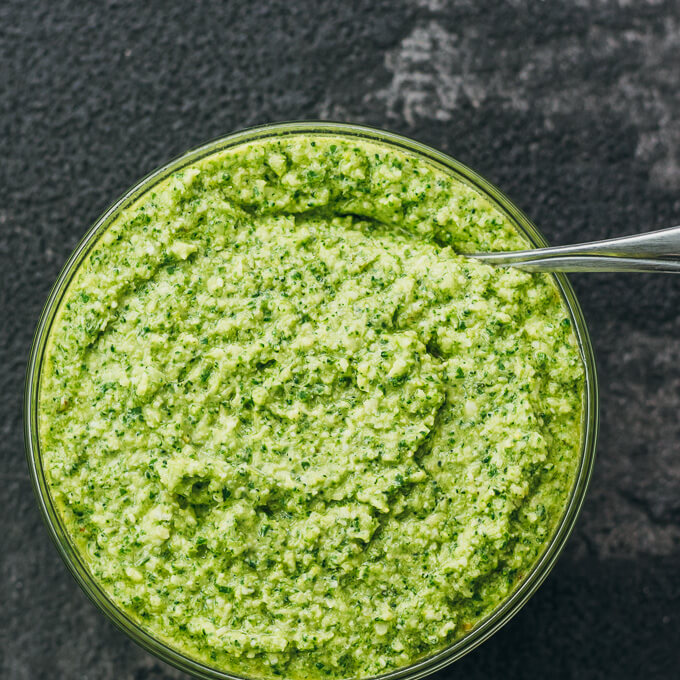 INGREDIENTS
INSTRUCTIONS
Process Pesto: Process all ingredients in food processor (Note 6) until smooth, pausing occasionally to scrape down sides of bowl.
NUTRITION
Makes 5 Servings
Amount Per Serving (1/2 cup):
| | |
| --- | --- |
| Calories 440 (92% from fat) |   |
| Total Fat 44g | 68% |
|    Saturated Fat 7g | 36% |
| Cholesterol 8mg | 3% |
| Sodium 320mg | 13% |
| Net Carb 4g |   |
| Total Carb 6g | 2% |
|    Dietary Fiber 2g | 9% |
|    Sugars 2g |   |
| Protein 7g |   |
PHOTOS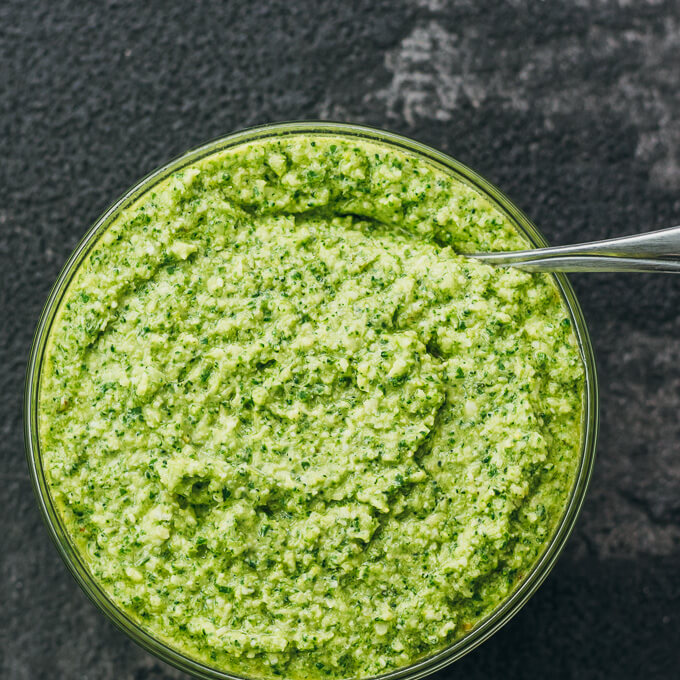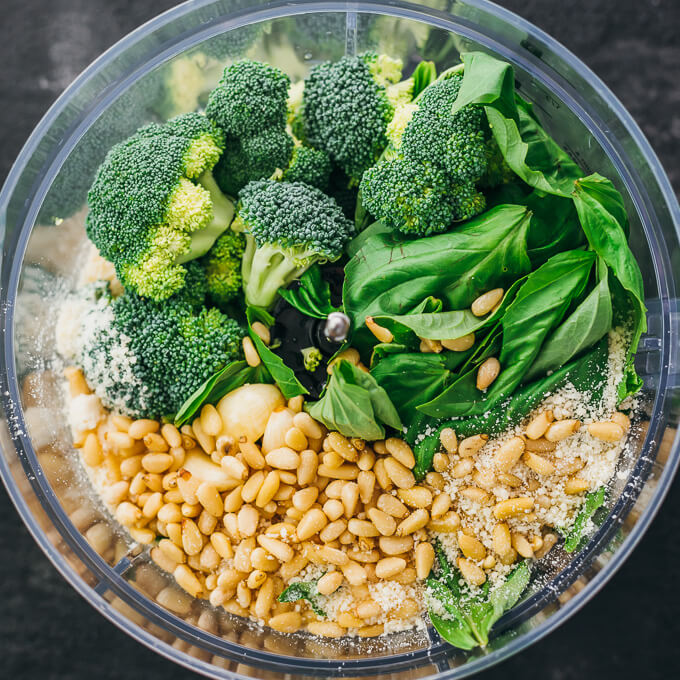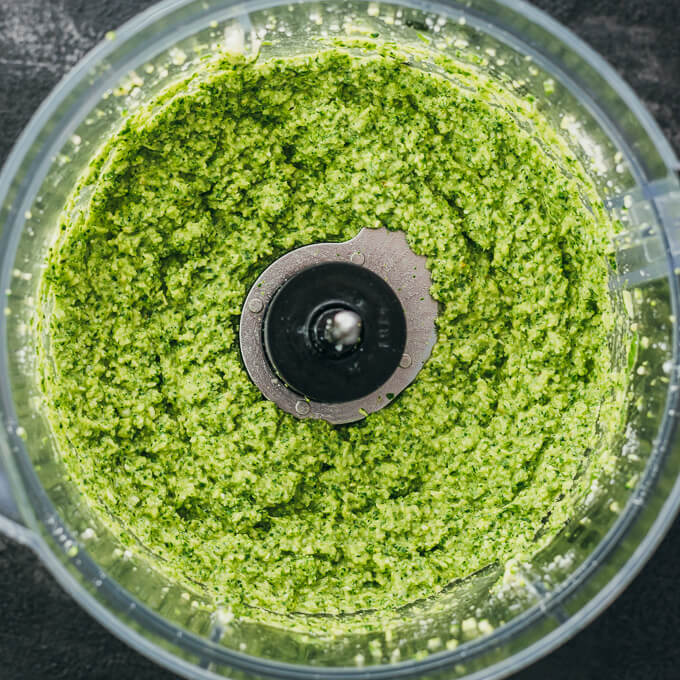 NOTES & TIPS
(1) Broccoli. About 10 ounces weight. I use broccoli because it lends a fresh, earthy, and richer taste than pesto made with only basil. This can be substituted with other fresh vegetables and herbs (or a mix of them) like basil, spinach, kale, arugula, garlic scapes, cilantro, carrot tops, parsley, ramps, or mint.
(2) Basil. About 1.5 ounces weight. Pesto is traditionally made with basil, but you can substitute some or all of it with other vegetables and herbs (see Note 1 above).
(3) Parmesan Cheese. About 2 ounces weight. I use finely grated parmesan that has a sandy or almost powdery texture (not shredded), available in pre-grated bags in the refrigerated section of U.S. grocery stores. This can be substituted with similar cheeses like pecorino romano or asiago.
(4) Pine Nuts. You can substitute with sunflower seeds, pistachios, almonds, or walnuts. As expected, the flavor is going to be a little different than if you used pine nuts, but the resulting pesto will still taste great.
(5) Lemon Juice. This is about 1 large lemon's worth of juice.
(6) Food Processor. I recommend using a large capacity food processor for the job — I use a 14 cup bowl which fits all of the ingredients. If you have a smaller food processor, simply process in batches until the volume has decreased sufficiently to mix everything together. The recipe yields 2.5 to 3 cups of pesto sauce, so your food processor needs to be at least that size, plus room to mix. If you don't want to make that much pesto, you can proportionally halve the ingredients.
(7) Uses For Pesto. Pesto can be used room temperature, cold, or heated. It can be a spread for low carb pizza, a topping for pan-seared salmon or other fish, or a pasta sauce for zucchini or spaghetti squash "noodles." It can also be used as a dip or salad dressing. I love pairing it with quick skillet dinners to provide a burst of flavor, like pesto shrimp over cauliflower mash.
(8) Storage. Store pesto in the refrigerator for up to 4 days, or in the freezer for long term storage. Pesto will darken over time; you can avoid this by covering the surface of the pesto with some olive oil. If freezing, you can freeze pesto individually in ice cube trays, making it convenient to grab a small amount as needed (1 ice cube is about 2 tablespoons). Once frozen, you can transfer the pesto cubes to a resealable bag. Alternatively, you can scoop pesto onto a baking sheet, spread the sauce to about 1/4 inch thick, and freeze. When you need some pesto, you can break off a small piece and it will defrost quickly since it's very thin.
(9) Flavor Additions. This recipe is very forgiving and you can mix in extra ingredients you may have on hand, like jalapeños, sun-dried tomatoes, or avocado.