Summary:
This is a homemade pesto recipe using broccoli florets and basil leaves, one of my favorite low carb/keto friendly sauces and dips.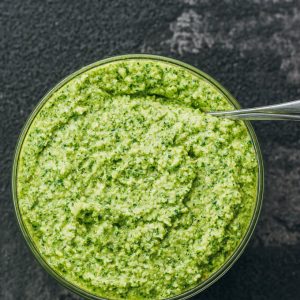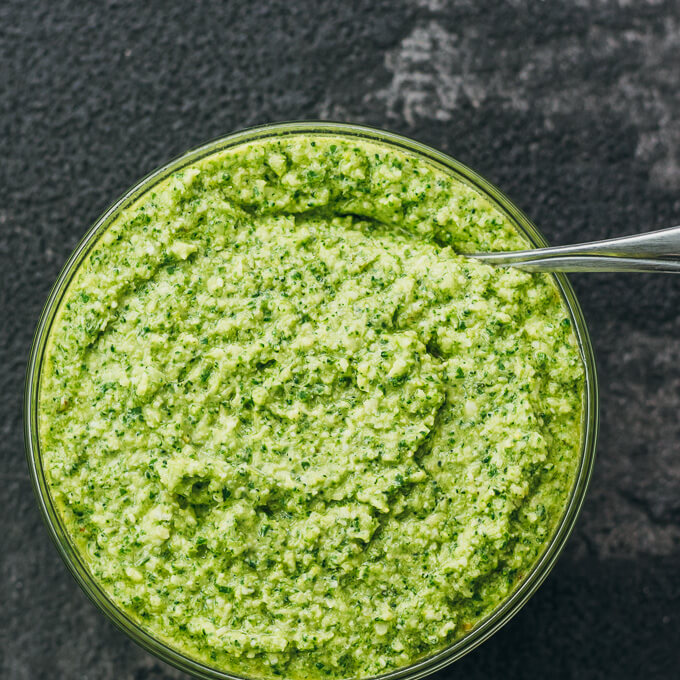 INGREDIENTS
5

cups

broccoli florets (10 ounces weight)

2

cups packed

fresh basil leaves (1.5 ounces weight)

1/2

cup

grated parmesan cheese (2 ounces weight)

5

cloves

garlic

1/2

cup

pine nuts

3/4

cup

olive oil

3

tablespoons

lemon juice

about 1 large lemon

1/2

teaspoon

salt
INSTRUCTIONS
Process the ingredients until smooth, pausing occasionally to scrape down the sides of the bowl.

Cover and refrigerate until ready to use.
NUTRITION
Makes 5 Servings
Amount Per Serving:
| | |
| --- | --- |
| Calories 440 (92% from fat) | |
| Total Fat 44g | 68% |
| Saturated Fat 7g | 36% |
| Cholesterol 8mg | 3% |
| Sodium 320mg | 13% |
| Net Carb 4g | |
| Total Carb 6g | 2% |
| Dietary Fiber 2g | 9% |
| Sugars 2g | |
| Protein 7g | |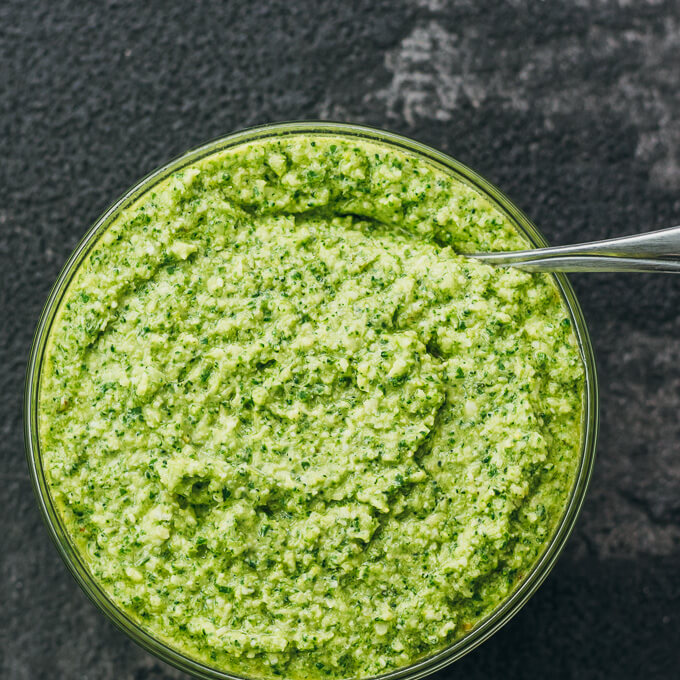 If you're a pesto fan, you will love this homemade broccoli pesto with fresh basil, parmesan cheese, garlic cloves, pine nuts, olive oil, and lemon juice. This is absolutely my favorite pesto recipe, and it has a stronger and richer flavor than your typical basil pesto. The broccoli (all ten ounces of it) lends a fresh and earthy taste that never fails to remind me of summer, even as I'm writing this on a cold day.
If you've made homemade pesto before, you'll know that making your own pesto is easy and all you need to do is whiz together a bunch of ingredients in a food processor. After that, you can use the sauce right away or you can refrigerate or freeze for later. I definitely recommend that you give this a try, especially if you love pesto sauces but you're looking for something a bit different.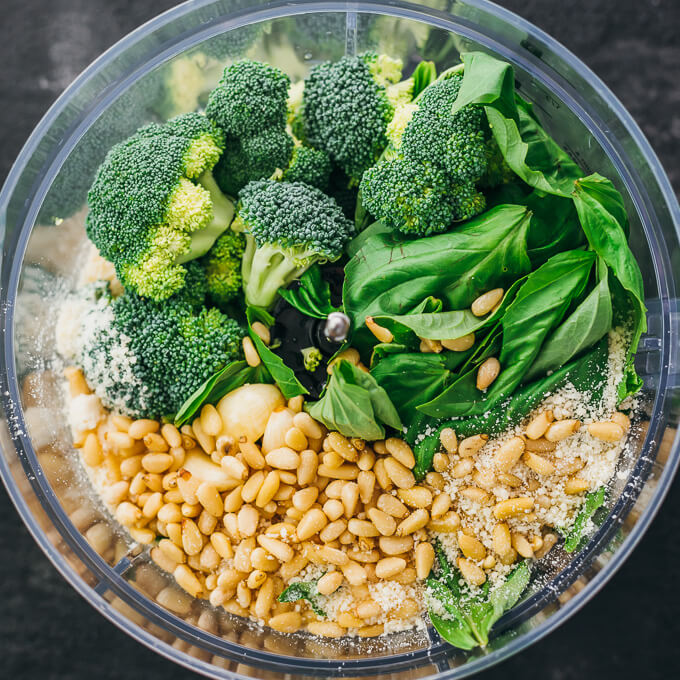 I first started making homemade broccoli pesto several years ago. Since then, I've made some tweaks to my original recipe — adding a larger proportion of broccoli and cheese, and more pine nuts and lemon juice. The proportion of broccoli to basil in this recipe is roughly 10:1 in weight, resulting in a strong flavor that's refreshing to taste. When I have fresh jalapeños in my garden, I also don't hesitate in tossing in one or two peppers for a spicy zing.
I recommend using a large capacity food processor for the job — I use a 14 cup bowl which fits all of the ingredients. If you have a smaller food processor, simply process in batches until the volume has decreased sufficiently to mix everything together. The recipe yields 2.5 to 3 cups of pesto sauce, so your food processor needs to be at least that size, plus room to mix. If you don't want to make that much pesto, you can halve the ingredients.
Pine nuts are my preference for pesto, but you can also substitute with sunflower seeds, pistachios, almonds, or walnuts. As expected, the flavor is going to be a little different but will still taste great. I found a great deal for a large 24 oz bag of pine nuts at Costco — I refrigerate them so they last longer, and I use as needed.
There are endless ways to use this broccoli pesto sauce. Here are a few ideas:
as a pasta sauce for zucchini noodles, spaghetti squash noodles, or regular wheat pasta
as a sauce for sandwiches; my favorite is a pesto jack pastrami sandwich without the buns
as a topping for salmon and other fish
as a spread for flatbread or pizza
as a salad dressing
as a dip
Pesto leftovers can be frozen. You can freeze them individually in ice cube trays, so that you can easily grab a small amount as needed (1 ice cube is about 2 tablespoons pesto). Once frozen, you can transfer the pesto cubes to a zip-top bag. Alternatively, you can scoop pesto onto a baking sheet, spreading the sauce about 1/4 inch thick, and freeze. When you need some pesto, you can break off a small piece and it will defrost quickly since it's very thin.
Pesto will darken in color when stored in the refrigerator or freezer. I don't mind it, but if you do, simply cover the top layer with some olive oil to keep the surface from changing color.