Summary:
This is a fast 30-minute dinner for pesto shrimp and peas, served over a simple low carb cauliflower mash. The shrimp is coated with pesto and cooks in just minutes on the stovetop, and the cauliflower mash comes together effortlessly by stirring together riced cauliflower and cheese.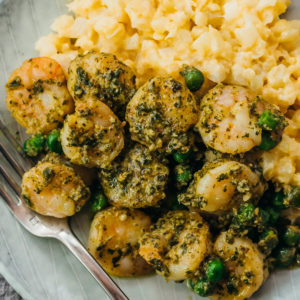 INSTRUCTIONS
Make Cauliflower Mash: Cook cauliflower rice in medium saucepan (Note 5) over medium heat until tender, stirring frequently, about 5 minutes (Note 6). Stir in cheddar, parmesan, and cream cheese until completely melted and incorporated, a few minutes. Taste and adjust, adding more cheese to thicken if desired (Note 7). Reduce to low heat to keep warm while you proceed to next step.

Cook Shrimp: Stir pesto in large skillet (Note 8) over medium heat until hot, a few minutes. Add shrimp and peas, stirring to coat with pesto. Increasing heat as needed, cook until shrimp is pink and no longer raw, flipping occasionally, a few minutes. Turn off heat.

Serve (Note 9): Divide cauliflower mash and pesto shrimp among serving plates. If desired, use slotted spoon while transferring shrimp so that any excess liquid in skillet is left behind.
NUTRITION
Makes 3 Servings
Amount Per Serving (2.5 cups):
| | |
| --- | --- |
| Calories 520 (64% from fat) |   |
| Total Fat 37g | 57% |
|    Saturated Fat 8g | 42% |
| Cholesterol 167mg | 56% |
| Sodium 1120mg | 47% |
| Net Carb 7g |   |
| Total Carb 13g | 4% |
|    Dietary Fiber 6g | 24% |
|    Sugars 5g |   |
| Protein 37g |   |
PHOTOS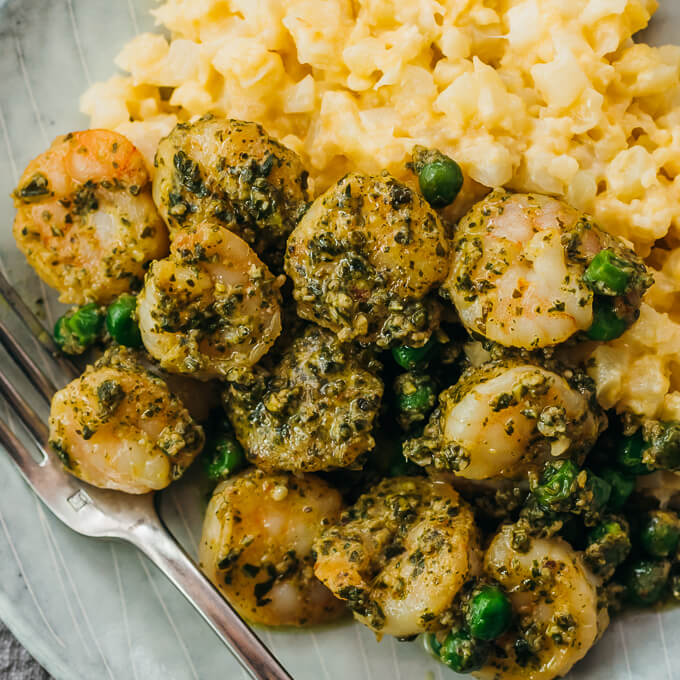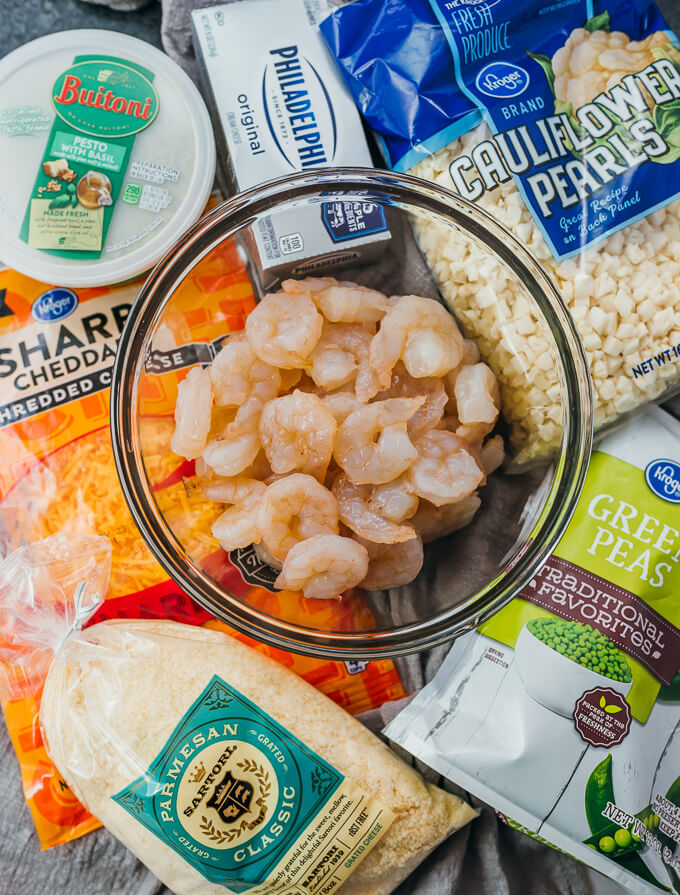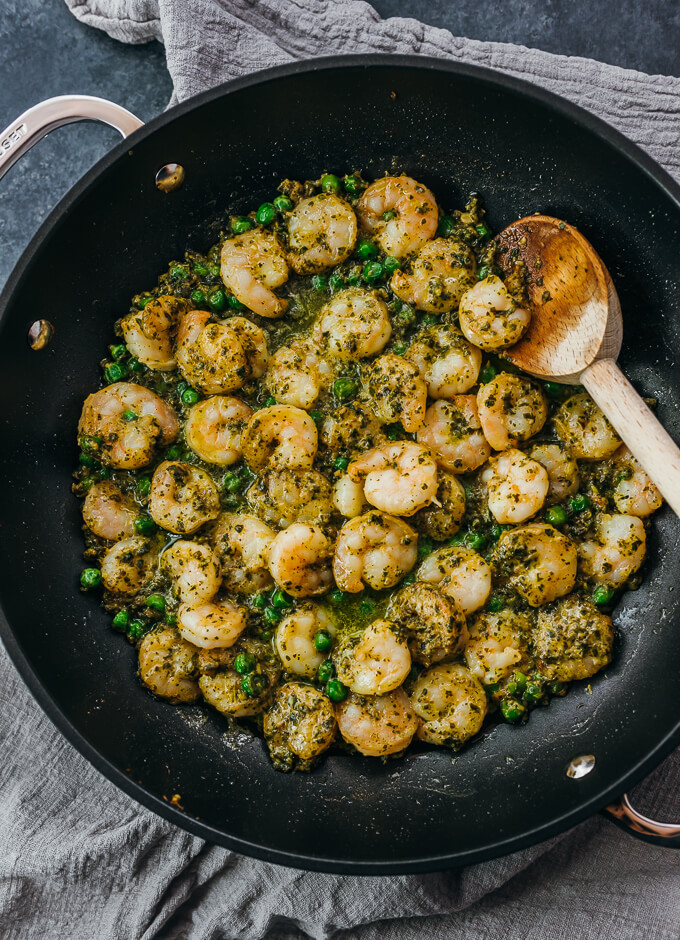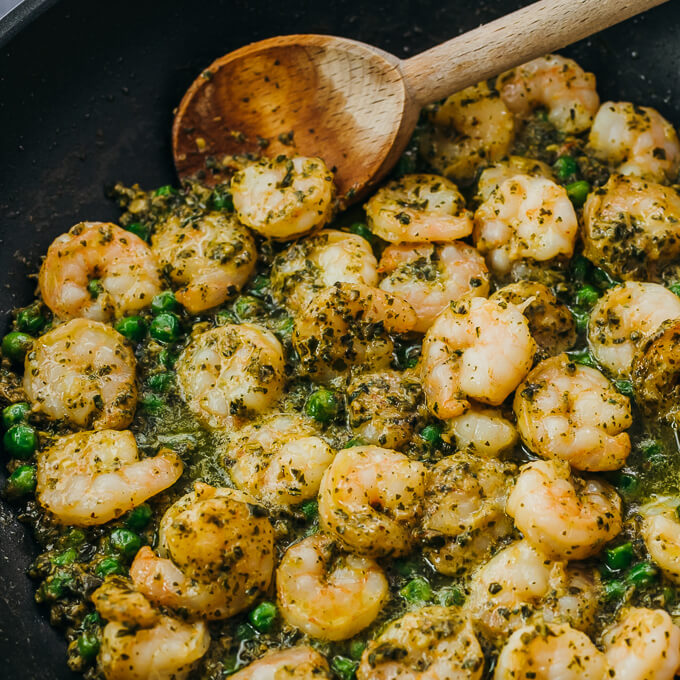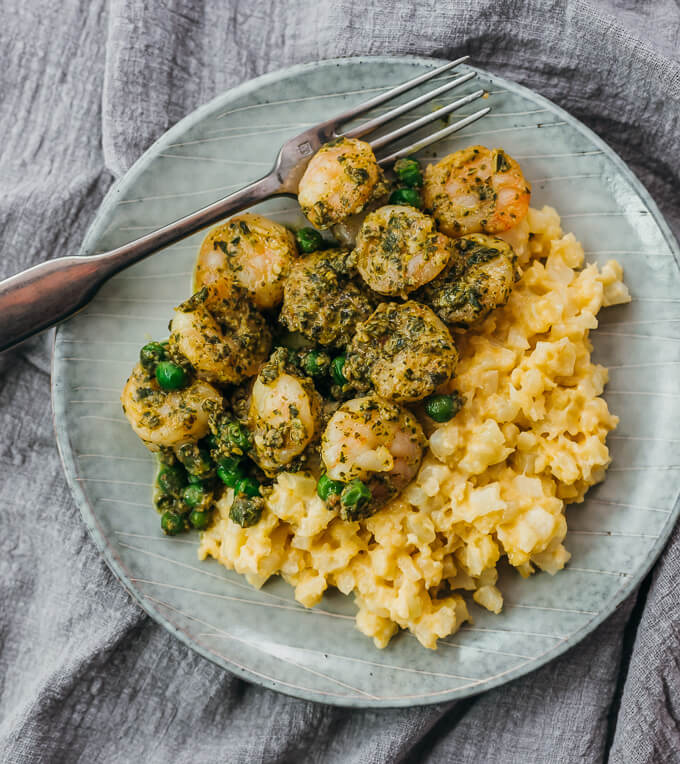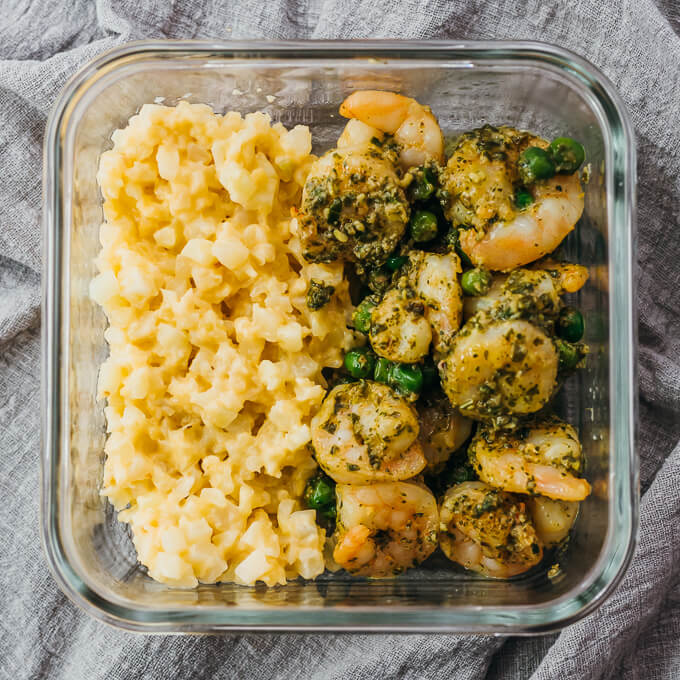 NOTES & TIPS
(1) Shrimp. I use raw shrimp that have been peeled and deveined. Patting them dry with paper towels is important so that the pesto sauce isn't diluted during cooking. If you use cooked shrimp, they only need to be warmed through when they're added to the skillet. To use frozen shrimp, first thaw them overnight in the refrigerator, then drain and pat dry.
(2) Pesto. About 7 ounces weight. You can use homemade pesto (see Broccoli Basil Pesto Recipe) or store-bought pesto. When I use the latter, I get the perishable kind stored in refrigerated cases in U.S. grocery stores.
(3) Cauliflower Rice. About 16 ounces weight (1 pound). You can use fresh or frozen. It's easiest to buy bags of pre-riced cauliflower in the produce section or freezer aisle of U.S. grocery stores — less work than grating cauliflower florets by hand.
(4) Parmesan Cheese. This is the kind of parmesan that has a sandy or almost powdery texture, allowing it to melt easily. Not shredded.
(5) Saucepan. I use a nonstick saucepan that measures 7 inches wide and 3.5 inches tall. Any size of pan will work as long as it can comfortably fit all of the cauliflower mash ingredients. It's not necessary to preheat the pan or grease it with oil.
(6) Cooking Cauliflower. Cauliflower rice is done when it turns from white to almost translucent, and it should be tender and softened. I recommend stirring frequently for even cooking and to ensure that the cauliflower rice doesn't stick to the bottom of the pan and burn.
(7) Adjusting Cauliflower Mash. To thicken, stir in more cheddar cheese, parmesan cheese, and/or cream cheese. To thin, stir in some heavy whipping cream. This cauliflower mash is very forgiving, so the exact proportions or types of cheese won't make a big difference in the end result. To season, add salt and pepper to taste. For a finer consistency, use a potato masher or immersion blender.
(8) Skillet. I use a 12-inch nonstick skillet so that the shrimp can mostly cook in a single layer. Smaller skillets will work fine, but the cooking time may need to be increased.
(9) Serving & Leftovers. Serve promptly while warm, optionally passing around extra parmesan cheese for topping. For a burst of bright flavor, serve this dish with chopped cherry tomatoes or sun-dried tomatoes. Instead of cauliflower mash, you can pair the pesto shrimp with other low carb options like zucchini noodles, turnip mash, or cauliflower "mac" and cheese. Leftovers can be covered and stored in the refrigerator for up to a few days, and reheated in the microwave — great for weekday lunches.