Summary:
Follow this easy recipe to make a keto pizza crust that's grain free, using what's commonly referred to as fathead dough. The pizza is topped with tasty Greek style toppings. Add this to your dinner rotation along with similar low carb copycat recipes.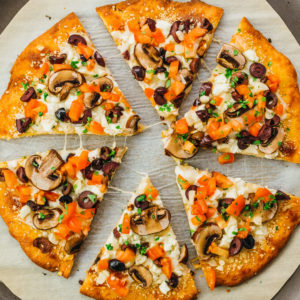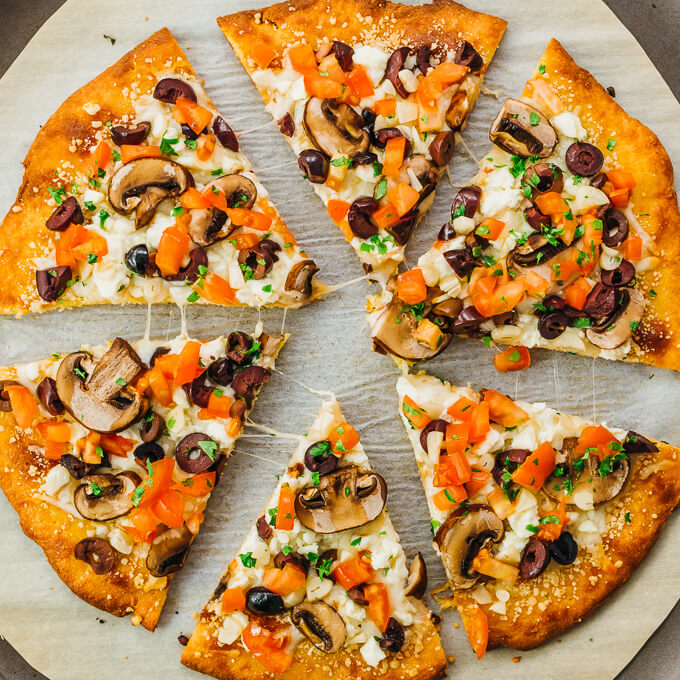 Keto Pizza Recipe (Low Carb Fathead Crust)
INGREDIENTS
Keto pizza crust:
6

oz wt.

shredded mozzarella cheese (1 1/2 cups)

3

oz wt.

blanched almond flour (3/4 cup)

2

oz wt.

cream cheese (4 tbsp)

1

large egg

1/4

tsp

table salt
Optional Greek style toppings (or use your favorite toppings):
2

oz wt.

finely grated parmesan cheese

2

oz wt.

shredded mozzarella cheese

2

oz wt.

crumbled feta cheese

2

oz wt.

mushrooms, thinly sliced

2

oz wt.

kalamata olives, chopped

5

cloves

garlic, finely chopped

1/2

roma tomato, chopped

1

tbsp

minced fresh parsley

1

tbsp

olive oil
INSTRUCTIONS
Position a rack in the center of the oven and preheat to 425 F. Prepare a baking sheet large enough for an 11-inch pizza, and line with parchment paper.

In a heatproof mixing bowl, stir together cheese, almond flour, and salt. Add cream cheese. Microwave until the cheese is melted, about 1 1/2 minutes, pausing halfway to stir. After microwaving, stir until the mixture forms a smooth dough.

Add the egg, stirring it in until absorbed and well-mixed. If easier, use your hands to knead when the dough is cool enough to handle.

Place the dough on the parchment paper lined baking sheet. Cover with equally large plastic cling wrap. Use your hands to spread out the dough to form a thin and even 11-inch circle. Discard the plastic wrap. Dock the crust (poke holes with a fork) to prevent air bubbles.

Bake the crust at 425 F for 10 to 12 minutes until golden brown.

Remove the crust from the oven. Add toppings of your choice. If you use the suggested Greek toppings, first evenly distribute each of the cheeses, then distribute mushrooms, olives, garlic, tomato, and parsley, and then evenly drizzle olive oil on top.

Return the pizza to the oven and bake for 5 to 10 minutes until mushrooms are tender but before the edges of the crust get too brown. For simpler toppings, bake for about 5 minutes until the cheese is melted.
NUTRITION
Makes 6 Servings
Amount Per Serving (1 slice):
| | |
| --- | --- |
| Calories 340 (68% from fat) | |
| Total Fat 26g | 39% |
| Saturated Fat 10g | 49% |
| Cholesterol 78mg | 26% |
| Sodium 670mg | 28% |
| Net Carb 6g | |
| Total Carb 8g | 3% |
| Dietary Fiber 2g | 9% |
| Sugars 2g | |
| Protein 18g | |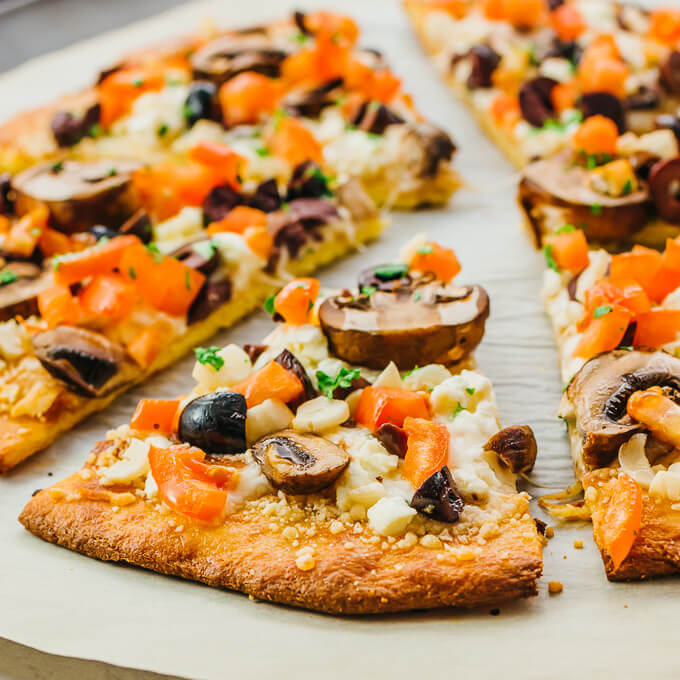 While many of my recipes are naturally low in carbs, every now and then I enjoy a good baking challenge where I make a low carb version of a traditionally carb-dense food. These keto copycats include these popular low carb biscuits, and sweet treats like low carb butter cookies and low carb Instant Pot cheesecake. Most requested, however, is keto friendly pizza and for good reason — anyone who follows a low carb diet has dreamed about having pizza again.
The way I see it, pizza crust is just a vehicle for maneuvering delicious toppings and cheese to your mouth. This keto pizza crust does a great job of that — it's sturdy and can hold up toppings. I added Greek style toppings (with no less than nine different ingredients) and the crust had no problem supporting them all. Equally importantly, it also looks and tastes like a real thin pizza crust.
Carbs in pizza
A typical pepperoni pizza slice from Domino's has about 34g net carbs. That's quite a lot, and most people on a keto diet can't "afford" that many carbs in one day.
Compare that figure to this keto pizza recipe, which has 6g net carbs per slice with generous Greek toppings (or 3.5g net carbs for the crust only), which is 5-6 times fewer. Not bad, and totally doable on any low carb diet!
Fathead pizza crust and its origin
Fat Head is a comedic documentary in 2009 that refutes the U.S. government's nutrition recommendations against a high fat diet. Doctors and dietitians are interviewed, and they stated that a high fat diet does not cause heart disease and heart attacks. Here's a YouTube clip where they discuss "Saturated Fat & Cholesterol Lies."
They posted a low carb recipe for pizza — nowadays commonly referred to as "fathead pizza" — but the original recipe credit goes to Cooky's Creations, which is what I used as a starting point for this keto pizza recipe.
Making keto pizza dough with almond flour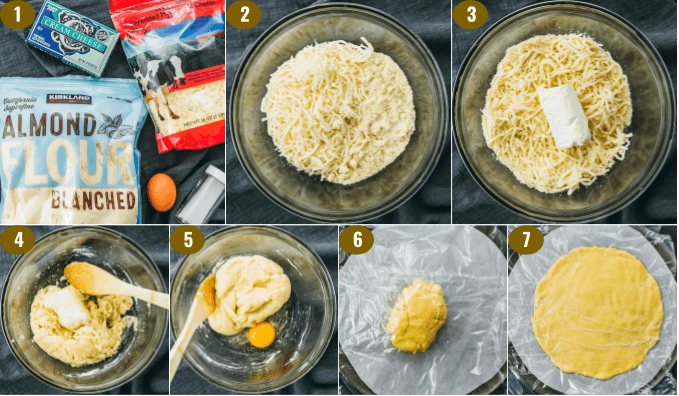 You can make keto pizza crust with just a handful of ingredients — almond flour, cream cheese, mozzarella cheese, egg, and salt. Everything except the egg is microwaved and mixed into a dough, then the egg is added last.
I highly recommend using a scale to measure out the weight of individual ingredients rather than relying on volume estimates — you'll get much better results. Besides, a kitchen scale is a necessity for following a keto diet in any serious capacity.
The dough is placed on a parchment paper lined baking sheet and covered with plastic cling wrap. I use my hands to flatten the dough into an 11-inch circle, but you can use a rolling pin or whatever is convenient. I prefer covering the dough with plastic wrap rather than parchment paper because then I can see the dough as I'm flattening it.
I don't recommend substituting the almond flour with coconut flour — the pizza crust will end up tasting like coconut.
After the dough is round and flat, you can discard the plastic wrap and dock the dough. Docking is when you use a fork to poke holes throughout the dough to prevent the formation of large air bubbles when it bakes.
Adding low carb toppings to the keto pizza

You can add your favorite toppings to the keto pizza. Here are some ideas to get you started: pepperoni, bacon, sausage, prosciutto, salami, shredded chicken, mushrooms, sun-dried tomatoes, artichoke hearts, garlic, and anything on my recommended keto diet food list.
I went with a complicated set of toppings (shown in the photos above) that are Greek style with more of a "white sauce" using three different cheeses, so that means no tomato sauce.
If you use a lot of toppings like I do, get them all prepped and ready to go before starting on the dough, since the crust won't take long to bake before it's ready for toppings.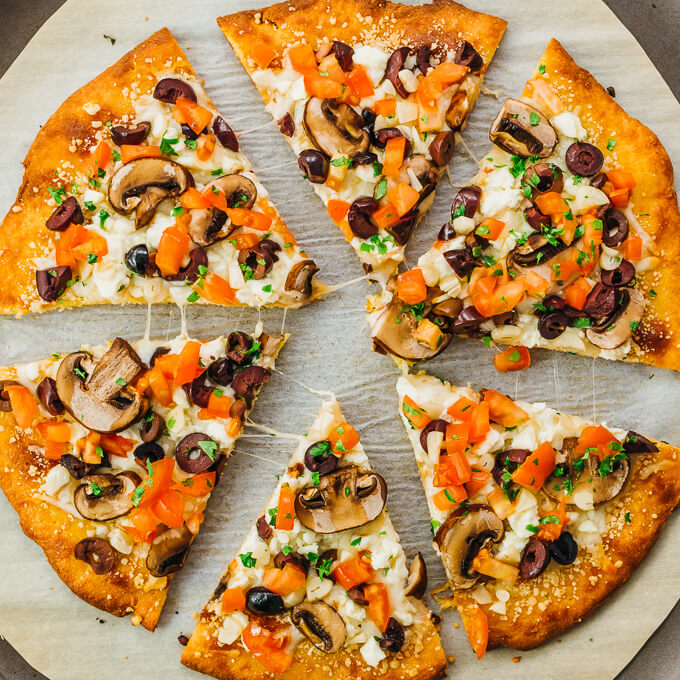 CHECK OUT THESE LOW CARB RECIPES: