Summary:
Stuffed with cheese, bacon, scallions (green onions), and garlic, these portobello mushrooms are oven-roasted for a hearty yet low calorie and low carb meal. It's an easy recipe, requiring only 7 ingredients.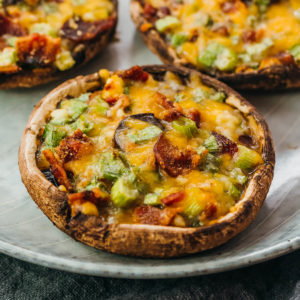 Stuffed Portobello Mushrooms
INGREDIENTS
INSTRUCTIONS
Prebake Mushrooms: Preheat oven to 400 F. On baking half sheet lined with parchment paper, place mushrooms stem side up. Season with salt. When oven has preheated, bake mushrooms until softened and filled with liquid, about 15 minutes. Carefully lift up each mushroom with spatula and invert over bowl to drain out liquid, then place back on baking sheet. Discard liquid.

Stuff Mushrooms: Stir together bacon, scallions, cheddar, parmesan, and garlic in clean bowl until well-mixed. Spoon filling into each mushroom until stuffed.

Bake & Cool: Bake stuffed mushrooms at 400 F until cooked through and cheese is melted, about 10 minutes. Let mushrooms cool on baking sheet for at least 10 minutes, then serve (Note 4).
NUTRITION
Makes 3 Servings
Amount Per Serving (2 portobellos):
| | |
| --- | --- |
| Calories 220 (43% from fat) |   |
| Total Fat 11g | 16% |
|    Saturated Fat 7g | 35% |
| Cholesterol 40mg | 13% |
| Sodium 580mg | 24% |
| Net Carb 6.5g |   |
| Total Carb 7g | 2% |
|    Dietary Fiber 0.5g | 2% |
|    Sugars 0.5g |   |
| Protein 17g |   |
PHOTOS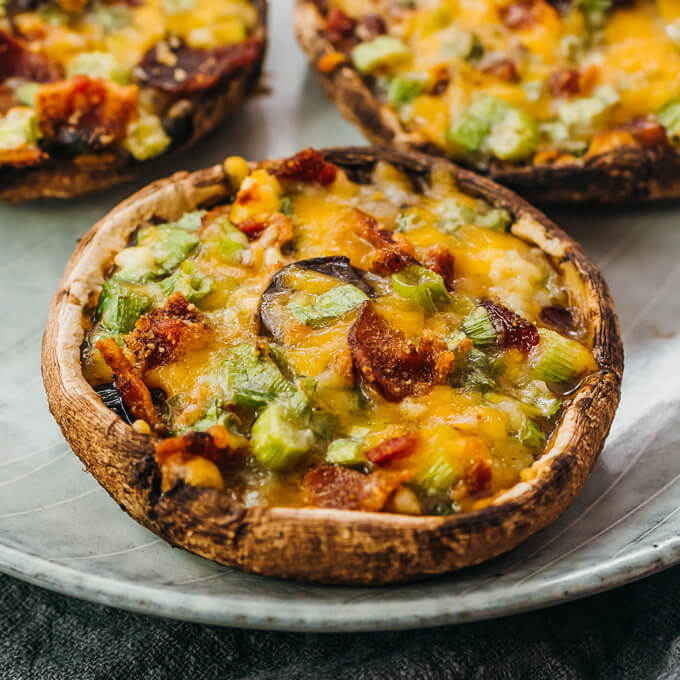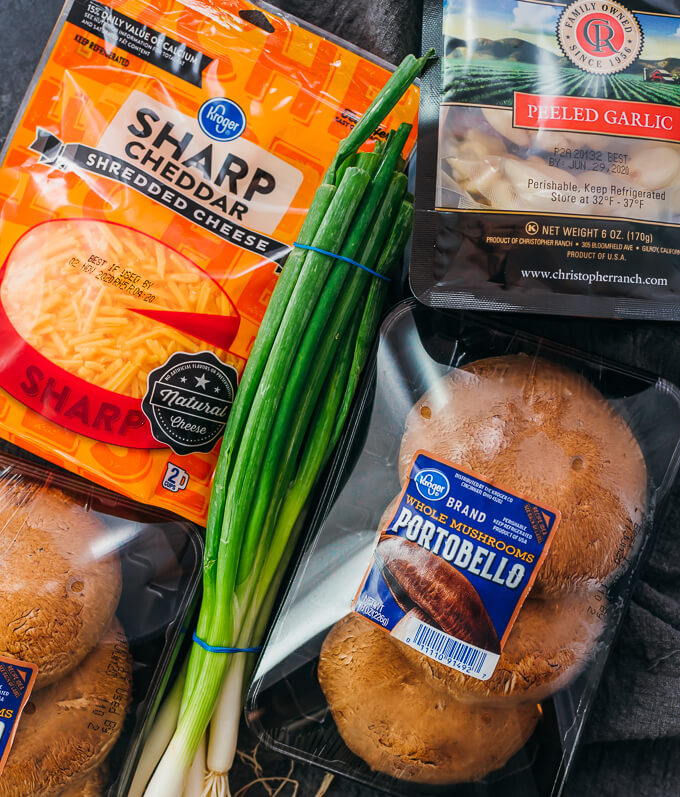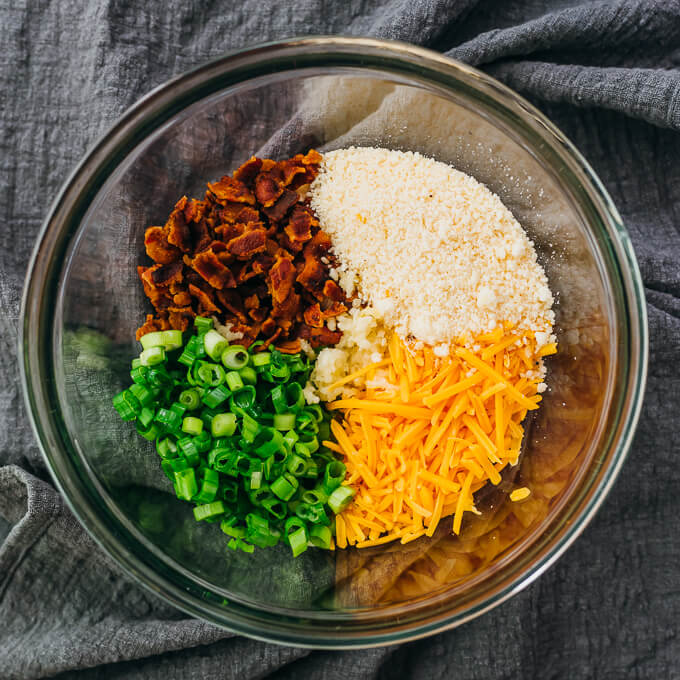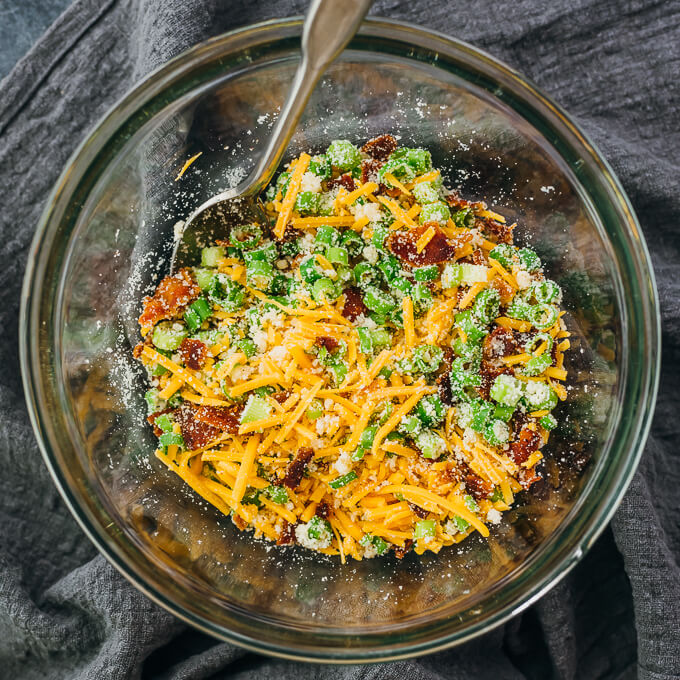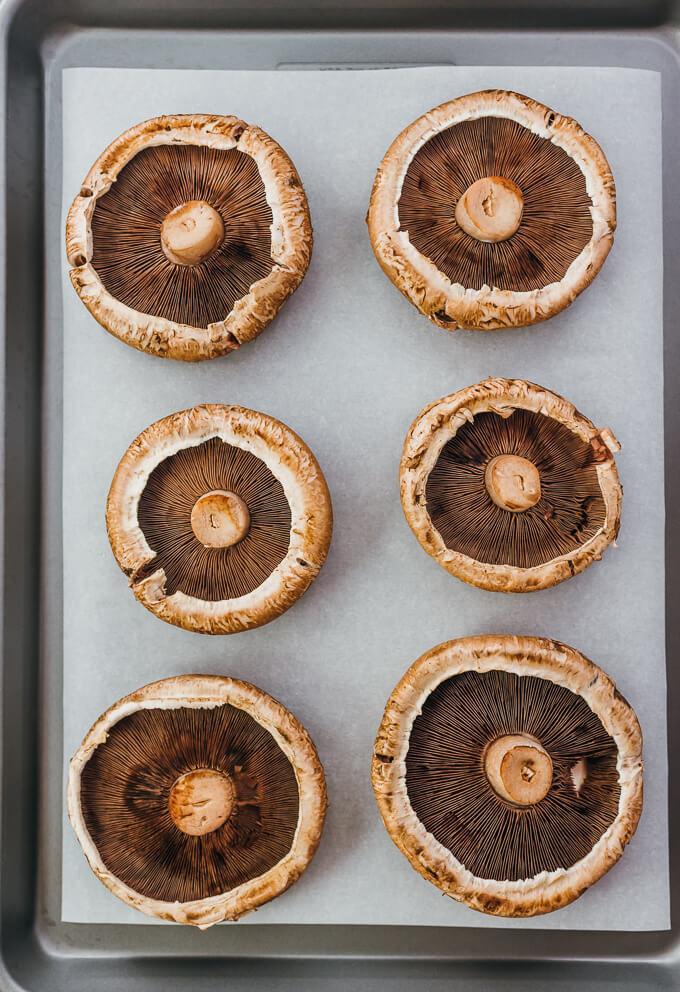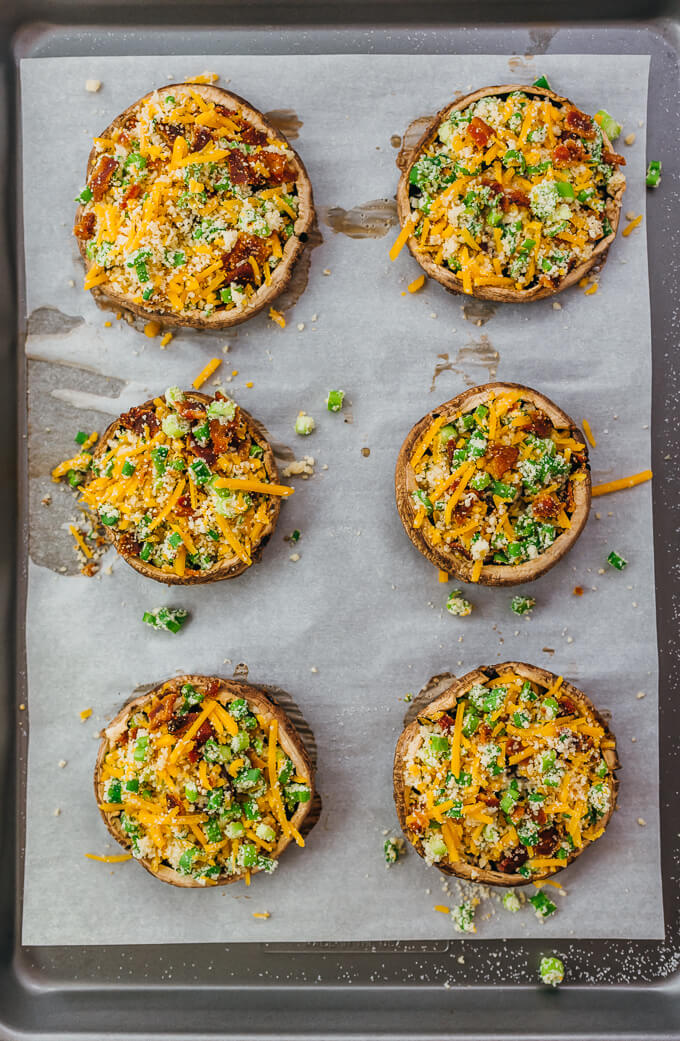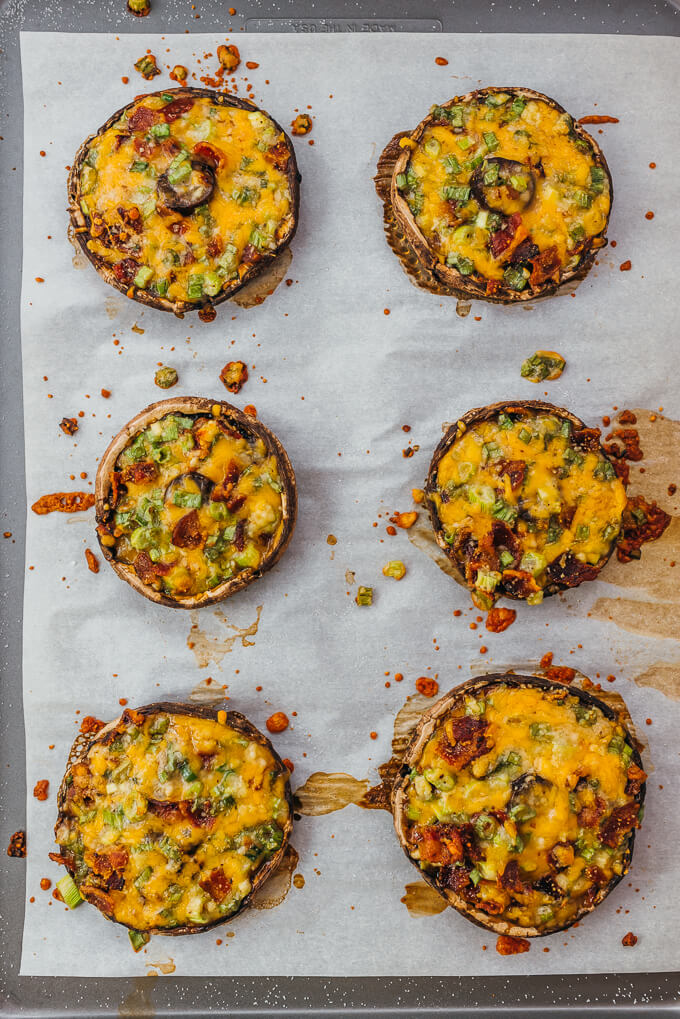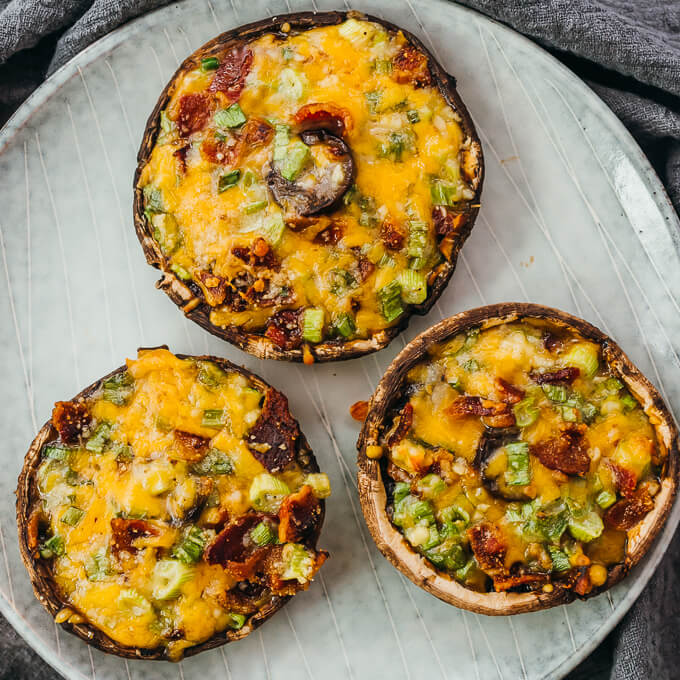 NOTES & TIPS
(1) Portobello Mushrooms. About 16 ounces weight (1 pound) in total. These are large mushrooms, with their caps measuring 4-6 inches across, also called portabella or portobella. I don't remove the gills or stems from the caps. Fun Fact: Portobello mushrooms are simply mushrooms in their mature state; the regular small ones are immature. I use these larger mushrooms because it's easier to prepare and stuff 6 large mushrooms instead of 25 small ones.
(2) Cheddar Cheese. I like the bright yellow color that cheddar brings to these stuffed mushrooms, but you can substitute with any kind of shredded soft cheese that melts easily, like shredded mozzarella or provolone. Cream cheese would also be a reasonable substitute; soften it in the microwave for 20 seconds so that it can easily combine with other filling ingredients.
(3) Parmesan Cheese. This is the kind of finely grated parmesan that has a sandy or almost powdery texture. Not shredded. Suitable substitutes include pecorino romano or asiago cheese.
(4) Serving. It's important to let the mushrooms cool for at least 10 minutes before serving, since the mushrooms will be too hot to eat and need time to "set" (the interior liquids need to be re-absorbed). This dish is substantial enough to be served as a main course for dinner, pairing well with a side of roasted vegetables, creamed spinach, or artichokes. Stuffed mushroom leftovers can be covered and store in the refrigerator for up to 2 days; reheat in the oven until warmed.