Summary:
This skillet meal is an easy-to-make dinner with thinly sliced steak, cubed potatoes, and red onions.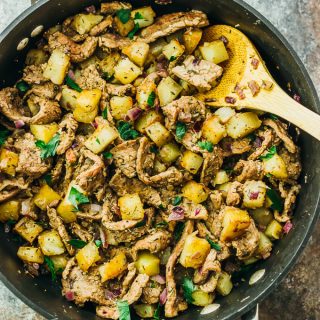 INGREDIENTS
1

pound

flank steak

fat trimmed, patted dry, thinly sliced ¼ inch

1

Russet potato (almost 1 pound)

peeled, chopped into ½ inch pieces

1/2

small red onion

diced (1 cup)

10

cloves

garlic

minced

2

tablespoons

olive oil

1

teaspoon

dried oregano

1

teaspoon

dried thyme

1/2

teaspoon

salt

1/4

teaspoon

coarsely ground black pepper
fresh chopped parsley

for garnish
INSTRUCTIONS
Heat a large pan over medium heat for a few minutes until hot. The pan should be large enough to hold the steak and potatoes.

Pour olive oil into the pan, tilting it to coat the bottom. Add potatoes and cook until tender, about 15 minutes, stirring frequently.

Add onions, cooking and stirring until fragrant, about a minute.

Add steak, garlic, oregano, thyme, salt, and pepper. Cook until the steak reaches your preferred doneness, less than 5 minutes, stirring frequently.

Remove the pan from heat. Garnish with chopped parsley. Serve immediately.
NUTRITION
738 kcal/serving

PHOTOS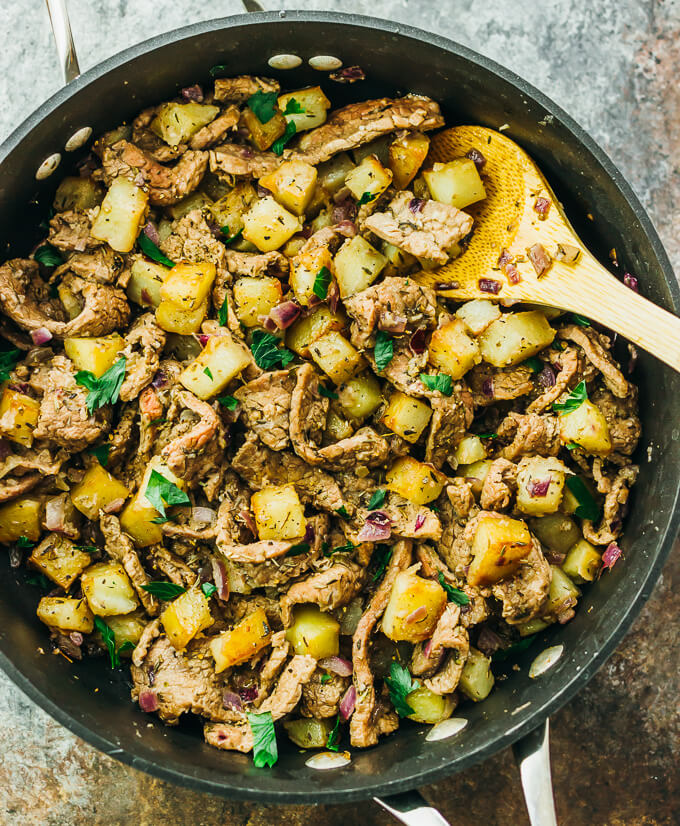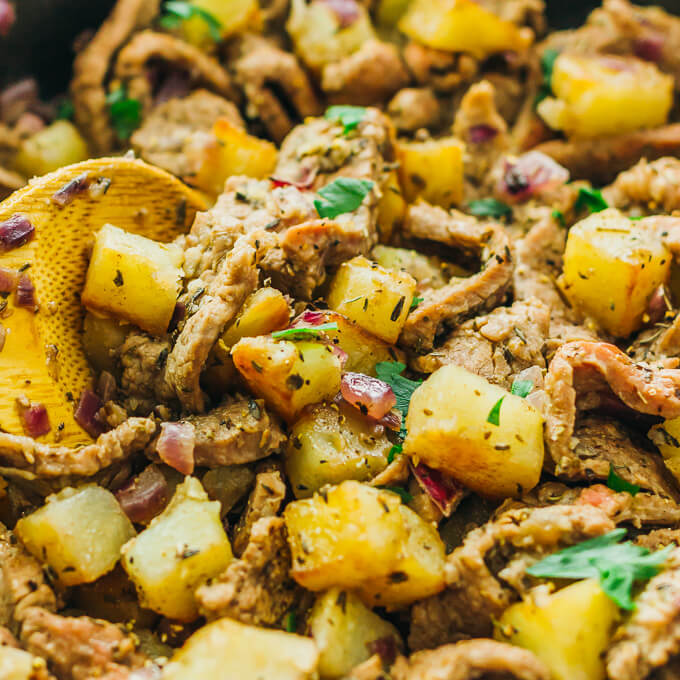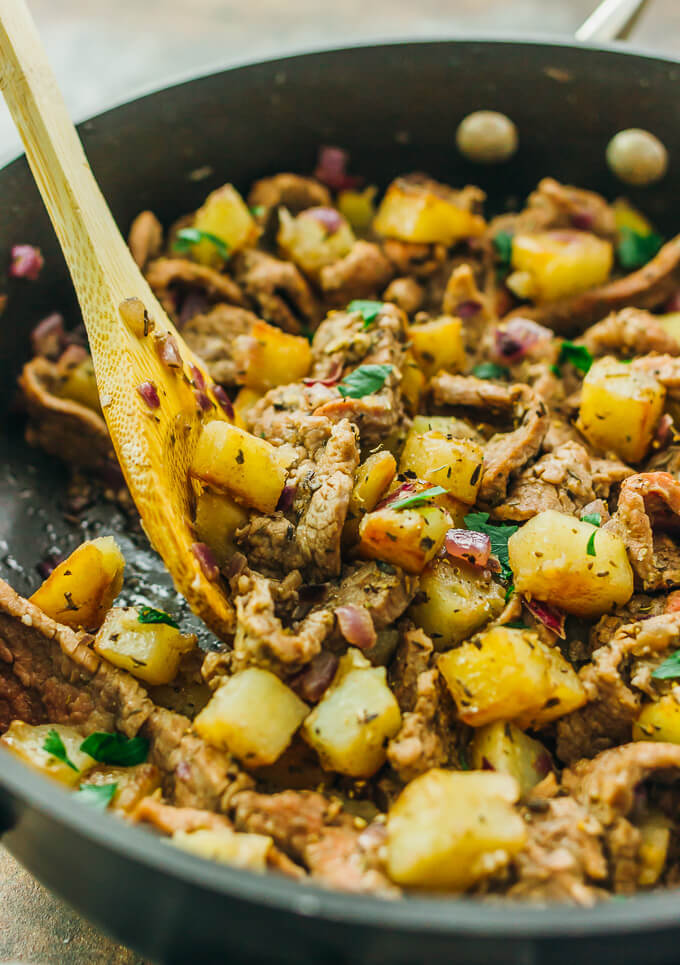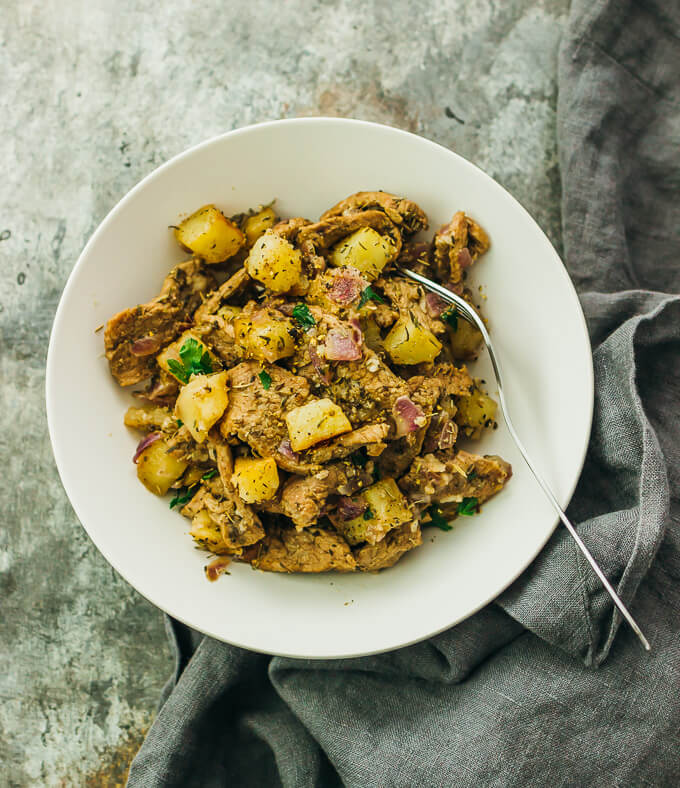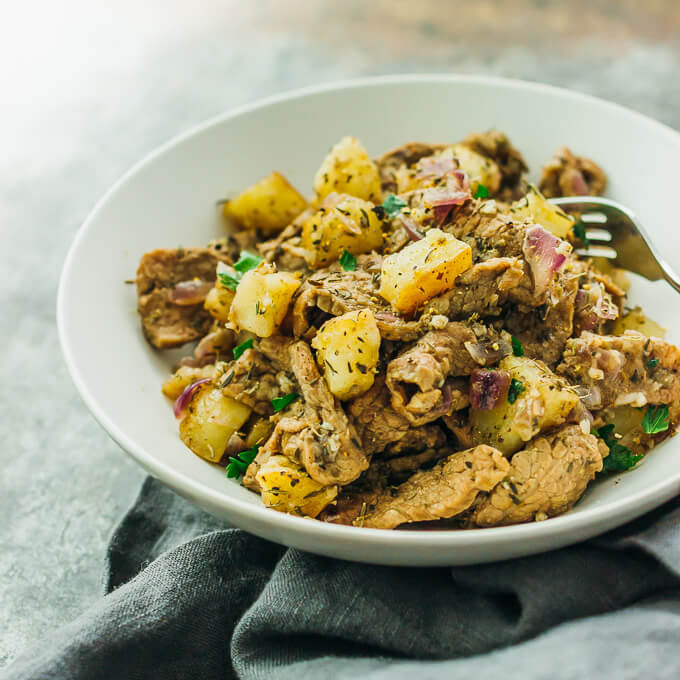 NOTES & TIPS

Cooking Beef. This recipe uses steak in thinly sliced form (1/4 inch thickness) because it's much easier and faster to cook, and less likely to be tough and chewy when overcooked. To avoid overcooking, once you've pan-seared the beef to your desired doneness, immediately turn off the heat and transfer the pan's contents to a bowl or plate for serving. If you let the beef linger too long in the pan, it will continue cooking with the pan's residual heat and result in overcooked beef. It's not the end of the world if your beef slices are a bit overcooked as it'll still taste great, but it's easy to avoid.
Spices. I use dried oregano and thyme for the herbs in this dish, plus a generous 10 cloves of garlic. You can modify the spice mix depending on what you prefer — other seasonings such as dried basil or lemon pepper would also work. You can be creative here. I add the seasonings at the end of the recipe so that the flavors don't get "cooked" out.