Summary:
This eggplant lasagna has layers of cheese, eggplant slices, and a rich meat sauce with spinach. It's a comforting casserole dinner that's keto friendly, low carb, and gluten free.
INGREDIENTS
Roasting Eggplant:
1

medium

eggplant (1 lb)

2

tbsp

olive oil

3/4

tsp

table salt

3/4

tsp

ground black pepper
Meat Sauce:
1

lb

90% lean ground beef

1

(15-ounce)

can tomato sauce

1

(5-ounce)

package fresh baby spinach leaves, chopped and long stems discarded (3.5 cups)

1

tbsp

olive oil

2

tsp

dried oregano

1/4

tsp

table salt

1/4

tsp

ground cayenne
Other:
1.5

cups

shredded mozzarella cheese (6 ounces weight)

2

large eggs, beaten
INSTRUCTIONS
Roasting Eggplant:
Preheat the oven to 400 F.

Cut off and discard the eggplant's ends. Cut the remaining eggplant lengthwise into 1/4 inch planks (I get about 14 planks). See "Slicing Eggplant" section below for more tips.

Arrange the eggplant planks on 2 baking sheets lined with parchment paper, or one if they all fit.

Brush the tops with olive oil. Season with salt and pepper.

Bake at 400 F for 7 minutes, flip the eggplant planks, and bake another 7 minutes. Let them cool while you make the meat sauce.
Making Meat Sauce:
Add olive oil to coat the bottom of a high-sided pan over medium heat. Add ground beef, breaking it apart as it cooks. Cook until browned, about 5 minutes.

Add tomato sauce, stirring it in. Bring to a simmer over medium-high heat, then gradually reduce the heat as needed to maintain a simmer. Simmer until the sauce is noticeably thicker, about 5 minutes, stirring occasionally.

Add oregano, salt, and cayenne. Stir until well-mixed.

Add spinach, cooking for a few minutes until wilted, stirring frequently. Turn off the heat.
Assembling Lasagna:
Prepare an 8x8 inch baking dish. Arrange eggplant slices along the bottom of the dish so that they're slightly overlapping in a criss-cross pattern.

Evenly pour about half of the meat sauce over the eggplant.

Add 1/2 cup of mozzarella cheese on top of the meat sauce.

Repeat with another eggplant layer, a meat sauce layer, and a cheese layer.

Top with remaining eggplant slices. Evenly pour beaten eggs on top. Sprinkle remaining 1/2 cup mozzarella cheese on top.

Bake at 400 F until the lasagna is heated through and bubbling up its sides, about 15 minutes. Let cool for about 10 minutes before slicing into it.
NUTRITION
Makes 4 Servings
Amount Per Serving:
| | |
| --- | --- |
| Calories 520 (57% from fat) | |
| Total Fat 33g | 50% |
| Saturated Fat 12g | 61% |
| Cholesterol 195mg | 65% |
| Sodium 1000mg | 42% |
| Net Carb 11g | |
| Total Carb 18g | 6% |
| Dietary Fiber 7g | 28% |
| Sugars 8.5g | |
| Protein 36g | |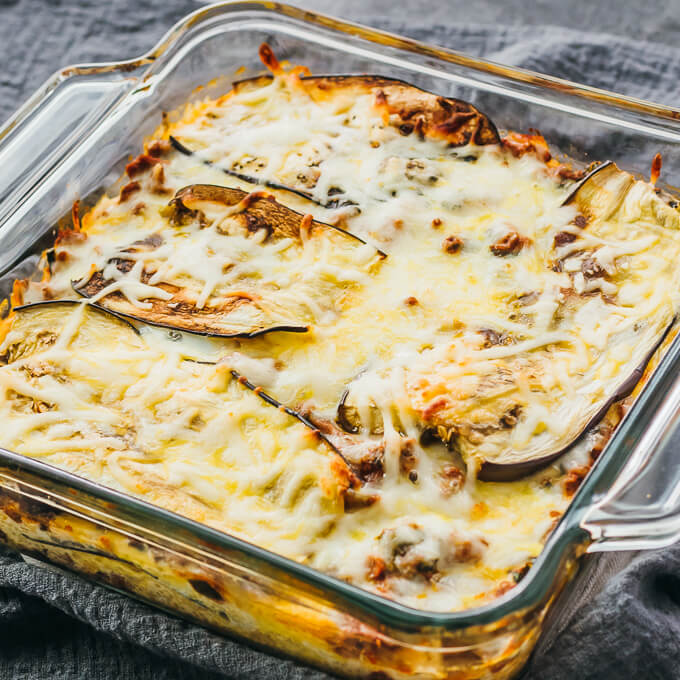 This eggplant lasagna is adapted from my zucchini lasagna recipe. Both dishes have no lasagna noodles and are layered with cheese and a flavorful tomato-based meat sauce. Trust me, you won't miss the noodles at all!
This recipe takes a bit of effort to roast the eggplant slices and cook the meat sauce, but the end result is well worth it. It's also hard to mess up. Eggplant, beef, tomato sauce, spinach, herbs, and cheese is a winning combination in any casserole.

Slicing Eggplant
Before slicing an eggplant into thin planks, I start by cutting off both ends. This gives me a smooth and flat surface at either side. Then I place the eggplant vertically, and it's able to sit stably on a flat base.
Carefully, I slice the eggplant into 1/4 inch lengthwise slices as uniformly as I can, until all of the eggplant is used up. I also include slices that are mostly skin.
If it's easier for you, you can start by cutting the eggplant widthwise in half. Your slices will be half as long, but that's fine if it allows you to cut slices with more uniform thickness.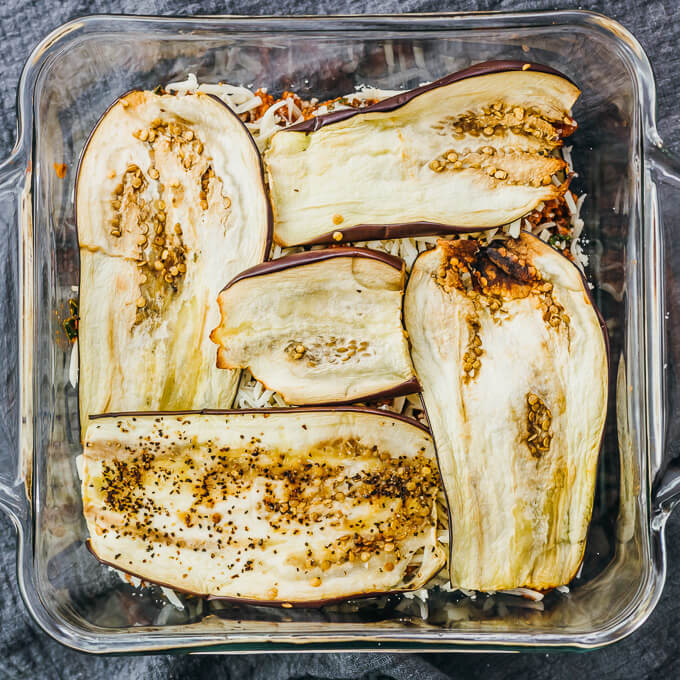 Baking Eggplant Slices
It's important to bake the eggplant slices separately to soften them, or it would take much longer to cook them in a casserole until tender.
The ideal baking time will vary depending on the exact thickness of your slices. It usually takes me about 7 minutes per side.
When baking them, monitor frequently so you don't end up with burnt slices. Even if you do, it's not a big deal as long as not all of them are burnt. You can still add them to your lasagna.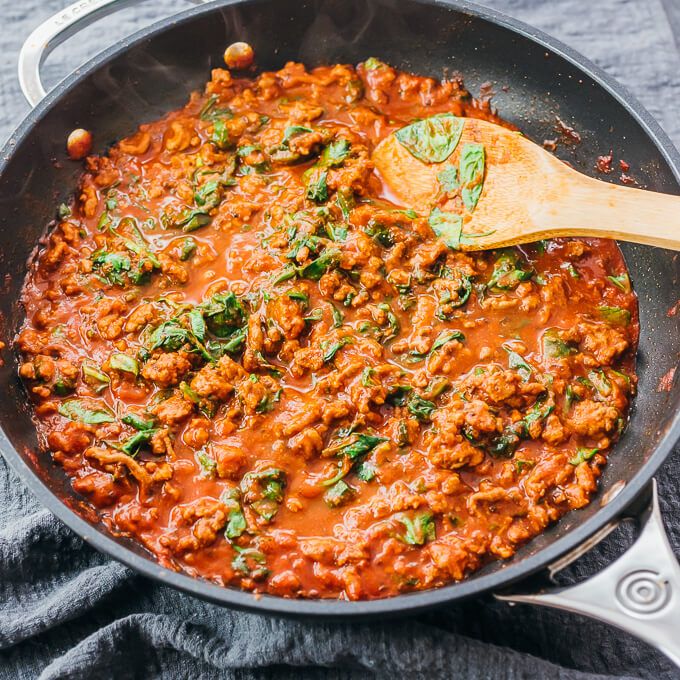 Thickening The Meat Sauce
One easy way to make a sub-par lasagna, or any casserole, is to add too much liquid and end up with a soggy version.
To avoid this, make sure your meat sauce is thick. Better to err on the side of too thick than too thin. You'll want to simmer until the meat sauce is noticeably thicker, which can take 5 to 10 minutes.
This will also condense the flavors, yielding a richer lasagna.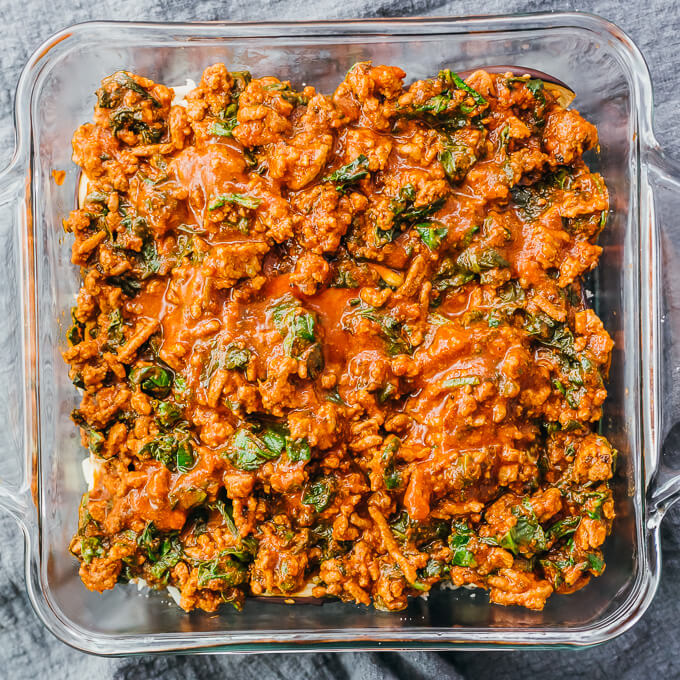 How To Layer The Lasagna
Layers are added to the lasagna in this order:
eggplant slices (laid out in a criss-cross pattern and slightly overlapping)
meat sauce
mozzarella cheese
These layers are repeated, followed by any remaining eggplant slices. Then beaten eggs are poured on top, followed by additional shredded mozzarella cheese.
You can find a summary of this in the recipe box, under "Assembling Lasagna" instructions. You don't need to be very precise; as long as your ingredients are generally separated in layers, the end result should taste delicious.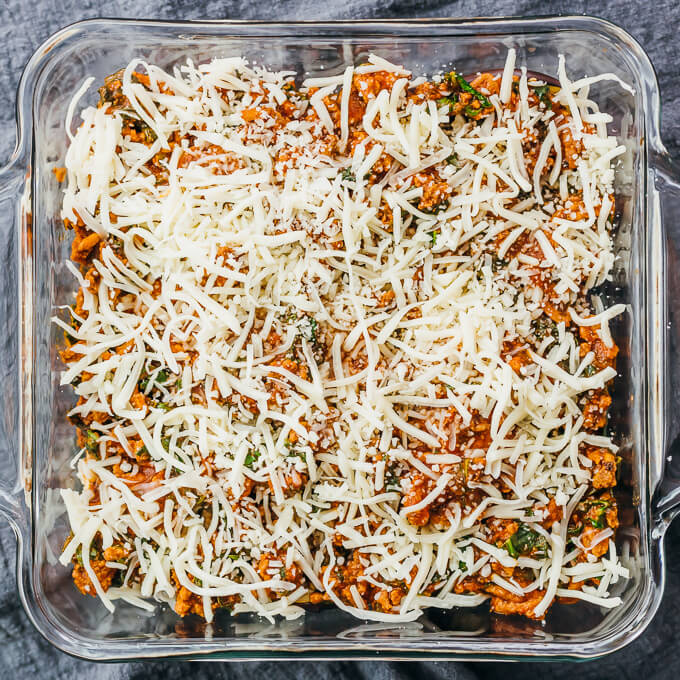 Recommended Equipment
I use an 8x8 inch baking dish made with glass, which I prefer so I can easily see when the lasagna is bubbling up its sides, indicating it's heated through and ready to remove from the oven.
Either 2 baking sheets or 1 extra large one will be needed for the eggplant slices. Otherwise, it will be difficult to fit all of the slices in a single layer. Another option is to bake them in batches.
I use parchment paper for lining baking sheets. It's a nonstick surface that makes cleanup easy.
When preparing the meat sauce, I use a large 12-inch nonstick pan. A smaller 10-inch pan will also work if it has high sides. I don't recommend anything smaller because raw spinach takes up a lot of room.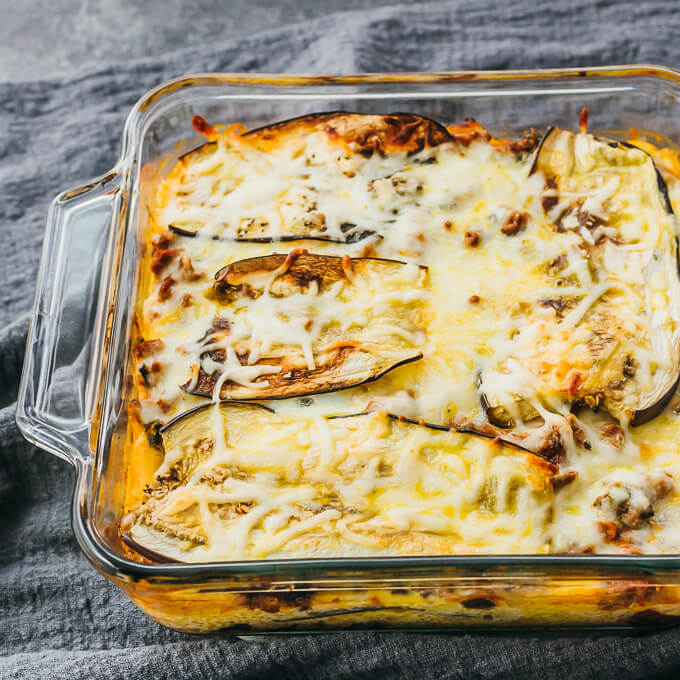 Serving And Leftovers
This eggplant lasagna would go great with:
Any leftovers can be microwaved or reheated in the oven until bubbling.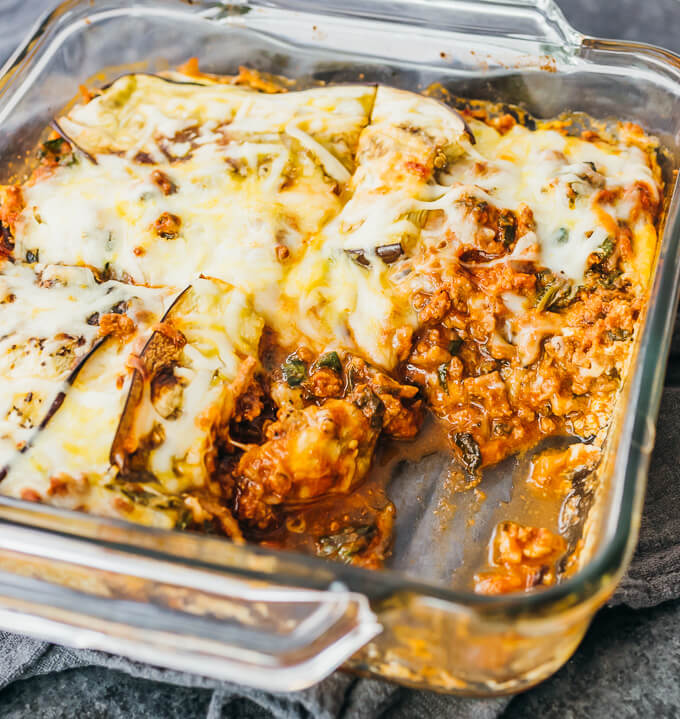 More Delicious Keto Dinner Ideas