Summary:
This eggplant lasagna has delicious layers of melted cheese, savory eggplant slices, and a rich meat sauce with spinach. Without lasagna noodles, it's perfect for anyone on a gluten free or low carb diet.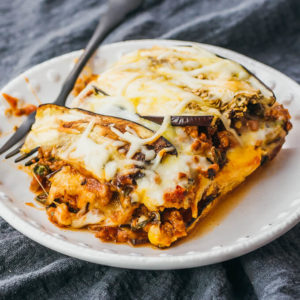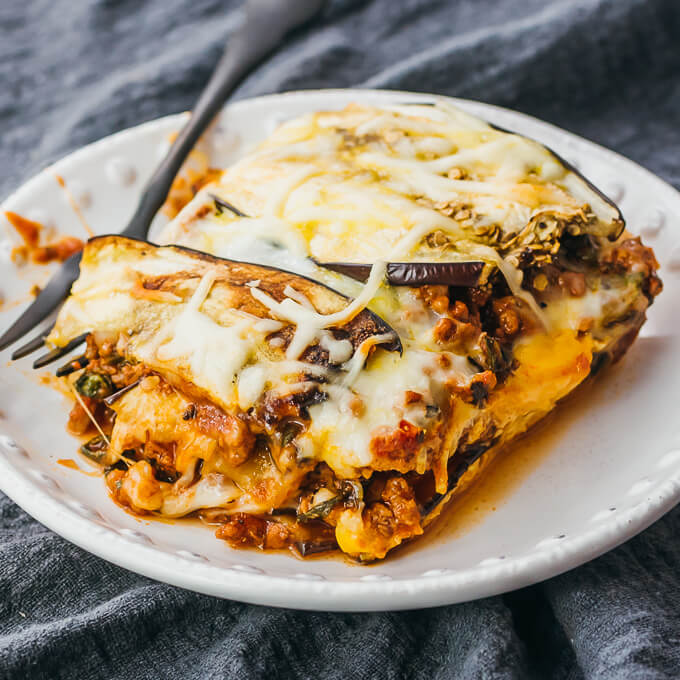 INGREDIENTS
Roasting Eggplant:
1

medium eggplant

(1 pound)

2

tablespoons

olive oil

3/4

teaspoon

table salt

3/4

teaspoon

ground black pepper
Meat Sauce:
NUTRITION
Makes 4 Servings
Amount Per Serving:
| | |
| --- | --- |
| Calories 520 (57% from fat) |   |
| Total Fat 33g | 50% |
|    Saturated Fat 12g | 61% |
| Cholesterol 195mg | 65% |
| Sodium 1000mg | 42% |
| Net Carb 11g |   |
| Total Carb 18g | 6% |
|    Dietary Fiber 7g | 28% |
|    Sugars 8.5g |   |
| Protein 36g |   |
PHOTOS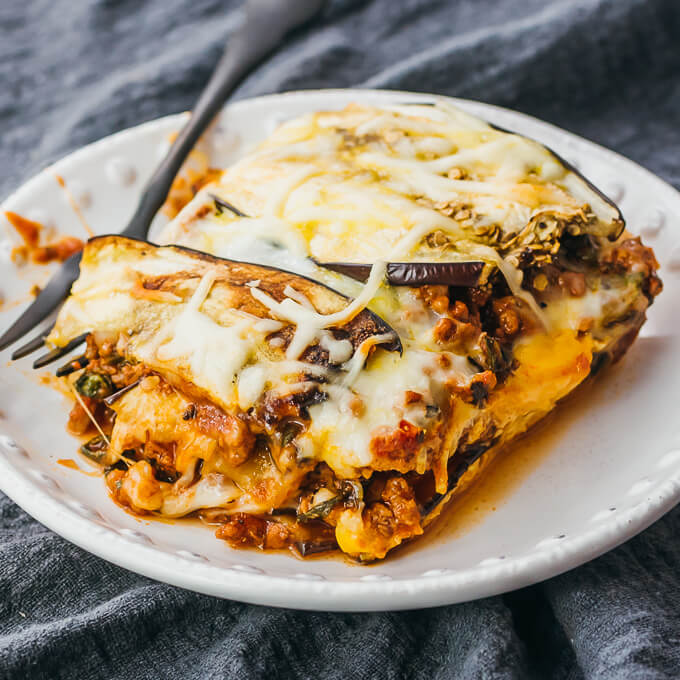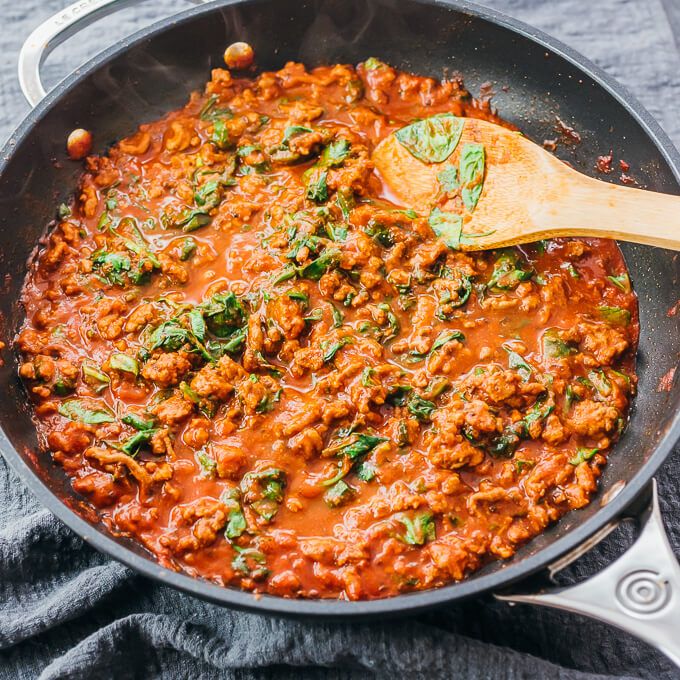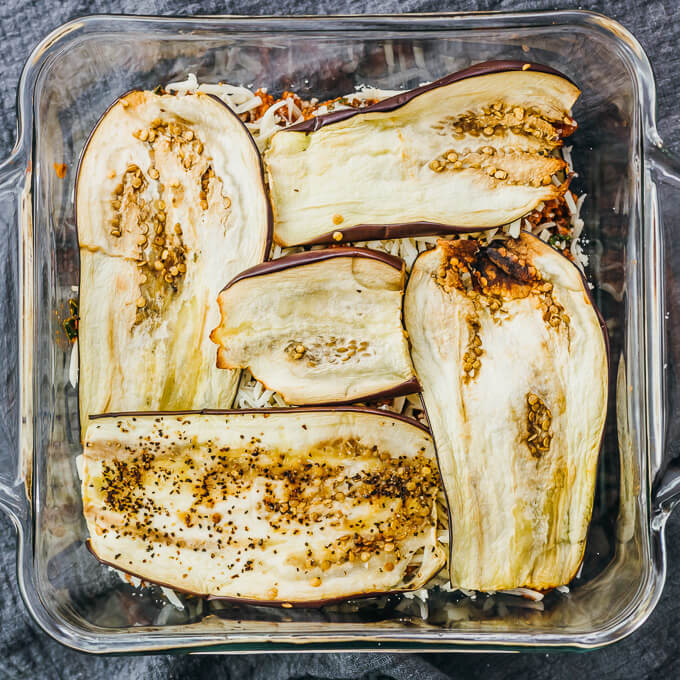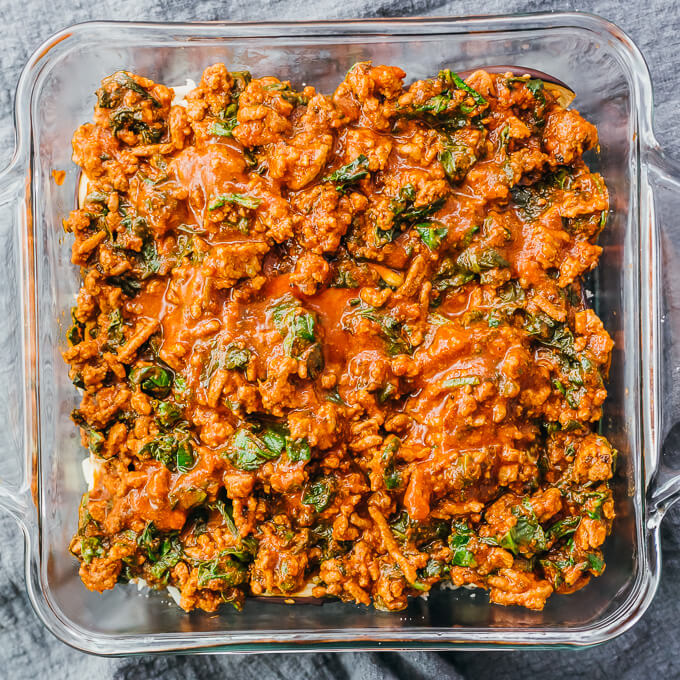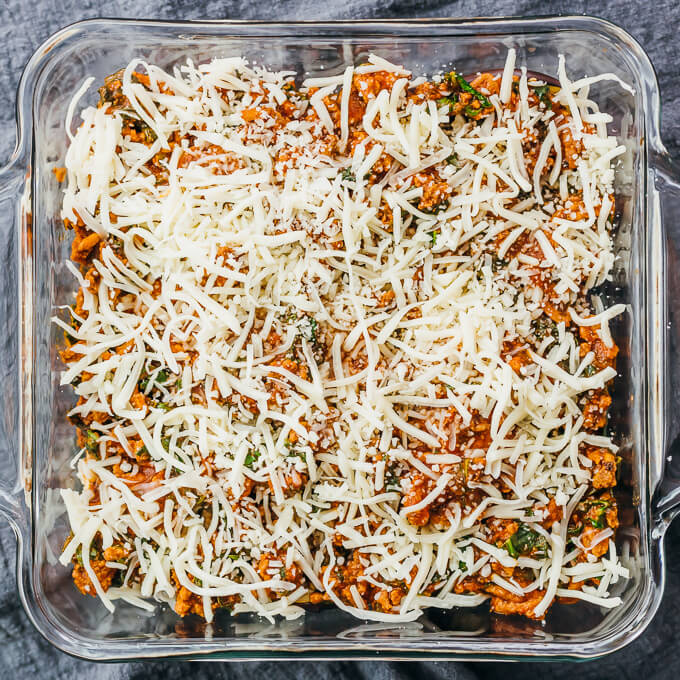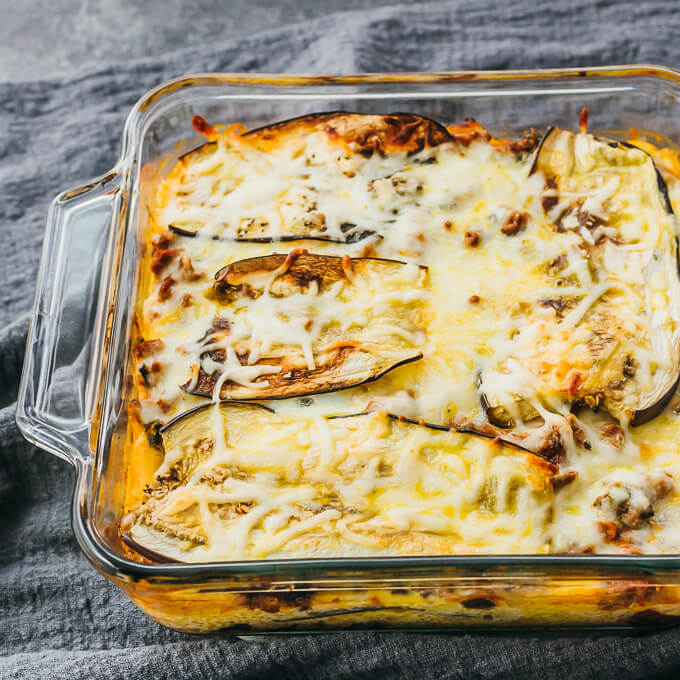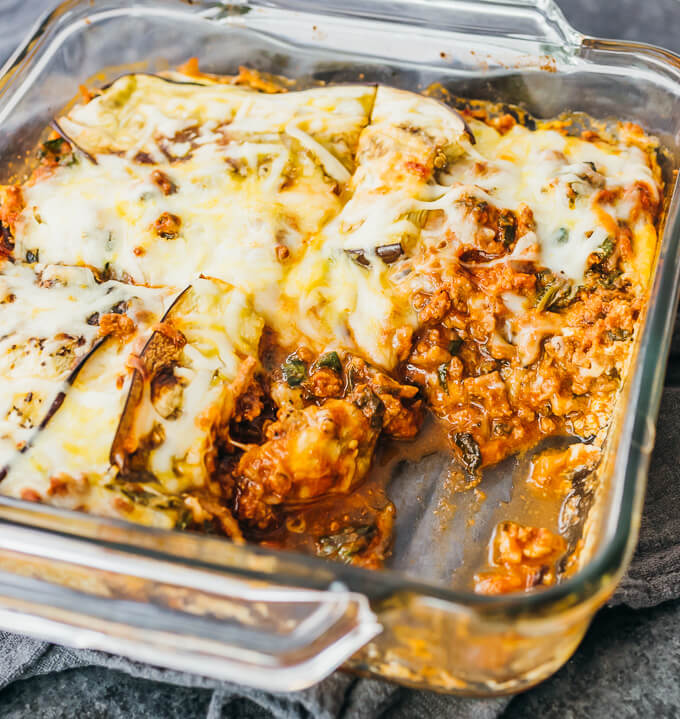 NOTES & TIPS
(1) Ground Beef. I use 90% lean. If you use less than 90%, you may want to drain off some of the grease after browning to avoid an overly greasy dish. If you don't have beef, ground turkey is a good substitute.
(2) Spinach. About 3.5 cups chopped. I use fresh raw baby spinach leaves.
(3) Mozzarella Cheese. About 6 ounces weight. I use a bag of pre-shredded low-moisture part-skim mozzarella, which means the cheese has been dried out for a longer shelf life and better browning.
(4) Eggs. This ingredient is included for improved taste and texture, but can be omitted if you are sensitive to it.
(5) Slicing Eggplant. Before slicing an eggplant into thin planks, cut off both ends so that you have a smooth and flat surface at either side. Then place the eggplant vertically so that it sits stably on a flat base. Cut lengthwise into 1/4 inch slices that are as uniform as possible. It's fine if some slices have skin. If it's easier, you may start by cutting the eggplant widthwise in half. Your slices will be half as long, but that's fine if it helps you to cut slices more uniformly.
(6) Baking Sheets. Either two baking half sheets or one extra large one will be needed for the eggplant slices. Otherwise, it will be difficult to fit all of the slices in a single layer. Another option is to bake them in batches.
(7) Baking Eggplant Slices. This step can't be skipped. It's important to pre-bake the eggplant slices to soften them; otherwise, it would take much longer to cook them in a casserole until tender. While baking the eggplant slices, monitor frequently so that you don't end up with burnt slices. The exact baking time will vary depending on the exact thickness of your slices; it usually takes me about 7 minutes per side.
(8) High Sided Pan. When preparing the meat sauce, I use a large 12-inch nonstick pan. A smaller 10-inch pan will also work if it has high sides. I don't recommend anything smaller because raw spinach takes up a lot of room.
(9) Thickening Meat Sauce. One easy way to make a subpar lasagna, or any casserole, is to add too much liquid and end up with a soggy version. To avoid this, make sure your meat sauce is thick. Better to err on the side of too thick than too thin. You'll want to simmer until the meat sauce is noticeably thicker, which can take 5 to 10 minutes. This will also condense the flavors, yielding a richer lasagna.
(10) Baking Dish. I use an 8×8-inch baking dish made with glass so that I can easily see when the lasagna is bubbling up the sides, indicating it's heated through and ready to remove from the oven.
(11) Serving / Leftovers. Serve warm, with side dishes like almond flour garlic knots, cauliflower fritters, or artichokes with balsamic sauce. Eggplant lasagna leftovers should be stored in an airtight container in the refrigerator for up to 3 days, and reheated using the microwave or in the oven until warmed through.
(12) Similar Lasagna. If you don't like eggplant, consider making zucchini lasagna, which is also noodle free, gluten free, and low carb.