Summary:
This is a quick stovetop recipe for making cheesy breakfast fritters using fresh or frozen cauliflower rice. These low carb patties are crispy and savory, reminiscent of hash browns.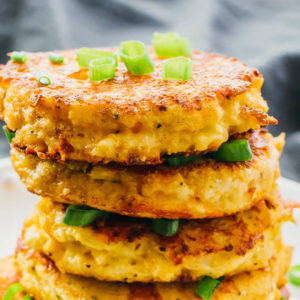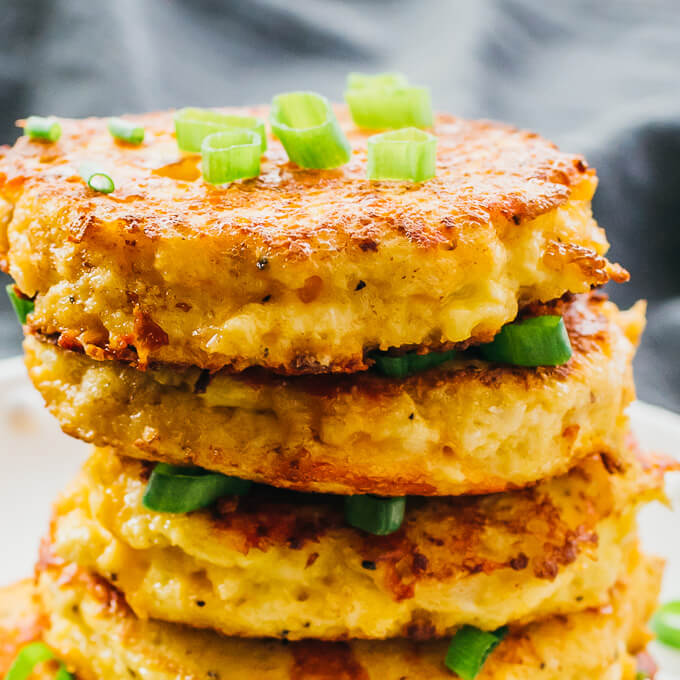 INGREDIENTS
2.5

cups

cauliflower rice (Note 1)

2/3

cup

shredded cheddar cheese

1/4

cup

almond flour (Note 2)

2

large eggs, unbeaten

1

scallion, thinly sliced

2

tablespoons

butter

1/2

teaspoon

table salt

1/4

teaspoon

ground black pepper
INSTRUCTIONS
Cook Cauliflower Rice: Cover and microwave cauliflower rice until fully cooked and softened, about 4 minutes for fresh cauliflower, or 5 minutes for frozen cauliflower (Note 3). Let cool for 5 minutes or until steaming subsides.

Cook Fritters: Spread butter on large pan (Note 5) over medium heat until melted, a few minutes. Use 1/4-cup measuring cup (Note 6) to scoop cauliflower mixture and overturn onto hot pan, immediately using spatula to flatten into 3 to 4 inch patty. Repeat until pan cannot hold any more in single layer, about 4 fritters. Cook each fritter until bottom is crispy and golden brown, about 5 minutes, then carefully flip with spatula to cook other side, another few minutes. Transfer to paper towel lined plate to drain. Repeat with second batch or until mixture is used up.
NUTRITION
Makes 2 Servings
Amount Per Serving (3 to 4 fritters):
| | |
| --- | --- |
| Calories 440 (73% from fat) |   |
| Total Fat 36g | 55% |
|    Saturated Fat 16g | 79% |
| Cholesterol 256mg | 85% |
| Sodium 1020mg | 43% |
| Net Carb 5g |   |
| Total Carb 10g | 3% |
|    Dietary Fiber 5g | 20% |
|    Sugars 4.5g |   |
| Protein 22g |   |
PHOTOS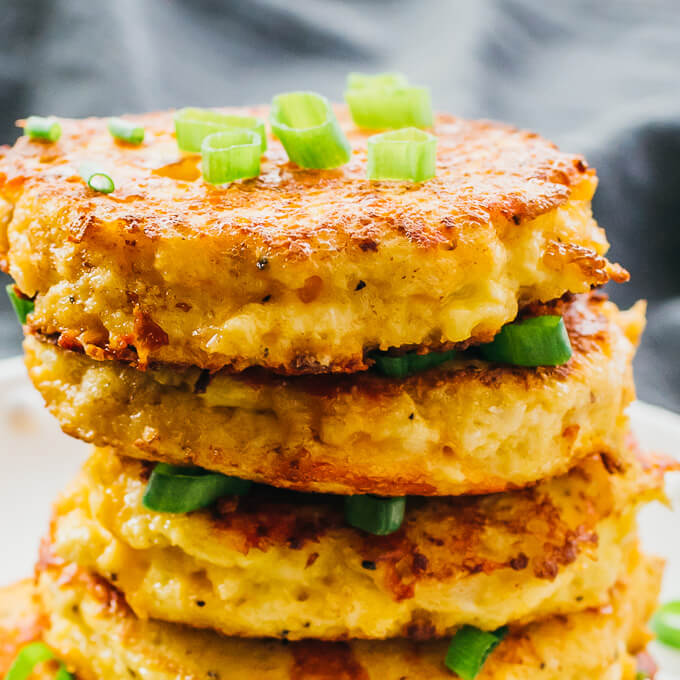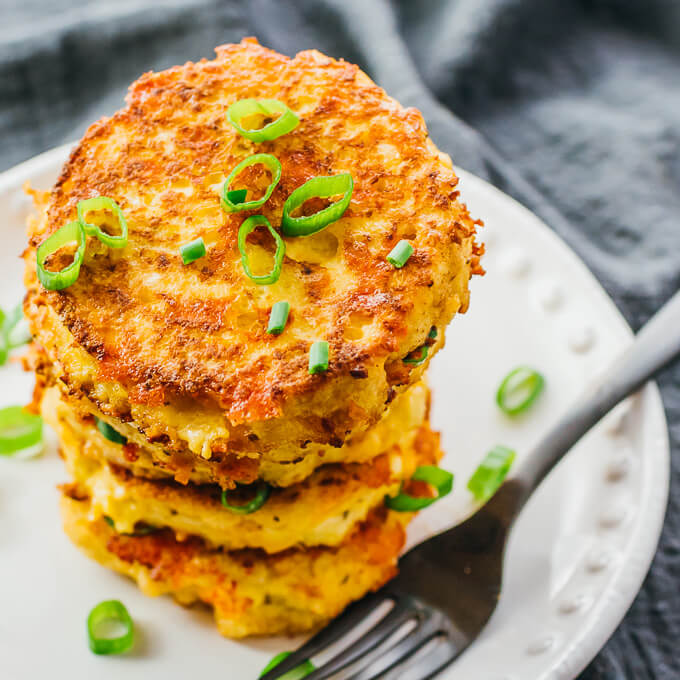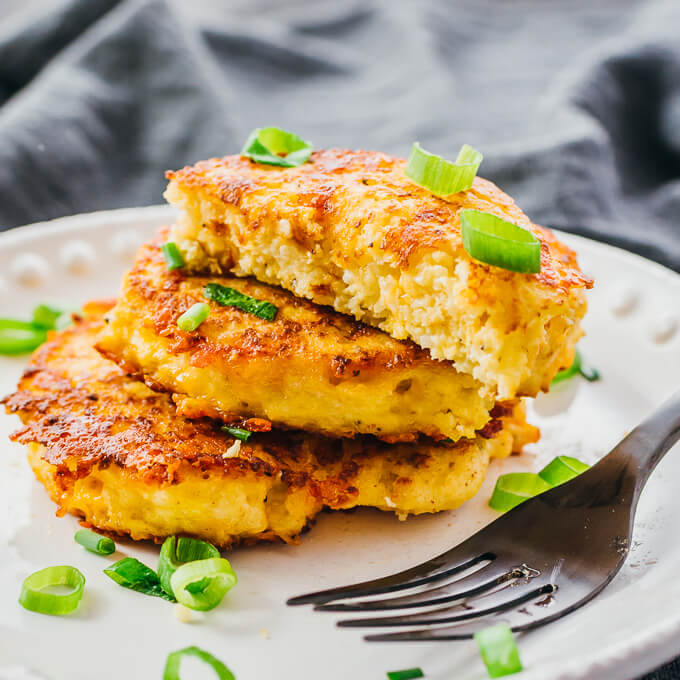 NOTES & TIPS
(1) Cauliflower Rice. About 10 ounces weight. You can use fresh or frozen. I recommend picking up a 10-ounce bag of pre-riced cauliflower in the produce section or freezer aisle of U.S. grocery stores — easier than grating cauliflower florets using a box grater or food processor. If you choose to grate your own cauliflower rice, you'll need about half of a large head of cauliflower. Freshly grated cauliflower tends to be very wet, so I recommend squeezing liquid from it using a tea towel, cheese cloth, or a nut milk bag.
(2) Almond Flour. About 1 ounce weight. I use almond flour that is blanched, which means the skins are taken off of the almonds, so the resulting flour looks white. You can substitute with other flours, powders, or ground seeds/nuts; its purpose is to provide dry bulk that helps hold the fritter together. Watch out for any substitutes that may contribute unwanted flavors.
(3) Microwaving Cauliflower Rice. The cooking times listed in the recipe are based on a 700-watt microwave operating at high (100%) power, and is approximate since microwaves vary. If you're using a bag of pre-riced cauliflower, follow package instructions for cooking instructions.
(4) Draining Excess Liquid. This is an optional step to reduce the liquid in the cauliflower mixture, resulting in crisper fritters. If you skip this step, you may notice a pale yellow liquid pooling at the bottom of the bowl — avoid it when scooping up the mixture to form fritters.
(5) Large Pan. I use a 12-inch nonstick pan, which can comfortably hold at least 4 fritters at a time. I recommend using your largest pan so that you can cook multiple cauliflower fritters simultaneously, reducing the number of batches.
(6) Fritter Size. For "thick" fritters as pictured on this page, use about 1/4 cup of the cauliflower mixture for each fritter. For "thin" ones, use only 2-3 tablespoons per fritter. I think thick fritters are more attractive, and saves time since there are fewer fritters to fry. However, thin fritters tend to be crispier, tasting more like traditional hash browns. You also get less of the cauliflower and egg taste.
(7) Serving. Serve these fritters while warm, alongside other breakfast items like beef hash, almond flour pancakes, or egg bites (instant pot).
(8) Saving For Later. If you have leftovers, or you're making this ahead of time, you can store the cooked fritters in a covered container in the refrigerator for up to 2 days. Reheat on a skillet over medium heat until warmed through, a few minutes per side.
(9) Bacon Variation. Fry 2 bacon slices in the pan you intend to use for the fritters. When the bacon gets crispy, drain on a paper towel and crumble into small pieces, stirring them into the cauliflower mixture. Then use the reserved bacon grease in the pan for frying the fritters instead of butter.