Summary:
Change up your breakfast routine by making these crispy cauliflower fritters, or as I like to call them, guilt-free hash browns! Low carb, keto, and gluten free.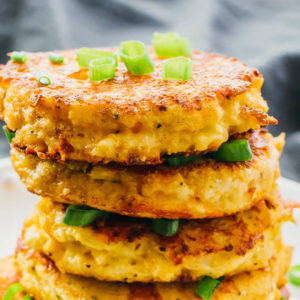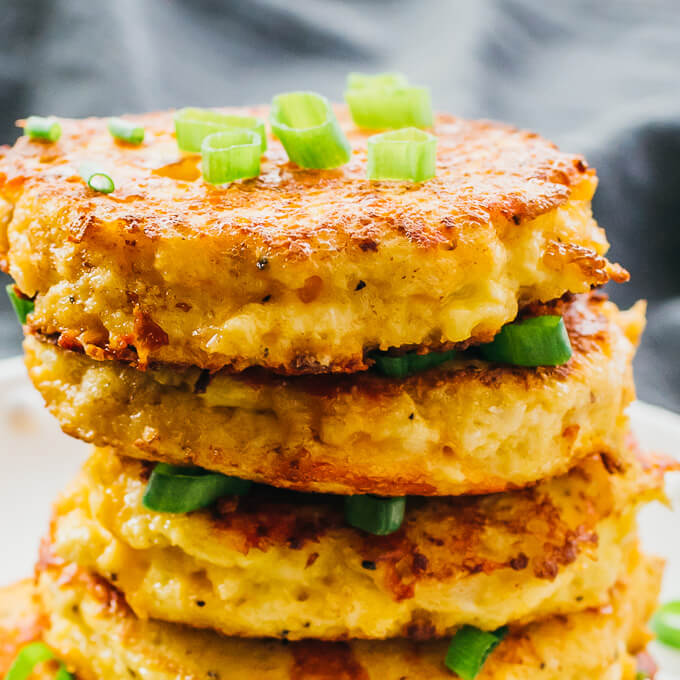 Cauliflower Fritters (Like Hash Browns!)
INGREDIENTS
1

(10-ounce)

package cauliflower florets (equivalent to half of a large head)

2/3

cup

shredded cheddar cheese (2 ounces weight)

1/4

cup

blanched almond flour (1 ounce weight)

2

large eggs

1

scallion

thinly sliced

2

tablespoons

butter

1/2

teaspoon

salt

1/4

teaspoon

black pepper
INSTRUCTIONS
Using a food processor or box grater, grate the cauliflower florets. In a bowl, stir with salt until well-mixed.

In a bowl, combine the cauliflower mixture with cheese, almond flour, eggs, and pepper, stirring until well-mixed.

Heat a wide pan over medium heat for a few minutes or until hot. Spread butter on the pan as it melts.

For thick patties (shown in photos): Scoop about 1/4 cup of the cauliflower mixture onto the hot pan and flatten with a spatula to form a 3-4 inch patty.
For thin patties: Use only 2-3 tablespoons.

Cook until the bottom is crispy and golden brown, about 5 minutes, then carefully flip to cook the other side. Transfer to a paper towel lined plate to drain.

Repeat until all of the mixture is used up, working in batches as needed. I usually cook about 3-4 patties simultaneously on a pan.

Serve and top with scallions.
NUTRITION
Makes 2 Servings
Amount Per Serving (2-3 fritters):
| | |
| --- | --- |
| Calories 440 (73% from fat) | |
| Total Fat 36g | 55% |
| Saturated Fat 16g | 79% |
| Cholesterol 256mg | 85% |
| Sodium 1020mg | 43% |
| Net Carb 5g | |
| Total Carb 10g | 3% |
| Dietary Fiber 5g | 20% |
| Sugars 4.5g | |
| Protein 22g | |
Recipe Overview
These cheesy cauliflower fritters are the cure to any craving for hash browns. Low carb and savory, these treats are crispy little patties made with mainly cauliflower, cheddar cheese, and eggs. No potatoes, flour, or corn starch used.
First, the cauliflower is grated and squeezed dry of moisture, and then mixed together with the other ingredients. There's no need to pre-cook the cauliflower.
Spoonfuls of the mixture are dropped onto a hot buttered pan, flattened into cauliflower "pancakes," and cooked on both sides until crispy and golden. They're topped with refreshing sliced scallions before serving.
How to make perfectly round fritters
To get nicely round fritters — and not ones that are ungracefully splayed out — there are a couple of things to pay attention to.
First, the cauliflower mixture should be quite dense. This is achieved by removing as much moisture as possible from the grated cauliflower. Salting the cauliflower should help it release liquid.
You'll know that the mixture is dense enough when it doesn't spread out on the hot pan.
Second, use a round measuring cup. I make thick patties, each with 1/4 cup of mixture and 3-4 inches in diameter. If you use a round 1/4 cup and pack it with the cauliflower mixture, when you turn it upside down to release it over the pan, it will maintain its round edges.
Don't be over-eager and flip before the fritters are ready. They should be crispy and golden brown on the bottom. It's easy to tell if you're flipping them too early — they will not flip easily and might even fall apart.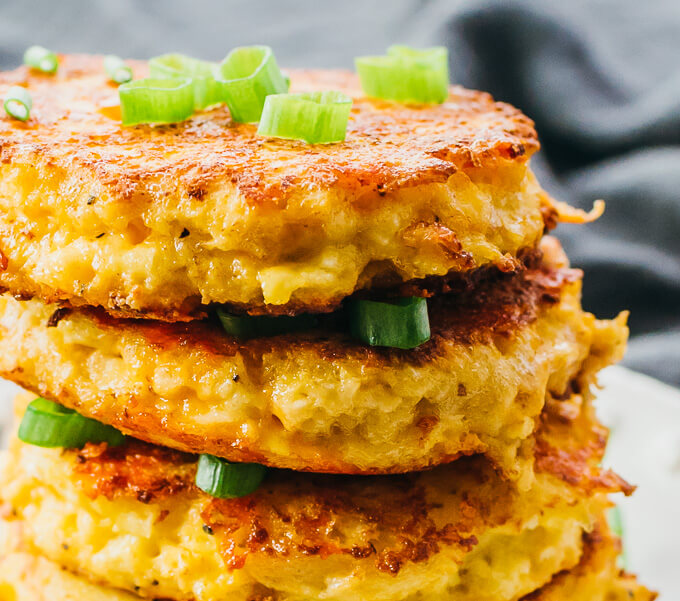 Recommended Equipment
A food processor is incredibly useful for grating cauliflower. Otherwise, you'd be grating it by hand. Don't use pre-packaged bags of riced cauliflower; they're not fine enough and won't work for this recipe.
To wring moisture from the grated cauliflower, I highly recommend using a nut milk bag or cheese cloth. It's possible that a tea towel will also work well.
I use a 12-inch nonstick pan for frying. A wide pan is useful because you can fit several fritters simultaneously, saving you time from cooking them in serial.
You'll also need a small sturdy spatula for flipping these fritters, plus another spatula or other utensil to prevent them from sliding around when flipping.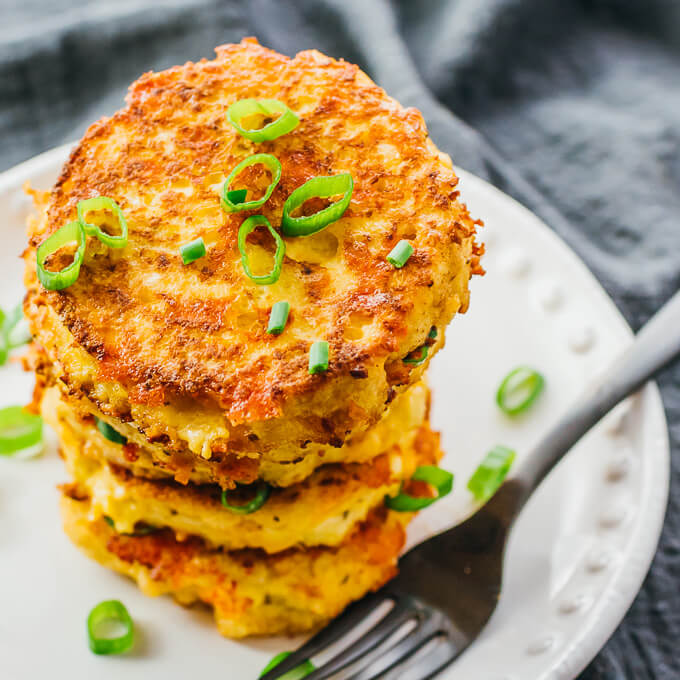 Thick Vs Thin Fritters
Thick fritters are more attractive, and save you time since you won't have to fry as many of them. A thick fritter uses about 1/4 cup of cauliflower mixture for a 3-4 inch patty.
However, thin fritters tend to be crispier, tasting more like traditional hash browns. You also get less of the cauliflower and egg taste. For a thin fritter, only use 2-3 tablespoons for each patty.
Either thick or thin will work — it's up to your preference!
Bacon Version
Yes, you can add bacon to this! Fry 2 bacon slices in the pan you intend to use for the fritters. When crispy, drain them on a paper towel and crumble into small pieces, stirring them into the cauliflower mixture.
Use the reserved bacon grease in the pan for frying the fritters — no need to add butter.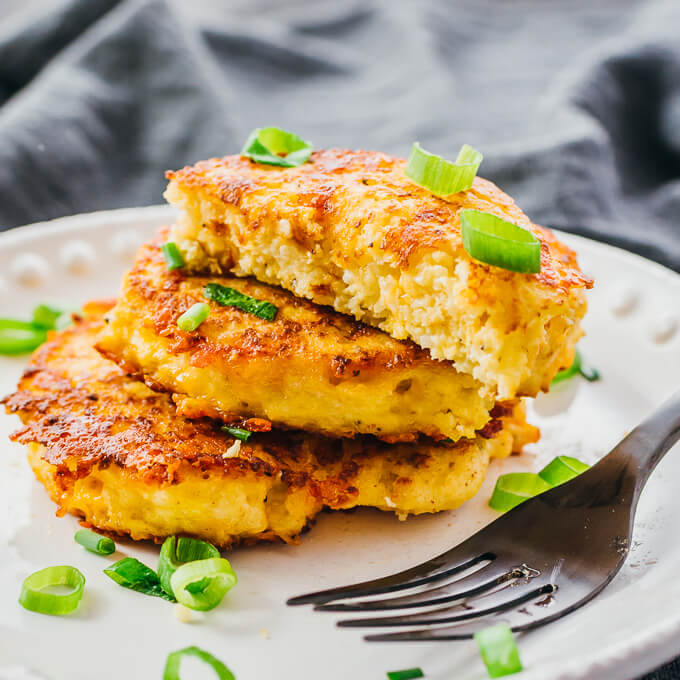 MORE DELICIOUS BREAKFAST FOODS THAT ARE LOW CARB: