Summary:
Made with roasted red peppers and scallions, these smoked salmon scrambled eggs are fast and easy to make. This flavorful breakfast is great for diets like keto, paleo, and gluten free. For more ideas, see Breakfast Recipes.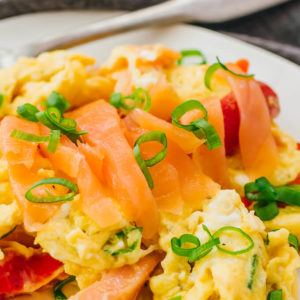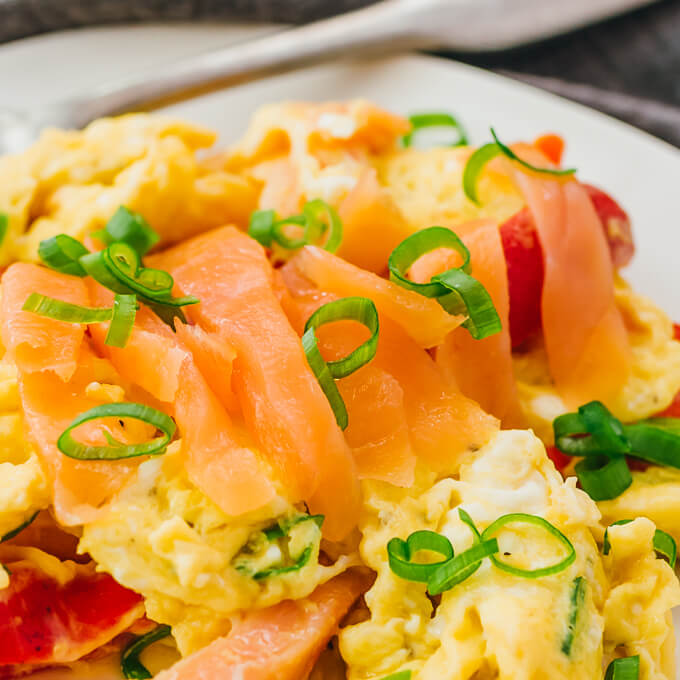 Smoked Salmon Scrambled Eggs
INGREDIENTS
4

large eggs

6

ounces weight

jarred roasted red bell peppers, well-drained and cut into thin strips

(I use half of a 12-ounce jar by the brand Delallo)

2

ounces weight

smoked salmon, cut into 1/2-inch strips

(I use refrigerated cold-smoked salmon which has a smooth silky texture, not shelf-stable hot-smoked salmon which is fully cooked and often sold in decorative boxes)

2

tbsp

thinly sliced scallions (green onions)

1

clove

garlic, minced

1

tbsp

olive oil, plus 1 tsp for cooking

1/8

tsp

table salt

1/8

tsp

ground black pepper
INSTRUCTIONS
In a mixing bowl, add eggs, garlic, 1 tbsp olive oil, salt, and pepper. Beat until well-mixed, with small or no streaks of egg white remaining.

Add all red pepper strips, half of the salmon, and half of the scallions to the egg mixture. Briefly stir until they're coated; by mixing them into liquid eggs, this ensures they will be fully integrated into the scrambled eggs.

Heat 1 tsp olive oil in a 10-inch nonstick pan over medium-high heat until very hot, a few minutes. Keep a rubber scraper spatula handy.

Carefully pour the egg mixture over the hot pan. Immediately use the rubber spatula to constantly and firmly scrape along the bottom of the pan until the eggs have clumped together and are no longer liquid, less than a minute (if your eggs are very cold, it can take longer).

Turn off the heat. Transfer the scrambled eggs onto serving dishes. Lay the remaining salmon strips over the scrambled eggs, and scatter the remaining scallions on top. Serve while hot.
NUTRITION
Makes 2 Servings
Amount Per Serving:
| | |
| --- | --- |
| Calories 310 | |
| Total Fat 24g | 36% |
| Saturated Fat 5g | 27% |
| Cholesterol 389mg | 130% |
| Sodium 290mg | 12% |
| Net Carb 7.5g | |
| Total Carb 8g | 3% |
| Dietary Fiber 0.5g | 1% |
| Sugars 1.5g | |
| Protein 18g | |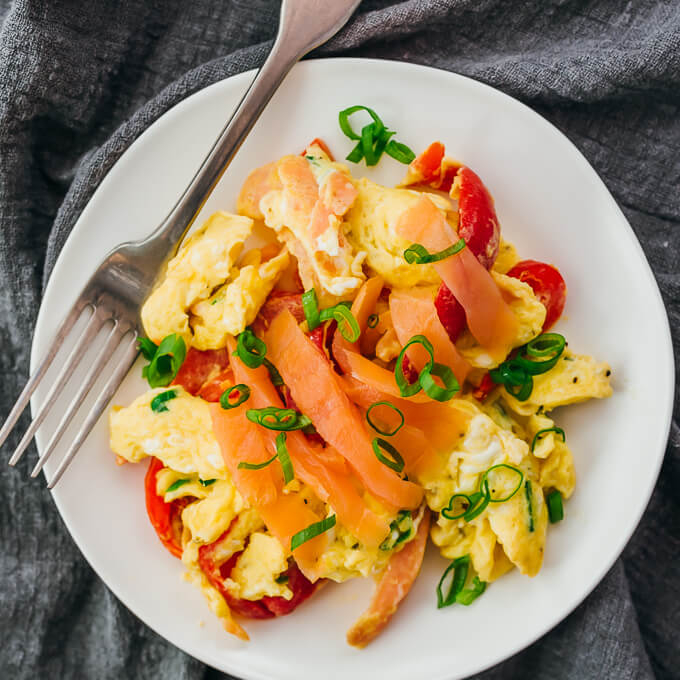 Smoked Salmon + Roasted Peppers
Since eggs cook very quickly when scrambled (less than a minute), any accompanying ingredients will ideally cook at the same rate or require no extra cooking.
For that reason, packaged cold-smoked salmon and jarred roasted red peppers are used in this recipe. Both ingredients pack a lot of flavor, so the seasonings are kept simple — just garlic, salt, and pepper.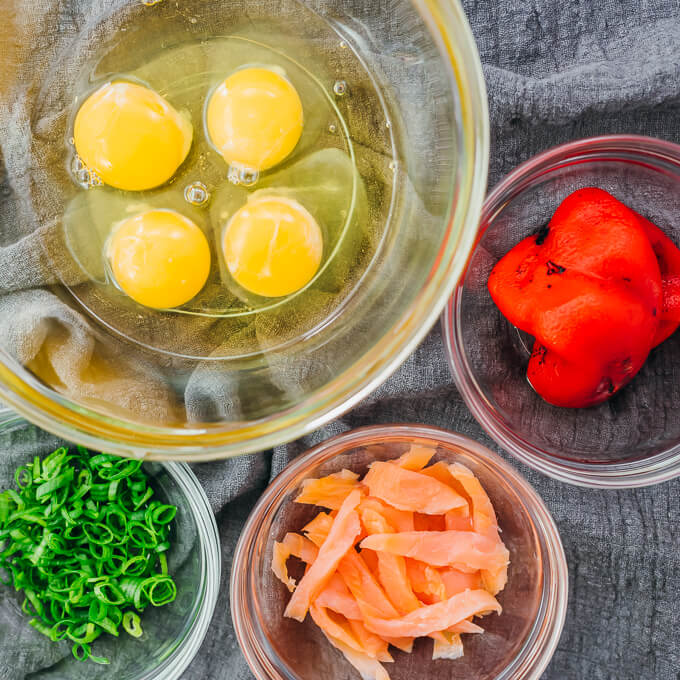 Changing It Up
You can easily add extra toppings, like capers or slices of avocado, or replace ingredients with your preferred ones. Maybe chives instead of scallions, or spinach instead of roasted red peppers. Make sure that any vegetables are pre-cooked.
Instead of serving the scrambled eggs as-is, you can wrap them up in a low carb tortilla (I like ones by Mission and Kroger) or make keto bagels to form an egg sandwich.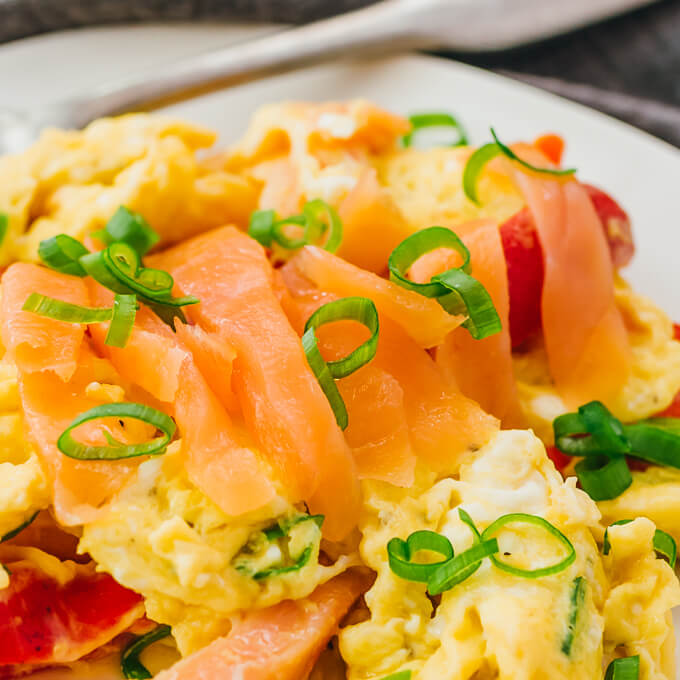 Low Carb Breakfast Drinks