Summary:
These low carb, keto pancakes with almond flour look and taste just like normal pancakes. They're small silver dollar pancakes -- just 3 inches in diameter. Enjoy them with sliced butter and sugar-free syrup for breakfast.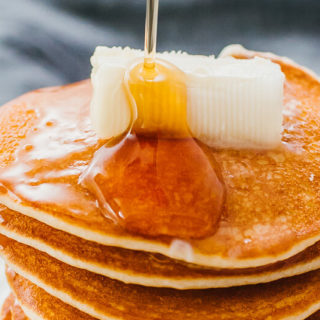 Keto Silver Dollar Pancakes With Almond Flour
(Ratings:
)
INSTRUCTIONS
In a bowl, combine all dry ingredients (almond flour, sweetener, salt), stirring or whisking until well-mixed.

Add all remaining ingredients (heavy cream, egg whites). Stir together until smooth. If the batter is too thick, or if you prefer thinner pancakes, stir in 1 tablespoon of water.

Heat a pan on the stove until hot. Pour batter to form a 3-inch pancake, about 1 to 2 tablespoons. Cook and then flip to cook the other side. Transfer to a plate when done. Repeat until the batter is used up.

Serve with butter and sugar-free syrup.
NUTRITION
Makes 2 Servings
Amount Per Serving (5 small pancakes):
| | |
| --- | --- |
| Calories 280 (81% from fat) | |
| Total Fat 26g | 40% |
| Saturated Fat 7g | 35% |
| Cholesterol 118mg | 39% |
| Sodium 190mg | 8% |
| Net Carb 3g | |
| Total Carb 6g | 2% |
| Dietary Fiber 3g | 12% |
| Sugars 2g | |
| Protein 10g | |
Only 5 ingredients to make these easy pancakes, and you can enjoy them with sliced butter and a generous drizzle of sugar-free syrup!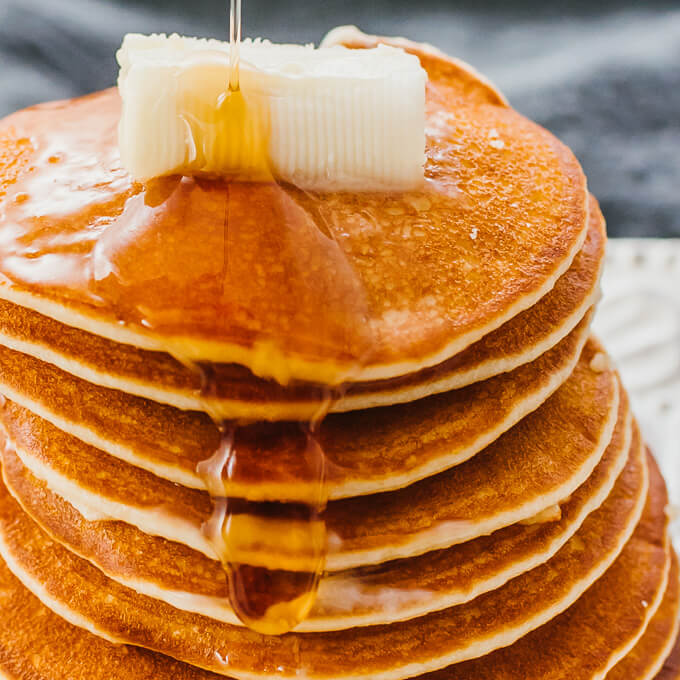 Recipe Development
Developing an almond flour pancake recipe was a bit tricky. Without wheat flour, pancakes don't hold together as well, making them hard to flip. Baking powder exacerbates the issue. And if you wait too long to flip them, they can easily burn. Another issue, one that often comes up in low carb and keto baking, is having something taste too "eggy," which I wanted to avoid.
In the end, it took about 15 experiments to develop this recipe. The pancakes aren't difficult to flip — the small silver dollar pancakes cook quickly and are easier to flip in general, and the addition of heavy whipping cream helps hold everything together. I use only egg whites instead of whole eggs, which completely removes any "eggy" taste. I'm proud to say that these pancakes taste like the real deal!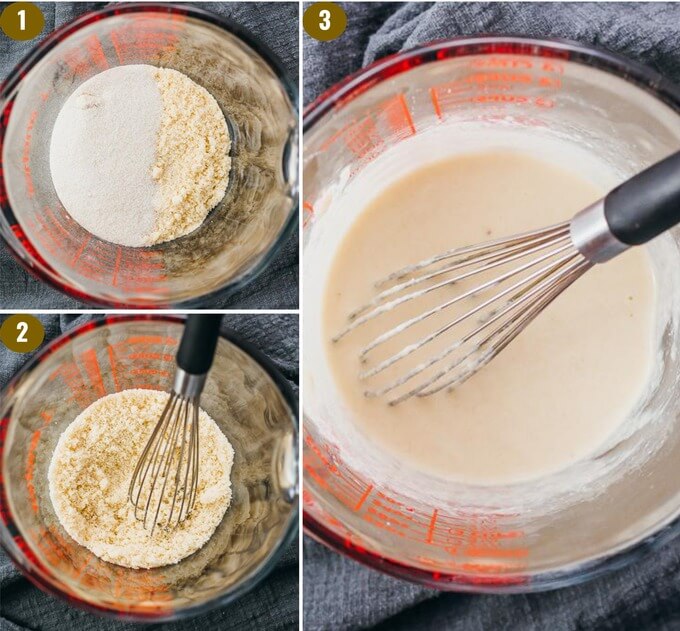 Cooking Tips
These pancakes should be cooked just like normal pancakes. Typically, you start by heating a pan for a few minutes until hot. Then you pour the batter until it reaches your desired pancake shape (for these dollar pancakes, only 3 inches wide), flip when you see bubbles bursting at the surface, and cook a bit longer until done. It's pretty straightforward.
Study these keto pancakes while they're cooking, and you'll notice how they cook starting from the edges and moving inwards. Bubbles will form and burst, starting at the edges. I usually flip pancakes when the bubbles have started bursting but haven't made it all the way to the center. You want to flip the pancake as soon as it will stay together when you do so. If it's too gooey to flip, wait a bit longer until it firms up.
In the recipe, I don't give time estimates for cooking because it varies quite a bit, depending on the size of the burner, the heat level, size and type of pan, and amount of batter used. Personally, it takes me anywhere from 1 to 2 minutes for these small dollar pancakes, and after flipping, another 30 seconds. For reference, I use a relatively large burner on medium-low heat and an 8-inch nonstick pan.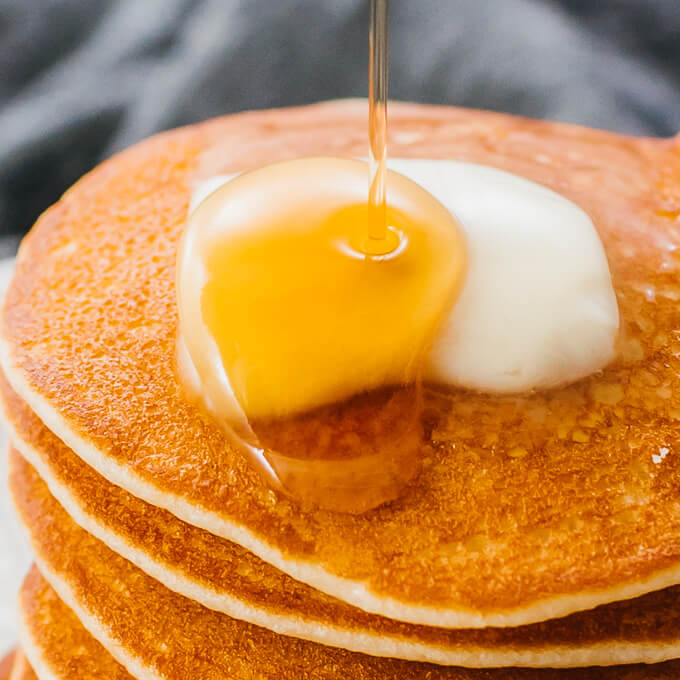 Sweetener
I use swerve, which is an erythritol blend sweetener that measures the same as sugar. If you use pure erythritol, get it in powdered form using a Nutribullet blender and use more than specified in the recipe, since erythritol is only about 70% as sweet as sugar and swerve. For best results, measure out the sweetener by weight, not volume.
You can also use other types of sweetener by adding to taste. Another option is skipping the sweetener altogether; I've tried this and personally don't like it as much, but you can always make up for it with extra syrup.
Sugar Free Syrups
You can order a bottle of sugar free pancake syrup on Amazon. Here are some options and their nutrition information:
I recommend Walden Farms because it uses sucralose, which is preferable to sorbitol or maltitol, both of which impact blood sugar (see comparison on glycemic index). The Walden Farms syrup also has zero calories.
It's also possible that you might find sugar free syrups at your local brick-and-mortar grocery store, but I haven't had any luck.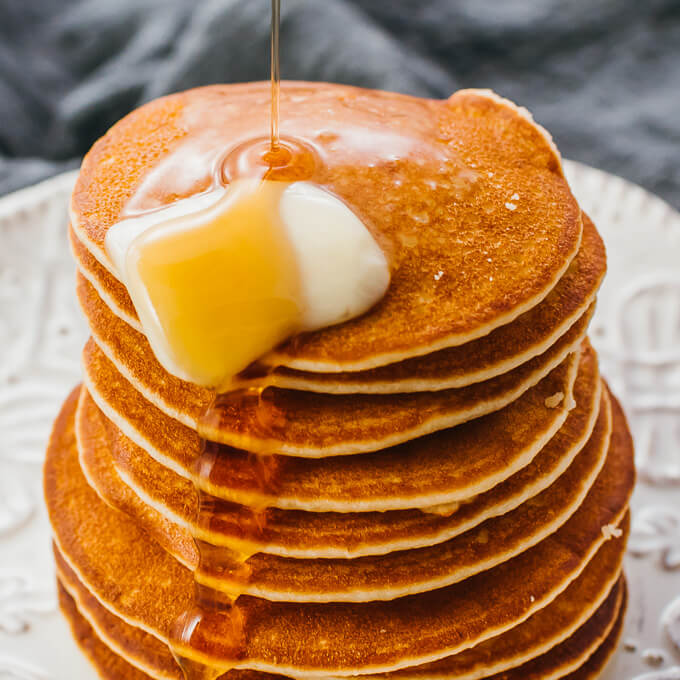 START YOUR MORNINGS WITH: