Summary:
With only 5 ingredients, these almond flour pancakes are easy to make and ideal for anyone looking for a low carb and keto friendly breakfast. They look and taste just like normal pancakes, and you can enjoy them with a slice of butter and a drizzle of sugar-free syrup.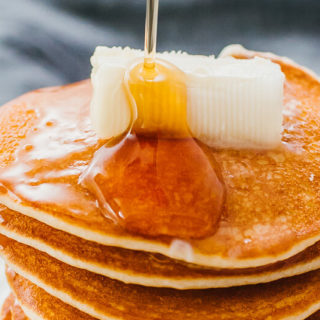 INGREDIENTS
INSTRUCTIONS
Make Batter: Stir together dry ingredients (almond flour, sweetener, salt) in a bowl until well-mixed. Stir in heavy cream and egg whites until batter is smooth. If batter is too thick, stir in 1 tablespoon of water.

Cook Pancakes: Heat a nonstick pan on the stove over medium-low until hot. Pour batter to form a 3-inch pancake, about 1 to 2 tablespoons (Note 5). Cook until surface bubbles are bursting, 1 to 2 minutes, then flip to cook the other side until cooked through, another 30 seconds (Note 6). Transfer to a plate when done. Repeat until batter is used up.

Serve: Serve immediately while hot, with butter and sugar-free syrup.
NUTRITION
Makes 2 Servings
Amount Per Serving (5 small pancakes):
| | |
| --- | --- |
| Calories 280 (81% from fat) |   |
| Total Fat 26g | 40% |
|    Saturated Fat 7g | 35% |
| Cholesterol 118mg | 39% |
| Sodium 190mg | 8% |
| Net Carb 3g |   |
| Total Carb 6g | 2% |
|    Dietary Fiber 3g | 12% |
|    Sugars 2g |   |
| Protein 10g |   |
PHOTOS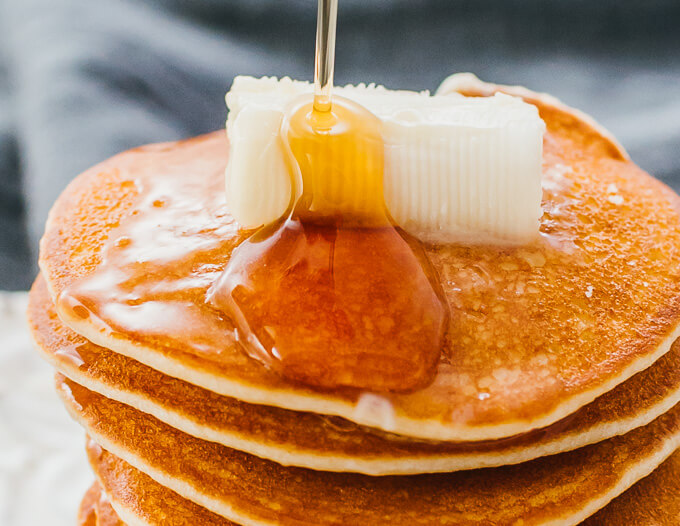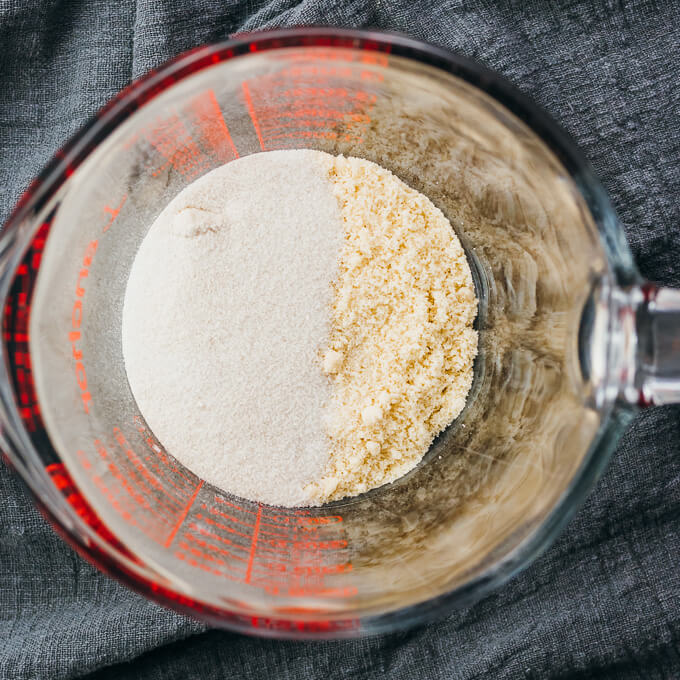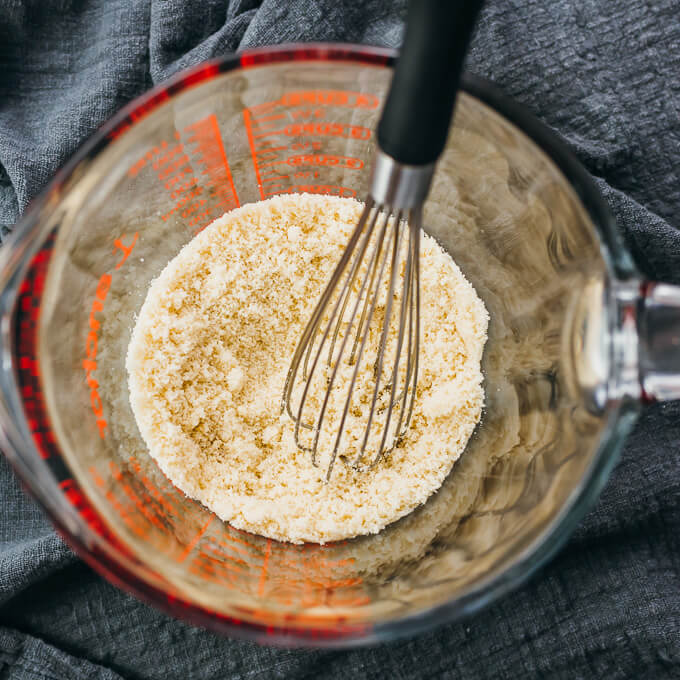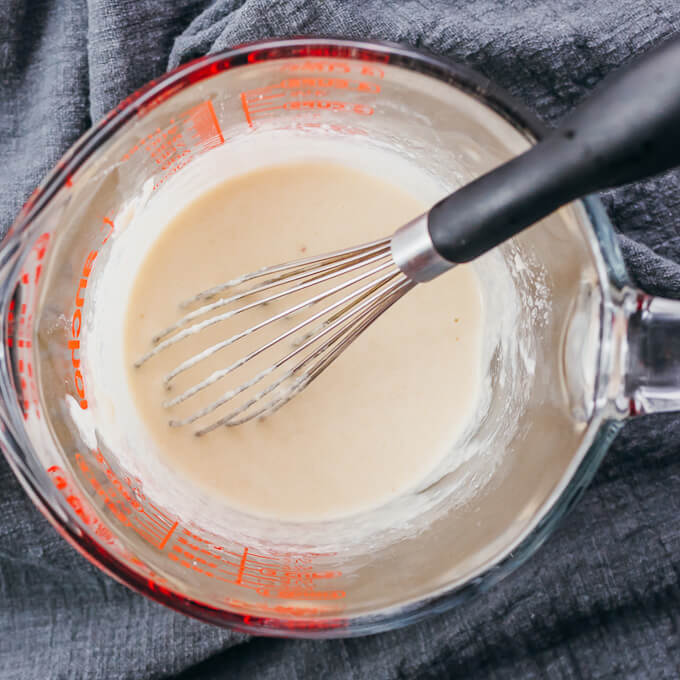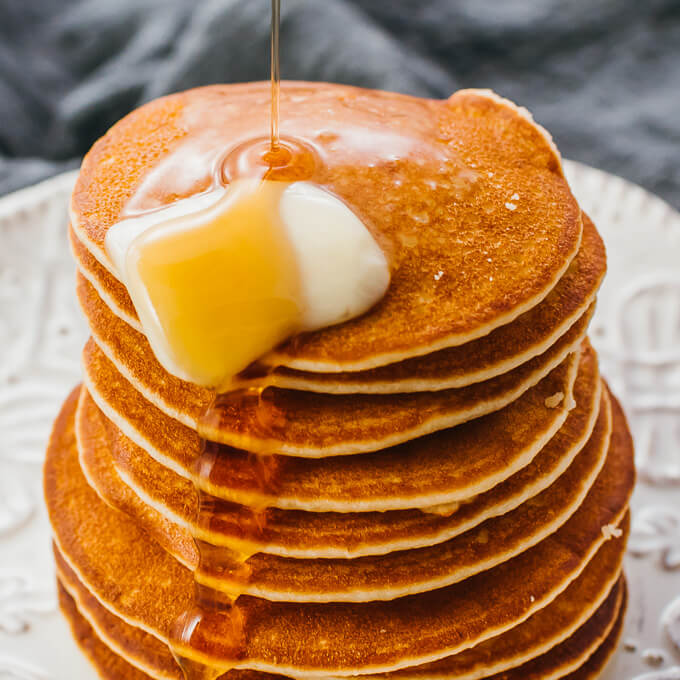 NOTES & TIPS
(1) Almond Flour. Same as 2 ounces weight. I use almond flour that is blanched, which means the skins are taken off of the almonds, so that the resulting flour looks white. Don't substitute with coconut flour or other flours, which vary in their absorbency and aren't a 1:1 substitution.
(2) Sweetener. Same as 1 ounce weight. Swerve is a dry erythritol blend that measures the same as regular sugar; it's not the same as pure erythritol which is about 70% as sweet. I use the confectioners (powdered) version, not granulated. You can substitute with your favorite dry sweetener, but for best results, use the weight value or use a powdered sweetener since powdered and granulated ones pack differently into a measuring cup. You can make powdered sweetener by running granules through a blender. To calculate the amount to use, check your sweetener's packaging to determine how its sweetness compares.
(3) Egg Whites. I use only egg whites instead of whole eggs so that the pancakes won't have an "eggy" taste. To separate the whites from the yolks, crack the egg in the middle and push in with your thumbs to divide the shell into two equal halves. Let the egg whites drip into a bowl below, while transferring the yolk between the two shell halves repeatedly until only the yolk is remaining in the shell.
(4) Sugar-Free Syrups. The syrups are optional, but highly recommended. You can order a bottle of sugar free syrup on Amazon, such as Lakanto Maple Flavored Syrup and ChocZero Maple Syrup which use monk fruit and Walden Farms Maple Walnut Syrup which uses sucralose. These syrups will last a long time, and you can use them not just for pancakes but also for sweetening smoothies and drizzling over keto friendly cornbread and ice cream.
(5) Pancake Size. Avoid using more batter than the recommend 1 to 2 tablespoons. You want the pancakes to be small, which makes them easier to flip without falling apart and also allows them to fully cook through before the outsides start to burn.
(6) Cooking Pancakes. If you study these keto pancakes while they're cooking, you'll notice how they cook starting from the edges and moving inwards. Bubbles will form and burst, starting at the edges. I usually flip pancakes when the bubbles have started bursting but haven't made it all the way to the center. You want to flip the pancake as soon as it will stay together when you do so. If it's too gooey to flip, wait a bit longer until it firms up.
(7) Nutrition. The nutrition calculation assumes you are using Swerve or similar erythritol-based sweetener that uses sugar alcohols, whose carbs are non-impact and not included in the nutrition estimate. Optional serving ingredients like butter and sugar-free syrups are not included.