Summary:
This is an easy recipe for making low carb muffins with almond flour and chopped nuts. They're soft and fluffy, with a distinct banana flavor.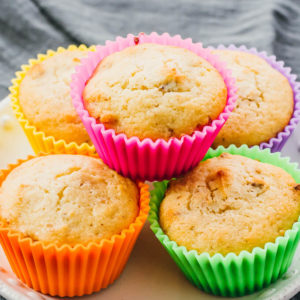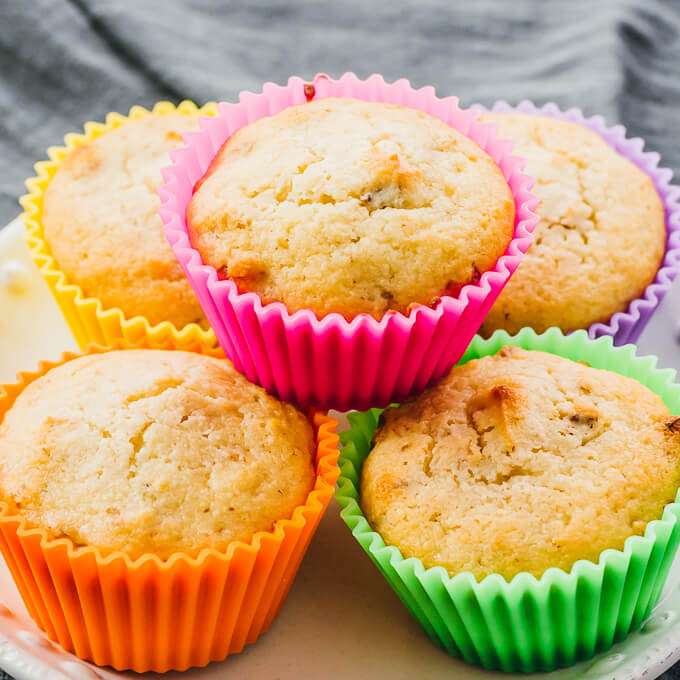 INSTRUCTIONS
Prepare: Preheat oven to 350 F.

Make Batter: Whisk almond flour, sweetener, baking soda, and salt in bowl until well-mixed. Lightly beat egg by hand in another bowl, then stir with sour cream, oil, and banana extract until smooth. Combine wet and dry mixtures by stirring until well-mixed, then stir in nuts.
NUTRITION
Makes 7 Servings
Amount Per Serving (1 small muffin):
| | |
| --- | --- |
| Calories 210 (84% from fat) |   |
| Total Fat 19g | 30% |
|    Saturated Fat 3g | 13% |
| Cholesterol 34mg | 11% |
| Sodium 100mg | 4% |
| Net Carb 2g |   |
| Total Carb 4.5g (Note 7) | 1% |
|    Dietary Fiber 2.5g | 9% |
|    Sugars 1g |   |
| Protein 7g |   |
PHOTOS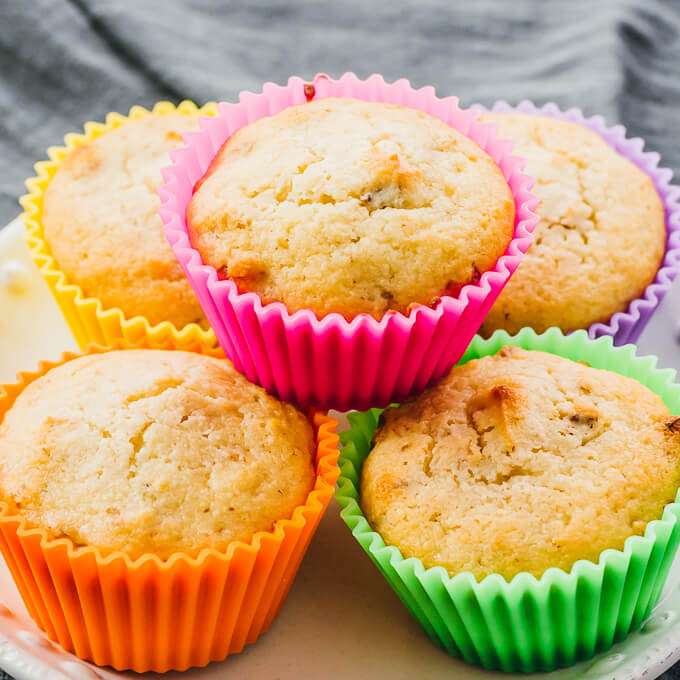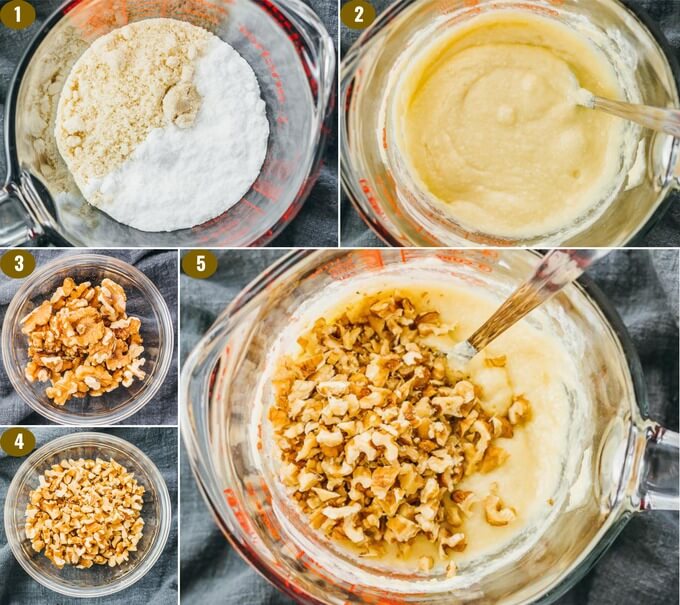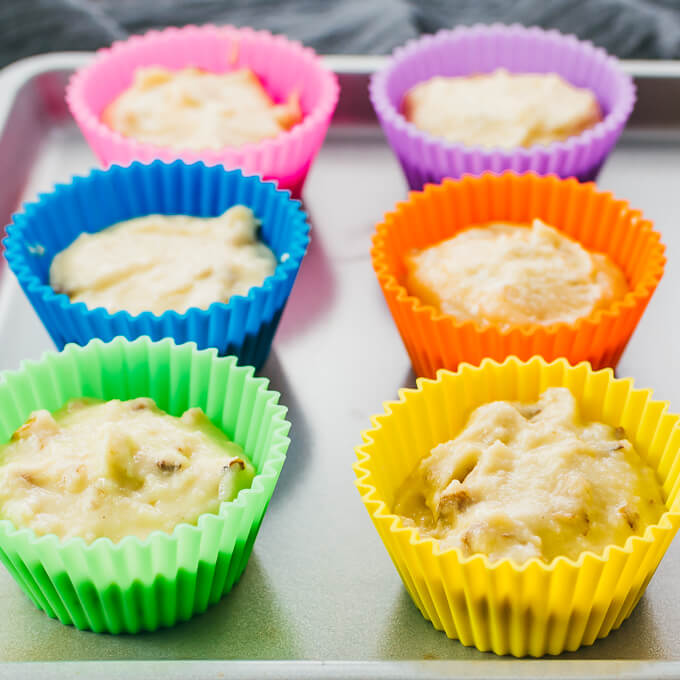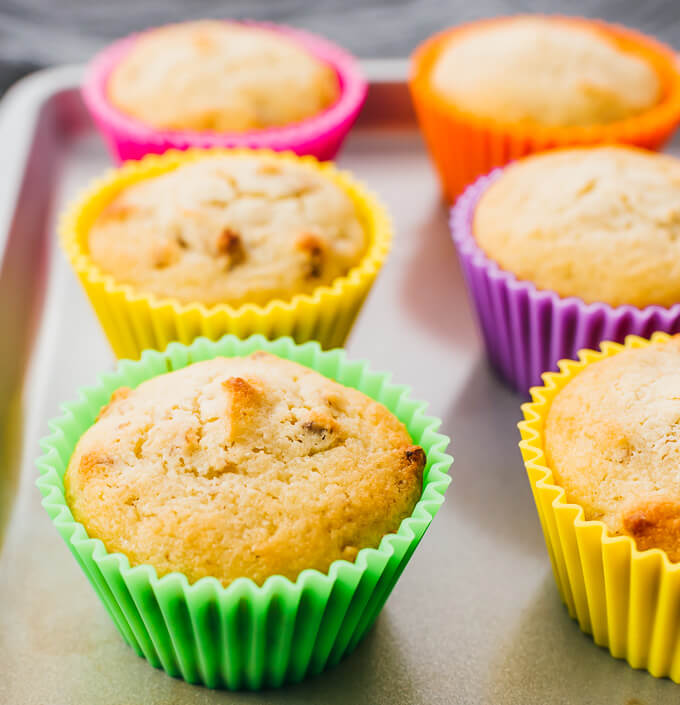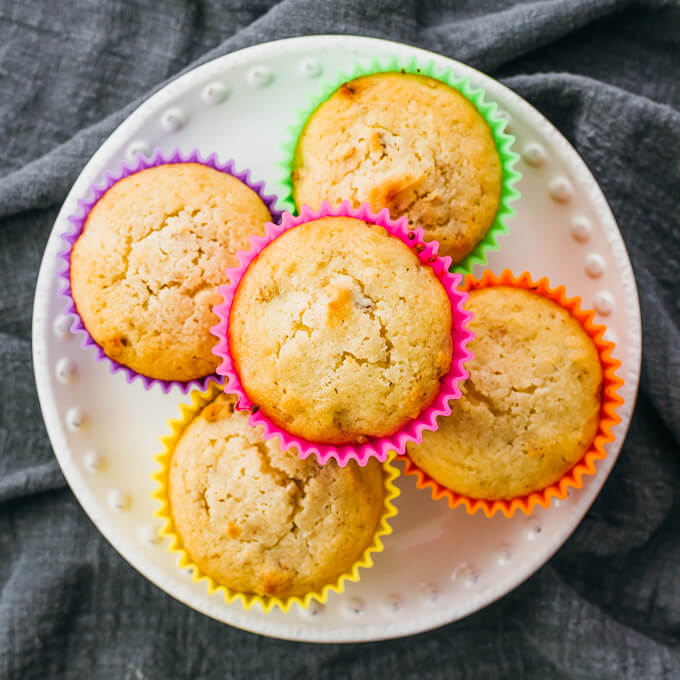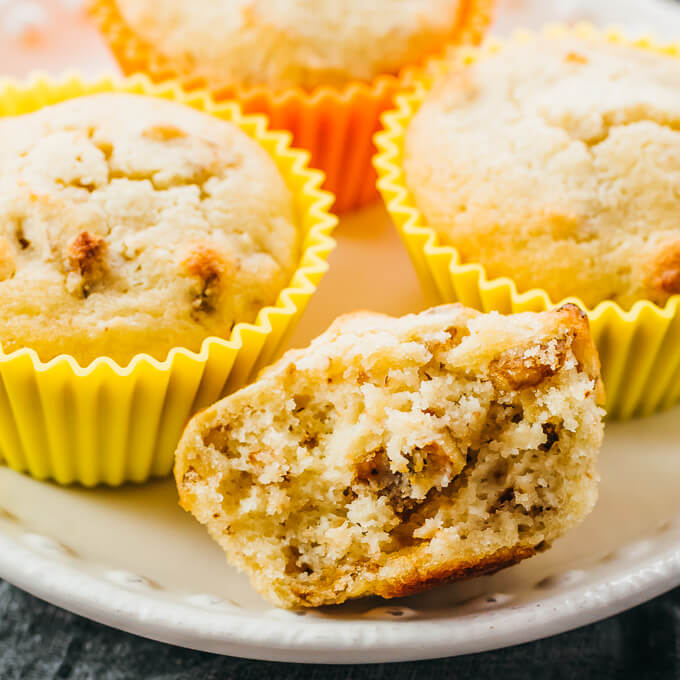 NOTES & TIPS
(1) Almond Flour. About 4 ounces weight. I use almond flour that is blanched, which means the skins are taken off of the almonds, so the resulting flour looks white. I typically use Costco's Kirkland brand, which has 2 grams of net carbs per 1/4 cup serving. Don't substitute with coconut flour or other flours, which vary in their absorbency.
(2) Walnuts. About 2 ounces weight. Make sure the walnuts are very finely chopped (see photos), otherwise you'll have large chunks of walnuts, which could make these small muffins break apart easily. You can substitute with chopped pecans or sugar-free chocolate chips (from brands like Lily's), or a mix of them.
(3) Sweetener. About 2 ounces weight for erythritol and 1.4 ounces weight for Confectioners Swerve. Erythritol is about 70% as sweet as Confectioners Swerve; the latter measures the same as regular powdered sugar. You can substitute with your favorite dry sweetener. To calculate the amount to use, check your sweetener's packaging to determine how it compares to regular sugar.
(4) Banana Extract. I've used both McCormick's banana extract and Kroger's banana imitation flavor. You can purchase it online or at select U.S. supermarkets. I opted to use banana extract in this recipe because it's zero carb compared to mashed bananas, which have 24 grams of net carbs per medium banana.
(5) Wrappers. I use silicone baking cups, and you can also use a muffin tin lined with foil or paper liners. Note that these are small muffins, each about the size of a cupcake. I recommend lightly greasing the bottoms and sides of each liner so that the muffins will easily release after baking.
(6) Serving. It's important to let the baked muffins cool to room temperature before serving, or they will be too soft and will fall apart easily. These muffins are great as a convenient grab-and-go breakfast or midday snack. Leftover muffins should be fully cooled then stored in an airtight container at room temperature for up to 3 days; serve at room temperature without reheating.
(7) Carbs. The nutrition calculation assumes you are using Swerve or a similar erythritol-based sweetener that uses sugar alcohols, whose carbs are non-impact and therefore not included in the nutrition estimate. Apps that count sugar alcohols will show a higher number of carbs.