Summary:
These easy keto banana bread nut muffins are made with almond flour. Great breakfast recipe for low carb, gluten free, and sugar free diets.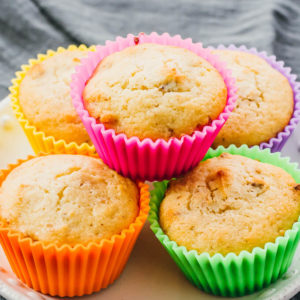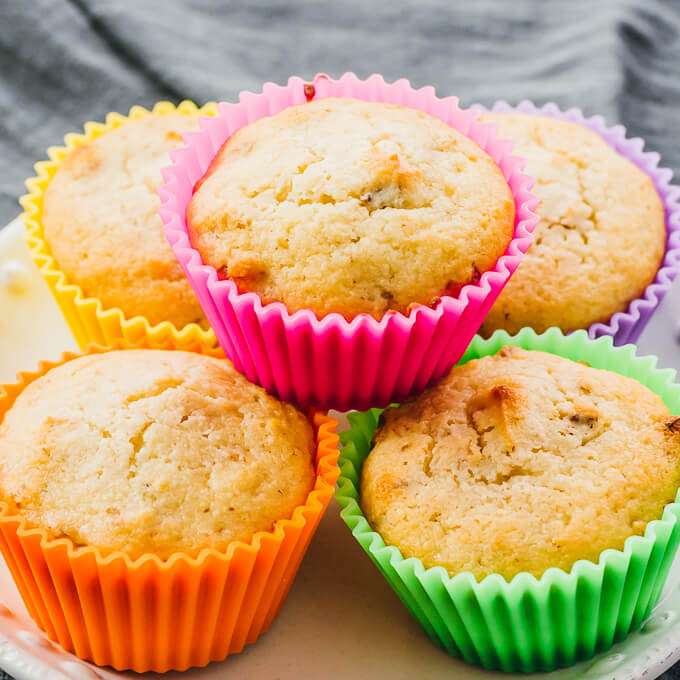 Keto Banana Bread Muffins Recipe
INSTRUCTIONS
Preheat the oven to 350 F.

In a bowl, combine dry ingredients (almond flour, erythritol, baking soda, salt) and mix well. Don't add the walnuts yet.

In another bowl, lightly beat the egg. Add all other wet ingredients (sour cream, vegetable oil, banana extract), mixing until smooth.

Add the wet mixture to the dry mixture. Stir until well-mixed. Fold in the walnuts.

Distribute the batter among 6-8 cupcake wrappers, filling them about 2/3 full.

Bake at 350 F for about 20 minutes. A toothpick inserted in the center should come out clean or with a few dry crumbs. Let them cool at room temperature before serving.
NUTRITION
Makes 7 Servings
Amount Per Serving (1 small muffin):
| | |
| --- | --- |
| Calories 210 (84% from fat) | |
| Total Fat 19g | 30% |
| Saturated Fat 3g | 13% |
| Cholesterol 34mg | 11% |
| Sodium 100mg | 4% |
| Net Carb 2g | |
| Total Carb 4.5g | 1% |
| Dietary Fiber 2.5g | 9% |
| Sugars 1g | |
| Protein 7g | |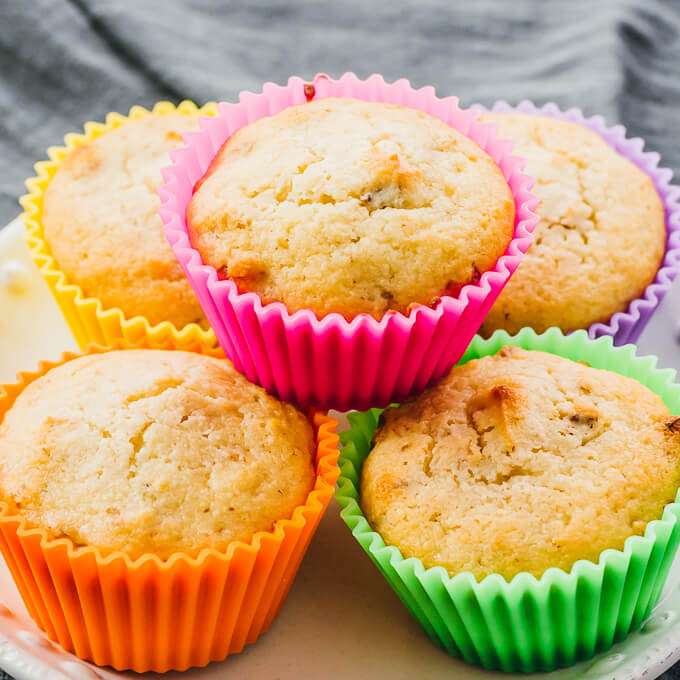 If you've been missing banana bread while on a low carb diet, you'll love these little treats — they taste just like banana nut muffins!
These are soft and fluffy muffins, about the size of cupcakes. They have a distinct banana flavor and contain finely chopped walnuts.
They're also really easy and straightforward to make, almost as simple as my fat bomb recipes. The main ingredients are almond flour, sour cream, walnuts, a sweetener (I use erythritol), and banana extract.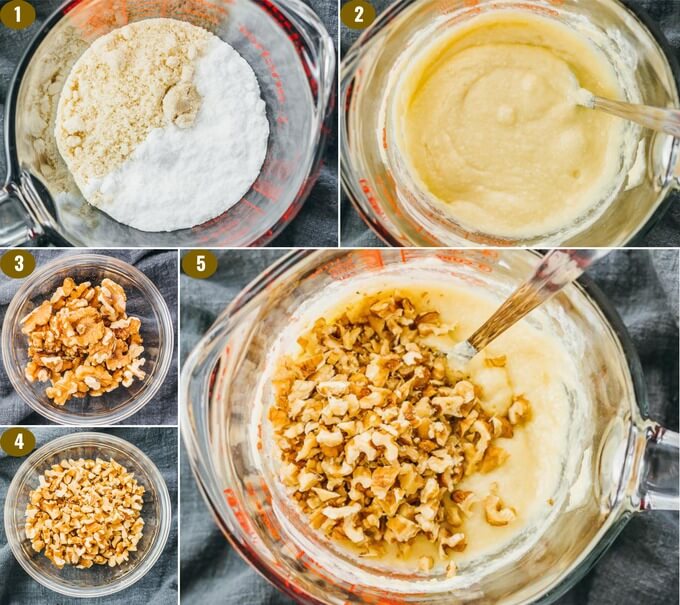 Banana Flavoring
There are two common ways to get banana flavored muffins. You can either use mashed ripe bananas (24g net carbs per medium banana) or banana extract (carb free).
Since this is a keto recipe and we're trying to keep carbs as low as possible, I opted for banana extract, even though it's not as readily available compared to bananas.
I use McCormick's brand of banana extract, which I was able to find at a local supermarket. I recommend calling a couple of nearby stores to ask if they have it, or buy it online.
Tips For Perfect Muffins
Use a digital food scale to measure out the ingredients by weight. The recipe provides volume in cups, but they are rough estimates because the same weight of an ingredient can vary substantially in volume depending on how it's packed. This is especially true for the powdered sweetener.
These are small muffins that are the size of cupcakes. You can use foil cupcake liners in a muffin tin, or silicone ones as shown in these photos.
I use erythritol, a natural sweetener that has no impact on insulin or blood sugar because your body doesn't digest it. Note that it's only about 70% as sweet as sugar, so you should take that into account if you plan to use another type of sweetener. If you have granulated erythritol, powder it using a blender before using.
Make sure the walnuts are very finely chopped (see photos), otherwise you'll have large chunks of walnuts, which could make these small muffins break apart easily.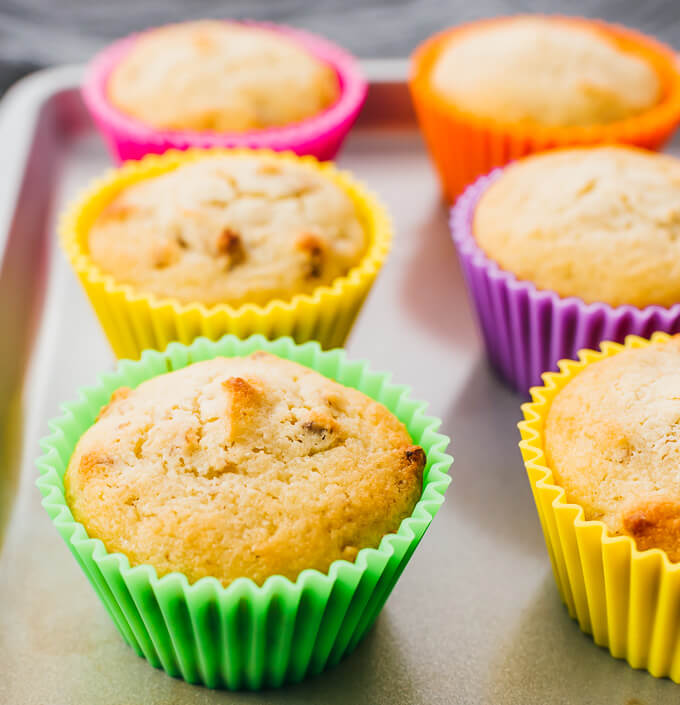 Serving and Leftovers
After baking, let the muffins cool a bit at room temperature, about an hour. Resist the urge to eat them right away — they'll be too soft and will fall apart easily.
Leftover muffins should be stored in a covered container at room temperature. If you decide to chill them in the refrigerator instead, let them warm to room temperature before serving.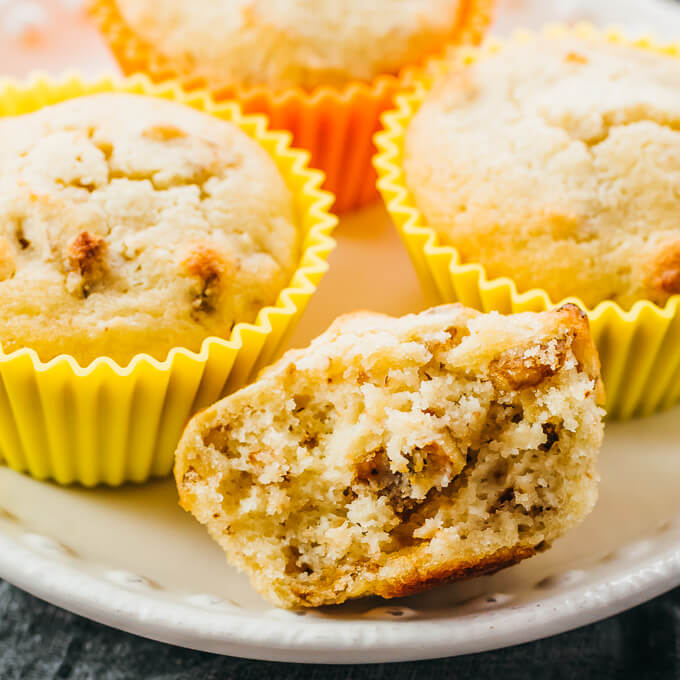 YOU MIGHT ALSO LIKE THESE KETO DESSERTS: