Summary:
This recipe makes a deconstructed version of traditional stuffed cabbage rolls. Stuffed rolls are time-consuming — ingredients need to be pre-cooked and rolled in leaves, with 1-2 hours of baking. This unstuffed version is faster and hassle-free, yielding the same great flavors. You only need one pot and everything is conveniently cooked on the stovetop. Regular rice is swapped out for cauliflower rice to make this a great keto, low carb, and paleo option.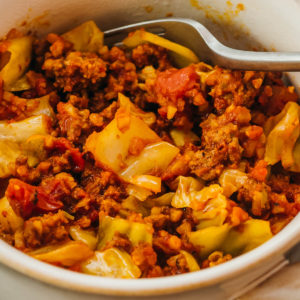 INGREDIENTS
1

pound

ground beef (Note 1)

1

(28-ounce) can

crushed tomatoes (Note 2)

6

cups

chopped green cabbage (1-inch pieces) (Note 3)

1.5

cups

riced cauliflower (Note 4)

5

cloves

garlic, minced

1

tablespoon

balsamic vinegar
INSTRUCTIONS
Cook Meat & Aromatics: Add ground beef to large pot (Note 5) over medium-high heat. Crumbling beef with stiff utensil, cook until browned, a few minutes. Keeping everything in pot, stir in garlic, salt, oregano, thyme, paprika, and cayenne until well-mixed, about a minute.

Cook Veggies: Add crushed tomatoes, cabbage, riced cauliflower, and vinegar, briefly stirring them together. Cook uncovered, stirring occasionally, until tomato mixture turns into thick sauce that easily clings to beef, about 15 minutes. Check if cabbage is wilted; if not, cover with lid and cook until very tender (Note 6). Serve (Note 7) and store any leftovers (Note 8).
NUTRITION
Makes 4 Servings
Amount Per Serving (1.5 cups):
| | |
| --- | --- |
| Calories 390 (38% from fat) |   |
| Total Fat 17g | 26% |
|    Saturated Fat 6g | 32% |
| Cholesterol 100mg | 33% |
| Sodium 1030mg | 43% |
| Net Carb 10g (Note 9) |   |
| Total Carb 18g | 6% |
|    Dietary Fiber 8g | 31% |
|    Sugars 10g |   |
| Protein 34g |   |
PHOTOS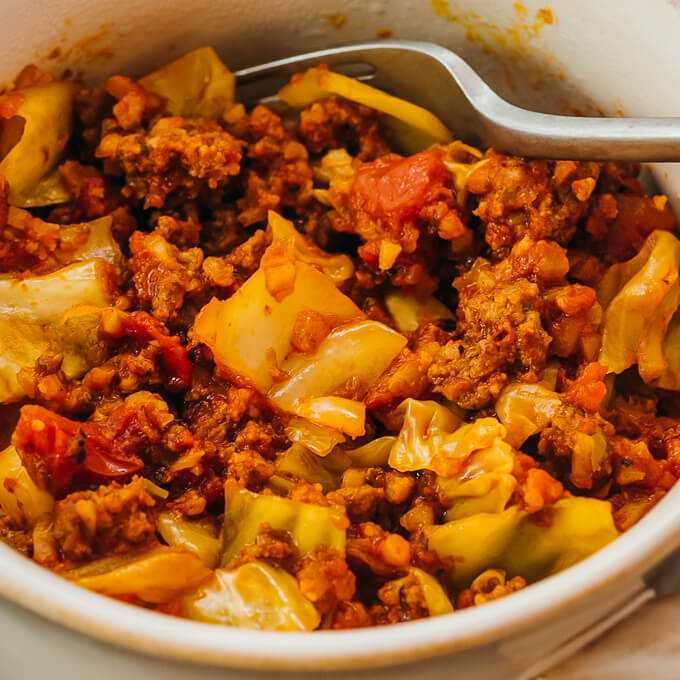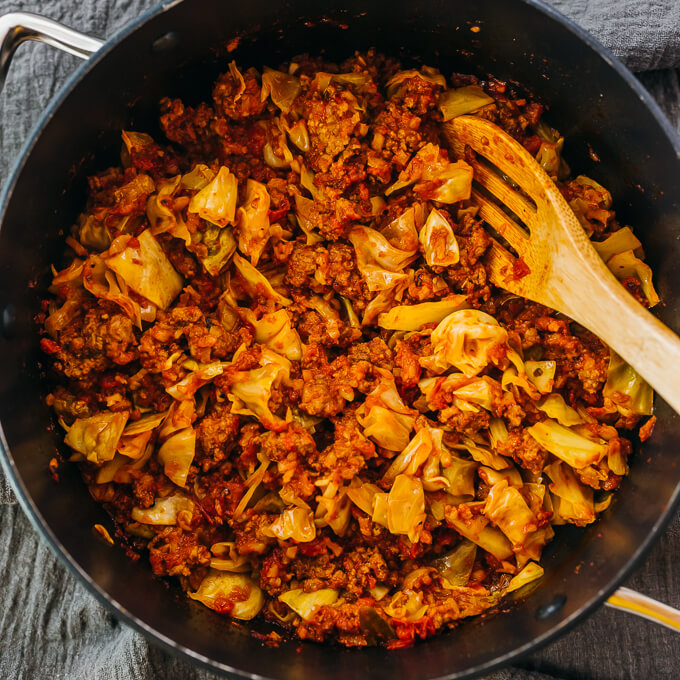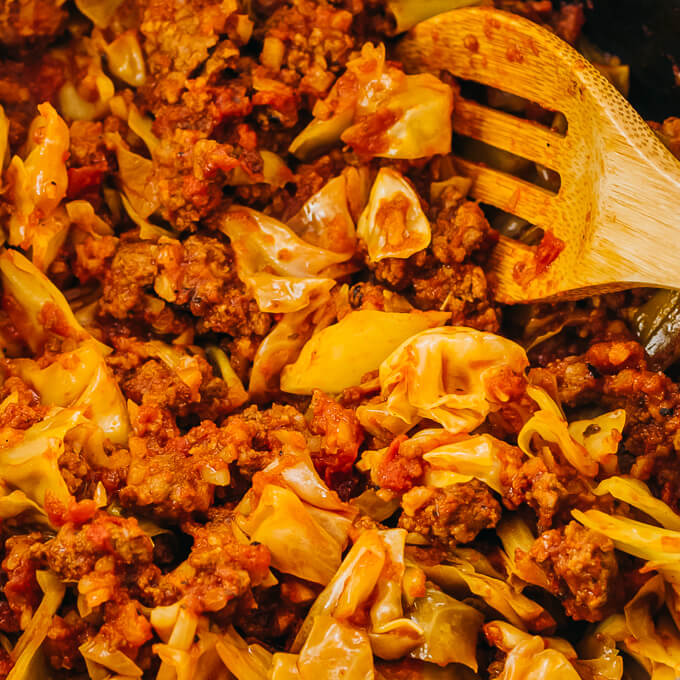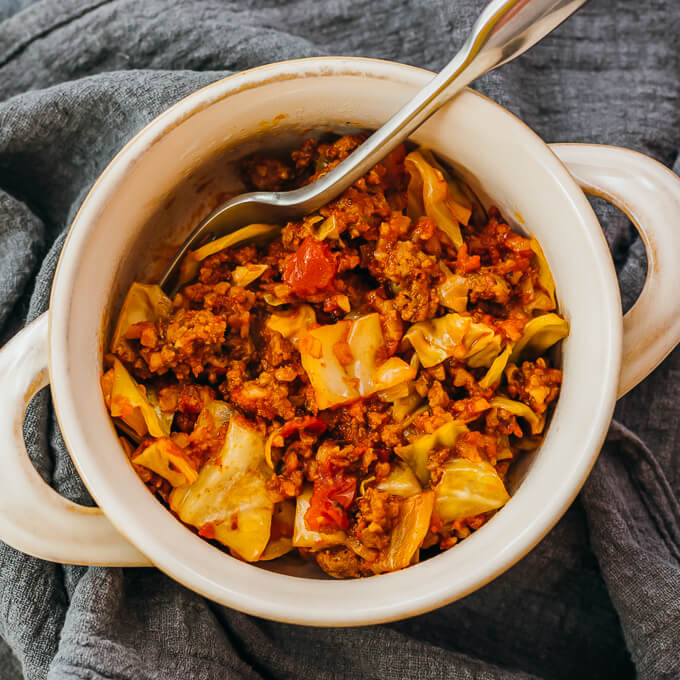 NOTES & TIPS
(1) Ground Beef. I use 85% lean. If you use less than 85%, you may want to drain off some of the grease after browning to avoid an overly greasy dish. Don't have beef? Use ground turkey or pork.
(2) Crushed Tomatoes. A 28-ounce can results in a saucy dish with prominent tomato flavors, which is my preference. If you don't want strong tomato flavors, use a 14-ounce can — an extra benefit is the net carbs reduce from 10 to 7.5 grams per serving. Avoid thinner products like diced tomatoes, which won't impart much flavor to the dish.
(3) Cabbage. About 3/4 pound or 1/2 medium green cabbage. Purple cabbage also works well. Cut the cabbage into 1 inch or smaller pieces so that they cook quickly.
(4) Cauliflower Rice. About 6 ounces weight. You can use fresh or frozen. To prepare cauliflower rice, it's easiest to buy bags of pre-riced cauliflower in the produce section or freezer aisle of U.S. grocery stores — less work than grating cauliflower florets by hand.
(5) Large Pot. The pot should be large enough to simultaneously hold all of the beef, crushed tomatoes, cabbage, and riced cauliflower, equipped with a lid. I use a nonstick pot that's 9.5 inches wide and 4 inches tall. An enameled cast iron pot like a dutch oven will work well too.
(6) Cooking Cabbage. If the cabbage isn't tender by the time the sauce has thickened, I recommend covering the pot with a lid to expedite the cooking process. If you don't use a lid and/or the pot gets too dry, add a few tablespoons of water or beef stock.
(7) Serving. Serve warm with side dishes like low carb mashed turnips, garlic mushrooms, or creamed spinach.
(8) Leftovers. Cover and store leftovers in the refrigerator for up to 2 days. Reheat using the microwave or a skillet on the stovetop until heated through.
(9) Net Carbs. To reduce the number of net carbs per serving, see Note 2 above on using a smaller can of crushed tomatoes.