Summary:
This vegetable-packed casserole has roasted eggplant, broccoli, fresh tomatoes, shredded cheese, and sliced olives. Without any meat or sauces, it's a lighter main course that is both low carb and vegetarian.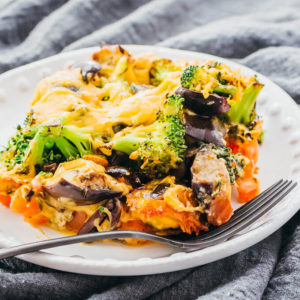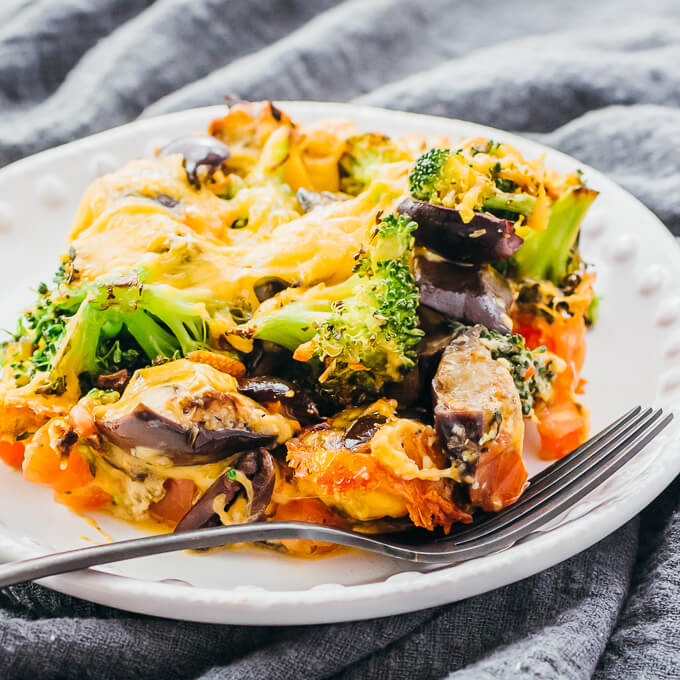 INGREDIENTS
1

medium eggplant, cut into 3/4-inch cubes (Note 1)

6

cups

broccoli florets, cut smaller than 2 inches

3

roma tomatoes, finely chopped

1.5

cups

shredded cheddar cheese (Note 2)

1/2

cup

drained sliced kalamata olives or black olives (Note 3)

1

large egg, beaten

2

tablespoons

olive oil

2

teaspoons

dried oregano

1

teaspoon

table salt

1/2

teaspoon

ground black pepper
NUTRITION
Makes 4 Servings
Amount Per Serving:
| | |
| --- | --- |
| Calories 340 (66% from fat) |   |
| Total Fat 25g | 39% |
|    Saturated Fat 9g | 45% |
| Cholesterol 92mg | 31% |
| Sodium 1110mg | 46% |
| Net Carb 7g |   |
| Total Carb 14.5g | 5% |
|    Dietary Fiber 7.5g | 31% |
|    Sugars 6.5g |   |
| Protein 16g |   |
PHOTOS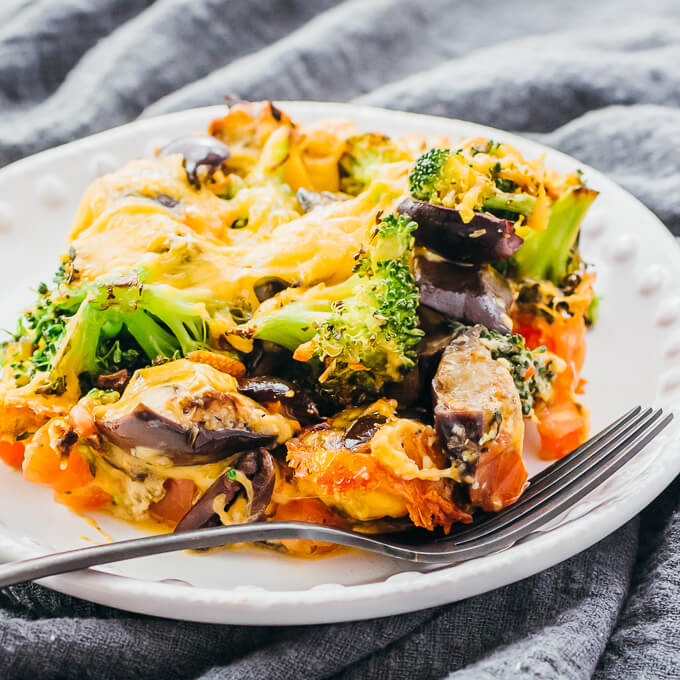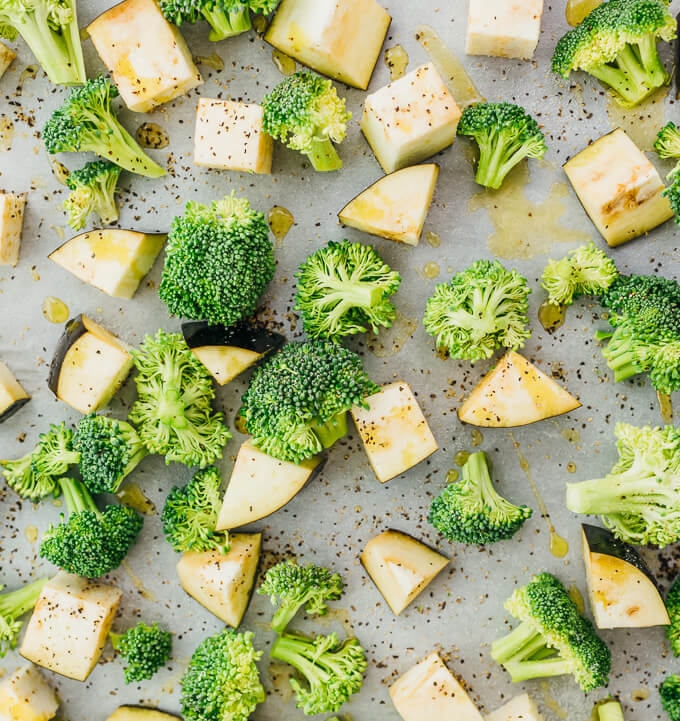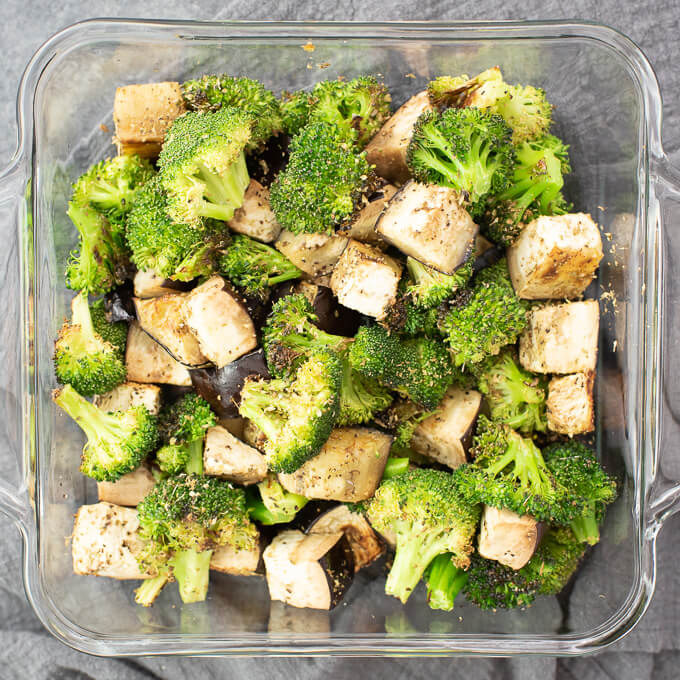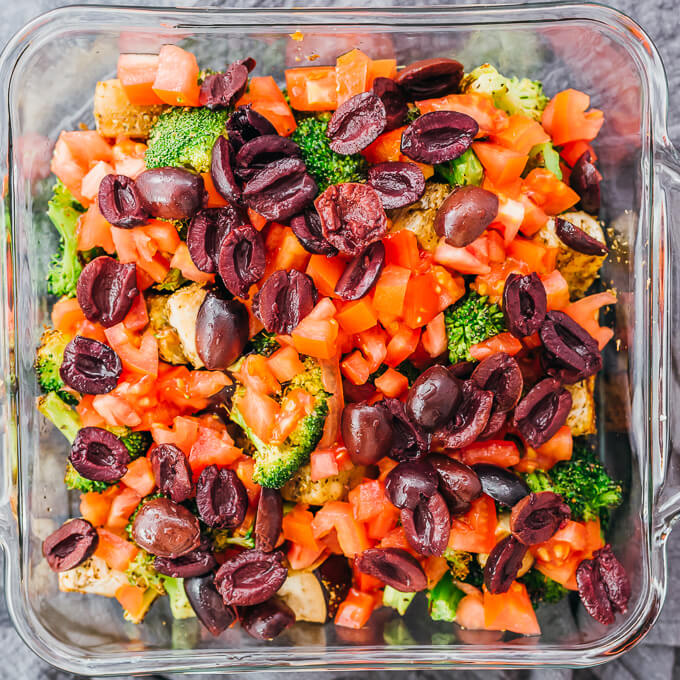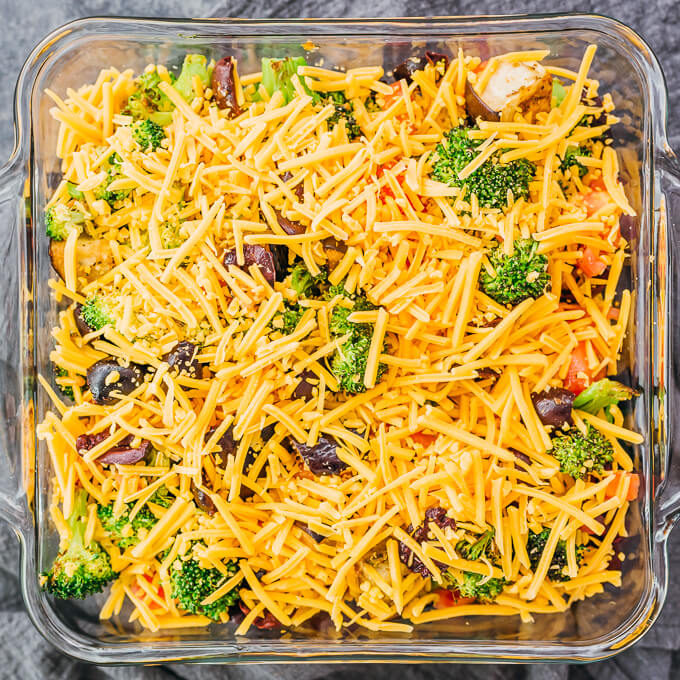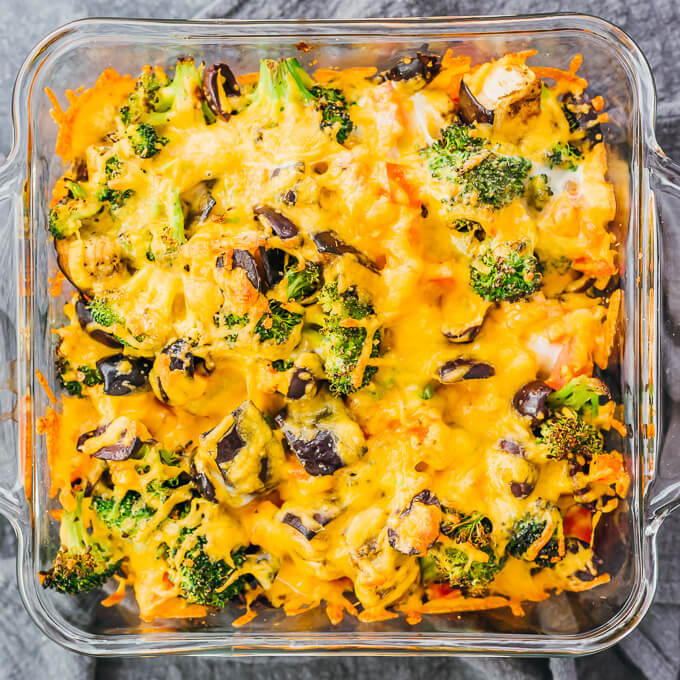 NOTES & TIPS
(1) Eggplant. About 12 ounces weight. Cut into uniform 3/4-inch cubes so that they bake evenly. If your cubes are smaller or larger than 3/4 inches, adjust the baking time accordingly.
(2) Cheddar Cheese. I use a bag of pre-shredded cheddar cheese; either mild or sharp will work. I like the bright yellow color that cheddar brings to this casserole, but you can substitute with any kind of shredded soft cheese that melts easily, like shredded mozzarella, pepper jack, or provolone.
(3) Olives. Use your favorite type of olive; kalamata olives are acidic and sharp in taste, whereas black olives are more mild. For convenience, I buy olives that are already pitted and sliced, typically packaged in liquid in a can or jar.
(4) Assembling Casserole. I use tongs to mix ingredients directly in the casserole dish, which makes cleanup easier since there are fewer dishes. If it's easier for you, transfer all of the ingredients to a large mixing bowl to toss together, then transfer back to the casserole dish.
(5) Serving. Serve this casserole with a side of mashed cauliflower, creamy asparagus soup, or fried zucchini coins.