Summary:
This roasted eggplant casserole is a low carb and keto recipe with broccoli, fresh tomatoes, shredded cheese, and olives. For more vegetarian dishes, visit Vegetable Main Recipes.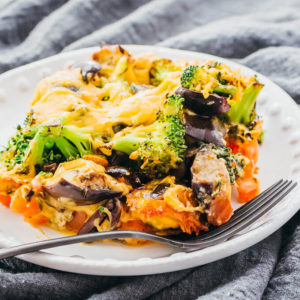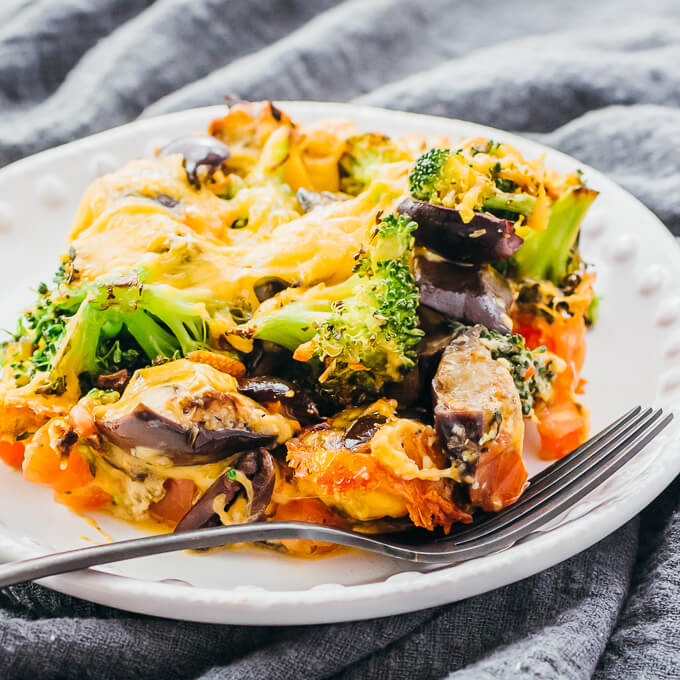 Roasted Eggplant Casserole
INGREDIENTS
1

medium eggplant (12 ounces weight), cut into 3/4-inch cubes

6

cups

broccoli florets, cut smaller than 2 inches

3

roma tomatoes, finely chopped

1.5

cups

shredded cheddar cheese

1/2

cup

drained sliced kalamata or black olives

1

large egg, beaten

2

tablespoons

olive oil

2

teaspoons

dried oregano

1

teaspoon

salt

1/2

teaspoon

black pepper
INSTRUCTIONS
Preheat the oven to 400 F.

On a large baking sheet lined with parchment paper, spread out eggplant cubes and broccoli florets in a single layer. Drizzle with olive oil and season with salt and pepper.

Bake at 400 F until the eggplant and broccoli are tender, about 20 minutes.

In an 8x8 inch baking dish, add roasted eggplant and broccoli. Season with oregano and lightly toss to mix.

Add chopped tomatoes, sliced olives, and two-thirds of the cheddar cheese to the baking dish. Carefully stir until well-mixed.

Evenly scatter remaining cheddar cheese on top. Pour beaten egg over the cheese.

Bake at 400 F for 15 minutes. Let it cool for about 10 minutes before slicing into it.
NUTRITION
Makes 4 Servings
Amount Per Serving:
| | |
| --- | --- |
| Calories 340 |   |
| Total Fat 25g | 39% |
|    Saturated Fat 9g | 45% |
| Cholesterol 92mg | 31% |
| Sodium 1110mg | 46% |
| Net Carb 7g |   |
| Total Carb 14.5g | 5% |
|    Dietary Fiber 7.5g | 31% |
|    Sugars 6.5g |   |
| Protein 16g |   |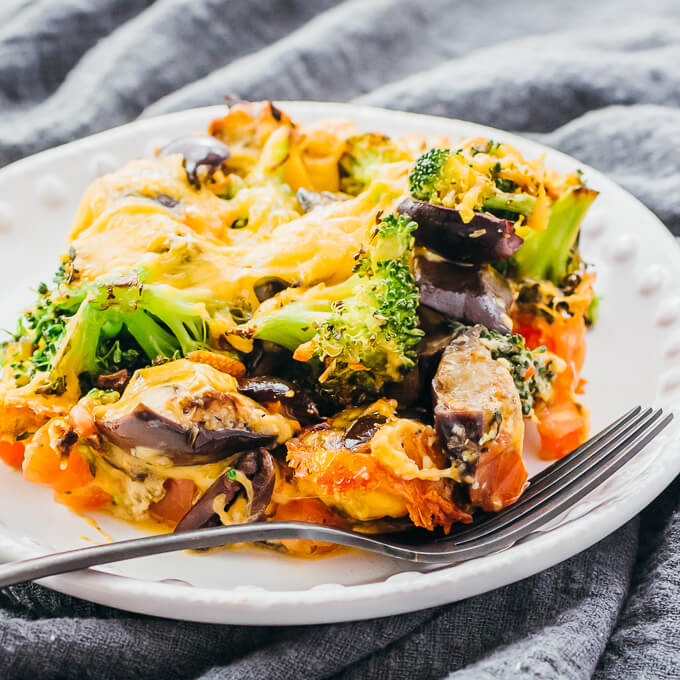 Recipe Overview
To make this eggplant casserole, chopped eggplant cubes and broccoli florets are spread out on a baking sheet and roasted, then mixed and assembled with all other ingredients in a casserole dish. Lastly, everything is baked together until heated through and combined.
This recipe is inspired by my eggplant lasagna, and both dishes make for great low carb dinners (and excellent leftovers!). The main differences between them are:
this casserole is vegetarian, whereas the lasagna has ground beef in it
both dishes use eggplant, but this casserole uses chopped cubes and the lasagna uses thinly cut slices
the lasagna has a meat sauce that needs to be separately prepared in a pan on the stovetop, whereas this casserole doesn't
I recommend both dishes to anyone who loves eggplant; the lasagna is great for meat lovers but more complicated to make, and this casserole is great as an easy dinner.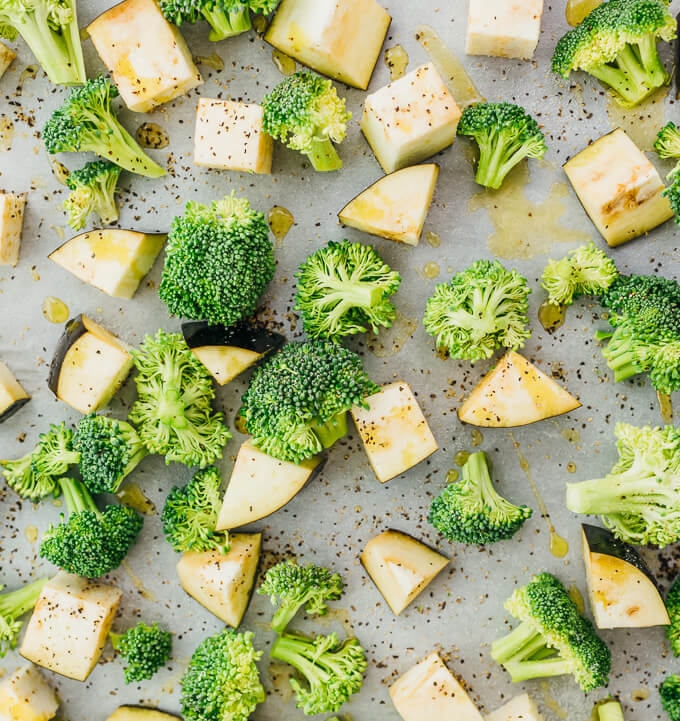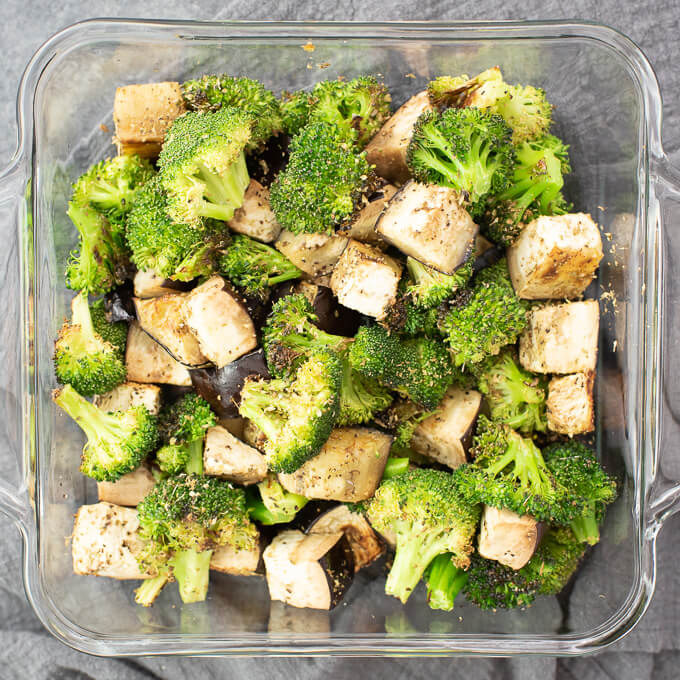 Selecting And Preparing Ingredients
The eggplant, broccoli, and tomatoes are all fresh ingredients that you can find in the produce section of your grocery store, and not frozen or thawed. Pay attention to the chopped sizes for the eggplant and broccoli; otherwise, you'll need to bake for a shorter (or longer) period of time if your chopped vegetables are smaller (or larger) than indicated.
I use cheddar cheese in pre-shredded form that's packaged in plastic resealable bags. Either mild or sharp will work. For convenience, I use kalamata olives that are already pitted and sliced, and they're packaged in liquid in jarred or canned form. You can use your favorite type of olive — kalamata olives are acidic and sharp in taste, whereas black olives are more mild.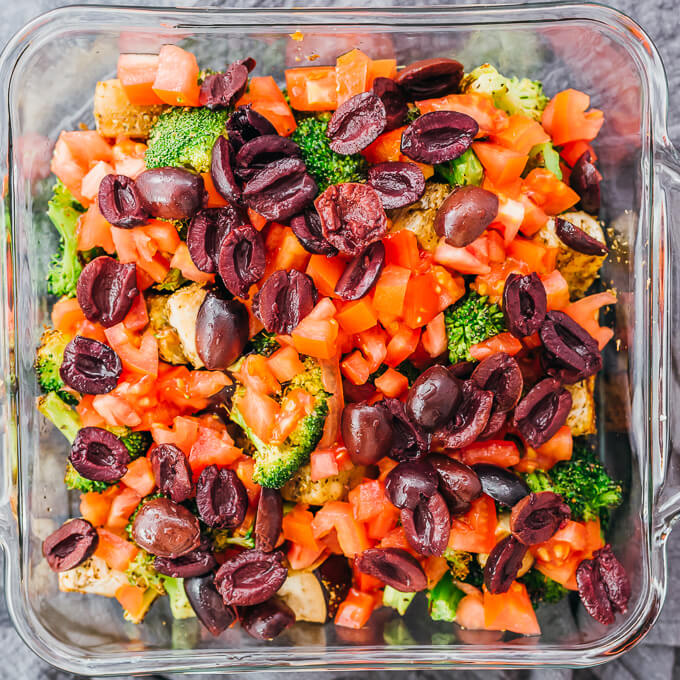 Assembling The Casserole
I mix ingredients directly in the casserole dish, which makes cleanup easier since there are fewer dishes. I use tongs to mix all of the vegetables together by inserting the tongs vertically into the casserole dish and making a rotating motion, allowing the ingredients to gracefully mix in place without being accidentally flung over the side.
If it's easier for you, you can transfer all of the ingredients to a large mixing bowl to toss together, and then transfer them all back to the casserole dish. Either way will work.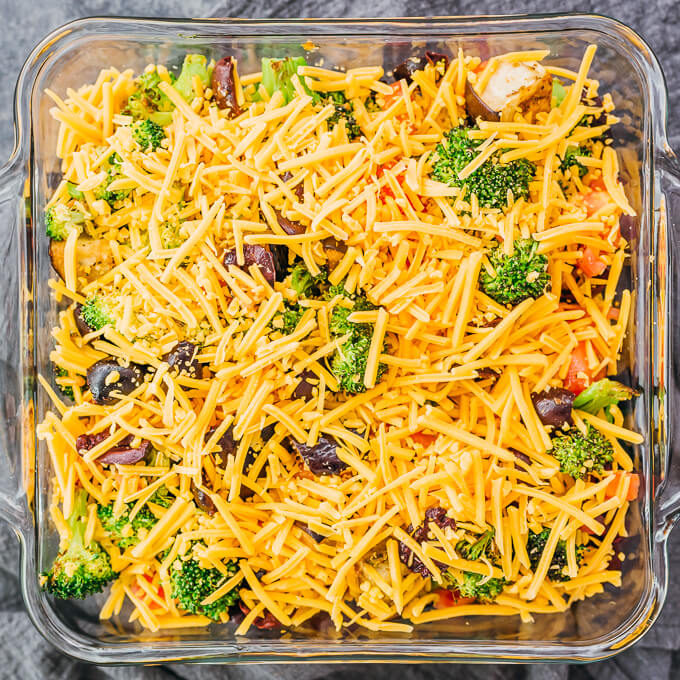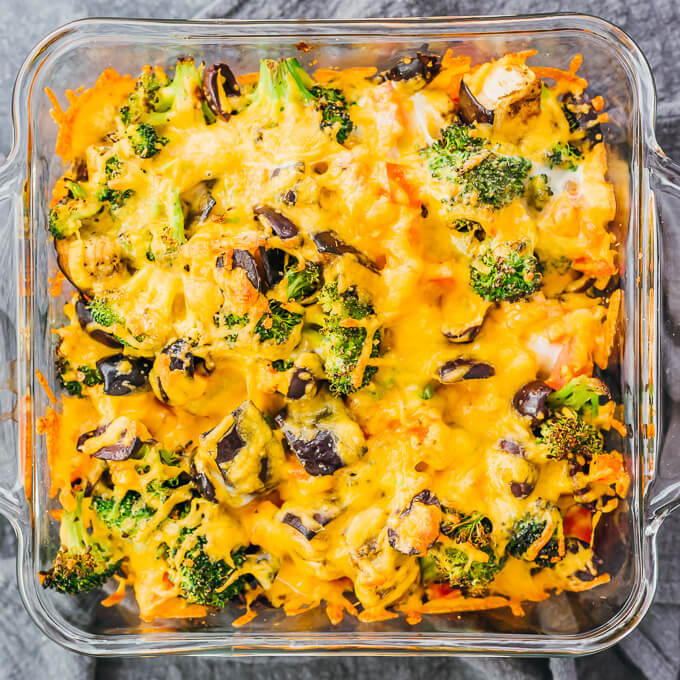 More Low Carb Vegetarian Recipes