Summary:
This low carb lasagna uses deli-style turkey slices instead of lasagna noodles, layered with melted mozzarella cheese and a rich meaty sauce with spinach. It's a protein-packed meal that can be easily made ahead of time.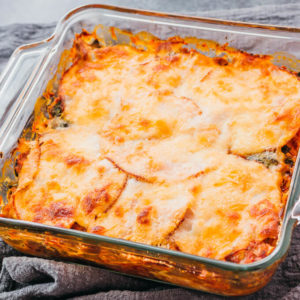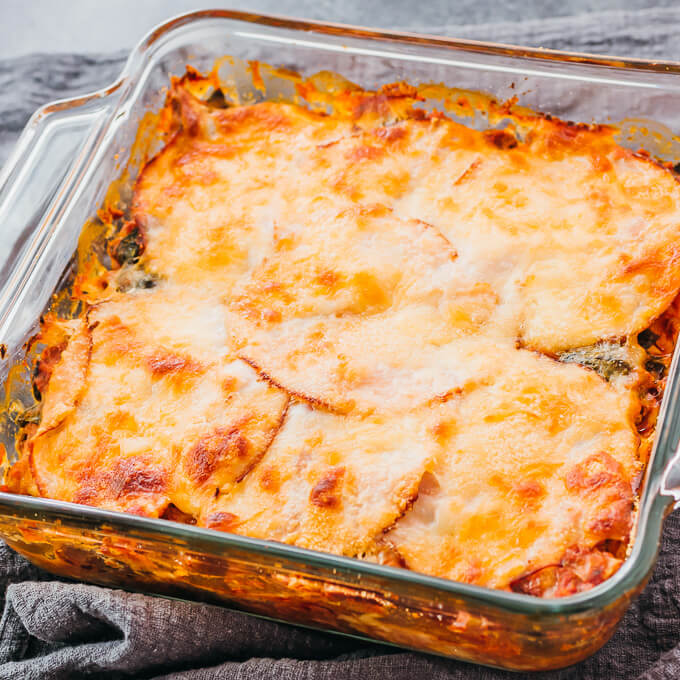 Lasagna With Turkey Slices
INSTRUCTIONS
Cook Meat Sauce: Heat wide high-sided nonstick pan over medium heat. Add ground beef and cook until browned, about 5 minutes, crumbling with stiff utensil. Stir in tomato sauce and bring to simmer. Simmer for 10 minutes (Note 6) until sauce noticeably thickens, stirring occasionally. Stir in oregano, salt, and cayenne until well-mixed. Stir in spinach for a few minutes until wilted. Turn off heat.

Assemble Lasagna: Arrange 1/3 of turkey slices along bottom of baking dish, overlapping each other. Evenly pour about 1/2 of meat sauce over turkey slices. Add about 1/2 cup of mozzarella cheese on top of meat sauce. Repeat with another sliced turkey layer, meat sauce layer, and cheese layer. Top with remaining turkey slices. Add remaining 1/2 cup mozzarella cheese and 1/4 cup parmesan cheese on top of turkey slices.

Bake Lasagna: Bake uncovered at 375 F until lasagna is golden brown on top, 30 to 35 minutes. Cool for at least 15 minutes to allow lasagna to set, then cut into four equal portions and serve (Notes 7-8).
NUTRITION
Makes 4 Servings
Amount Per Serving:
| | |
| --- | --- |
| Calories 430 (46% from fat) |   |
| Total Fat 22g | 33% |
|    Saturated Fat 10g | 51% |
| Cholesterol 125mg | 42% |
| Sodium 1360mg | 56% |
| Net Carb 7g |   |
| Total Carb 10g | 3% |
|    Dietary Fiber 3g | 12% |
|    Sugars 4g |   |
| Protein 47g |   |
PHOTOS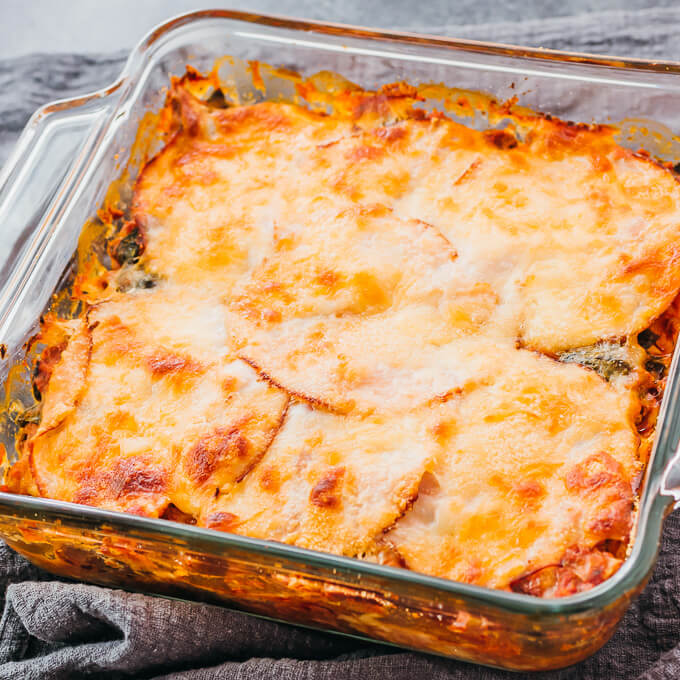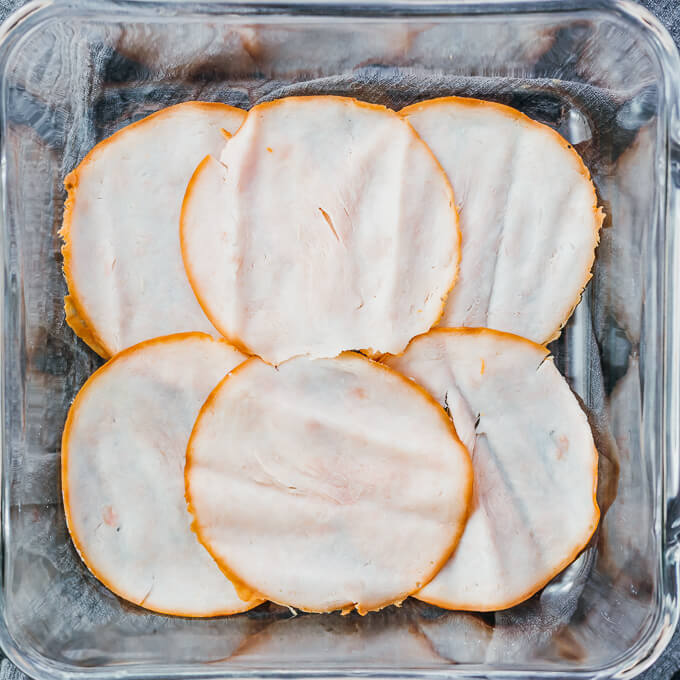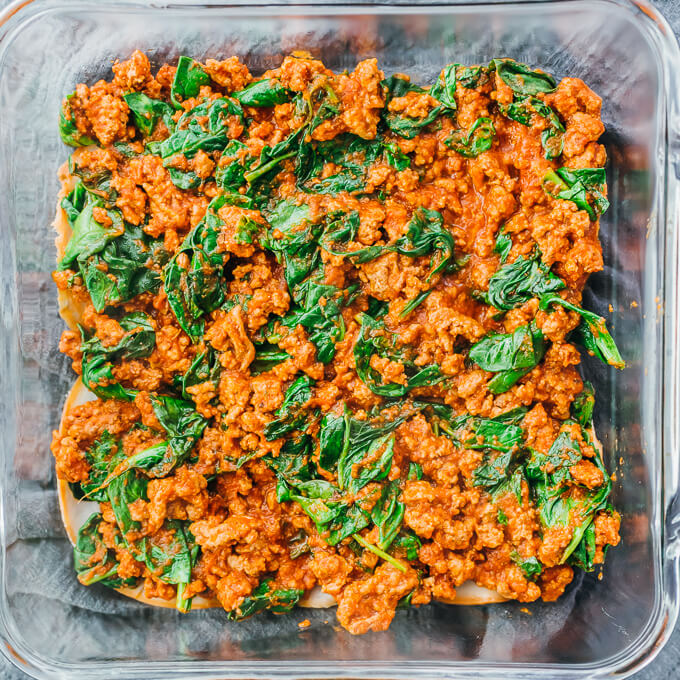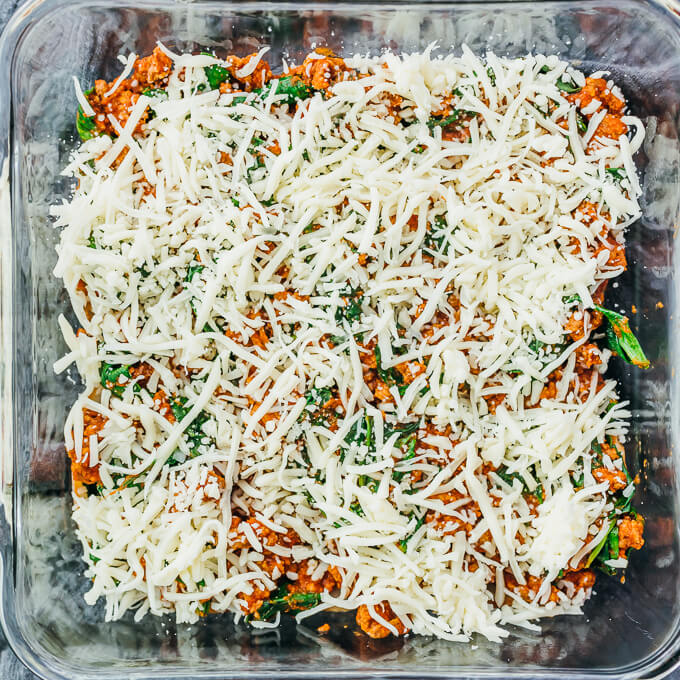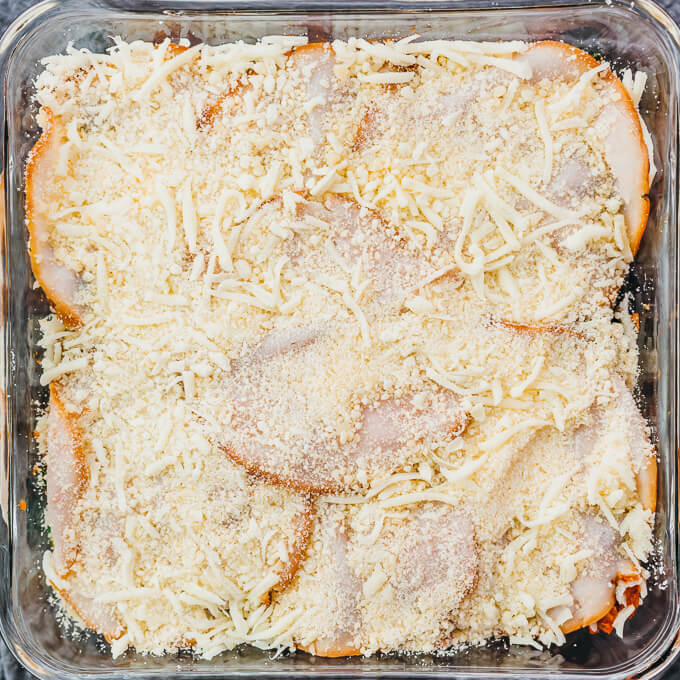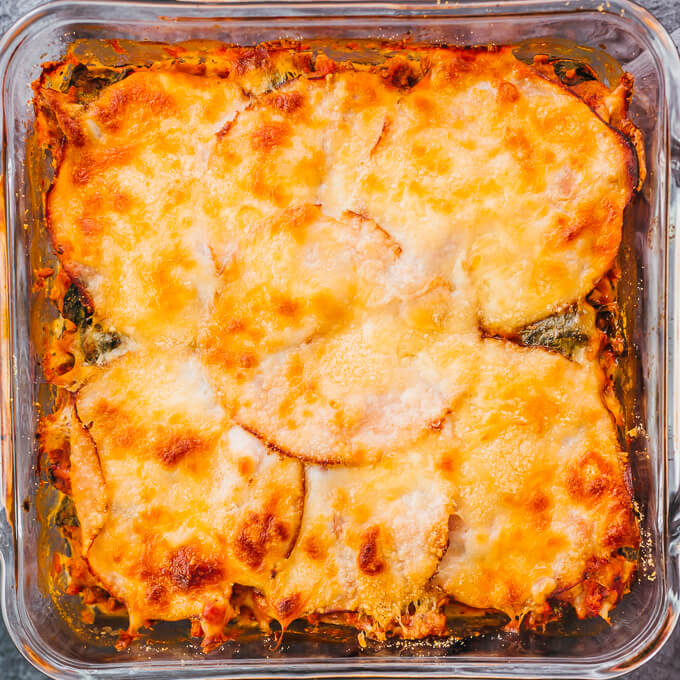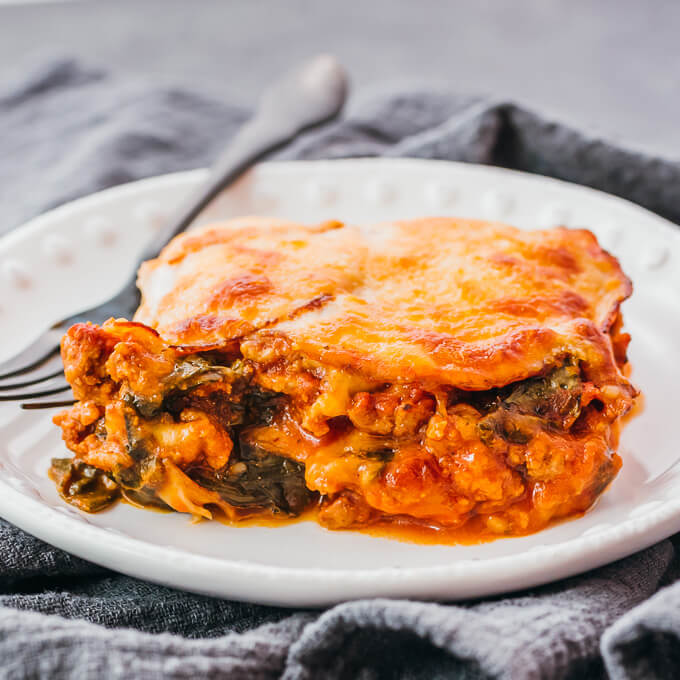 NOTES & TIPS
(1) Turkey Slices. Use thin deli-style turkey slices, which is cooked turkey that can be found in the refrigerated lunch meat section of U.S. grocery stores. If you don't have turkey, substitute with other types of thinly sliced deli meat like chicken, ham, or pastrami. Since meat has no carbs, thinly sliced meat is used in place of lasagna noodles to reduce the glycemic impact of this meal.
(2) Mozzarella Cheese. I use a bag of pre-shredded low-moisture part-skim mozzarella, which means the cheese has been dried out for a longer shelf life and better browning.
(3) Parmesan Cheese. This is finely grated parmesan that has a sandy or almost powdery texture, not shredded, often available in pre-grated bags in the refrigerated section of U.S. grocery stores. This can be substituted with similar cheeses like pecorino romano or asiago.
(4) Ground Beef. Choose lean or extra lean ground beef, ideally 90% to 95% lean. The leaner it is, the less fat rendered during cooking. This helps with liquid control and reduces the oiliness of the resulting dish. If you use meat with less than 90%, you may want to drain off some of the grease after browning in the pan. If you don't have beef, ground turkey is a good substitute.
(5) Spinach. About 3.5 cups chopped. Use fresh raw spinach, keeping the leaves and discarding long or thick stems.
(6) Simmering Meat Sauce. The meat sauce should be simmered for the full 10 minutes. This produces a nice and thick sauce, since most of the tomato sauce's liquid content will evaporate, and is key to a flavorful and thick lasagna that holds together well.
(7) Serving. It's important to let the lasagna set for the full 15 minutes before cutting into it; as the lasagna cools and sets, it will re-absorb some of the liquid in the baking dish. Serve the lasagna with Mini Cheese Balls, Almond Flour Garlic Knots, or Mediterranean Salad.
(8) Make Ahead / Leftovers. If you're making ahead of time or storing leftovers, cool the baked lasagna then cover and refrigerate for up to 2 days. When ready to serve, cut into individual portions and reheat using the microwave or oven. One good thing about making this ahead of time is that it usually tastes better after it has a chance to sit overnight in the refrigerator. The flavors are more pronounced and the lasagna's layers are more cohesive. Making this dish ahead of time is my preferred way of preparing it.
(9) Similar Recipes. This recipe is adapted from similar low carb lasagnas like Zucchini Lasagna and Eggplant Lasagna, both of which use similar sauces with tomatoes and ground beef.