Summary:
This keto lasagna is a low carb casserole with three layers: a rich meaty sauce with baby spinach, deli-style turkey slices, and melted mozzarella cheese. It can be easily made ahead of time. For more easy casseroles, visit Casserole Recipes.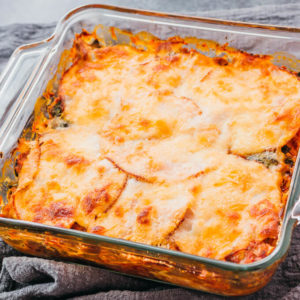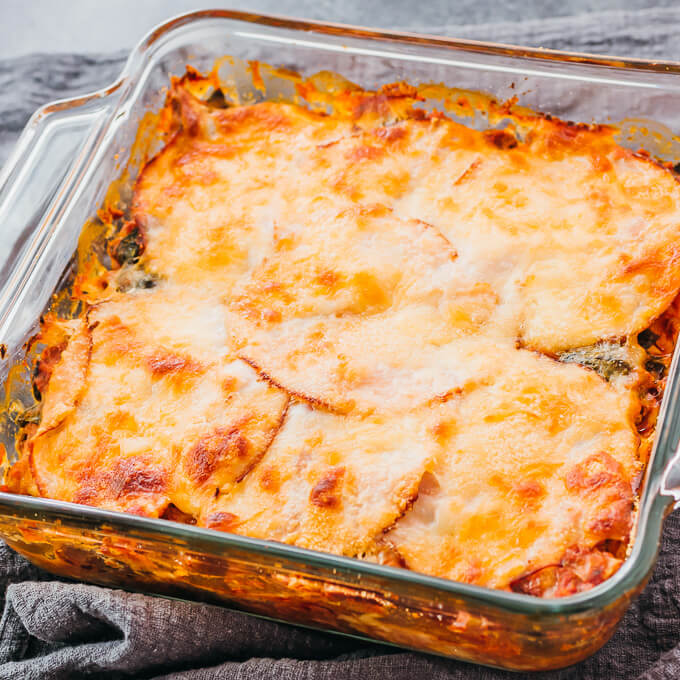 INGREDIENTS
8

ounces

cooked deli-style thin turkey slices

1.5

cups

shredded mozzarella cheese

1/4

cup

finely grated parmesan cheese
Meat Sauce:
1

pound

90%-95% lean ground beef

1

(15-ounce)

can tomato sauce

1

(5-ounce)

package fresh baby spinach leaves, roughly chopped and long or thick stems discarded (about 3.5 cups)

2

teaspoons

dried oregano

3/4

teaspoon

salt

1/2

teaspoon

ground cayenne
INSTRUCTIONS
Preheat the oven to 375 F.
Making The Meat Sauce:
Heat a wide, high-sided nonstick pan over medium heat. Add ground beef, breaking it apart as it cooks. Cook until browned, about 5 minutes.

Add tomato sauce, stirring it in. Bring to a simmer. Simmer for 10 minutes so that the sauce is noticeably thickened, stirring occasionally.

Add oregano, salt, and cayenne. Stir until well-mixed.

Add spinach, stirring for a few minutes until wilted. Turn off the heat.
Assembling & Baking The Lasagna:
Arrange one third of the turkey slices along the bottom of an 8×8 inch baking dish so that they are overlapping. Evenly pour about half of the meat sauce over the turkey slices. Add about 1/2 cup of mozzarella cheese on top of the meat sauce.

Repeat with another sliced turkey layer, a meat sauce layer, and a cheese layer.

Top with remaining turkey slices. Add remaining 1/2 cup mozzarella cheese and 1/4 cup parmesan cheese on top of the turkey slices.

Bake at 375 F until the lasagna is golden brown on top, 30 to 35 minutes. Let it cool for at least 15 minutes to allow the lasagna to set (don't skip this step) before cutting into slices and serving.

If making ahead: after the lasagna has cooled, cover and refrigerate. When ready to serve, cut into individual portions and reheat.
NUTRITION
Makes 4 Servings
Amount Per Serving:
| | |
| --- | --- |
| Calories 430 |   |
| Total Fat 22g | 33% |
|    Saturated Fat 10g | 51% |
| Cholesterol 125mg | 42% |
| Sodium 1360mg | 56% |
| Net Carb 7g |   |
| Total Carb 10g | 3% |
|    Dietary Fiber 3g | 12% |
|    Sugars 4g |   |
| Protein 47g |   |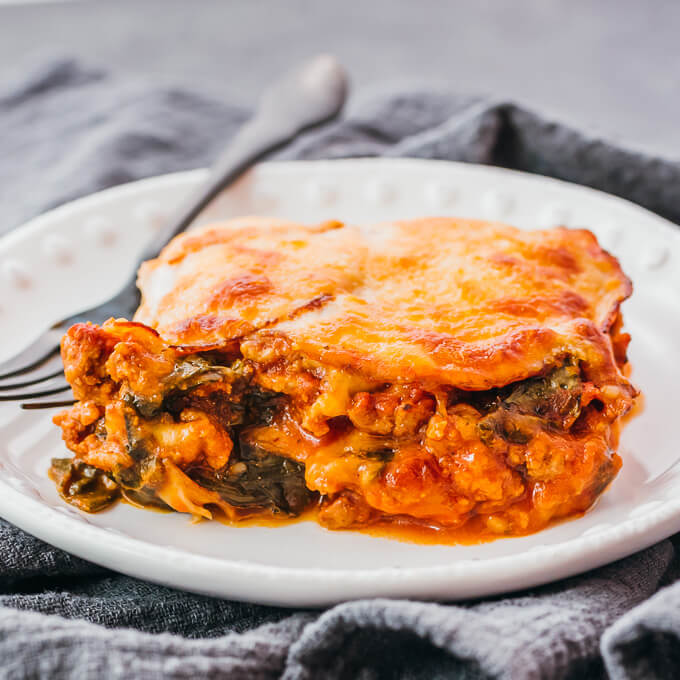 Turkey Slices Instead of Lasagna Noodles
Since this is a low carb lasagna, traditional lasagna-type noodles are omitted. In their place, I use thin deli-style turkey slices, which is cooked turkey that you can find in the lunch meat section at U.S. grocery stores. Since meats have zero carbs, this is a very appropriate substitution for any kind of keto friendly lasagna.
This recipe is adapted from my other low carb lasagna recipes, including a zucchini lasagna and an eggplant lasagna, where I have used similar sauces made with ground beef and tomatoes.
Liquid Control Tips
Liquid control is key to a thick and flavorful lasagna that holds together well. Here are a few things to pay attention to:
Choose lean or extra lean ground beef. Ideally, the meat should be between 90% to 95% lean. The leaner it is, the less fat will be rendered when you cook it. This helps with liquid control and reduces the oiliness of the resulting dish.
The meat sauce should be simmered for the full 10 minutes recommended in the recipe. This produces a nice and thick sauce, since most of the tomato puree's liquid content will have evaporated.
If you plan on eating the lasagna right away (as opposed to making it ahead of time) let it rest for 15 minutes before cutting into it. Don't be impatient. As the lasagna cools and sets, it will re-absorb some of its liquid.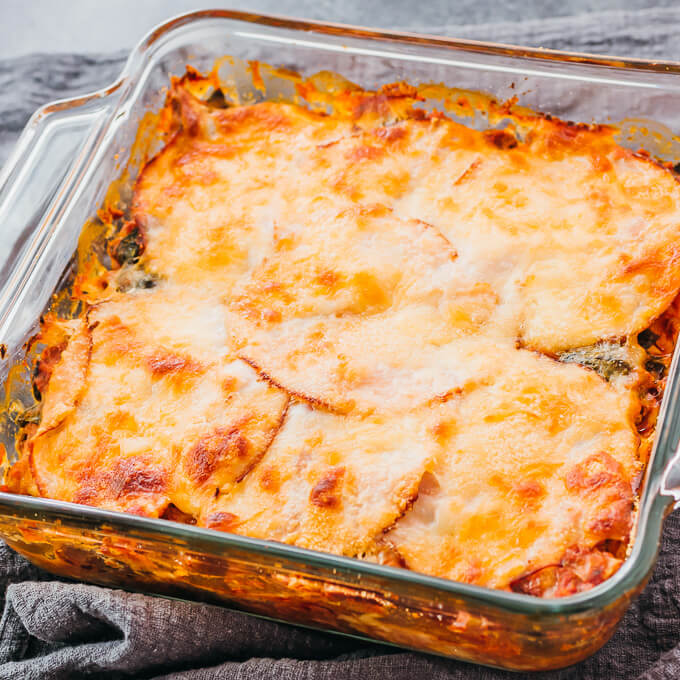 A Convenient Make-Ahead Meal
This lasagna works fabulously well as a make-ahead meal. After preparing and baking the lasagna as directed in the recipe, let it cool before covering and storing in the refrigerator. When you're ready to serve this, simply cut into individual portions and reheat using either the microwave or the oven. Make sure you don't overheat.
Bonus: it always tastes better to me after it has a chance to sit overnight in the refrigerator. The flavors are more pronounced and the lasagna's layers are more cohesive. Making this dish ahead of time is my preferred way of preparing it.
More Low Carb Lasagnas & Bakes