Summary:
With only a few ingredients and zero cooking, these low carb and keto-friendly cheese balls are easy to make and have a deliciously creamy interior, surrounded by a flavorful crust of everything bagel seasoning. With perfect ketogenic macros, they can serve as a convenient everyday snack or make-ahead holiday appetizer.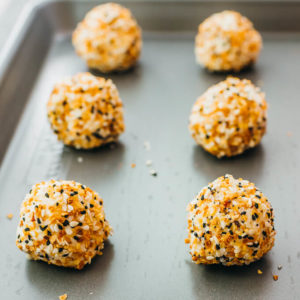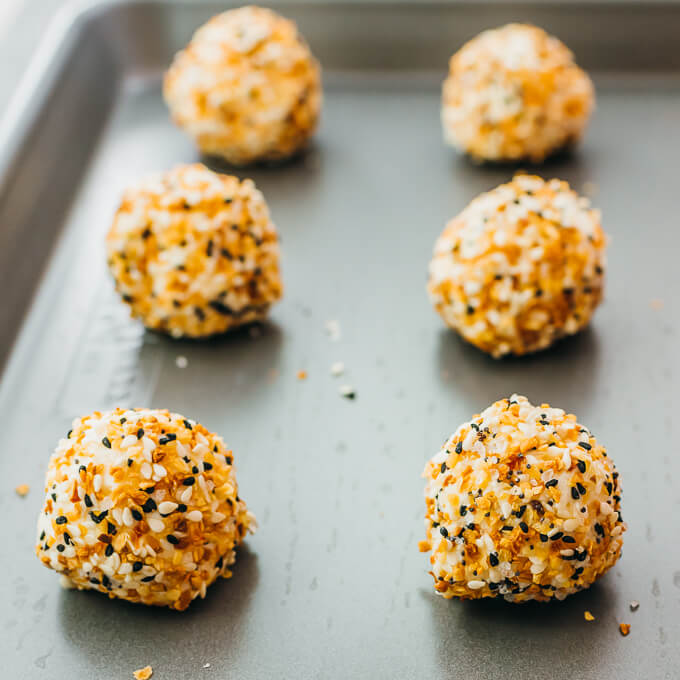 INGREDIENTS
1

brick

cream cheese (8 ounces weight)

1

cup

finely grated parmesan cheese (about 4.5 ounces weight)

(should have a fine sandy texture, not shredded)

4

tbsp

unsalted butter

(avoid salted butter which may result in overly salty cheese balls)

1/3

cup

storebought everything bagel seasoning mix

(I use Kroger Simple Truth or Trader Joe's mix; you can make a homemade version using ingredients below or use your seasoning of choice)
Optional Homemade Everything Bagel Seasoning:
INSTRUCTIONS
Add cream cheese, parmesan cheese, and butter to a bowl appropriate for an electric mixer (I use a 3.5-quart stand mixer; a hand mixer will also work). Let stand for 30 minutes to soften at room temperature.

Using the electric mixer fitted with a flat beater, beat for 1 minute on medium speed, then pause to scrape down the beater and bowl. Continue beating on medium speed until the mixture is light and fluffy, about another minute. Initially, the mixture will combine into a single dense dough, then it will become airier, spreading out and clinging to the sides of the bowl.

In a small bowl, add the seasoning mix (to reduce waste, you can start with a small amount and add more as needed later). If making your own mix, add individual ingredients and stir until well-mixed; see section below called "Change It Up With Easy Variations." Set aside a sheet pan (I use an 18×13-inch half sheet).

Using the cheese mixture, scoop up about 2 tbsp to form a ball about 1.5 inches in diameter. I recommend using a cookie scoop so that the balls have a consistent size and shape; it's also faster and less messy. Roll the ball or sprinkle with the seasoning mix until covered all around, then place it on the sheet pan. Repeat until the mixture is used up, yielding about 14 balls.

Transfer the sheet pan to the refrigerator and chill for 1 hour; this allows the cheese balls to harden because they are very soft at room temperature.

Make-Ahead & Storing: Transfer the chilled cheese balls to a zip-top bag or covered container. Store in the refrigerator for up to 3 days or in the freezer for longer-term storage (thaw overnight in the refrigerator before serving).
NUTRITION
Makes 14 Servings
Amount Per Serving (1 ball):
| | |
| --- | --- |
| Calories 110 | |
| Total Fat 10g | 16% |
| Saturated Fat 6g | 30% |
| Cholesterol 29mg | 10% |
| Sodium 90mg | 4% |
| Net Carb 1g | |
| Total Carb 1.5g | 0% |
| Dietary Fiber 0.5g | 1% |
| Sugars 0g | |
| Protein 3g | |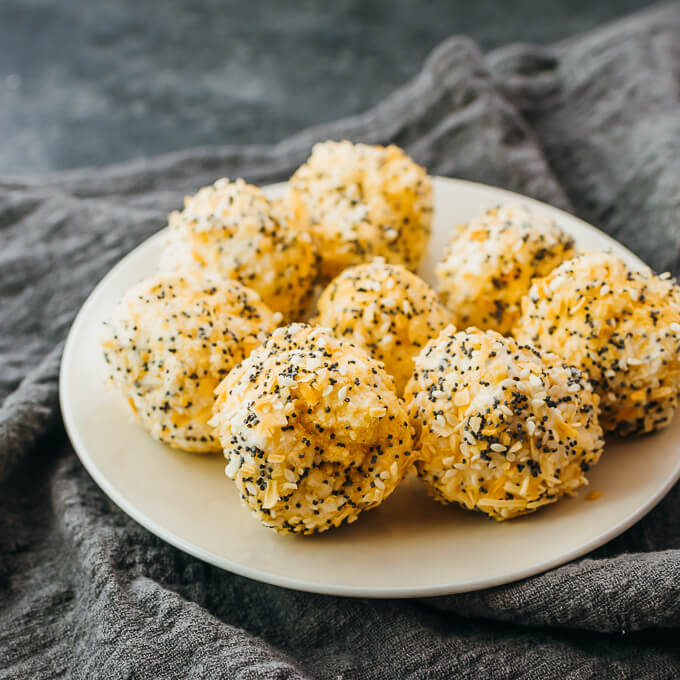 A Creamy, Savory Keto Fat Bomb
Sweet fat bombs are popular for good reason — and I've got several cheesecake flavored ones on my site like lemon, peanut butter, and strawberry — but sometimes I'm looking for something savory.
That's where these mini cheese balls come in. They have ideal keto macros, with over 80% of calories coming from fat and only 1g of net carbs per ball. If you find yourself low on fat and need to steer your daily macros in the right direction, these mini cheese balls are a convenient option that can be made ahead of time and stored in the fridge.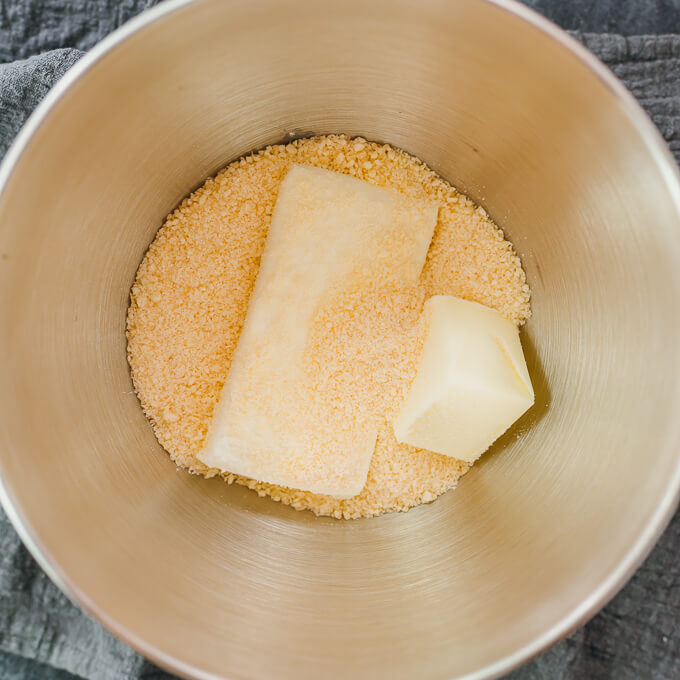 Change It Up With Easy Variations
You can keep the base recipe for these mini cheese balls the same, but change up their seasoning so you don't tire of the same flavor. Ideas include:
everything bagel seasoning (This is what I usually use. Kroger Simple Truth or Trader Joe's blends.)
chipotle seasoning (I like Mrs. Dash Southwest Chipotle Seasoning. Strong flavors without being too spicy.)
ranch seasoning
bacon bits
toasted chopped nuts
thinly sliced scallions
garlic
herbs
The possibilities are endless. Store-bought mixes are the easiest and most convenient. However, the good thing about homemade mixes is that you can control the salt; since these cheese balls are rolled in the mix, some seasonings can taste too salty.
Everything bagel seasonings are coarser because they have seeds, and other seasonings may be finer if they have a powder-like consistency. If yours is on the finer side, note that you'll only need half the amount listed in the recipe.
Appetizer or Snack
Party Appetizer: Serve this as an appetizer at your next party, especially at holiday gatherings around Thanksgiving and Christmas. Since these cheese balls are bite-sized and served cold, they're perfect finger food that can be made ahead of time without reheating.
Everyday Snack: These cheese balls are also a convenient, everyday snack for anyone who's on a keto diet or just loves their cheese. You can make a large batch and freeze them in a zip-top bag so you'll always have a delicious low carb snack on hand. To defrost, thaw in the refrigerator overnight.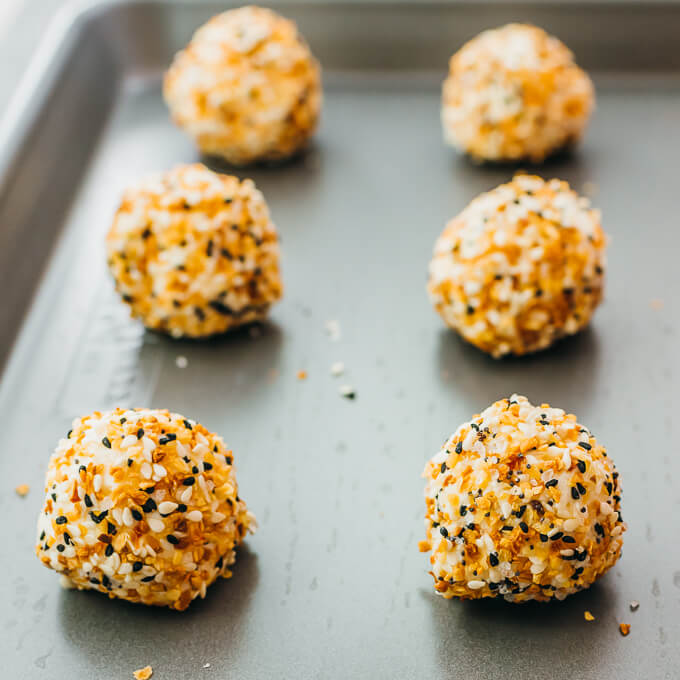 More Bite-Sized Appetizers