Summary:
Enjoy delicious coconut and chocolate flavors in these simple low carb cookies. No baking is involved, and you only need six ingredients total. No egg or flour is used.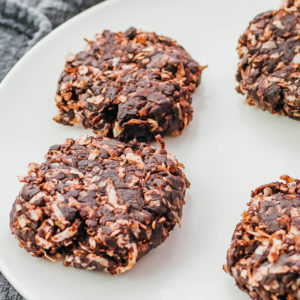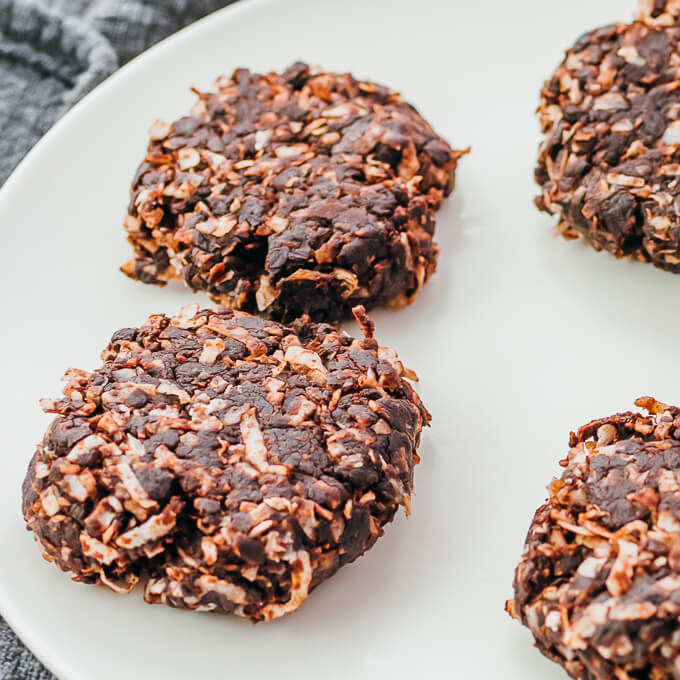 INGREDIENTS
INSTRUCTIONS
Prepare Equipment: Prepare tray large enough to hold 12 cookies in single layer. Line with parchment paper.

Make Dough: Add sweetener, peanut butter, cream, cocoa, and vanilla to nonstick saucepan (Note 5); do not add coconut yet. Place saucepan over medium-low heat, and use stiff utensil to constantly stir until thick and smooth dough forms, about 2 minutes. Turn off heat.

Mix In Coconut: Add shredded coconut to saucepan with dough. Stir to combine together until incorporated and well-distributed. If easier, use hands to knead coconut into dough.

Form Cookies: Form dough into 12 equal-sized balls, about 1.5 inches in diameter. Spread out on lined tray. Use turner spatula to press down on each ball to form cookie shape, about 2 to 2.5 inches in diameter.

Chill & Serve: Refrigerate until fully hardened, about 2 hours. Serve cold (Note 6).
NUTRITION
Makes 12 Servings
Amount Per Serving (1 cookie):
| | |
| --- | --- |
| Calories 100 (81% from fat) |   |
| Total Fat 9g | 13% |
|    Saturated Fat 5g | 25% |
| Cholesterol 6mg | 2% |
| Sodium 10mg | 0% |
| Net Carb 2g |   |
| Total Carb 4.5g (Note 7) | 1% |
|    Dietary Fiber 2.5g | 10% |
|    Sugars 1g |   |
| Protein 3g |   |
PHOTOS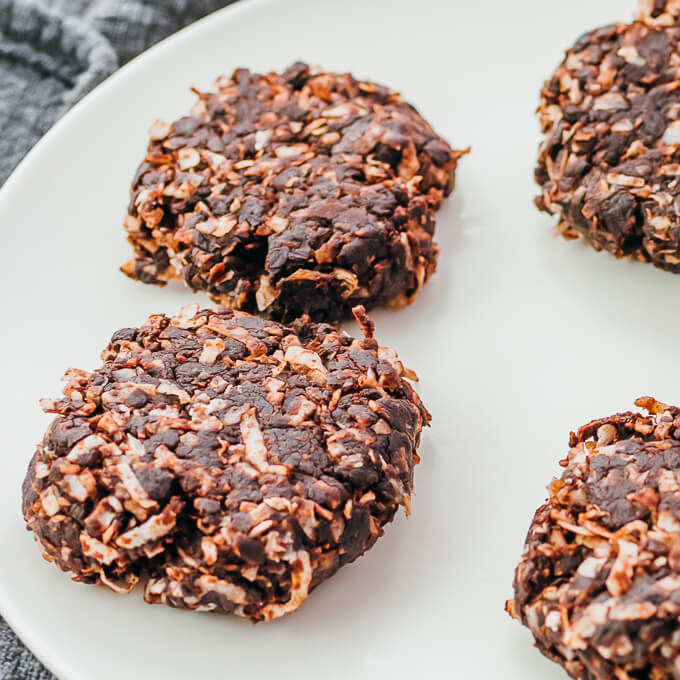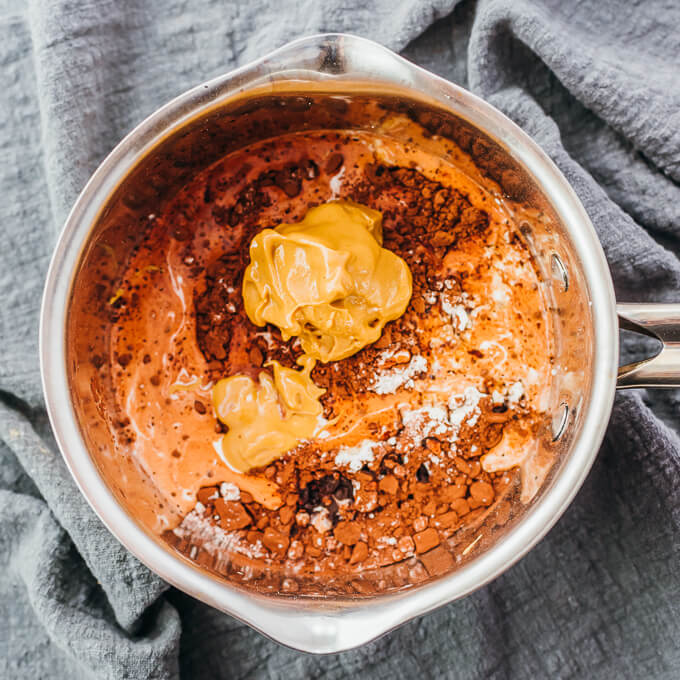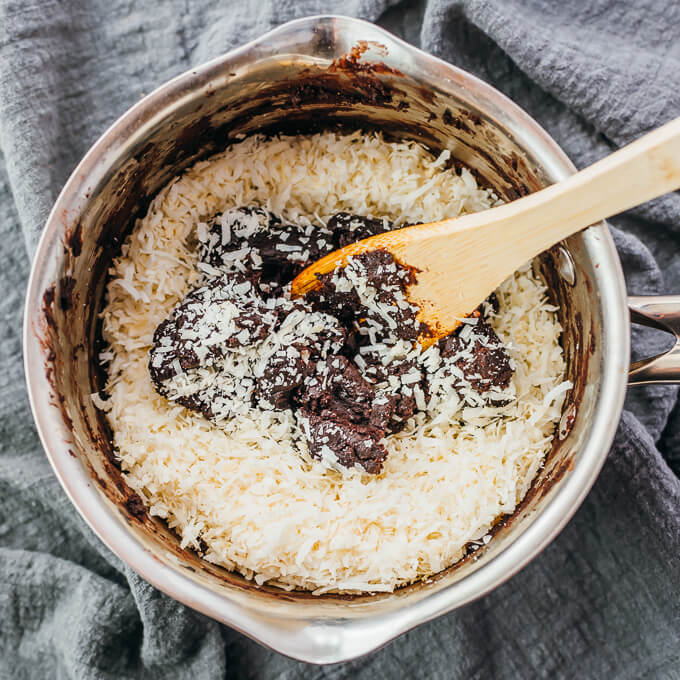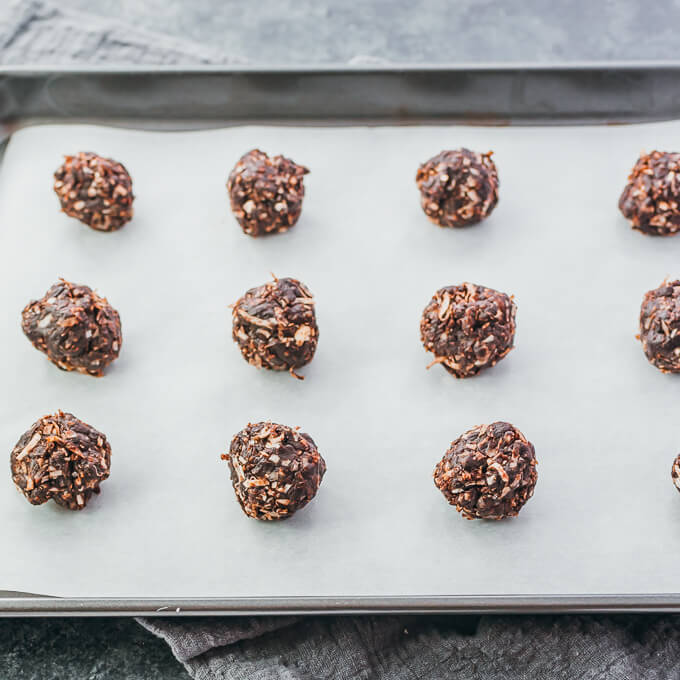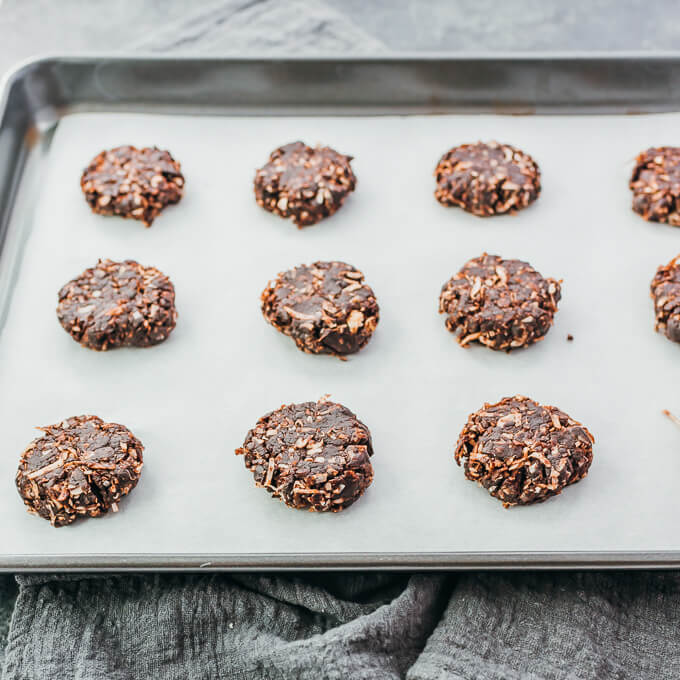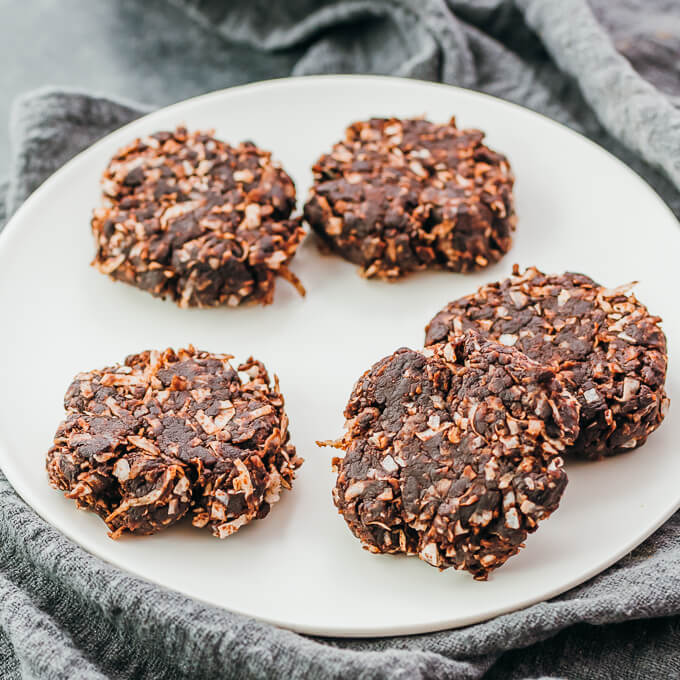 NOTES & TIPS
(1) Coconut. For best results, measure by weight. Use dried unsweetened coconut that is finely shredded, about 1/8-inch wide shreds. Avoid thickly shredded coconut, which won't taste as good in these cookies. You can find this ingredient in the baking aisle of most U.S. supermarkets.
(2) Sweetener. For best results, measure by weight. Confectioners Swerve is a dry sweetener that measures the same as regular powdered sugar; it's not the same as pure erythritol, which is about 70% as sweet. If you substitute with another sweetener, make sure it's powdered (if not, use a blender like Nutribullet to powder it) and check its packaging to see how it measures compared to sugar. I don't recommend liquid sweeteners because they will alter the ratio of dry to wet ingredients in this recipe.
(3) Peanut Butter. This acts as a binder, since no egg or flour is used in this recipe. It's unlikely you'll actually taste the peanut butter; the coconut and chocolate flavors will dominate. I use creamy salted peanut butter, without any special flavors or add-ins, and unsweetened. This is often referred to as "natural" peanut butter on package labels, and only peanuts and salt are listed on the ingredient label. There is typically some separation at room temperature; stir up the jar of peanut butter before measuring out the amount to use.
(4) Cocoa Powder. For best results, measure by weight. Use dutch processed cocoa — I use Hershey's Special Dark.
(5) Saucepan. A nonstick saucepan is best because it allows the dough to easily form without sticking. If you use a stainless steel pan, make sure to scrape along the sides and bottom to prevent sticking.
(6) Serving. Enjoy these cookies cold, as a sweet treat or snack. If you are making them ahead of time or have leftovers, store in a covered container in the refrigerator for up to 4 days.
(7) Carbs. The nutrition calculation assumes you are using Swerve or a similar erythritol-based sweetener that uses sugar alcohols, whose carbs are non-impact and therefore not included in the nutrition estimate. Apps that count sugar alcohols will show a higher number of carbs.